Midweek Minnesota Sports Update — Five Things to Know
Posted by Brent Lee on Wednesday, April 2, 2014 at 12:00 AM
By Brent Lee / April 2, 2014
Comment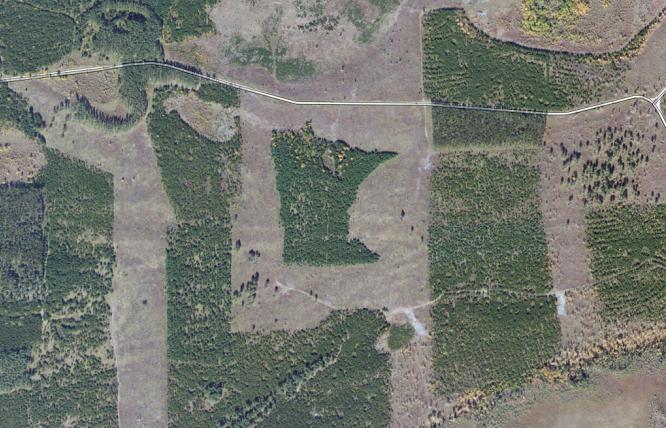 Did you see 
this
 yet??
Wow
. Now
that's
dedication to our great state. State-shaped forests aside, it's been a pretty busy week for our Minnesota sports teams — college and pro. In case you've been too busy creating such Minnesota-themed odes to the greatest state in our nation (
How long did shaping that forest take??
), here's a quick rundown of five sports stories involving our local teams that have been in the news over the last several days:
#1 — Gopher Men's Basketball in NIT Championship
After a thrilling* 67-64 overtime
win
against Florida State on Tuesday, the Golden Gopher men have earned a shot at the NIT Championship at Madison Square Garden on Thursday night. 31-year-old Richard Pitino's Gophers will square off against the Mustangs from Southern Methodist University. SMU is led by long-time NBA and college head coach Larry Brown who is 74 and, by my calculations, easily mathematically and biologically capable of being Pitino's grandpa. The
NIT Championship
will be televised live on ESPN at 6 pm on Thursday, April 3.
This past weekend at the Xcel Center, Don Lucia's Gophers
skated
past Robert Morris 7-3 and St. Cloud St. 4-0 to join Union (N.Y.), Boston College and North Dakota in the 'Frozen Four' of the NCAA Men's Ice Hockey Championships. The Gophers next foe is a familiar one they are less than fond of: North Dakota (formerly known as the "Fighting Sioux"). Minnesota is 2-2 
all-time
in the NCAA Tournament verses UND — they beat their nickname-less rivals from the west 5-2 in their last meeting back in 2012. The Gophers and North Dakota will do battle next Thursday, April 10 at 7:30 pm CST in Philadelphia. The winner plays for the National Championship on April 12.
#3 — The Twins Are Playing Baseball (Even Though It's Gonna Snow Soon)
Though the spring season is lagging behind weather-wise, baseball season has arrived and is in full swing! The Twins' 2014 regular season
began
on Monday with a 5-3
loss
to White Sox in Chicago. After a day off, Minnesota returned to lose once
again
, this time 7-6 in game that went into extra innings. That's okay, we can still go 160-2. Our hometown nine play one more against the Sox on Thursday, then travel to Cleveland for a weekend three game set against the Indians before returning to Minneapolis for their 2014 home opener against the Oakland A's next Monday, April 7 at 3:10 pm. With significant snow in the forecast for the end of this week, let's hope Target Field looks much greener for Monday's opener than it did back on
January 25th
. Stayed tuned to Minnesota Connected for Twins notes and insight throughout the season from our resident guru
@MNTwinsZealot
(aka Jeff Schwenn).
#4 — Wild Nearing Playoffs in the Present and Building for Future
The Minnesota Wild (39-26-11) are in a good
spot
to qualify for the upcoming NHL Playoffs. With only six games remaining in the regular season, Minnesota holds the top wild card spot in the Western Conference. The Wild have 89 points, narrowly leading Dallas and Phoenix who each have 85 points. Though he won't be eligible to play in this year's postseason, 23-year-old defenseman Christian Folin signed a two-year entry level contract with the Wild on Tuesday, according to
ESPN
. The 6'3", 210lb free agent Folin is a native of Sweden and played two years of college hockey at UMass Lowell before being signed by Minnesota. Folin was reportedly "pursued" by nearly every team in the league over the course of the last year. The Wild are in Chicago Thursday night to battle the Blackhawks at 7:00 pm.
#5 — T-Wolves (Nearly) Eliminated. Kevin Love to Lakers? Rick Adelman out as head coach?
The Timberwolves' season has been a disappointment. Unlike the Wild who appear postseason bound, barring a miracle, the Wolves (36-37) will likely not make the playoffs this year. Despite their current irrelevance in the
standings
, there's been plenty of speculation circulating in the air (i.e. the Internet) surrounding the Wolves this week, most of it regarding Head Coach Rick Adelman and All-Star forward Kevin Love. On March 28th, ESPN's Marc Stein
suggested
a "looming" coaching change for the Wolves, saying of the 67-year-old coach:
"Adelman nearly walked away last offseason and, according to sources close to the situation, has convinced more than a few folks in team circles that he's going to invoke his right to opt out of the final year of his original four-year contract and step away for good this summer."
Also on March 28th, the Wolves handed the lowly (25-49) Lakers a 143-107
spanking
in game that saw K-Love "mess around and get a triple double" (©Ice Cube) in just 29 minutes on the floor. Hence, on March 29th, it was no surprise to
read
ESPN Los Angeles reporter Dave McMenamin "dreaming" on behalf of the Lakers about the idea of Love playing for LA. McMenamin's report cited some logical reasons Kevin might head west:
"Love's ties to L.A. are undeniable. He went to college at UCLA. His father, Stan, played for the Lakers -- and coincidentally was on the 1974-75 team, a.k.a. the worst team in Lakers history up until this season, so his son could help make up for that. And Love was born in Santa Monica, to boot."
...and some reasons he might be just as likely to end up heading east:
"A source familiar with Love's thinking told ESPNLosAngeles.com that it's not just L.A. that is appealing to Love; he's enamored with the idea of being 'big time in a big city,' and that list of potential places he'd seek includes New York and Chicago, as well."
Love has one year remaining on his contract with Minnesota and will be a free agent in the Summer of 2015.
Author's Note:
*The word 'thrilling' should technically never be used in the same sentence as NIT — it was a closely contested game that would have been thrilling outside of the fact it was the
NIT
. Photos via: Imgur