Minneapolis Watched the Rise and Fall of an Opioid Rock Star
Posted by Tony Randgaard on Sunday, July 30, 2017 at 12:00 AM
By Tony Randgaard / July 30, 2017
Comment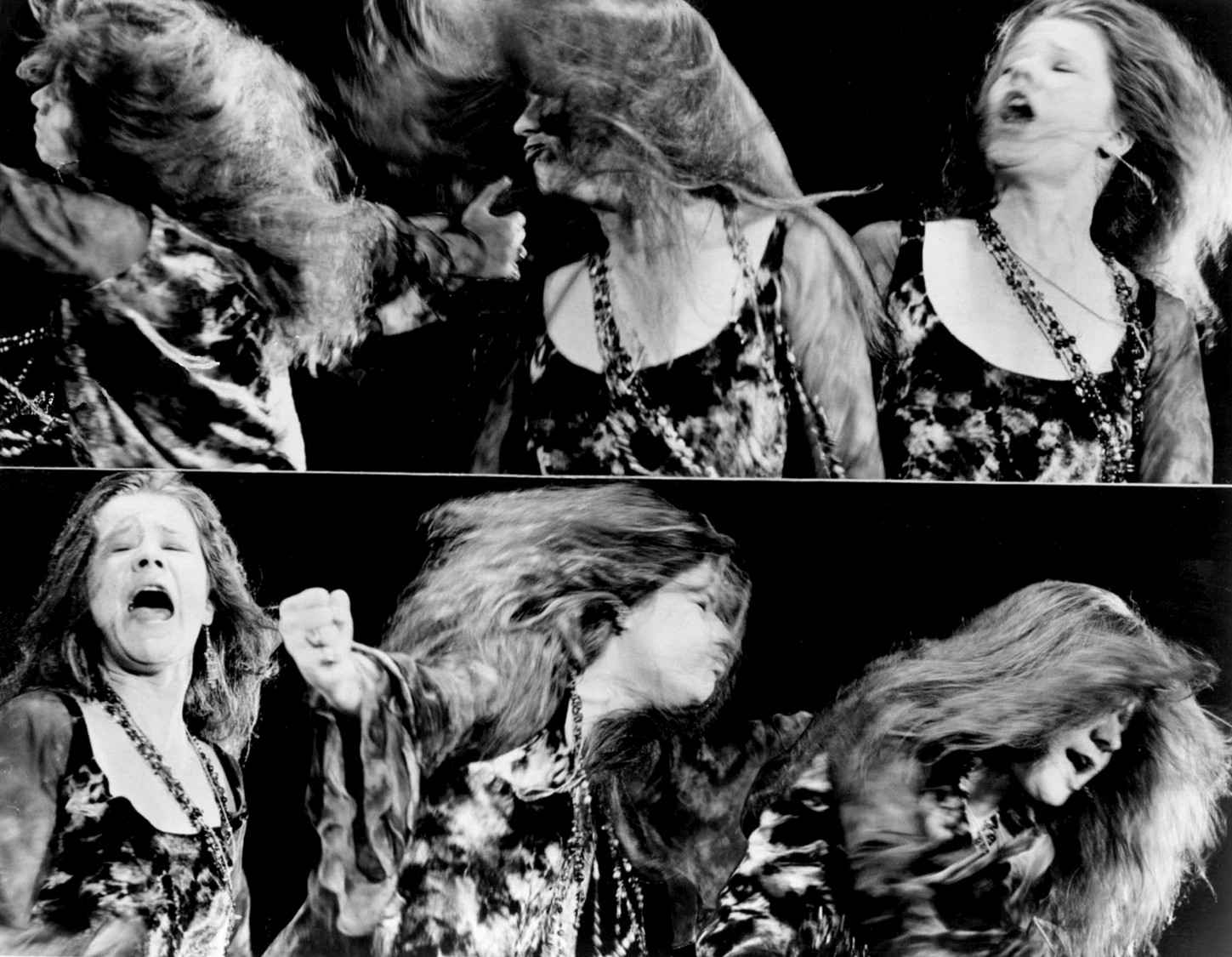 Janis Joplin grew up in Port Arthur Texas, a small town with a fading downtown right out of the Last Picture Show and a skyline of smoking oil refinery and petrochemical plants. Janis was bullied throughout high school. One clique named her the "best looking man" at Thomas Jefferson High -- according to Texas Monthly, others threw pennies at her or called her a whore. Joplin endured the harassment but never forgot it, while seeking solace in art classes. After graduation, she drifted and hitchhiked between short stints at local colleges and road trips to San Francisco to experience its emerging psychedelic rock scene. Janis had cultivated a love of music from an early age. She honed her talents joining impromptu folk-singing gatherings or performing guest spots with local bands. On her first two treks to the Bay Area, she could not make ends meet singing on street corners and in cafes. And ominously, she was enthusiastic about the nascent Hippie culture including the use of barbiturates and heroin to seek an alter consciousness. Janis affectionately called it "getting loose" and it became an important facet of her personality. Her third trip to San Francisco in 1966 proved fortuitous when friends helped her land an audition with a new rock group, Big Brother and the Holding Company. Her gritty and passionate vocals stunned the group. It was hard to believe that such soulful, intense melodies could burst out of this small town girl clad in men's shirts and mini-skirts. Together, Joplin and Big Brother built a strong local following in the San Francisco area — that propelled them to an appearance in the Monterey Pop Festival of 1967. Dick Cavett would describe her meteoric landing:
"At the first and now historic 1967 Monterey International Pop Festival, a volatile, violet nitroglycerin called Janis Joplin blew the rock world wide open, singing with a tortured passion that has become her trademark. She unleashed Big Mama Thornton's classic "Ball and Chain." And since then, this 26 year-old white girl from Port Arthur Texas has gone on to be the first female superstar of rock music."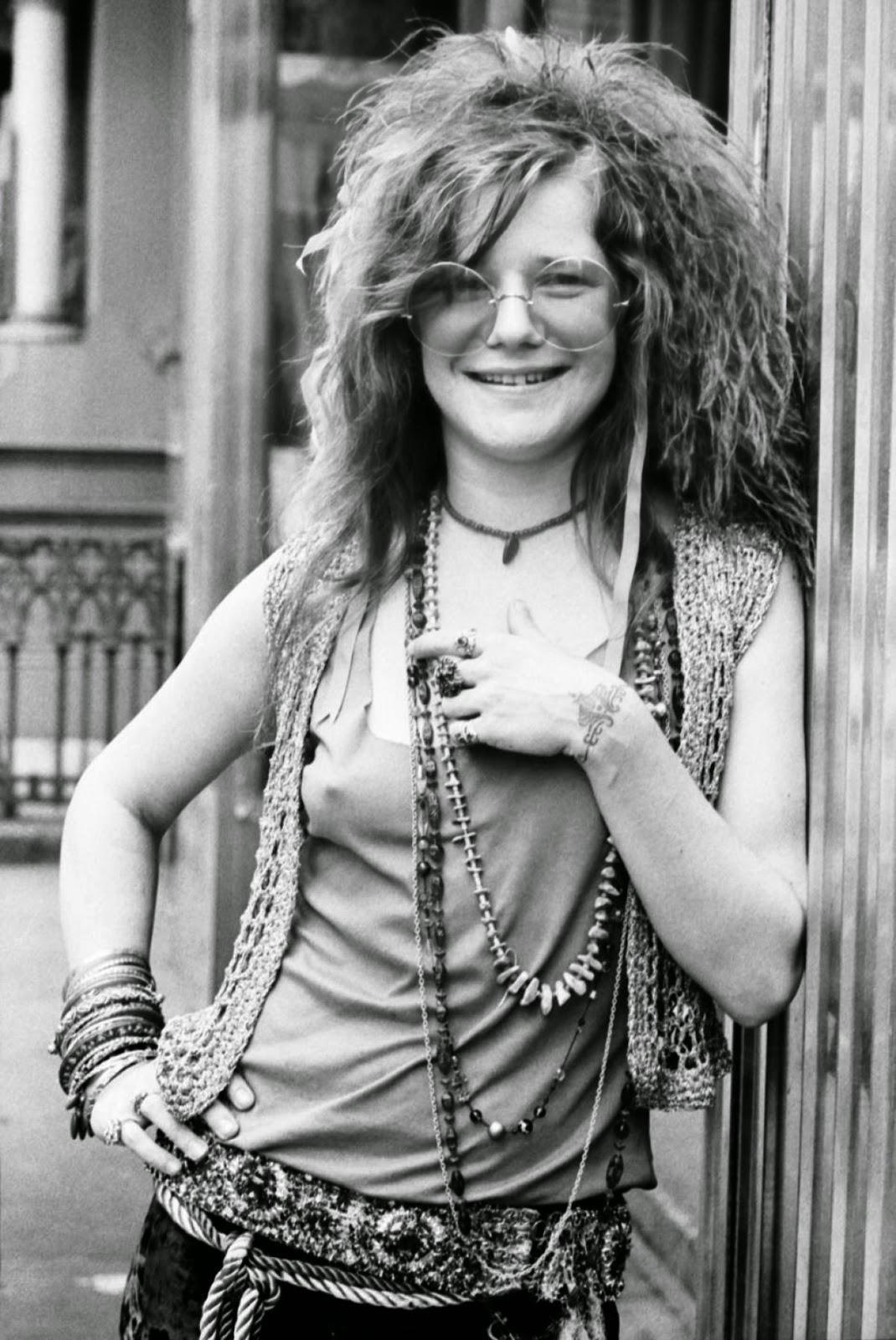 Clive Davis, the Hall of Fame record producer (later grooming Aerosmith, Whitney Houston and Barry Manilow), was in the audience during that sizzling festival performance. He wasted no time, signing Janis and Big Brother to a contract with Columbia Records that jump-started their ascent to stardom. By spring 1968, the band was spending hundreds of hours in studio, aiming to perfect their next album coined
Cheap Thrills
.
Guthrie Theatre Concert in Minneapolis
Janis and the band arrived into Minneapolis on their
Cheap Thrills
concert tour on August 18, 1968. Those attending that Sunday night concert at the Guthrie Theatre were catching Janis ahead of the wave. Within two months, the
Cheap Thrills
album would soar to number one on the Billboard charts and hold that position for eight weeks, selling almost a million albums. It was the number one selling record of 1968. That didn't deter the Minneapolis Morning Tribune's music writer Allan Holbert from complaining about how loud and over-powering the Big Brother sound was.
"There was so much sound from the electronic guitars and their very aggressive drummer that you couldn't hear the music." Holbert continued, "The thing that separates Big Brother and the Holding Company from a million other loud rock bands is Miss Joplin, who is an exceptionally talented performer. She has a stage presence bursting out all over the place. Really confident, she bumps and grinds like a kind of a young Mae West. She has a fantastic voice that will do about anything for her, although she does seem to mistreat it."
Joplin was one of the headliners of the epic Woodstock festival in August of 1969. After being flown in by helicopter, her show was delayed by ten hours as other scheduled bands went on ahead of her. According to her friend Peggy Caserta's book
Going Down With Janis
, Joplin shot heroin and guzzled alcohol during the wait, finally getting on stage at 2:00 a.m. on August 17th. As a result, Joplin was "three sheets to the wind", her voice hoarse and uneven during the performance. By the time Janis Joplin rolled into Minneapolis a second time in November 1969, her alcohol and drug- fueled party was a five alarm fire.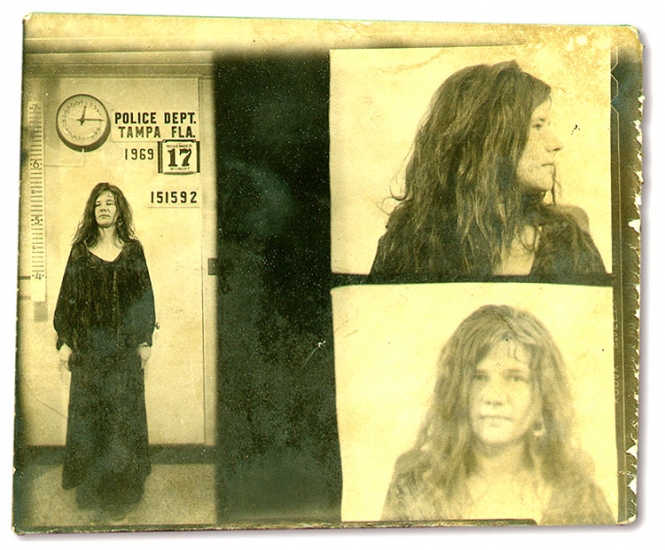 Two weeks before in Pittsburgh, according to the show promoter Pat DiCesare, she delayed the show start first when it appeared that her crew had exhausted all the bottles of her signature Southern Comfort bourbon. The promoter scrambled to the parking lot to locate the rest of the case he had bought for her. And then a second delay, while Janis finished having sex with a man in her dressing room -- with the door open. With 30 minutes left in the concert, police intervened to quell the mosh pit and urged Joplin to tone down the vulgarity on stage. A week later at Curtis Hall in Tampa, when police again tried to get the audience to sit down, Joplin started an altercation, yelling profanities at the officers. That was enough to get her arrested for disorderly conduct (see photo). She performed at the Minneapolis Armory on November 21, 1969 with a lot less notoriety. Several concert goers told MPR in 2011 that it was one of the best concerts they had ever attended, although the Minneapolis Tribune didn't send a writer to cover it.
The Real Janis on Dick Cavett
Joplin was a regular guest and performer on the Dick Cavett Show, which was a competitor to the Tonight Show (Johnny Carson). The segments were particularly insightful because of the brilliance of Cavett's interviewing and skill in making guests feel secure and comfortable. Here is her performance of "
Try (just a little bit harder)
" several months before her second Minneapolis show. It gives you a palpable sense of her electric stage presence.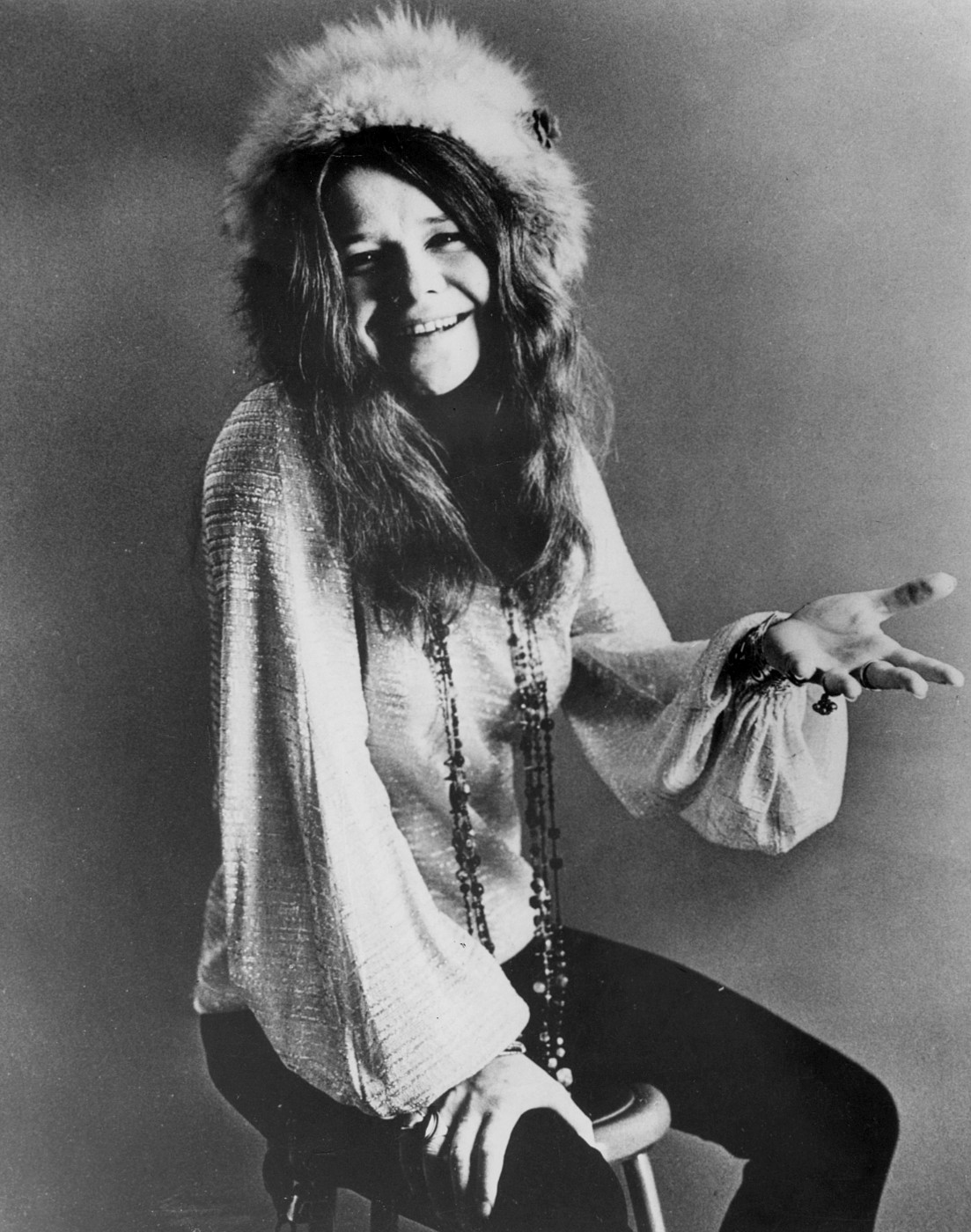 In June of 1970, Janis
joins Cavett again
and is very excited to share that she is going back to her high school reunion.
She gushes to Cavett: "Hey would you like to go man?" Cavett dodges the question by saying he doesn't have a lot of friends in her high school class and Joplin quips: "I don't either!" Later Joplin told a reporter about her classmates: "They laughed me out of class, out of town, out of state!"
She was making $50,000 a show on tour and admitted that she was going to the reunion: "to jam it up their asses." It was clear that she was seeking redemption or simply acceptance from the small town that tortured her teenage years.
The Reunion
The announcement on Cavett brought significant media coverage of her return to the Thomas Jefferson Class of 1960 Reunion in Port Arthur. Janis arrived at the Goodhue Hotel with body guards in tow, adorned in pink and purple feathers accented by silver slippers. I guess ruby slippers may not have matched? And the local press had cameras rolling for their questions of the hometown rock star. Question: What do you think of Port Arthur now? Janis: It seems to have loosened up since I left… There is a lot of long hair and rockin'. Which also means drug use… It looks like it's doing what the rest of the country is doing: getting loose, getting together, getting down. Having a good time. Question: Does it surprise you to see Port Arthur that way? JJ: Yeah, yes! Quite a bit. Question: What is it you think young people are looking for today? JJ: Sincerity and a good time. I don't know about you daddy, I'm finding it. At least I'm having a good time. I think they are looking for people to not to lie to them. To people to come through with their promises. like politicians… and parents. Question: Are you going to come back (to Port Arthur, Texas) more often now? JJ: I can't say. Because I live in San Francisco and it just can't get any looser than that. There is not really any need to come here to get loose. Question: Did you entertain in high school? JJ: Only when I walked down the aisles. No I was a painter, and a sort of a recluse in high school (tears in her eyes). I've changed. I got liberated. I started to sing. Singing makes you want to come out, whereas painting I feel really keeps you inside. Once you start singing it makes you want to talk to people more and go out more. Your lifestyle becomes more a come-out, flow- out thing. Instead of a hold in and be quiet thing. Question: How were you different from you schoolmates in high school? JJ: I felt apart from them… I didn't go to the high school prom. I wasn't asked. I don't think they wanted to take me. And I've been suffering ever since (laughter). It's enough to make you want to sing the blues!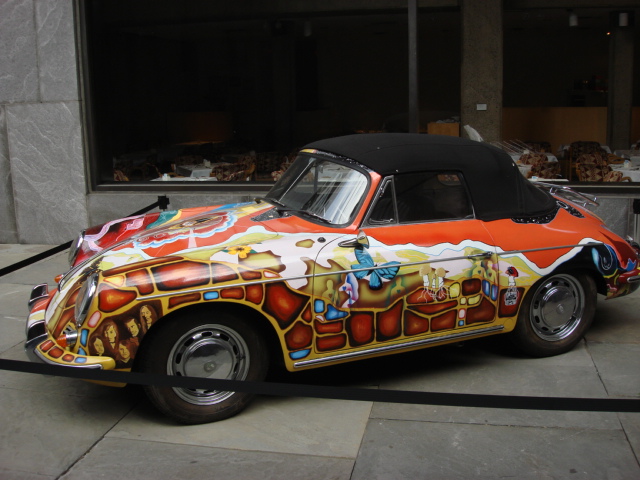 During the reunion, Joplin spent most of the evening in the background drinking. And when she arrived back in San Francisco, told her biographer Myra Friedman: "Well I guess you can't go home again, right?" The admission intimated that Joplin may not have found the redemption or justice that she was so desperately seeking.
The Finale
In August 1970, Joplin makes her final appearance on the Cavett Show. With face bloated and skin ashen, she looks like she has aged years from her previous appearance less than two months before. The two shows are a harrowing "Before and After," hinting that maybe her take-no-prisoners lifestyle was running off the rails. On October 2nd, Janis was doing studio work in Hollywood. On that Friday night, two of her friends including Peggy Caserta, failed to join her or even call for a scheduled night out together. Janis was left alone in her room at the Landmark Motor Hotel. When she missed a recording session on Sunday, her manager John Cooke was worried and drove to the motel finding her psychedelic Porsche parked outside. When he opened the door to her room, he found her dead, sprawled alongside her bed. The coroner ruled that the cause was an accidental overdose of heroin, combined with the undetermined effects of alcohol. The world had lost a transcendent talent, a shooting star burning bright for only moments, not even days in the rock and roll universe. And even from the grave, it was clear that Janis had not forgiven her hometown or those tormenting teenagers. Her will dictated that her body could not be buried back in Port Arthur. "Maybe I won't last as long as other singers, but I think you can destroy now by worrying about tomorrow." Janis Joplin Photos courtesy of: Wikipedia -- Florida Historical Society