Minnesota Artist Profile: Kendra Boblett of 'KWB Art'
Posted by Leah Putz on Tuesday, December 29, 2015 at 12:00 AM
By Leah Putz / December 29, 2015
Comment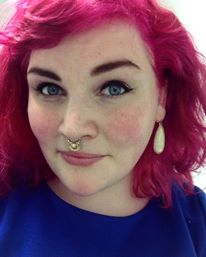 Minnesota is teaming with creative talent, with history showing that our wonderful state has the ability to produce artists like Prince, sculptor Duane Hansen, and Bob Dylan. Artists like this are still being produced in Minnesota, and one of these talents is Kendra Boblett of KWB Art. Kendra's art is whimsically stylistic, colorful, and often biographical, giving viewers a glimpse into the artist's world, her personality, and her struggles. Kendra has been an artist all through school, developing and nurturing her unique style both here in her home in Minnesota as well as in Seattle, WA. I connected with Kendra to get the scoop on her story and her fascinating art.
Minnesota Connected: How would you describe your artistic style?
Kendra Boblett: My artistic style is childlike, humorous, dark, heavy, and borderline embarrassing. It's very personal in the sense of letting people into my head space and discussing touchy subjects like sex, intimate exchanges, and my relationship with myself. My mediums change quite rapidly, but I work within the same subjects consistently.
MC: What do you think were your biggest influences growing up?
KB: The Yellow Submarine movie and Don Bluth animations. The style of those movies were always so visually engaging and beautiful to me. I drew in a very flat and 2 dimensional way, filling up the page with organically created patterns, until I had my first figure drawing class. But, once I hit my teenage years, social media found its way into my home and I don't think I realized that it influenced my work until quite recently. I wouldn't say my current work is about technology and social media, but due to how easily we can connect with different people it has had a hand in the type of art I create.
MC: How do you think growing up in Minnesota helped to shape your artistic style, if it did?
KB: To an extent it did. Granted I don't do paintings of loons or wildlife in general, but the isolation of being in northern Minnesota gave me the motivation to focus on something rather than the excessive hunting and fishing culture that I was surrounded by. I was the stereotypical moody art girl until I transferred to the Arts High School in Golden Valley and was suddenly thrown into a very concentrated space of artists like myself. Looking back on it, I am thankful that I didn't live that trope of a young girl artist for too long during my middle school years, because I probably would've developed a more intense case of special snowflake syndrome.
MC: Where did you study art and how has it helped to nurture your talent?
KB: I studied art my Junior and Senior years of high school at Perpich Center for Arts Education in Golden Valley, Minnesota and I am currently finishing out my Senior year of college at Cornish College of the Arts in Seattle, Washington. Being surrounded by so many different types of creators has helped me grow as an artist and person. The constant feedback, whether you want it or not, by classmates, faculty, and even people who are different majors will always give you ideas of what you could do and more importantly, what not to do.
MC: Where do you draw your most inspiration?
KB: Does it sound narcissistic if I say myself? I don't care if it does, it's true. The majority of my work is very autobiographical and that's where the conceptual aspects come from. Aesthetics-wise, I look at artists like Katya Grokhovsky, Joan Cornella, Marilyn Minter, and Stephen Gammell. I am very interested in ugly and its relationship to beauty. The idea of something being so disgusting and ugly that it's seen as beautiful is something I am trying to emulate in my work. Making the audience uncomfortable not only with the subject matter but also in the context that it is presented in.
MC: What are some of your favorite pieces you've created?
KB: Half the time I tend to fall in love with silly little drawings I create in my sketchbooks during lectures, but other than that I can't really pick any favorites. I go through phases of loving and hating my work. The majority of artists would probably agree with me. When it comes to your own work, you'll hate it one day then love it the next. If I had to pick I would say my favorite pieces currently that I don't hate yet would be my collage work I did Spring of 2015.
MC: Who are some of your favorite Minnesota artists?
KB: To be honest, I don't know that many Minnesotan artists besides the ones I went to high school with. I do admire the work of Tyler Hawkinson and Nikki Ivanovsky-Schow. Tyler graduated before me from Perpich, but just following him on instagram to see what he is working on motivates me so much. The dedication that comes through from what he posts says that he cares so much about what he does. Nikki's body of work shifted from painting to comic art pretty recently when we last talked. It was just so great that she figured out she didn't want to paint anymore, because at that time it sounded like it wasn't relevant to her practice. I don't know that many people who have that kind of confidence to switch concentrations, especially during their senior year. Those are the main artists that in Minnesota that I follow to see what they work on. For more information on KWB Art, visit her
Facebook page here
.