Minnesota Boys' High School Hockey Tournament At Xcel Through Saturday
Posted by Brent Lee on Wednesday, March 4, 2015 at 12:00 AM
By Brent Lee / March 4, 2015
Comment
The State of Hockey will crown its high school champions this Saturday night at the Xcel Energy Center in St. Paul. Two teams — one from Class A and one from Class AA — will emerge from the 8-team brackets victorious, entering the history books as the 2015 titleholders in Minnesota's favorite winter sport. Here is a graphic showing the schools who've won the most state boys' hockey championships in Minnesota history
(Click to Enlarge)
: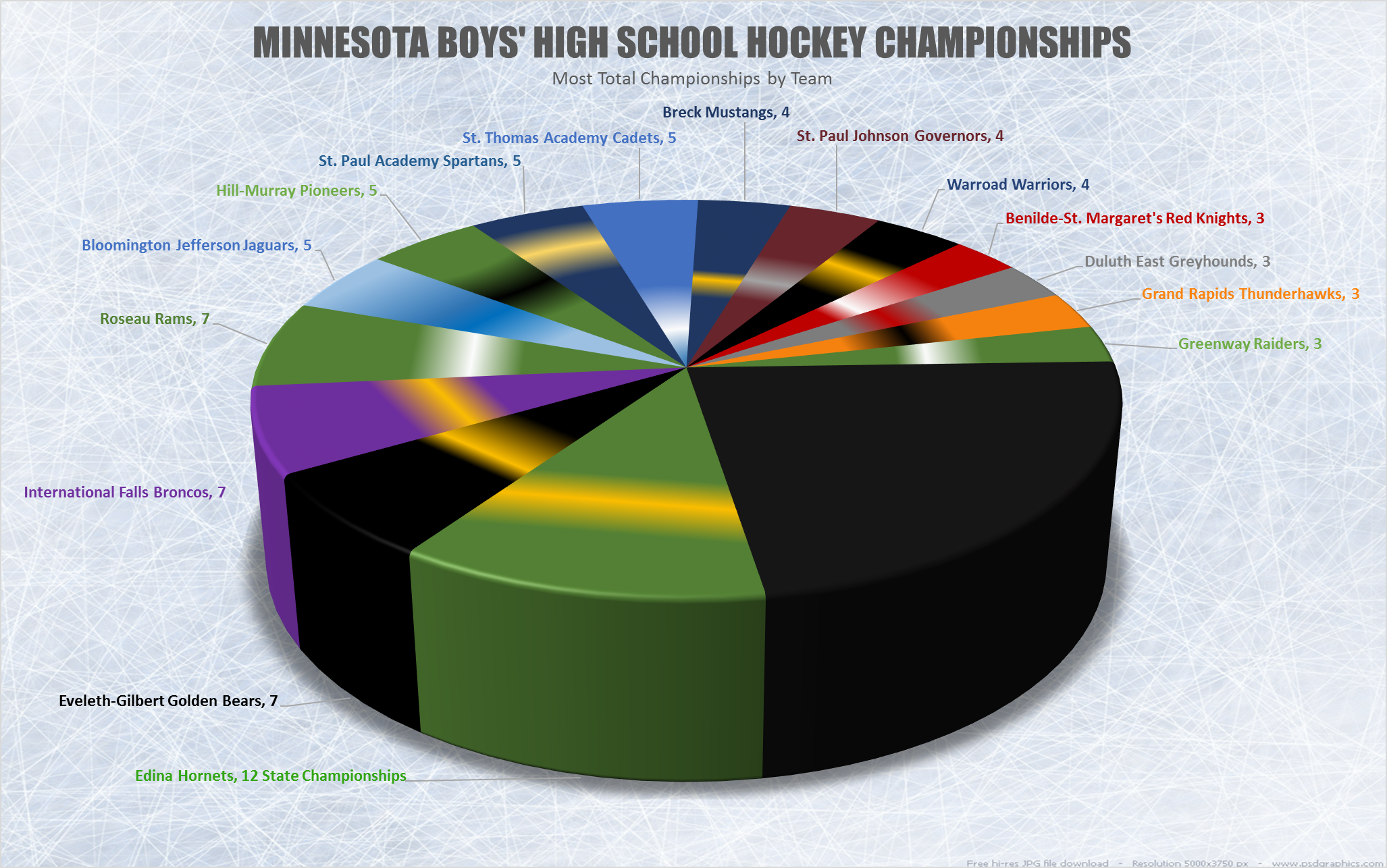 This year, in the Class AA bracket, six perennial powers and two up-and-comers will battle for the title. Defending champions Edina, along with Duluth East, St. Thomas Academy, Hill-Murray, Eden Prairie and Blaine have all won the championship before — in fact, they have captured a whopping 28 state titles between them. The final two teams in the bracket — Bemidji and Lakeville North — have never won a championship, though the Panthers from Lakeville North enter the tournament as the undefeated top seed and look poised to change that. The Class A bracket is wide open. Breck is the only team to have one multiple state championships (4), while five teams — New Ulm, New Prague, Mahtomedi, Spring Lake Park and St. Cloud Apollo — have never one a title. Last year's champion was East Grand Forks, and Hermantown enters this year's tournament with the #1 seed. So, will Edina win their third straight state tournament and add a 13th championship banner to it's rafters in the Class AA pool? In Class A, will Breck skate past the competition to collect their 5th Class A championship? Or will teams who have yet to taste the title hoist the trophy this Saturday night? Here is the schedule — all games will be played at the Xcel Center and be televised on
KSTC45
.
Wednesday, March 4 — Class A Quarterfinals
11 a.m. — New Ulm (18-8-2) vs. Mahtomedi (24-2-2) 1 p.m. — New Prague (20-8) vs. East Grand Forks (23-4) 6 p.m. — Spring Lake Park (16-11-1) vs. Hermantown (25-2-1) 8 p.m. — St. Cloud Apollo (22-4-2) vs. Breck (21-7)
Thursday, March 5 — Class AA Quarterfinals
11 a.m. — Bemidji (23-3-2) vs. Edina (24-1-2) 1 p.m. — Duluth East (14-10-4) vs. St. Thomas Academy (24-4) 6 p.m. — Hill-Murray (21-7) vs. Lakeville North (28-0) 8 p.m. — Eden Prairie (18-9) vs. Blaine (22-5-1)
Friday, March 6
11 a.m. — Class A Semifinals 1 p.m. — Class A Semifinals 6 p.m. — Class AA Semifinals 8 p.m. — Class AA Semifinals
Saturday, March 7
9 a.m. — Class A 3rd Place 12 p.m. — Class A Championship 4 p.m. — Class AA 3rd Place 7 p.m. — Class AA Championship
Author's Picks: Edina and Breck win, carving themselves out a little larger slice of the all-time championship puck pie.
Image via:  Brent Lee — Google