Minnesota Gold Rush: There's Gold in Them 'Thar Hills!
Posted by Tony Randgaard on Thursday, September 14, 2017 at 12:00 AM
By Tony Randgaard / September 14, 2017
Comment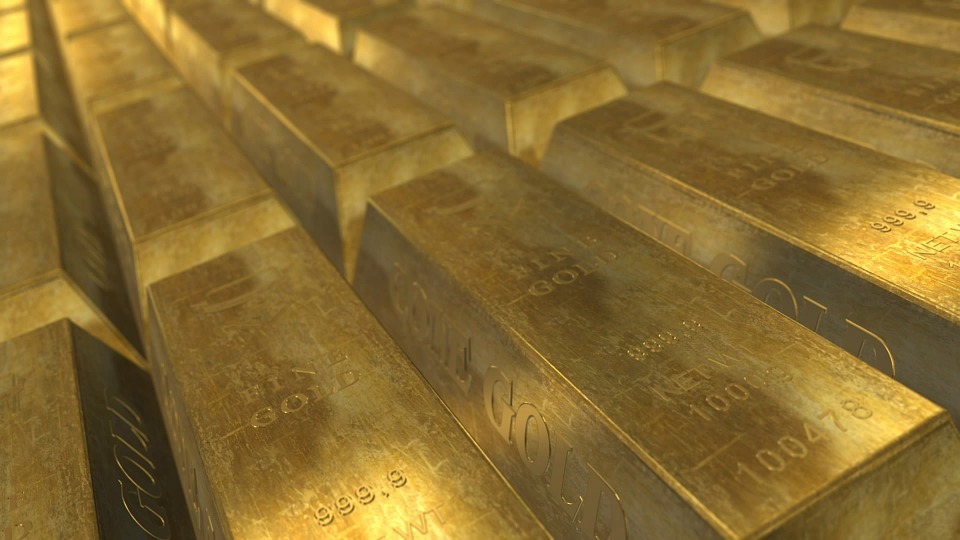 With large bricks of gold on display at the First National Bank of Duluth and the St. Louis Hotel, there was no denying it. This was a genuine Minnesota Gold Rush! The noted geologist Dr. Matthew Stephenson would have been proud to confirm: "There's gold in them thar hills" and "there's millions in it." The prospector George W. Davis unleashed gold fever with his discovery of gold on the wooded, desolate Little American Island on Rainy Lake in July 1893. In his crew were prospectors who had found the enormous Homestake Mine twenty years before in the Black Hills. That mine was producing 25 percent of the world's gold supply now and would generate a stunning 40 million troy ounces of gold until it closed in 2002. They brought instant credibility to his claim and in less than two years almost 1,000 men had converged in the ramshackle Rainy Lake City to seek their fortune. Besides the bricks of gold on display in Duluth, the Minneapolis Tribune reported that the mine generated $36,500, a small fortune in its first year of operation. And reaching Rainy Lake City was reserved for the brave; an expedition in itself. The train only ran as far as Tower, Minnesota -- and then you were facing treacherous snow shoeing, dog-sledding or stage coach over 26 miles of swamp, brush and rocks. Combine that with two arduous portages using steamer ships over Lake Vermillion and from Crane Lake — and it was survival of the fittest for gold seekers.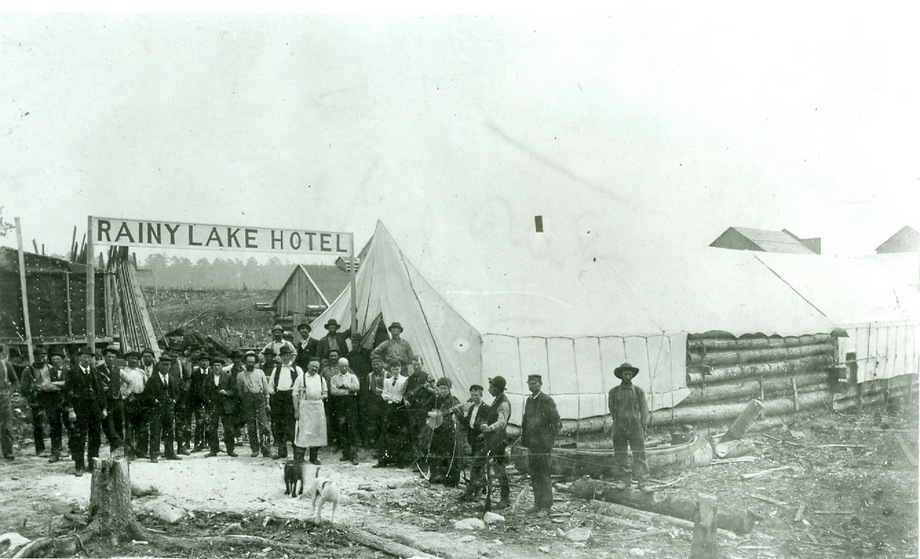 A renowned Scottish mining engineer Dr. W.H. Hunter, visited the area and was impressed by gold visible on the surface in veins within slate and granite rocks. He marveled: "I never saw such a country in all my life. It is all (gold) veins, all veins and all over." Rainy Lake City was incorporated 9 months after the mine was discovered. The editor of the Rainy Lake Journal reported the "birth of the city was duly celebrated and hilarity reigned supreme." The Journal added that the town was home to miners, prospectors, and prostitutes spread over fourteen saloons, two hotels, two restaurants, and a barber shop. From the looks of this photo, it also looks like a good place to get shot, Deadwood style?
More Flash in the Pan
Fast forward to today. Without the aid of snowshoes or dog sleds, my sole effort is my finger hovering nervously over the 'Submit' button to buy shares in a new Rainy River gold miner — New Gold (NGD). Do I have a modern day case of gold fever? You bet. I read about the company in the Duluth News Tribune, building a new open pit gold mine in Emo Ontario, barely 25 miles from the original Little American island site. Yes, I will admit watching a couple seasons of the reality show Gold Rush Alaska, commiserating with its cast of unemployed, down-on-their-luck prospectors from Portland. What type of venture is this New Gold? Well, this is not some seat-of-the-pants operator. Take a look at the huge plant they have built to crush and refine gold and silver at the new Rainy River mine (see photo). Earth movers have excavated a pit nearly a mile long and quarter mile deep, while drilling rigs are exploring hundreds of feet below the surface.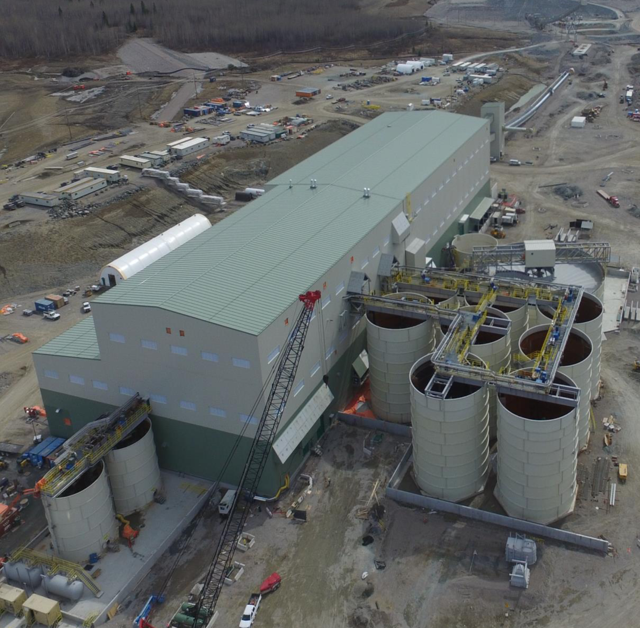 It turns out that New Gold is a Toronto-based global miner with $707 million in revenues that actually generated $45.8 million in net income in the last year. The open pit operation is scheduled to start production by the end of the year. New Gold has extensively surveyed the site and is projecting a whopping 325,000 ounces of gold and 480,000 ounces of silver each year. A quick back-of-napkin calculation reveals that haul equates to more than $425 million in revenue each year. (This article is in no way a recommendation to buy New Gold. You would be crazy to invest in a risky stock that I found. Past poor performance, is certainly an indication of poor future results.)
Back in Deadwood
After one year of operation, the Minneapolis Tribune reported that the Little American processing mill was being doubled in size, the underground shaft reaching 180 feet deep and the exposed gold vein spanning six feet wide — enough gold to run the mill for a year. 1,000 people attended the July 4th grand opening of the stamping mill. At the same time, real estate speculators descended on the Twin Cities, claiming the discovery was valued at more than a million dollars and selling neighboring 2,000 acre tracts at outrageous prices. At Rainy Lake, mining operations dotted the islands and shores of the lake. Richard W. Ojankangas' detailed research in his book Minnesota Geology tells a much different story. He writes that the first 30 tons of ore that were crushed yielded a meager $988 of gold. In the year that followed, he reported that the mine generated only $4,500-$5,600 in gold. The results were so scant that the mill closed after 52 days and Rainy Lake City was a ghost town within two years. Moreover, by 1906, county records displayed that Rainy Lake City had only one resident left!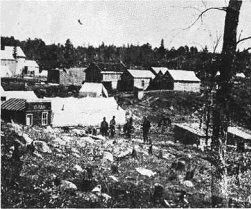 Whoa, maybe I should pump the brakes on the New Gold stock buy? Waves of doubt rush over me, envisioning the company crashing headlong into the same fool's gold bum rush that replaced miners with tumble weeds more than a century ago. On the bright side, I am pleased to add Rainy Lake to my travel bucket list. I read a couple of recommendations to take the National Park Service boat tour of the lake. Their Voyageur Boat Tour cruises Rainy Lake in search of active eagle nests, circles a commercial fishing camp and encounters all kinds of wildlife. Even better, tourists are dropped on Little American Island for a hike around the overgrown ruins of the old mining operation. At a cost of $30 for adults, I am quickly coming to the conclusion that the Rainy Lake boat tour will be a much better use of my retirement savings than the next Minnesota gold rush. I may not have what it takes to snowshoe 26 miles to stake my claim, but deep down I am rooting for New Gold to hit the mother lode this time. Only time will tell the ending of New Gold's 21st century bid to get rich at Rainy Lake. Photos courtesy of: New Gold -- MN Historical Society