Minnesota Health Report: We Drink (a Lot), but (Sort of) Avoid Obesity
Posted by Brent Lee on Monday, December 15, 2014 at 12:00 AM
By Brent Lee / December 15, 2014
Comment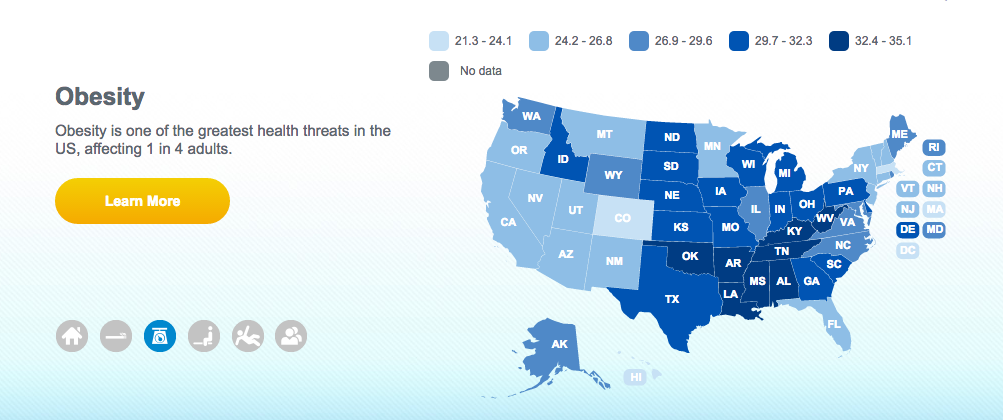 United Health Foundation
 released the 25th annual edition of 
America's Health Rankings
 last week, providing a plethora of new analysis by which to measure the nation in regard to its healthiness. According to the 
website
:
"The report is based on data from the US Department of Health and Human Services, Commerce, Education, Justice and Labor; US Environmental Protection Agency; US Census Bureau; the American Medical Association; the American Dental Association; the Dartmouth Atlas Project; and the Trust for America's Health."
After swimming through that sea of statistics, researchers basically boil it all down to oversimplified rankings so that people can share it on Facebook. When the results came in, Minnesota ranked as the #6 healthiest State in the country in 2014 — dropping slightly from 3rd overall in 2012 and 2013, but still leaving the Land of 10,000 Lakes as one of the healthiest places to live in the U.S. That's the good news.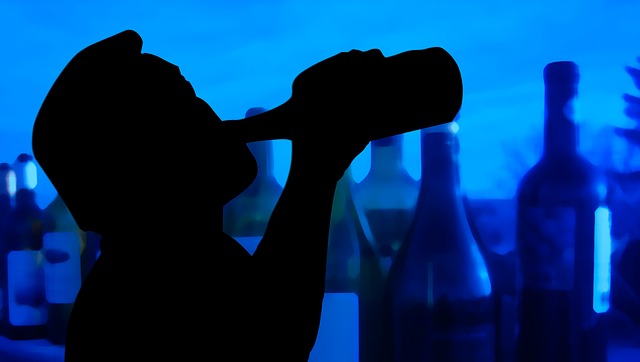 The bad news? The bad news is, according to the study and despite our high overall health ranking, Minnesotans drink a lot. In fact, only the Wisconsinites to our east and the North Dakotans to our west drink more 
excessively
 than residents of Minnesota. The study found more than one in five of our state's residents consumed enough alcohol to qualify as excessive drinkers. This tied us with Illinois as the 3rd most intoxicated state in the Union. Here is the full list of the top ten tipsiest states in the country along with the associated percentage of residents the study identifies as drinking excessively: North Dakota  24.9% Wisconsin 23.8% Minnesota  22.6% Illinois   22.6% Iowa   22.4% Montana 22.2% Massachusetts  21.1 % Alaska  21.1% Nebraska  21.0% Michigan  20.2%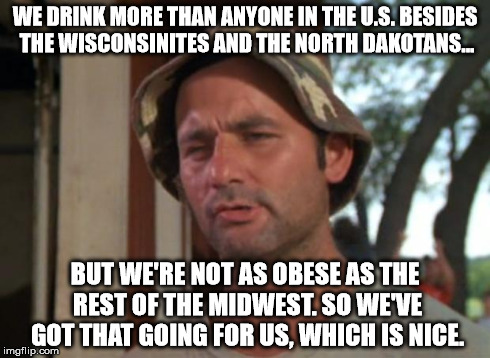 For the record, America's Health Rankings defines "excessive drinking" as:
"Percentage of adults that report either binge drinking (consuming more than 4 (women) or 5 (men) alcoholic beverages on a single occasion in the past 30 days) or heavy drinking (consuming more than one (women) or 2 (men) drinks per day on average)."
Perhaps paradoxically, despite our apparent fondness for the bottle, Minnesotans are a bit less excessive when it comes to their overall diet. Despite nearly all Midwestern states ranking poorly in regard to 
obesity
— Illinois, Indiana, Iowa, Kansas, Michigan, Minnesota, Missouri, Nebraska, North Dakota, Ohio, South Dakota and Wisconsin all ranked in the bottom half of the U.S. — Minnesota came in 10th overall in the country, with
only
25.5% of our residents qualifying as obese.
Only
 25.5%? That still seems high… Photos via: America's Health Rankings -- Google