Minnesota Politics 2014: Where are the Debates? Where's the Drama?
Posted by Erik Bergs on Sunday, September 7, 2014 at 12:00 AM
By Erik Bergs / September 7, 2014
Comment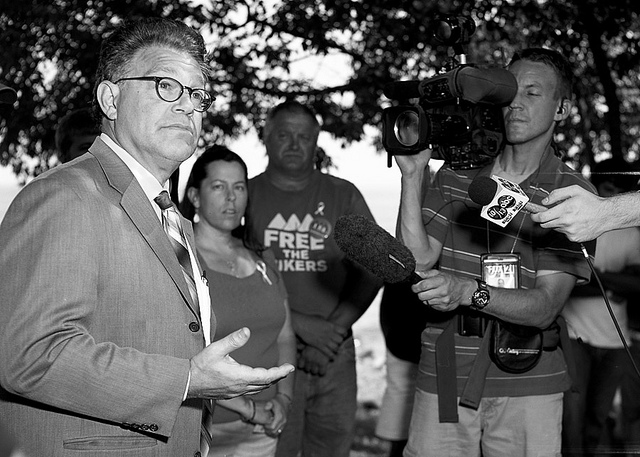 Some Minnesotans might be surprised to hear that we're at the brink of a major political storm.
A slow stream of articles
have touched on some of the races sprouting from the August primaries, but a full-scale clash (annoying TV ads, smear campaigns, debates, etc.) between the parties is still on hold. The building pressure will likely result in short but sharply negative contests. One of the major reasons for the current calm has its origins in Mark Dayton and Al Franken (both incumbents) sidestepping the State Fair Debates hosted by MPR. This tactical maneuver, which smelled something akin to the pig barn (for those of us following the races), stemmed from a comfortable lead in polls for both sitting Governor and Senator; the fewer uncontrolled presentations of the issues to Minnesotan voters, the better. Governor Mark Dayton (DFL) and his opponent Hennepin County Commissioner Jeff Johnson (GOP) will have their first debate on October 1st in Rochester. Senator Al Franken (DFL) and Mike McFadden (GOP) will square off sometime in mid to late October (just a few weeks before election day). Pushing these debates off into the long grass is already allowing non-policy related Internet and social media mudslinging to define the contest. One of the big controversies (that's not really a controversy) is a video of Al Franken playing with some traffic cones: Franken apologized for the action calling it a
"thoughtless moment."
One would have to point out that such a symbolic use of props requires an at minimum rudimentary level of thought and imagination, as does working in the Senate (we hope). Unfortunately this has been the most interesting development since the primary (apart from me witnessing State Auditor Rebecca Otto pulling her own wagon of campaign material to the State Fair on opening day). So as the race heats up, this political observer thinks the mudslinging will intensify tenfold -- as November nears, you'll both see and hear it coming. Photo via: 
K. Praslowicz