Minnesota Vikings Breakdown - "A Win Overseas" - Week 4
Posted by Matthew Deery on Friday, October 4, 2013 at 12:00 AM
By Matthew Deery / October 4, 2013
Comment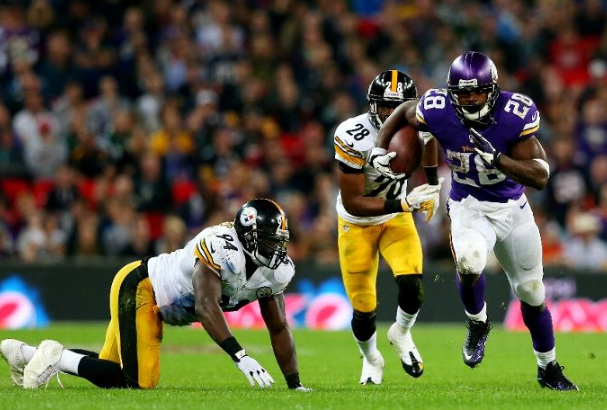 The Vikings finally got off the schneid, hanging on to beat the Pittsburgh Steelers in their second "home game" of the season in London. The team looked very much the same as weeks past, following the same formula of leading in the second half and doing just enough to make the game come down to a final drive by the opponent. This time, the defense strip-sacked Big Ben to lock down their first win of the 2013 season. The biggest difference in this initial victory, in my opinion, was the offensive line. They finally looked like the unit that was so dominant last season. Matt Cassel was only sacked once, as opposed to the six given up last week versus Cleveland. Cassel often had a nice pocket to set up and make his throws. The running game was also back in high gear, a result of the offensive line creating huge lanes for Adrian, especially on that second touchdown run -- AP could have driven a small bus through that hole. Some of the restoration in the running game definitely had to do with Pro Bowl fullback Jerome Felton coming back from his suspension -- his contributions made a noticeable difference in the room Adrian had to run. Another contribution to the running game was Matt Cassel, the backup quarterback who stretched the field with his arm and finally properly utilized the Vikings weapons at wide receiver. His quarterback rating was 123.4, a number Vikings fans never expect to get out of Christian Ponder. He only threw the ball 25 times, which is about right in the Vikings offense, completing 16 of those attempts for 248 yards. His decision-making and confidence in his reads were the most notable differences between Cassel and Ponder. He rocketed the ball into the grasp of Jerome Simpson so often it felt like the Vikings had a NFL passing game again. He trusted his arm and his reads and picked up some key first downs, as well as huge passing plays. He also took"big" shots down the field that could have been game-changing plays -- despite being rusty on his downfield attempts, his confidence never looked shaken.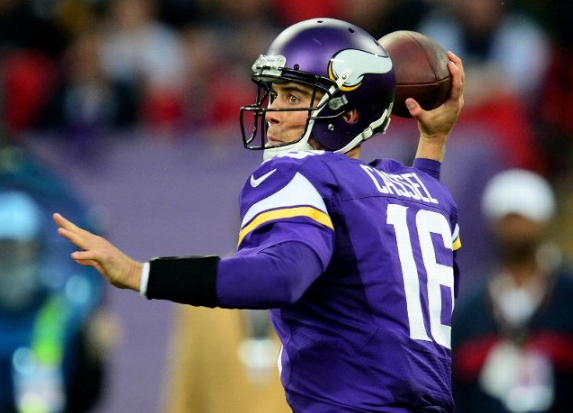 While this is all well and good, the sample size is much too small to consider Cassel the bonafide starter on the team. Without a doubt, if I was Frazier, Cassel would start at home against the Panthers in Week 6. However, despite Cassel looking very sharp against the Steelers, he still had a handful of
awful
,
awful
throws and was a few bounces away from three turnovers. The fumble he lost was a bonehead mistake on his part, and with the luck of every Irish individual, ever, the ball bounced ahead ten+ yards and was recovered by Simpson for a Vikings first down. Cassel also had a couple of throws that should have been picked off -- but again, in the Vikings luck, the Steelers have yet to force
ONE
turnover this season. They should have had a couple against Cassel Sunday -- the turnover gene is one that has plagued the journeyman quarterback his whole career. Without a doubt Cassel made a difference for the Vikings on Sunday -- for once in a long time we had a confident passer under center. But it's really hard to tell if the offensive success was due to an actual flourish, or simply a matchup against the aging, non-turnover causing defense of the Steelers. Was Adrian running like himself because of Jerome Felton coming back, or because the Steelers are a shell of their former formidable defensive selves? Was Cassel's play a difference maker, or merely a by-product of facing an inferior opponent? I think a bout versus the Panthers should tell a more conclusive story.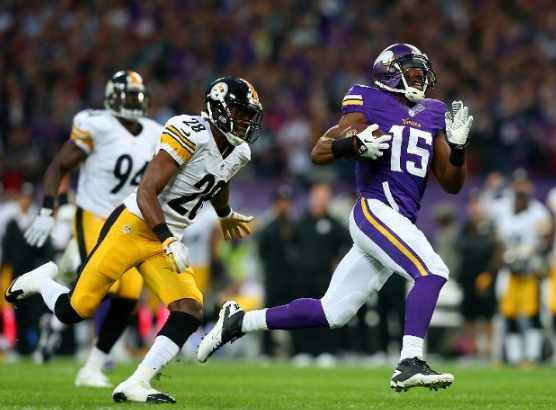 I also have to say that the play calls from Musgrave were significantly better with Cassel at the helm. Was that a product of the coaches having more confidence in Cassel's ability to throw? Cassel seemed to have a lot more of those intermediate passing options I had been referring to as a necessity for Ponder's success in weeks past. One this is for sure, Cassel and Ponder are used significantly different in the offense. Cassel's version of the playbook featured quite a bit of play-action, but no "designed boot-legs" because he isn't the athlete Ponder is -- Ponder's version of the playbook has him booting every five plays. This is supposed to give Ponder a chance to make plays with his feet, but in reality it forces him to make an extra decision, whether or not he should run or pass, even on a designed pass play. It forces him to make throws on the run instead of setting his feet and putting his full body into the throw. These boot-legs cut the field in half, leaving the side opposite the boot completely useless (unless you're Brett Favre and you're going to throw across your body -- too soon?). The bootleg significantly minimizes a quarterback's options as a passer, and seeing the way Cassel was able to drop back and throw immediately, it shows how much more effective a pocket passer can be -- is Ponder's playbook different because he can't pass from the pocket? It can't be much worse than his productivity on the run, because constantly boot-legging clearly is not helping the Vikings passing game with Ponder.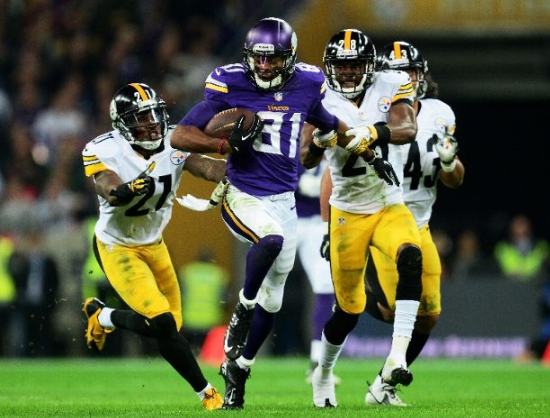 The secondary was really banged up Sunday, but played as well as one could hope considering the group is missing starters Chris Cook and Jamarca Sanford. Josh Robinson had to step up and play a lot of snaps -- too many in my estimation -- he got burned time after time by the Steelers receivers Sunday, not to mention a 48-yard pass interference penalty setting up an easy Steelers touchdown. Antonio Brown is as good as any wide out in the NFL right now, but even Jerricho Cotchery and Emmanuel Sanders were causing headaches for Robinson. With Robinson playing so poorly, and Xavier Rhodes looking pretty damn good in most of his snaps, one has to wonder: why is Robinson higher on the depth chart right now? I like mixing both into the game because they are two young talents who need playing time, but simply put, Rhodes should be getting the majority of snaps and Robinson the minority. Frazier has said in the past the team wants to slowly work their rookies into the mix -- but the secondary is hurt, and needs help -- why not use your best asset at your disposal when most needed?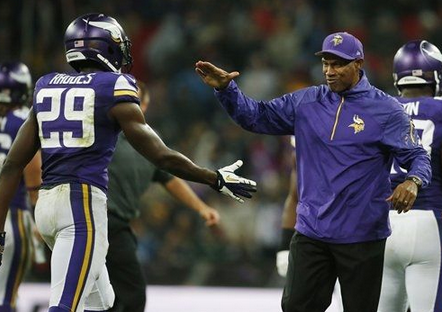 Desmond Bishop again made some noise when he was in the game on Sunday -- I still can't quite put a finger on why he isn't getting more snaps. His impact in the running game has been significant and he can't possibly play the pass any worse than the group getting burned by tight ends week after week. Erin Henderson looked a lot better on Sunday. He flew to the ball and made a lot of tackles that saved huge chunks of yardage. But like I just said, he still got toasted in coverage way too much. Having him defend so much real estate in the middle of the field on passing plays is a huge weakness for the Vikings defense, and the opposition
knows
it. It was nice to see Jared Allen and the defensive line really show up in a game for the Vikings this season. While the pressure came in spurts, the ruckus in the trenches helped the weakened secondary to keep up. But this again is where I pose the question: did the Vikings get a push up front because of their return to form, or because the Steelers offensive line is amongst the worst in the league and no longer has Pro Bowl center Maurkice Pouncey?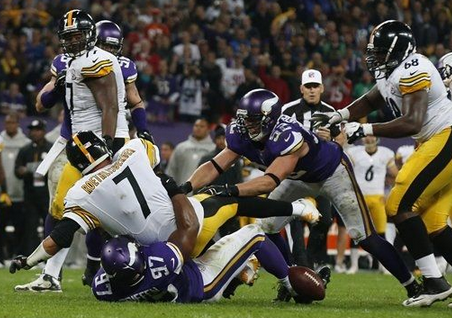 But once again, our defense, despite making huge plays at times and causing turnovers, cannot stop any offense when the game is on the line. For the third straight week the unit was asked to stop the opposing team's offense to win the game -- for the third straight week the opposition marched right down the field into the red zone. This week in London Everson Griffen changed the trend and made a huge play, strip-sacking Ben Roethlisberger to seal the Vikings first victory. It's great the defense has won the turnover battle three of the first four weeks -- but this group has no grit to stop an offense with the game on the line. And I have to make the argument that playing so much zone while defending the pass is killing the team -- the Vikings do not have enough playmakers on defense to fill the crucial roles needed to have a successful zone coverage scheme. Sometimes, our secondary looks lost. When all was said and done, the Vikings notched their first victory of 2013 overseas. Being 1-0 in Europe and 0-3 in America, the Vikings should have foreign soil games more often. It wasn't a pretty win by any means, but it goes to show you that this team, despite playing so poorly for stretches in the first four weeks, could have a much improved record with some defensive stops. Now the question remains: will Frazier stick with Cassel, or give Ponder his very last gasp as an NFL quarterback? Images via:
ESPN