Minnesota Vikings Breakdown -- "An Unexpected Victory" -- Week 13
Posted by Matthew Deery on Friday, December 6, 2013 at 12:00 AM
By Matthew Deery / December 6, 2013
Comment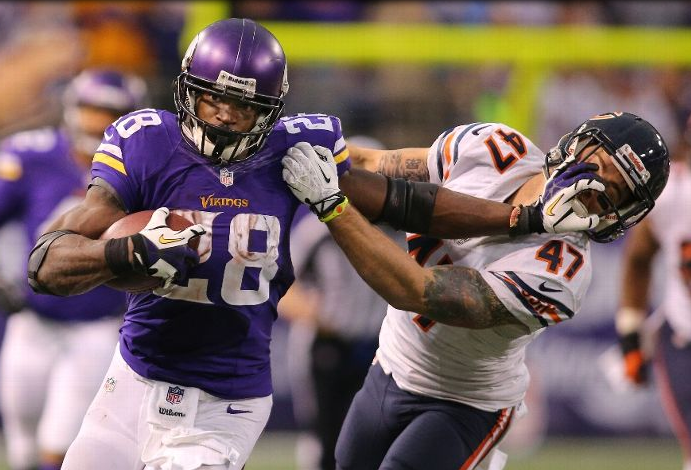 There have been few games this year that have been as entertaining as Minnesota versus Chicago -- the first matchup went down to the wire, the Bears
scoring late
in the fourth quarter to seal their victory. The second matchup was back and forth all game, Alshon Jeffrey and Adrian Peterson exchanging blows which led to an overtime session that was far less entertaining than regulation. The game really started to get interesting once Christian Ponder left with concussion-like symptoms. The question is, how much longer will this guy continue to get playing time? He hasn't even shown anything in recent weeks to truly justify him starting (though he played decent versus the Packers despite getting sacked six times), yet he still is taking snaps with the first team. He finished the first half, almost an entire half, with 3-8 passing for 40 yards. A concussion should not bench Ponder, Leslie Frazier should. But, expecting Frazier to be bold is foolish. Once Cassel entered the game, the team seemed to pick up quite a bit, especially Greg Jennings and Adrian Peterson. Jennings only seems to get targeted with Cassel in the game -- he finished with seven receptions for 78 yards and one remarkable touchdown catch. You can bet Jennings was happy to see Cassel enter the game.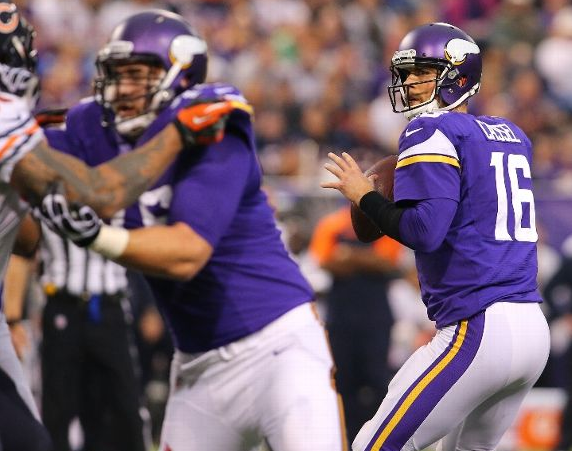 How much fun is it to watch Adrian Peterson in games like this? These 200+ yard games are such a treat to watch -- Adrian Peterson is more than enough reason to keep rooting this team to victory. Yes, the team is playing for next year, but because he wants to win so badly, I am cheering for him to continue dominating and leading the team to success. What a treat, not only as a Vikings fan, but as a fan of football, to see one of the greatest running backs to ever play the position eclipse 10,000 yards on his career. Peterson is the third youngest player to reach 10,000 -- only Eric Dickerson and Barry Sanders reached the mark faster. The run which he broke the 10k plateau was signature to Peterson's career, a fourth and one carry he never quit on, fighting, trampling and spinning away from defenders to earn himself a place in the record books.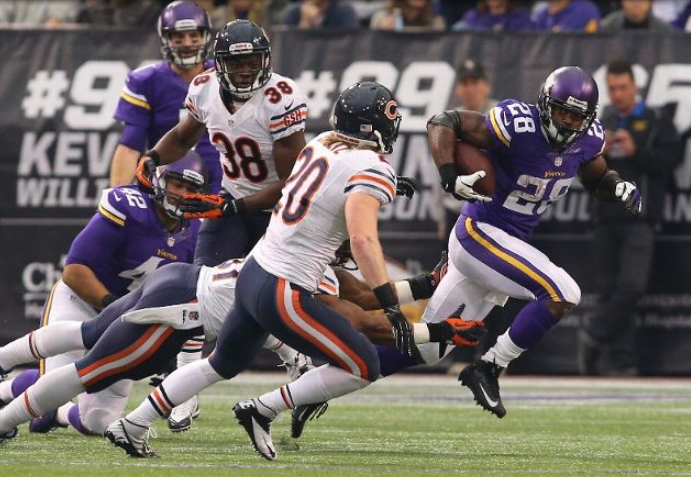 The 211 yards was the fifth time he went over two bills in his career (his first 200+ yard game was in his rookie season also versus the Bears), second all-time to OJ Simpson's six. I smell another rushing record coming the way of Peterson. The 211 yards also propelled Peterson to the top of the rushing charts in the NFL this season, blowing past LeSean McCoy. While Peterson himself predicted a 2,500 yard season, a mark he will surely fall short of, many experts and critics thought AP would be lucky to get anywhere near 2,000 again. At 1,208 rushing yards already, he most likely will not get back to 2k (I can't say he won't, the man is a marvel) -- but Peterson is on pace to have the greatest rushing performance post a 2,000 yard rushing season. Barry Sanders holds the high mark of rushing for 1,491 in his final season after his 1997, 2,053 yard campaign. It sure will be fun when I have kids of my own to tell them stories about how I watched one of the greatest to ever play. On the defensive side of the ball, the Vikings surrendered their lowest point total of the entire season allowing "just" 20 points. The Vikings statistically are the worst defensive team in the NFL, allowing opponents to average 30.5 points against them a game. For the second straight week, the defense looked like a capable unit. They gave up a handful of big plays, but stiffened when needed and held the Bears in crucial situations. Alshon Jeffrey was the only player who really hurt the Vikings on Sunday (more on him later). Matt Forte was consistent all day, but he wasn't a difference maker in the end.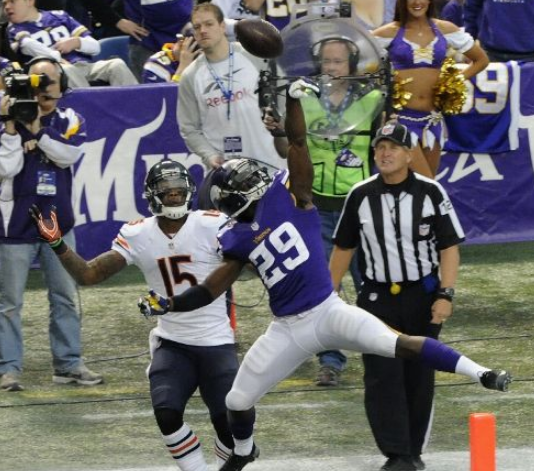 Talking about the defense, I would be a fool not to praise the outstanding play of Xavier Rhodes. The rookie out of Florida State was matched up on one of the league's elite receivers -- Brandon Marshall finished with a respectable four receptions for 45 yards. But compared to what Marshall has done to Minnesota in the past, this was a huge downgrade from previous performances. Rhodes deserves all the credit, frustrating Marshall all day and sending all the targets Jeffrey's way (hence the huge game for the receiver opposite). Rhodes has come a long way in these past few weeks, ascending from a rookie who deserves more snaps to a legitimate number one corner. Brian Robison is also worthy of mention, notching his fifth straight game with a sack on Sunday. He is playing like he deserved that mid-season contract extension. Also, gotta throw some love Audie Cole's way -- the man has made a difference at middle linebacker in his two starts. Of course, you cannot possibly discuss the Bears/Vikings game on Sunday without mentioning Alshon Jeffrey, a rising NFL wide receiver. He finished the game with 269 yards on 12 receptions and two touchdowns. The 269 is a Bears franchise record. Jeffrey is a playmaker and a name that could be in the discussion for best wide receiver in the NFL in years to come. The catch he made over Chris Cook for his second touchdown of the day is without a doubt one of the best grabs I've ever seen in any football game. I'm glad he's on my fantasy team.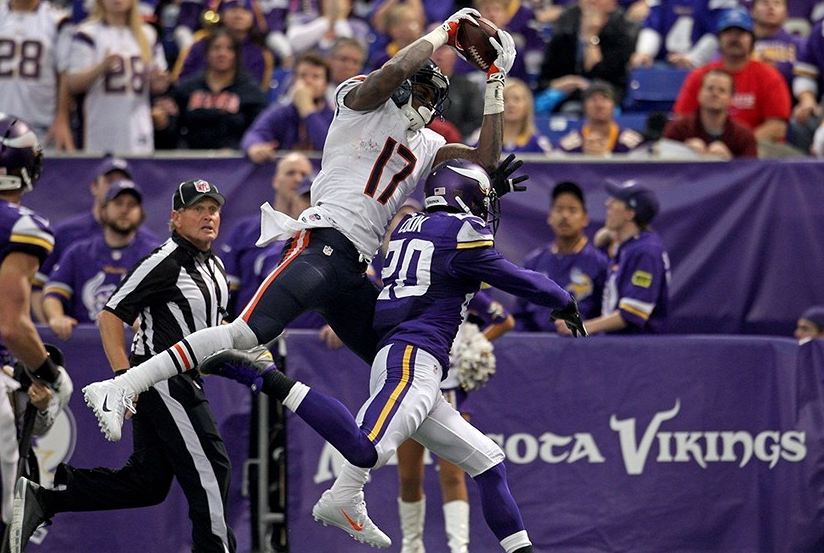 You also cannot talk about this game without mentioning Rhett Ellison -- somehow the Vikings won despite Ellison. He was wide open for a touchdown inside the five yard line and completely muffed the catch, popping the ball up to be intercepted by the Bears. Then, in overtime, his face mask penalty nulled a Blair Walsh game-winning field goal and pushed overtime much further than it needed to go. The team showed resilience despite Ellison's two huge mistakes, a sign this team still is all-in to compete in 2013. It must have been a tough week for Ellison despite the win. What a week it was -- we got to see two of the NFL's best dominate, we got to see Peterson break 10,000 career rushing yards, and we got to see the Vikings defeat a division rival. The best part? This loss is surely the one that will break the Bears chances of making the playoffs. I don't care if you are hoping for the Vikings to tank for a better draft pick in 2014, ending an division opponents season always feels oh-so-good. Photos via: Minnesota Vikings