Minnesota Vikings Breakdown: Giving Ponder a Chance
Posted by Matthew Deery on Saturday, September 7, 2013 at 12:00 AM
By Matthew Deery / September 7, 2013
Comment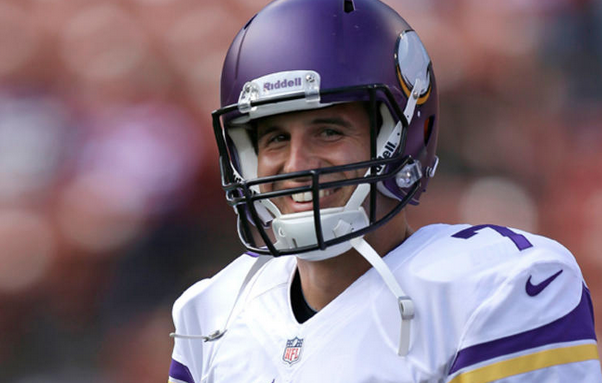 I've had the same debate with so many people over the past couple of months -- even last year I was talking specifics on Christian Ponder and his role in the Vikings future. Ponder is easily the most heated debate topic amongst Vikings fans, with most siding against the 3rd year quarterback out of Florida State University. I will be completely honest, I have never been Ponder's biggest backer -- last year there were stretches when I said he clearly
was not
an NFL Quarterback. But since that harsh criticism midseason, he once again resurfaced as a respectable leader for the Vikings offense, taking the Vikings into the playoffs, and earning himself a bit more slack on his already
very
tight leash. But one thing is for sure, this is definitely his make or break season. I'll be the first to say that Ponder's job is not safe, and it
shouldn't
be. He has not shown enough to prove he can cut it in the NFL on a consistent basis at the most important position in all of sports. But for Vikings fans to call for Ponder's head and to ask for journeyman and completely unspectacular Vikings backup Matt Cassel, is more than just a bit ridiculous. Aside from the 2013 preseason, our last memory of Ponder is his 3 TD passing performance against the Packers to propel the team into the playoffs. And for those holding up the 2013 preseason as to why Ponder can't cut it, please, stop. Everyone knows preseason means almost nothing aside from giving older players stretches of practice and new guys NFL experience.
Real
football is not played in stretches. Hell, the 2008 Detroit Lions who went 0-16 were undefeated in the preseason.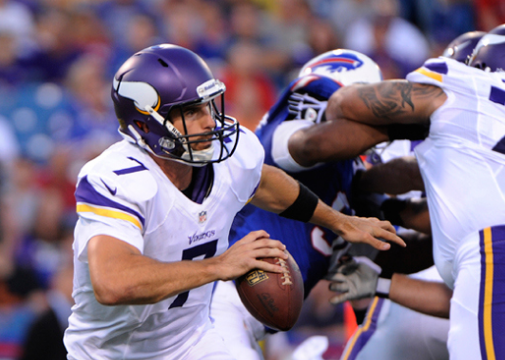 Yes, Ponder played terrible this preseason -- but consider Adrian Peterson, last year's NFL MVP and undoubtedly the best running back in the league, only played two snaps and touched the ball ZERO times -- how much can we really derive from Ponder's performance? Ponder clearly is only the complimentary piece to the Vikings offense. He isn't the focal point. His success can directly be attributed to Adrian Peterson being on the field. Without the best player in the league even in the pages of the preseason playbook, how can you really judge Ponder and this offense? Not decidedly. And if I had to point fingers at the worst part of our offense this preseason, it would be the offensive line, hands down. They played much worse than Ponder. Did you see that Bills game? And since their performance correlates to Ponder's success, that needs to factor into the equation. I've heard time after time people make the argument that we need a franchise quarterback. I think everyone who watches football can agree. Look at the success the Patriots, and so many other teams with elite quarterbacks. That can be directly attributed to the Tom Brady(s), Peyton Manning(s), Matt Ryan(s), Aaron Rodgers and Drew Brees of the world. We all want that type of success from the quarterback position -- but the fact remains finding talent like that is so difficult. At times, it seems like luck is involved in finding those cornerstone quarterbacks who can hold up a franchise. The list of failed first round, can't miss, quarterbacks is endless -- the most recent addition, JaMarcus Russell proves just that. So finding gold at one of the most difficult positions in sports, is no where near easy.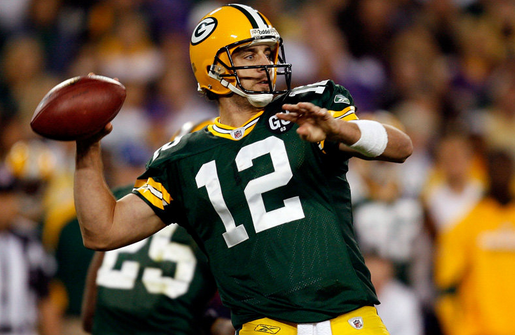 Sometimes though, teams win with the Alex Smith(s), Trent Dilfer(s), and Brad Johnson(s) of the world. I want Ponder to be more like a Tom Brady than an Alex Smith, but does he really need to be elite to lead our football team to success? Ponder may simply turn out to be that serviceable quarterback who manages the offense, doesn't turn the ball over, and allows the dominant running game and (potentially) dominant defense to take the reigns -- or, maybe by some miracle, Ponder turns out to be more. To support my case, let's look at Ponder's first full season as an NFL quarterback. He led the Vikings to a 10-6 record, despite only really showing up for half the season. Imagine if he played only slightly better. Ponder started the season strong, complimenting AP, and leading his team to a 4-1 record. And despite having a lot of passing yards (352) versus Washington (chunks of yards totaled in garbage time), this loss to the Redskins marked the beginning of Ponder's midseason skid. Despite the team winning versus Arizona, Ponder only had 58 passing yards. Two weeks later against the Seahawks, Ponder racked up a whopping 63 yards. But also consider, Ponder's worst performances came against some of the elite defenses in the NFL last season (Seattle, Chicago, Arizona). Both Arizona and Seattle handed Tom Brady and the Patriots losses and held him to some of his lowest rated games of the season (despite throwing for over 300 yards in both, Brady also threw the ball 46 and 58 times respectively).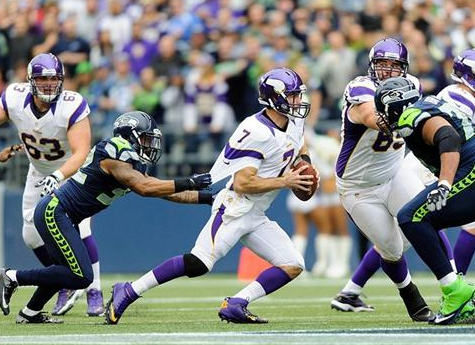 Following a decent showing against Detroit the second time, Ponder had the worst three game stretch of the season, all against divisional foes. In two games against the Bears and one against the Packers, Ponder totaled 4 INTs and only 2 TDs, and only 369 passing yards in all three games. Don't get me started on his completion percentage, which was a joke in that stretch. At this point in the season, the Vikings stood at 7-6, needing to win out for a chance to make the playoffs. And while Ponder's numbers weren't spectacular in the final 3 games, his play was no longer detrimental to the team. He didn't throw any INTs and he undoubtedly put on the performance of his career in the most pivotal game of the season, Week 17 versus the Packers. That was the last time we saw Ponder in real competition, playing the game of his career. Yet, so many are calling for Matt Cassel? We know what we have with Matt Cassel -- with Ponder, I'd like to argue we don't. In 2012, Ponder finished with a 62.11% completion rate, a respectable number netting him 13th place amongst NFL quarterbacks. And many have argued, "Well that's because he just threw those bubble screens to Harvin all the time." This is true to some degree, but remember, Ponder played without Harvin for seven and half games last season after Percy went down in Seattle.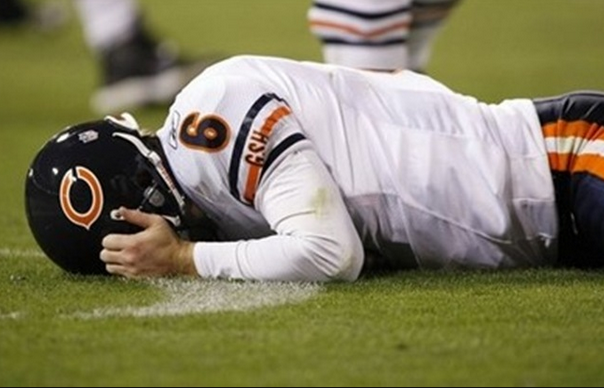 Yes, I know he didn't throw for a lot of yards -- in fact, he finished 25th overall. But also consider, Russell Wilson, Robert Griffin III, Ben Roethlisberger, and "gun slinger" Jay Cutler all were within
300 passing yards
of Ponder's "pathetic" mark. Ponder also had more passing attempts than all of these quarterbacks, but still had comparable completion percentages to all of them. Imagine if he would have played even marginal in those awful games and passed for more than 100 yards, a mark he failed to reach three times in 2012. I've watched Ponder struggle like all of you other Vikings fans -- I've seen the "happy feet" in the pocket, the poor decision making, and his inability to trust his reads and his own instincts. But I've also seen a second year player lead his team to a 10-6 record and into the playoffs. Even despite playing so poorly a lot of the season, he still picked himself up game after game ready to compete. And yes, Adrian did lead most of the way, but keep in mind the first
six games of the season
he only cracked 100 yards
once
. ONCE, and the Vikings were still 4-2. Ponder clearly had a hand in the success of the Vikings. After losing Percy in Week 9 last year, one could also make the argument that Ponder didn't have a lot of passing options -- name me one elite quarterback who doesn't have a top flight wide receiver. Brady, Manning, Bress, Rodgers, they all consistently have major weapons. It's hard to argue the Vikings do not have more depth this season at wide receiver -- Ponder needs a chance with these tools.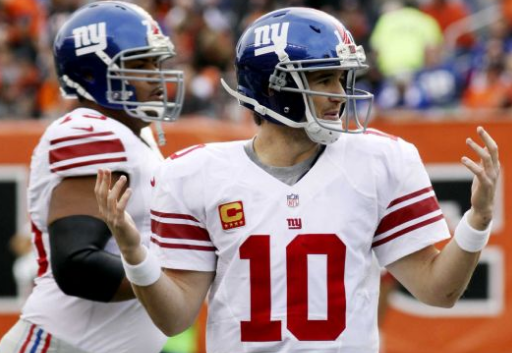 Lastly, I have to point to Eli Manning's
first full
NFL season. Really, I could point to more than just his first season, because Eli started his career really slow -- so many thought he was inept and no where near the talent of his brother. While I will in no way argue Eli is better than Peyton, Eli does have two Superbowl rings. In many categories, Ponder has very similar stats to Eli in their first full seasons as quarterback. Ponder's completion percentage is much higher than Eli's (62% to 52%) and he threw for five less INTs. Eli's leash was much longer considering he was the number one overall pick -- but many argued he'd never get it done either. Ponder, like Eli, shares that same "unspectacular" factor to his game. Between the two, there isn't a whole lot to marvel at (superior arm strength, accuracy, great decision-making), but both come to play. So if you've read this whole argument, you can clearly tell I am not anointing Ponder to the Vikings Ring of Honor, nor am I putting the kid on my fantasy team. But he's a gamer, and he wants to win -- even more so, he works hard at his craft, striving to get better. Why not root for a guy working so hard to become that franchise quarterback for the Vikings? Not all quarterbacks need to put up huge numbers to be considered a success. Russell Wilson is a shining example. He had very similar numbers to Ponder (except 8 more TDs) -- yet no one is calling the Seattle quarterback out for not scoring legendary stats. Don't get me wrong, Wilson clearly was the superior quarterback last season and was a playoff game winning quarterback at that. Injury took that playoff chance away from Ponder. He definitely wants to win, badly. Look at
his arm
after the Week 17 victory over the Packers -- he played through that and brought the Vikings into the playoffs. Ponder was a winner in his first full season (10-6) and only one victory less than the Seahawks beloved Russell Wilson (11-5) -- well, we all
really
know that Wilson only won ten games --
simultaneous possession -- 
what a joke. This season will tell the story of Christian Ponder -- will he become a fixture in the NFL or fade away like so many other mediocre Vikings quarterbacks? He doesn't deserve an MVP or even the consideration of being a top NFL quarterback, but he does at least deserve a chance from Vikings fans to prove the job is his for the long haul. After six games in 2013, if he's dismal, put in Cassel. But for now, get off the guy's back and let him play. Here is a fun little piece from the Star Tribune, Ponder talking about himself and his own play.
Good read
. This guy wants to be great.