Minnesota Vikings Breakdown -- "Missed Chances" -- Week 2
Posted by Matthew Deery on Tuesday, September 17, 2013 at 12:00 AM
By Matthew Deery / September 17, 2013
Comment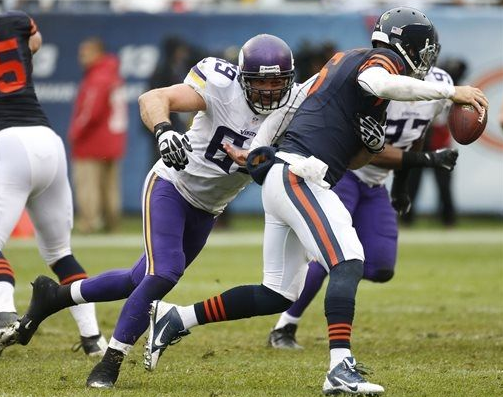 Despite losing a heartbreaker in the last seconds of the contest to the Chicago Bears, this loss was actually a lot easier to swallow than the Week 1 debacle against the Lions. At least the team that showed at Solider Field wasn't completely outmatched in every aspect of the game. The loss definitely hurts, starting 0-2 is worse, and starting 0-2 versus division opponents is
even
worse, but there are silver linings to take away from Sunday. Is it time to hit the panic button? No. Is it time to get worried about the prospects of this 2013 team? Yes. Should we start with some good? Something great for the Vikings happened within five seconds of kickoff, and his name is Cordarrelle Patterson. Once again, the Vikings started the game off with a bang. While Patterson clearly deserves most of the credit, the special teams unit gave the rookie a massive hole that an offensive lineman could have run though. But that bright spot quickly fizzled as Blair Walsh kicked off to Devin Hester, the NFL's most decorated kick returner, and he swiftly had a huge return of his own putting the Bears in position to score their first offensive touchdown. Hester, just like Reggie Bush, always seems to have the Vikings number. His big returns were a huge advantage for the Bears and consistently set them up with a shorter field to work with. While Patterson was an early spark, the poor special teams coverage killed the Vikings throughout the game. Remember just after that strip-sack-touchdown and then Hester ran the ball inside the Vikings 30? Hester made plays all day. Why did they keep kicking to him?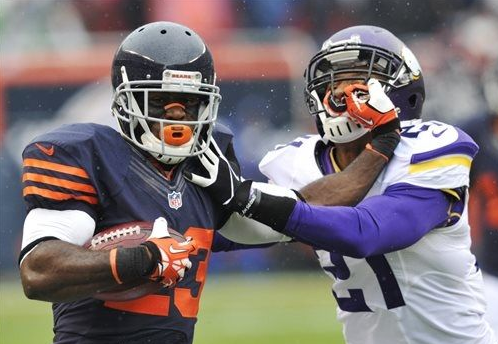 We can't go far without talking about number seven. Christian Ponder was again so-so, evening leaning towards good. Definitely a huge improvement from Week 1. I'm not going to give in to all you haters proclaiming, "Ponder sucks, he's terrible, he's garbage." And trust me, there was no shortage of Ponder haters throughout the game, many of them seeking me out on social media to voice their displeasure. Trust me, there were more than a few times in this game I wanted to throw a brick at Ponder. He
is
frustrating to watch sometimes. But I just do not understand how so many fans can watch him play and think he's
so
bad. He has some very bad moments (so does every quarterback), but against the Bears, he had a lot of really good ones too. I'm not saying the quarterback is a huge asset to the Vikings, my argument has always been that this team
can
win with Ponder. He's never going to be the best quarterback in the league, but he can be good enough to lead a quality football team to success. Even though Ponder has faltered quite a bit this year, it's the pillars of consistency in other areas of the team, defense, offensive line, running backs, that have failed the Vikings most in 2013.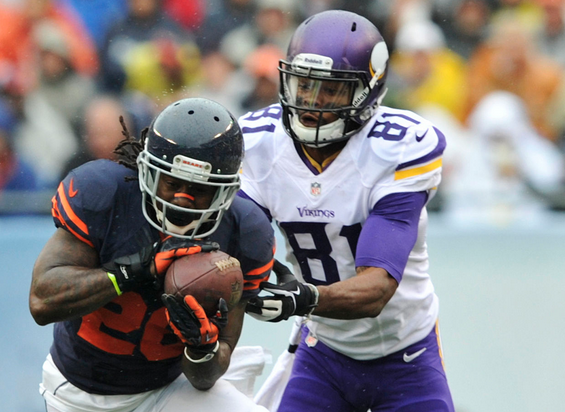 Ponder's most controversial moment was clearly the one interception he threw. I've re-watched the pick-six Ponder threw a handful of times -- this play is one of Ponder's biggest weaknesses as a quarterback. He sometimes treats game situations like practice, pre-determining where he is going to go with the football, and then staring the read down until his throw. Tim Jennings read Ponder's eyes the entire way and had plenty of time to react to the outside the numbers throw -- as an NFL quarterback, you cannot stare down your reads. But in my "Ponder apologist" defense, Jerome Simpson helped make the interception happen. He didn't come back to the football like receivers are taught to do. You re-watch that play and try to convince me Simpson did not give up on his route and that he was at the spot he should have been at to catch that football -- Tim Jennings went to that spot, and won the football. After the pick-six, Ponder picked himself off the mat and with Peterson led the Vikings down the field capped off with a Rudolph touchdown. Most Vikings fans didn't even get to see the touchdown because the Fox presentation was just awful -- how many times did they say technical difficulties in the broadcast? Ponder's touchdown pass was right where his tight end could make a big play.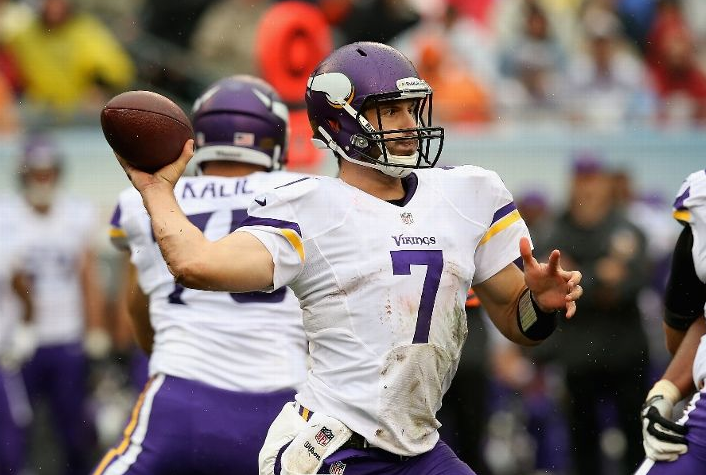 Let's fast forward to the second half, 4th and 1. The play call is a short pass to John Carlson. The tight end gets bottled up by the Bears D -- the play is breaking down. Ponder uses his legs and scrambles ahead diving for the crucial first down. Next play, none of it matters because
Adrian Peterson
coughs up the football. Jumping ahead, still early in the second half, the Vikings get the ball back and the down and distance is 3rd and 7. The Bears show blitz and Ponder changes the play at the line of scrimmage, then throws a dart to Jerome Simpson for a 37 yard gain -- or how about later in that same drive when Ponder hits Jarius Wright on the doorstep of the end zone and then the second year wideout drops the pass. That was a huge turning point in the game and left the Vikings with three points instead of seven. Let's fast forward to the drive after the Harrison Smith interception -- it's 3rd and 2. Ponder throws a quick pass to Jennings out of a bunch formation on the right side -- the pitch and catch gains the Vikings 22 yards and awards them another red zone opportunity. That drive stalled from Adrian's boneheaded 13 yard loss, resulting in another field goal.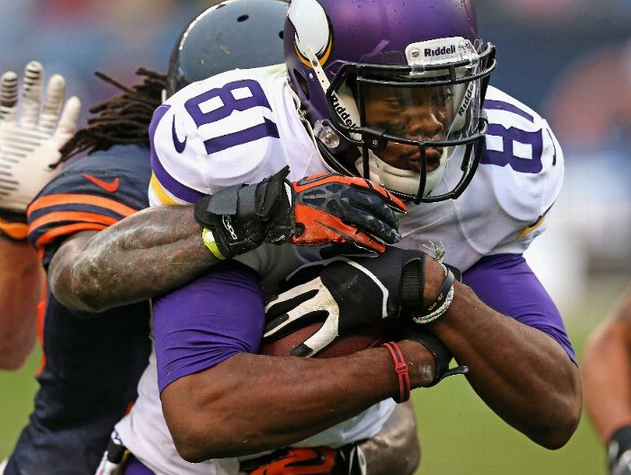 The next drive, once again the Vikings were driving back down the field after the Guion strip on Forte (more on that later). And this drive happened because 
Ponder made plays
 -- he threw for 85 yards in those two short field drives. The down and distance is 3rd and short, again a Ponder passing play. This time, Ponder dishes out a perfect throw to Greg Jennings -- or as color commentator Brian Billick said, "That thing had to be exact, like it was on a laser-guided missile, dropping it into the bucket." Yeah, that garbage description is really holding up, after the kid made play after play in the second half. Ponder didn't make the throw to Rudolph on 2nd and goal in that same drive, which could have put the game away. But let's be honest -- Ponder did not suck against the Bears. He had a handful of bad plays in the Bears game, but recovered with a whole bunch of really good plays, both with his arm and with his feet. He had one bad turnover -- but comparatively, Cutler had a fumble, and two INTs. Eli threw four INTs on Sunday, Kaepernick threw three. Not saying Ponder is in the conversation with these three, but good defenses, like the Chicago, Denver, and Seattle units, are going to make plays against an offense. Ponder only made one egregious mistake -- he sure didn't after that on Sunday.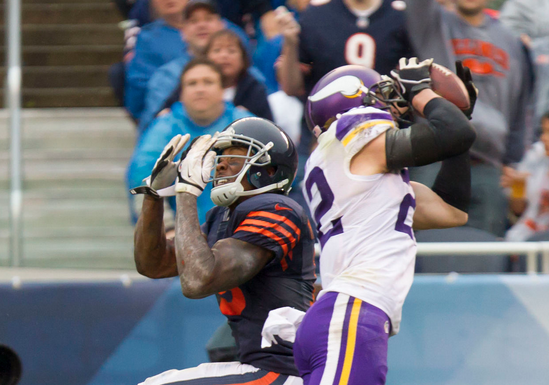 I think far too many Vikings fans just have it out for Ponder and want to simply spit venom towards him. There is an old saying in football during "quarterback controversies" like this one, "Everyone's favorite player is the backup quarterback." Ponder put the Vikings in position to win the game on Sunday -- it's the rest of the team who let the fans down. Peterson had a decent outing, which is funny to say considering he finished with 100 rushing yards. But he should be disappointed in his performance and surely will be after watching game film. Revisiting some of his runs myself, he missed chances for decent gains, usually trying to make too many cuts and always going for the home run. When he needed to gain one or two yards, Peterson was at his best running forward with a full head of steam.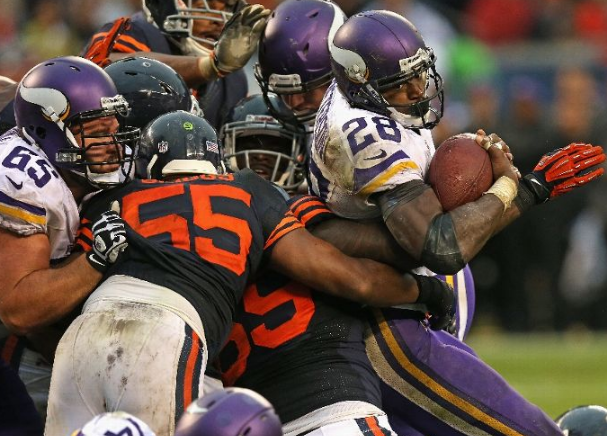 I'm not going to spend a whole lot of time talking about this, but the play calling was once again off beat at times. It was nice to see a
bit
more variety in the mix -- there were a lot of draw plays and short passing plays that were extremely effective in the second half. But still, why is Ponder bootlegging against the grain so much? It's been proven he cannot make that throw against his body. Why were there so few intermediate and short routes being dialed up in the first half to combat the pass rush? The Bears did a good job in film study watching the Vikings linebackers get smoked by Reggie Bush last week. In their most successful moments Forte was catching the ball out of the backfield and making plays in space while Martellus Bennett tore the unit up down the field. Greenway did make a few plays in the game, but most often he was chasing down Bears players after successful gains. Another less-than-Pro-Bowl-effort out of him. And don't get me started on Marvin Mitchell. It's clear the Vikings weakest cog on defense is the linebacker corp. The Vikings were supposed to be getting a big year out of Everson Griffen and he hasn't shown up much in 2013. His name has not been called very often this year, and many Vikings fans were hoping he would have a big impact. He did come up with a huge play late in the second quarter, batting the pass from Cutler on the goal line which was eventually intercepted by Kevin Williams. Speaking of the defensive line, how about Letroy Guion, ripping that ball away from Matt Forte? That's a man's man. Oh the fumble caused by Allen and recovery by Robison, those are the plays the Vikings need out of their defense to be successful.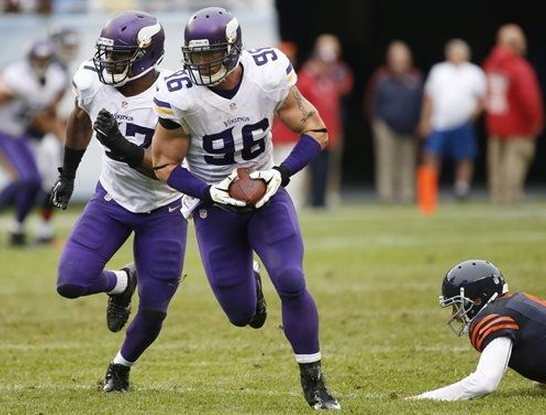 Of course, the game boiled down to the last drive, a drive in which the Vikings defense allowed huge chunks of yards. They almost stopped the Bears a few times, but then there would be plays like Marvin Mitchell leaving Bennett alone to haul in a 23 yard pass on 1st and 20. Then, the dagger to Vikings fans hearts -- Bennett pulling in the touchdown with ten seconds remaining on the clock. Before the play started, Chris Cook was frantically signaling for help on the left side -- he didn't get the help and the pass was thrown right past him. Post game, the players and the coaches alluded to confusion on that last play. One of the Vikings defensive leaders needed to step up in that moment and call a timeout. Game on the line, the pieces need to be in place. Unfortunately, the worst case scenario for Vikings fans has played out -- the team is 0-2 losing to two divisional foes and stumbling out of the gate in a major way. But this loss gives Vikings fans something to hope for. The offense mixed the pass and the run well and was led by a competent quarterback. The defense had many bright spots, particularly in the turnover department, despite giving up tons of big plays. With a bit of course correction, the team should be able to beat three straight inferior opponents (Browns, Steelers, Panthers) before moving on to the meat of their schedule. Photos via:
ESPN
and
NFL