Minnesota Vikings Breakdown -- "Playing Spoiler" -- Week 10
Posted by Matthew Deery on Wednesday, November 13, 2013 at 12:00 AM
By Matthew Deery / November 13, 2013
Comment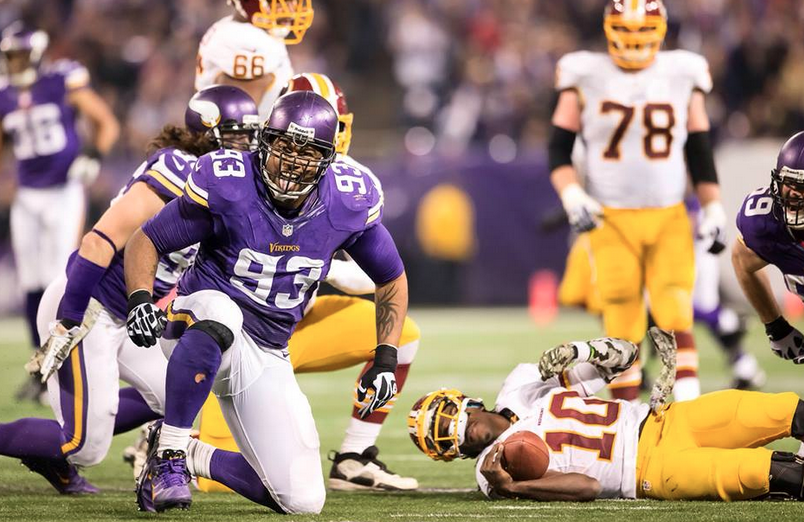 For the first time in 2013, the Vikings didn't embarrass themselves in front of a national audience -- after Monday night and Sunday night debacles versus the Giants and Packers, Minnesota finally showcased a touch of grit against Washington. The Thursday Night Football game turned into a great battle between two struggling teams. Both the Vikings and Redskins, yes, I am going to call them the Redskins,
oh the controversy
, have been a shell of their 2012 playoff teams. While the Vikings have a zero percent chance of turning this season around, the Redskins play in the laughable NFC East, a division littered with mediocre teams. Many thought this Thursday game was going to be Washington's springboard to a potential playoff run just like 2012 when they finished the regular season on a seven game winning streak after starting 3-6. The Vikings threw a wrench into that plan, defeating the Redskins 34-27. For the second time in three seasons, Minnesota won a "meaningless" game versus Washington. If you remember, the Vikings defeated the Redskins in Washington in 2011 on Christmas Eve, a Week 16 victory that notched the third win of the season for the team. You may also remember Adrian Peterson blowing his knee out on his first touch in the second half of that game -- not a happy Christmas for most Vikings fans. The victory took the Vikings out of contention for the top two picks in the 2012 draft, a draft headlined by now Redskins quarterback Robert Griffin III and Andrew Luck. Many fans still bicker about that fact and it now seems this second "meaningless" victory over the Redskins, and second victory of the year, might also put the Vikings in a similar situation of ruining their draft position.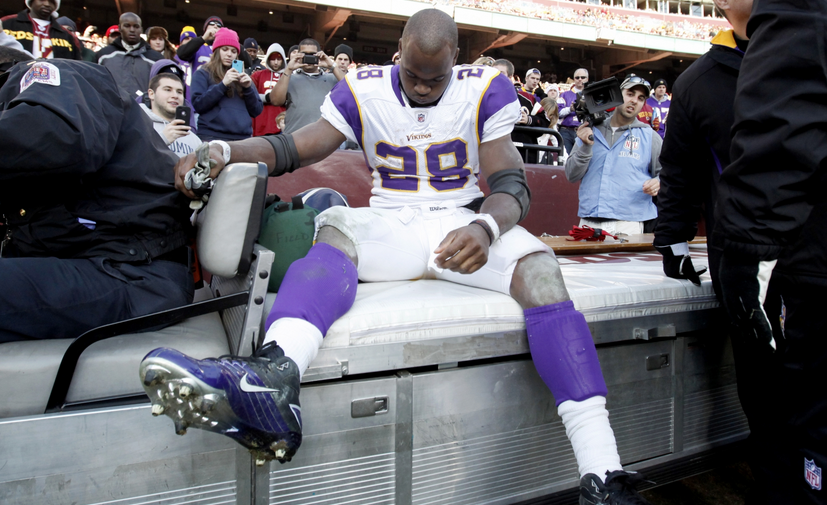 I will again, reiterate the
great words
of Herm Edwards, "You play to win the game." I've heard so many argue the Vikings should pack it in to ensure a higher draft pick. Quite honestly, that strategy is never worthwhile. Who wants to see a team give up? What entire group of competitive NFL players will give up anyway? What would a finish of a season look like where a team tanks? Everyone just stops playing their hardest, letting the opposition win by 50? And on that note, all of these players and coaches know that every snap, and every game is a portion of their personal resume. Game film is one of the many currencies in the NFL -- it showcases players and coaching decisions from every angle. No player in their
right mind
would give up playing their best -- the fear of forever losing their position as a NFL player is too strong. A career in the NFL is short-lived -- every down is a blessing. If a player starts to play tentative, or for next season, he risks getting hurt playing like a chump or losing his job to the next guy up. Of course there are always going to be those in the league who have given up, but their stories are brief and their contributions forgotten. The Vikings do not seem to have any of those who are giving up -- playing for next year doesn't help anyone on the current team. Not to mention, the draft is a crapshoot. Having a number one or two draft pick doesn't always mean you get the best NFL talent. Just ask the
Raiders
,
Chargers
, or
Texans
, all teams with top two overall picks recently used on quarterbacks who turned out to be punchlines for the franchise failures. Minnesota got the best player in Vikings history, Adrian Peterson (arguably), at number seven overall. Getting in the top five doesn't equal success in the draft. So please, quit arguing the Vikings are doing themselves a disservice by continuing to fight in 2013. The players putting on the purple jerseys are not under the mindset of 'preserving a higher pick for next year' -- "You play, to win the game... and I don't care if you don't have any wins, you go play to win." That Herm Edwards is a smart man.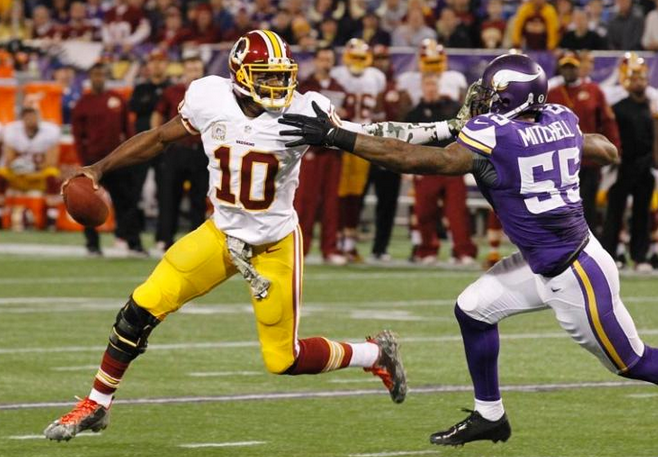 Moving on to the actual game. The Vikings defensive line had a bit of a resurgence, mostly in the second half, and helped the unit hold RGIII and the Redskins to three second half points. The defensive line was led by Kevin Williams, a veteran long in the tooth who looked like a man in the prime of his career. Williams tallied seven total tackles, 2.5 sacks, two tackles for a loss, and four quarterback hits. His disruptive play cancelled the Redskins hopes of winning, subdued their running game, and put RGIII on his back to the point where the second year Baylor quarterback had nightmares of number 93. A veteran player like Williams is playing for the now, soaking up the last great moments in his career, clearly not worrying about the 2014 draft status. The MVP of Thursday night, without a doubt, was Kevin Williams. The defense in the first half however, was no where near as dominant. The Redskins running attack looked unstoppable with Alfred Morris and RGIII gashing the Vikings defense for huge gains. Morris finished with 139 yards on 26 carries, an average of 5.3 yards per carry. Early on, the Redskins seemed to score at will, a sign of doom this game was not going to finish well for the purple. But in the second half, the Vikings came out as a different team, one hellbent on not rolling over and dying, a team that wanted to spoil the Redskins push to get back into contention in their terrible division. The defense did not force a turnover in the game, but made the dependable running game and RGIII's passing attack non-existent. After the first drive of the second half where the Redskins kicked a field goal and went up 27-14, the Vikings held the their opposition scoreless, holding them to a total of negative five yards on three straight possessions. The game seemed to be in hand after Washington went up by 13, cruising to an easy victory -- but then the defense ratcheted up the intensity and shut down RGIII, Morris and Co., especially on that final possession where the Vikings have yielded game-winning touchdowns to the opponent far too often this season. The last 30 minutes of the game were by far the Vikings best half of football all season.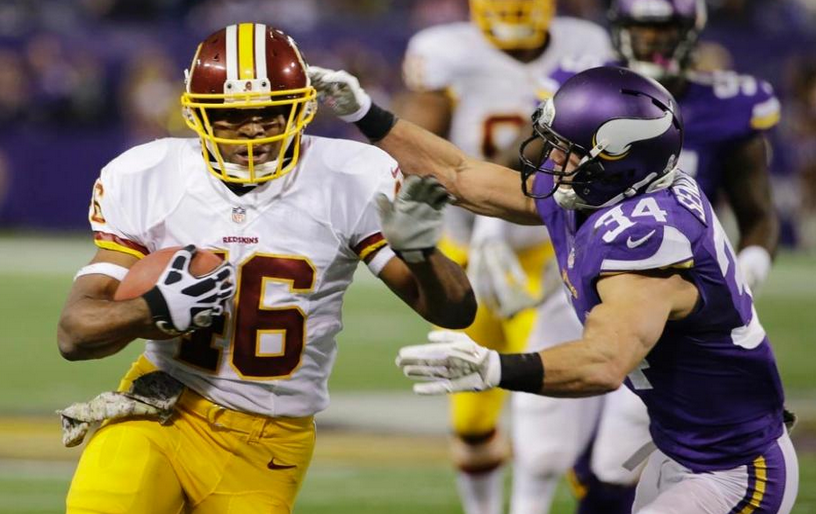 I also want to remark on the play of Andrew Sendejo -- initially filling in for the injured Harrison Smith, the drop off between Sendejo and Smith was monumental. Since then, Sendejo has been making a lot of noise, always being around the ball to make tackles. His work in pass defense is still below average (the biggest difference between him and Smith), but his knack for hitting at the line of scrimmage helped the Vikings a lot in the second half Thursday -- Sendejo finished with a team high 16 tackles. He still could use some lessons on form tackling and the best path to his targets (he has taken the wrong angles and allowed huge chunks of yards a handful of plays since filling in), but he works hard and is filing in nicely for a future Pro Bowler. The offense was once again less than spectacular -- however, they were efficient, led by Christian Ponder and a decent running attack. Adrian Peterson was again held a check, a notion Vikings fans have become all too familiar with in 2013. He did finish with two touchdowns, but only gained 75 yards on 20 carries, an average of only 3.8 per carry. The Vikings offensive line started two backups with injuries to Phil Loadholt and Charlie Johnson, but looked formidable late in the game. While they didn't do much for creating opportunities for Peterson, they protected Ponder quite well only allowing one sack and three quarterback hits.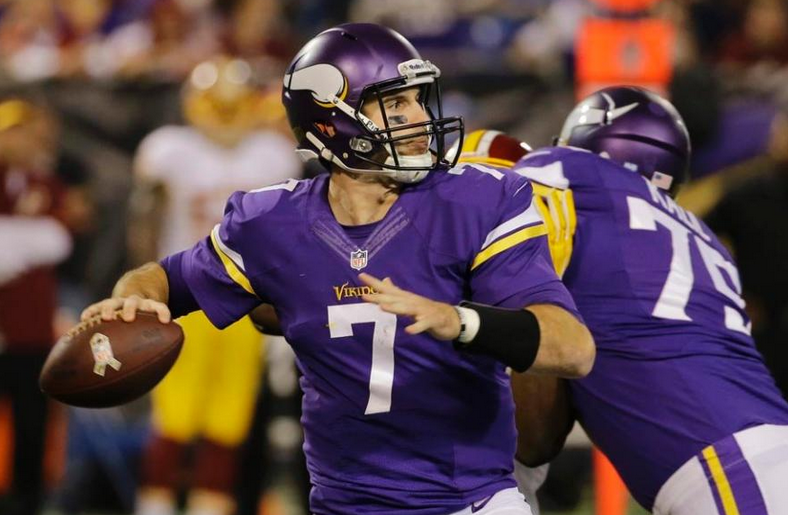 Ponder himself boasted in another solid performance, turning in 174 yards, two touchdowns and one interception, on 17-21 passing (not to mention he was an inch away from a rushing touchdown as well). For those counting at home, that's an 81% completion percentage, a QBR of 95.0, and a rating of 113.1, easily Ponder's best numbers of the year. While none of those stats are flashy like a Drew Brees performance, his work was economical. Aside from his downfield attempt that turned into a first quarter interception, Ponder played within his talents, his limited passing skills, and took what the defense gave him. Ponder completed passes to seven different receivers, showing that he isn't just checking the ball down time after time. Though the Redskins defense isn't great, some would even call it bad (though they have been playing much better recently), Ponder played his best game in 2013 Thursday night. And once the defense stepped up, he showed that this team can win if the other facets play according to their talent level, i.e. 2012. While Ponder is still less than stellar, he turned in a
second straight
week that disproves all those who are saying "he sucks." It was also nice to see John Carlson, for the first time since he joined the team, earning his paycheck. With Kyle Rudolph down for the foreseeable future, Carlson stepped up with seven catches for 98 yards and one score. Carlson caught all seven passes targeted at him. It would be nice to see him work his way into the offense to become a week to week viable option for Ponder.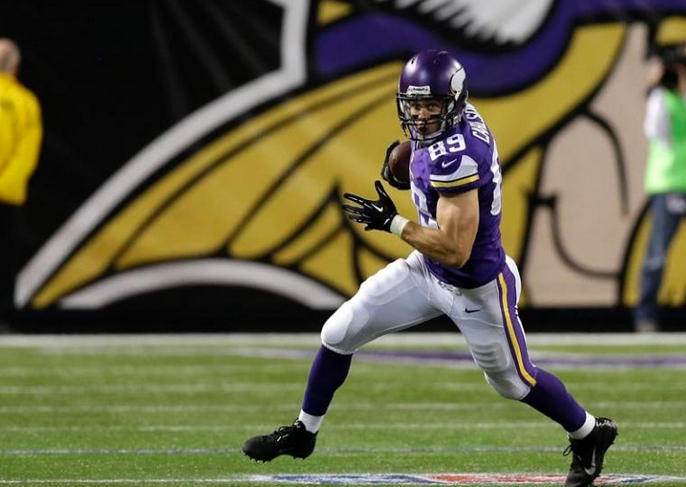 The Vikings showcased what I was calling for
last week
, the team to keep fighting in 2013. There is no sense in giving up for an uncertain draft pick, and who wants to watch a team give up on themselves. The effort was there in all three phases and the Vikings showed they can win games when they aren't busy shooting themselves in the foot. Though the team is deserving of a losing record, they surely are better than a two win team. Moving forward, I hope the Vikings keep competing in games, looking to play the role of spoiler to those teams with playoff aspirations. Though playing the Seahawks away next week yields almost no chance of winning (Seahawks haven't lost at home since 2011), the rest of the season the Vikings play teams with hopes of making the playoffs. Our schedule is difficult to a point of unfairness, but I like the idea of the fans rooting on their favorite teams cursing the Vikings. Our role from here on out:
the spoiler
. Photos via:
Vikings.com
and the
Star Tribune