Minnesota Vikings Week 1 - Review, Preview and Talking Points
Posted by Erik Bergs on Tuesday, September 9, 2014 at 12:00 AM
By Erik Bergs / September 9, 2014
Comment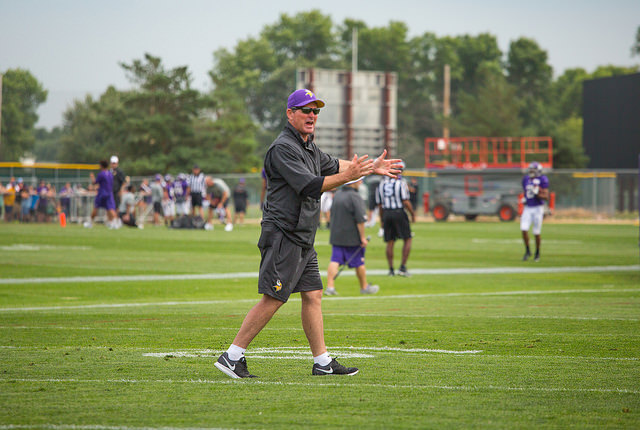 Nobody predicted that our Vikings would be walking away from St. Louis with a blowout win. Before Rams quarterback Sam Bradford re-tore his ACL, the most common prediction among fans was an 0-3 start to our season; but with Bradford gone a victory seemed possible, if not slightly likely. Yet, the thought that the Vikes would score over 20 points through the Rams defense seemed laughable, even by me. But then they went ahead and won 34-6.
A Skolded Perspective
Purple-clad Minnesotans don't let each other get too high off of wins, especially not wins at the beginning of the season. Suddenly the bandwagon keys are laying on the counter and pessimists are advising sobriety. They want them put away. "This is what good teams should do to bad teams," they say. They, who said the Rams weren't a bad team just a month ago, would never actually put "good team" in the same sentence as Vikings... at least until the playoffs. The various coping mechanisms from so many seasons of bitter defeat are in full display after games like these. Budding excitement,
impish gloating
, and a sudden purple-smeared change to a Facebook cover photo get eye-rolls from the bitter veterans of Viking fandom. This is the week where our undefeated record has no trust, no teeth, and yet can mean so many things.
Talking Points
- Mike Zimmer nabbed the best debut performance of any coach in Vikings history (snatching the title from Norm Van Brocklin's 37-13 victory over the Bears in 1961). - Cordarrelle Patterson's 67-yard run was the longest in Vikings history for a receiver; it bested Bob Grim's 54 yard play in 1971. - The Vikings, who allowed the most points in the league last year, did not let the Rams into the end-zone. This is also their first road win since December of 2012.
Bright Idea of the Week
The Vikings will of course not be seeing St. Louis anytime soon, so improvements to the Rams wouldn't harm us at all; we should try trading Christian Ponder to them! Although Ponder is by no means a marquis quarterback in the NFL, he can at least throw the ball well and run (unlike Shaun Hill or Austin Davis). If the Rams defense were to play as good as they should on paper, he wouldn't even need to score that many points!
Looking Ahead
The New England Patriots suffered a rather embarrassing loss on Sunday to the Miami Dolphins in which they didn't score any points in the second half. Their offensive line looked as though it is finally at the end of its dominance and their defense has a number of pressing issues, like allowing the Dolphins to run the ball down their throats for 191 rushing yards (Peterson and Patterson are licking their chops). New England isn't a team that allows back-to-back losses, but with them playing on our turf I think we have a chance. A rational person would have New England ahead by 7 or 10 points, but I'm going to step out on a limb and project a Vikings win 24- 14. Admittedly I am not a football picking guru like
some on our staff
. The purple will certainly have its hands full with a much more capable offense than the depleted St. Louis Rams. This week is the real barometer to just how good the 2014 Vikings really are. Photo by: Matthew Deery