Minnesota Vikings Week 3 - Review, Preview and Talking Points
Posted by Erik Bergs on Tuesday, September 23, 2014 at 12:00 AM
By Erik Bergs / September 23, 2014
Comment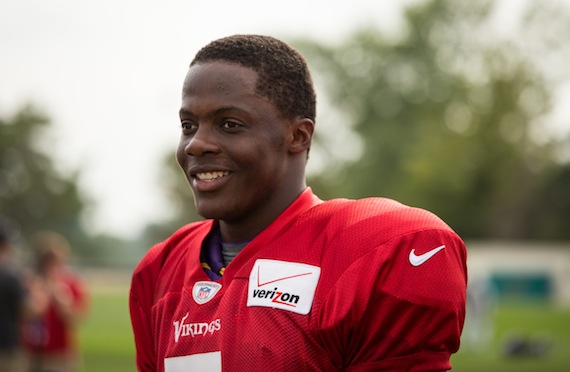 If expectations had been higher, the past few weeks would go down as one of the most painful times in Minnesota Vikings history. Fortunately, even the brightest-eyed and bushiest-tailed fans (like myself) only predicted an 8-8 season before kickoff in St. Louis. Now we can just savor the fact that if our season is on its way to a dark, sad place (like it probably is) we'll get a decent draft pick and won't have to get the let down of just missing the playoffs. The New Orleans Saints executed a textbook two-man high-low tackle on our scrambling Matt Cassel to put yet another foot injury on a Vikings quarterback in recent memory. The only difference, Brett Favre stayed on the field long enough to lose the game... indeed, I am still bitter. The early exit of Cassel brought in the man who, according to some Vikings fans, will lead the team straight to the gates of Valhalla: the one and only Teddy Bridgewater; Teddy's debut has initiated his NFL honeymoon with praise for his ability to stretch the field with his arm and baffle the defensive-line with his quick feet. Despite not scoring a touchdown, supporters are quick to note that the Vikings outscored the Saints 9 to 7 after the Saints broke Matt Cassel's foot bones.
Peterson's Return?
"Decisive" measures taken by Radisson Hotels, to pull sponsorship of the Vikings until action was taken against Adrian Peterson, inspired a wave of punitive motions against our former running back from corporate sponsors and the NFL. His future in purple, and even on the gridiron, is in jeopardy. However, rather than mailing a pound of his own flesh to everyone he may have offended and quietly receding from the world of football,
sources say
that Peterson is working hard on his legal situation in order to return to play this year.
Another one gone?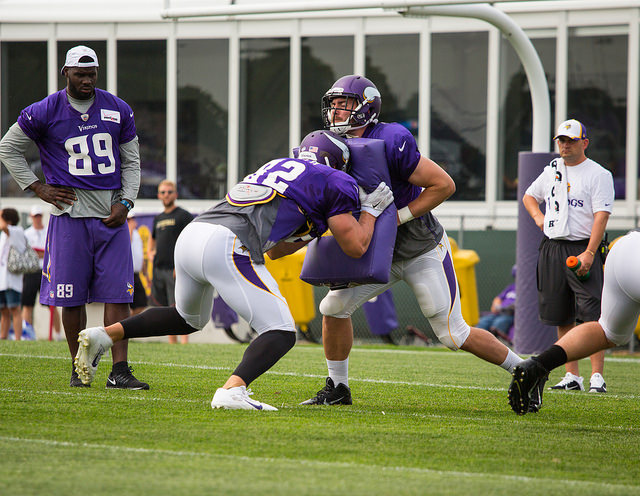 Vikings tight end Kyle Rudolph
will be out
at least six weeks after undergoing sports hernia surgery. Rudolph, who many of us hoped would be making big strides this season (both literally and figuratively), will be missed greatly by fans. This season already looks to be over before we suffer our third loss.
Bring on the Falcons!
In the second week of this season's trip down painful-NFC-Championship-losses lane the Vikings will be hosting the Atlanta Falcons at TCF Bank Stadium at 3:25PM (on FOX). Unless Teddy Bridgewater proves to be a much more capable quarterback than I think he is, expect a loss by a touchdown or two. Photos by:
Matthew Deery