Minnesota's Biggest Fashion Event
Posted by Leah Putz on Tuesday, April 15, 2014 at 12:00 AM
By Leah Putz / April 15, 2014
Comment
This week marks the beginning of Minnesota's spring fashion show events, the biggest of which is Circle of Design, an event Minnesota Connected discussed in
this article
. The show takes place Friday, April 18, at the Sheraton Bloomington Hotel from 7 pm to 9 pm. I contacted the show's executive producer, Shelly Gensmer, via email for an interview to get the scoop on the Circle of Design fashion show.
Minnesota Connected:
Tell us about the show.
Shelly Gensmer:
 The show is a highly energetic and entertaining story about design. It is told through dance, through designer's garments -- some of which were made specially for the show, and through imagery to music. It's very innovative and unique. I DARE you to not be entertained!
MC:
How did you come up with the concept?
Gensmer:
I wanted to find a way to celebrate local designers, celebrate the process consumers never get to see, and also create a forum to market local businesses -- MN hair design for our makeup and hair, JLW Productions for our dancers, JR Birnie is our DJ, Summit is our sponsored brewery, Opulent is our sponsored vodka distillery, some brand new businesses needing a boost and some established and helping us get our names out. The best way I could do that is to create a show. Not just a fashion show, but an all around fabulous show. [caption id="attachment_218459" align="aligncenter" width="568"]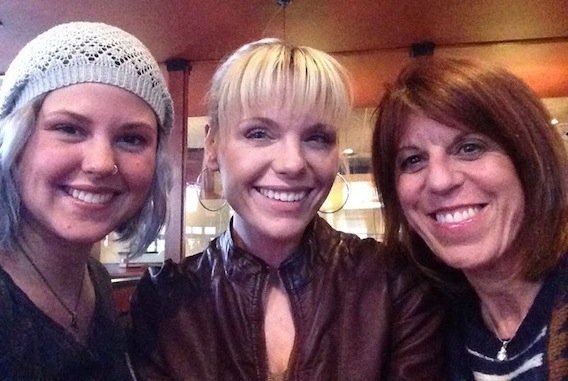 Left to right: Leah Putz, Shelly Gensmer, and Vicki ( Dressing Room Dojo employee).[/caption]
MC:
How will the show feature in Minnesota's spring fashion week?
Gensmer:
 Our designers have gone to great lengths in using the latest trends. BOLD is the word we are sticking with! Bold colors, bold prints, and if you're bold enough to bare it, wear it! Lots of midriffs this summer.
MC:
As well as producing the show, you also own the Lakeville consignment shop
Dressing Room Dojo
. How are the show and the store related?
Gensmer:
 I love all things fashion. New and used! It's sort of my means to feed the fashion food chain.  I have a corner for local designers called dojo loves locals. It's a spot for them to put their new items out or even their old to get some organic feedback about the garments, to maybe gain an audience's attention that they might not have otherwise had, and to hopefully make money in the meantime. The designers in the fashion show have either by consignment or by Dojo locals, been a part of Dressing Room Dojo.

MC:
You're offering VIP tickets as well as General Admission tickets. What are the perks of the VIP purchase?
Gensmer:
VIP tickets get runway side seating, they get two drink tickets instead of one, and they get to party with us after the show... more live entertainment there too! It's WELL worth the $50. Trust me.
MC:
Where can Minnesota Connected readers purchase tickets?
Gensmer:
For every $30 spent in Dressing Room Dojo, a general admission ticket is given. Otherwise go to 
circleofdesign.net.
** You heard it straight from the woman in charge! Go to the link above to grab a ticket and experience this exciting chance to dive into the world of fashion this Friday, April 18th right here at home in Minnesota at the Sheraton Bloomington Hotel. Photos via: Dressing Room Dojo -- Leah Putz