Missing 23-Year-Old's Body Found in Otsego
Posted by Travis Bridell on Tuesday, October 13, 2015 at 12:00 AM
By Travis Bridell / October 13, 2015
Comment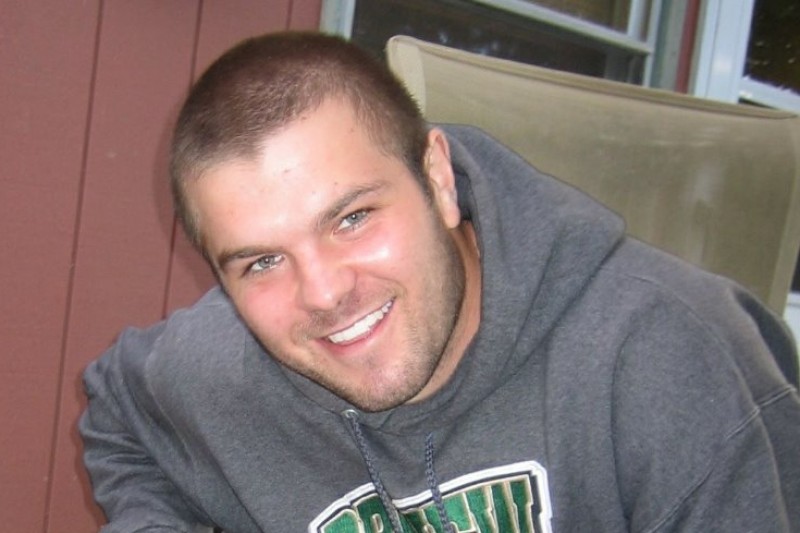 A Minnesota family has a semblance of closure after the body of their family member was found in the Mississippi river Thursday morning. Joe Brunn, 23, of Monticello had been missing since Saturday at 2 a.m. after leaving Boondox Bar and Grille in Otsego. Brunn headed toward the Holiday Inn where he had a room reserved, he was seen last by one of his friends walking away from the hotel. The body was found around 300 yards south of the Minnesota 101 bridge and 30 feet from shore, according to the
Wright County Sheriff's Office
. The body was picked up by a police boat and transported to the Midwest Medical Examiner's Office for identification and an autopsy. Since the first search on Sunday, over 4,600 people came out to look for Brunn. Horses, ATVs and buses of people went out to find Brunn through corn fields and neighborhoods organized from the Holiday Inn as well as the nearby private area. Brunn's parents and sisters were visibly distraught over the several-day search. The community kept up hope and donated enormous amounts of water and food for the searching volunteers. After the body was found by one woman walking her dog, the family held a short press conference. Joe's uncle Steve Brunn spoke at the press conference.
"Above all else, we just want to say thank you to the community," Brunn said, "to all the resources that we've had made available to us in our help for finding Joe. Joe was a great man, great person, we are so glad that he's back with us. He had a wonderful heart, wonderful personality."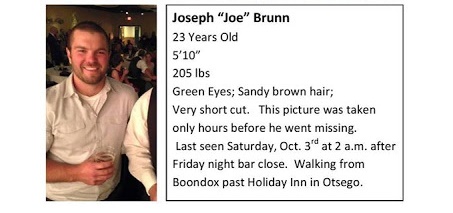 Brunn also made sure to thank the volunteers from United Legacy, a Minnesota search group for missing persons, for the past five days in which they coordinated the massive ground, air and water search in conjunction with the Wright County Sheriff's Office.
"The Wright County Sheriff's Office has given us every possible resource available. we're very grateful for that," Brunn said.
Brunn also thanked Northstar Search and Rescue, Otsego mayor Jessica Stockamp, residents and the city for allowing the search party to comb over the area. A candlelight vigil was held at 6:30 p.m. Thursday where a pastor led those in attendance in prayers and played Brunn's favorite song 'Money for Nothing'. Family and friends spent time reminiscing together after the more formal portion of the vigil which included a candlelight heart and photos of Brunn. Brunn's father briefly spoke and reiterated that the family can't thank people enough for their support in the effort to find his son.