Monday Miscellany — Volume 3
Posted by Brent Lee on Monday, April 23, 2018 at 12:00 AM
By Brent Lee / April 23, 2018
Comment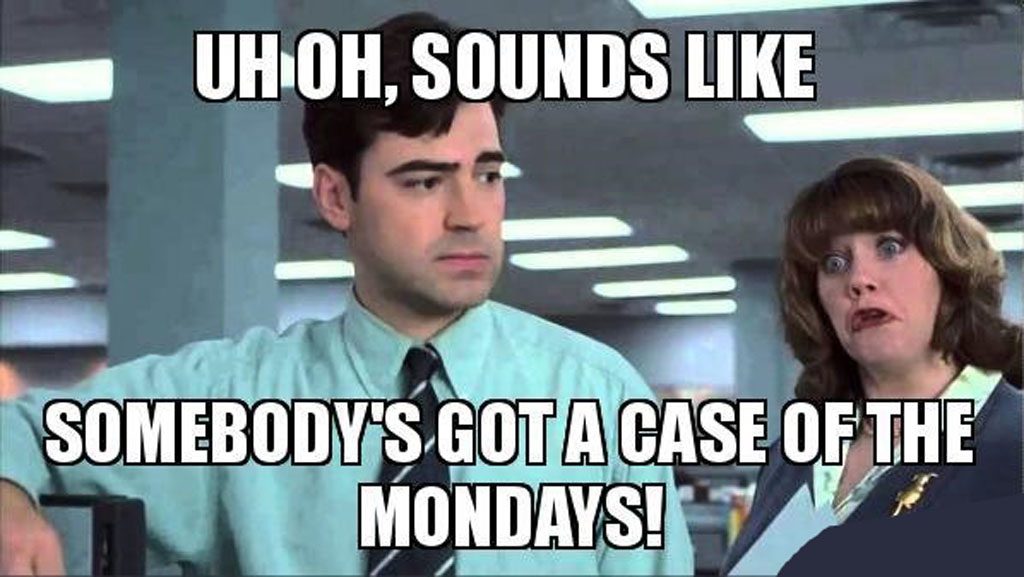 Monday Miscellany is a weekly-ish column with no real focus or direction. A mix of news, politics, sports, culture, media, reviews, trivia, local events, puppy gifs, stuff I saw on Reddit/Wikipedia & some other items perhaps only tangentially related to Minnesota. If this column has a purpose, it would be to provide you, my dear reader, with (A) a brief escape from the monotony of your Monday morning chores and duties, and (B) some topics to talk about should you encounter an awkward silence during an upcoming first date. Feel free to refresh this page multiple times, as I get paid per view.
Links to
Monday Miscellany — Volume 1 & Volume 2
Good Morning, Minnesota!
It's April 23rd — the 113th day of the year & the 17th Monday of 2018. Here are some things…
Winter Is... Leaving: Grab A Beer, Spring Is Here!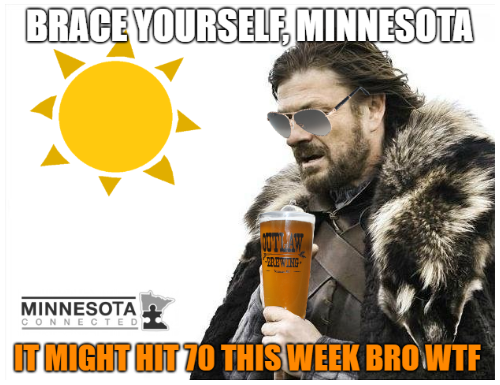 If there is a sweeter sight than the once-15-foot-tall mountain of snow next to my driveway dying a slow, melt-y death in the warmth of long overdue spring sunshine, then I've yet to behold it... Last weekend's late season storm went down as the
12th largest
snowfall (15.8") in Minnesota's history, and it appears said storm was Old Man Winter's final stand of the season. While arriving a month later than it's officially supposed to, Spring is
finally
here. Here is the 7-day forecast for the metro area from
Weather Underground
:

---
Twins Tracker: Updated Through Sunday, April 22nd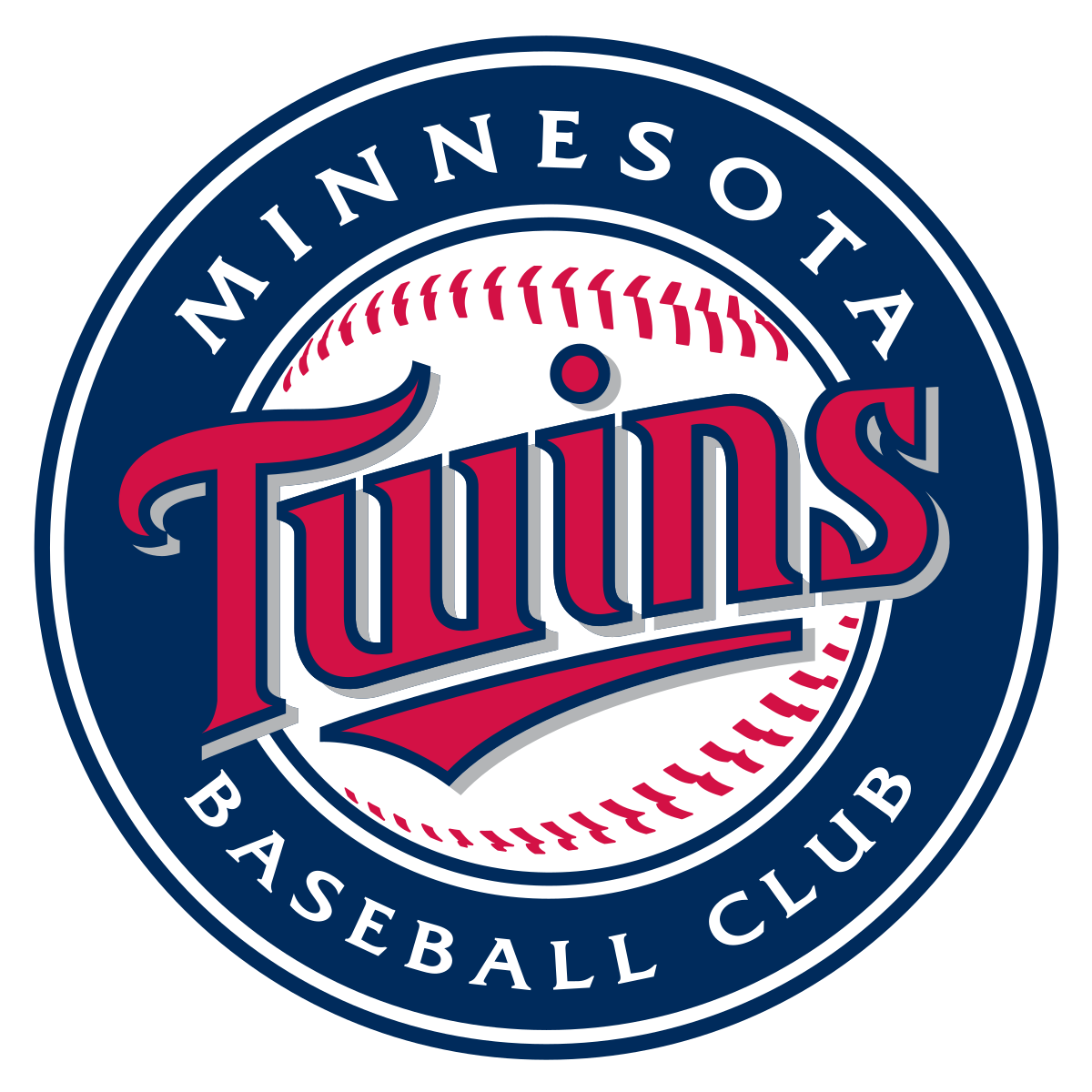 Games Played:
16 out of 162 (8 wins, 8 losses; 2nd in the AL Central)
Record Last Week:
1-4 The Twins escaped the death throes of winter here in Minnesota, traveling to tropical Puerto Rico to take on the Cleveland Indians on Tuesday and Wednesday of last week. The Twinkies dropped the
opening game
6-1, then managed a dramatic 2-1 walk-off (single by Ryan LaMarre) win in the 16th inning of the second and final game of the short series in San Juan.
Wednesday's game was in danger of not being played at all, as an island-wide blackout just hours before game time left 1.4 million Puerto Ricans without electricity. Fortunately for baseball fans, Hiram Bithorn Stadium — where the series was held — was supported by like 22 generators and 178 gazillion kilowatts of backup power (because priorities, I guess?), so the game was played without incident or delay. After leaving Puerto Rico, the Twins flew to Tampa Bay to take on the Rays for a three game set over the weekend. They were promptly swept like a dead boxelder bug off the front step. The Twins are in New York tonight for the first of four against the mighty Yankees, who have like 22 All Stars and a $178 gazillion payroll. Game time is 6:05 p.m.
---
Timberwolves Return Fire Against Rockets At Target Center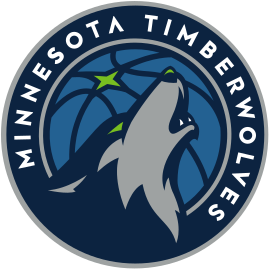 After dropping the first
two
games
of the series in Houston, the Timberwolves rebounded at home in Game 3, downing the visiting Rockets at Target Center, 121-105. In that basically-must-win
Game 3
, Jimmy Butler lead the Wolves in scoring with 28, while Karl-Anthony Towns — who scored only 13 points total in the first two games — kicked in 18 points and 16 boards. Jeff Teague and Derrick Rose were also bright spots for the Wolves, who won their first playoff game since 2004. Teague tallied 23 (9/14 FG, 3/6 3PT), while the former MVP Rose scored 17 in just 21 minutes of the bench. [embed]https://www.youtube.com/watch?v=ZQcaLwdHR9E&feature=onebox[/embed] Don't get too giddy, as the Wolves still have the odds stacked against them. Only five 8th seeded teams have upset the #1 seed in an NBA playoff series (Denver Nuggets over Seattle SuperSonics 3–2 in 1994; New York Knicks over Miami Heat 3–2 in 1999; Golden State Warriors over Dallas Mavericks 4–2 in the 2007; Memphis Grizzlies over San Antonio Spurs 4–2 in 2011; Philadelphia 76ers over Chicago Bulls 4–2 in 2012), and you better believe James Harden, Chris Paul & Co. have no plans of adding the 2018 Rockets to that list. Game 4 is
tonight
at 7 p.m. at Target Center.
---
Wild 'N Out: Winnipeg Whips Wounded Wild 4-1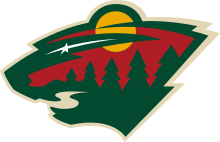 In the waning moments of last Sunday's 6-2
Game 3 win
over the Jets in St. Paul, Wild star Zach Parise broke his sternum, leaving an already-Ryan-Suter-less Minnesota squad without (arguably) their two best players. Their Game 3 win trimmed Winnipeg's series lead to 2-1, but the Wild were totally impotent in Games 4 & 5,
losing
2-0 at the Xcel Center on Tuesday before traveling north to Bell MTS Place for the series-clinching 5-0
drubbing
on Friday night. I might as well be totally impotent too, because my gal is saltier than a conquering Khaleesi right now.
Thanks for
nothing
, Wild.
---
Vikings 2018 Schedule Released + My Nostadamus-esque Predictions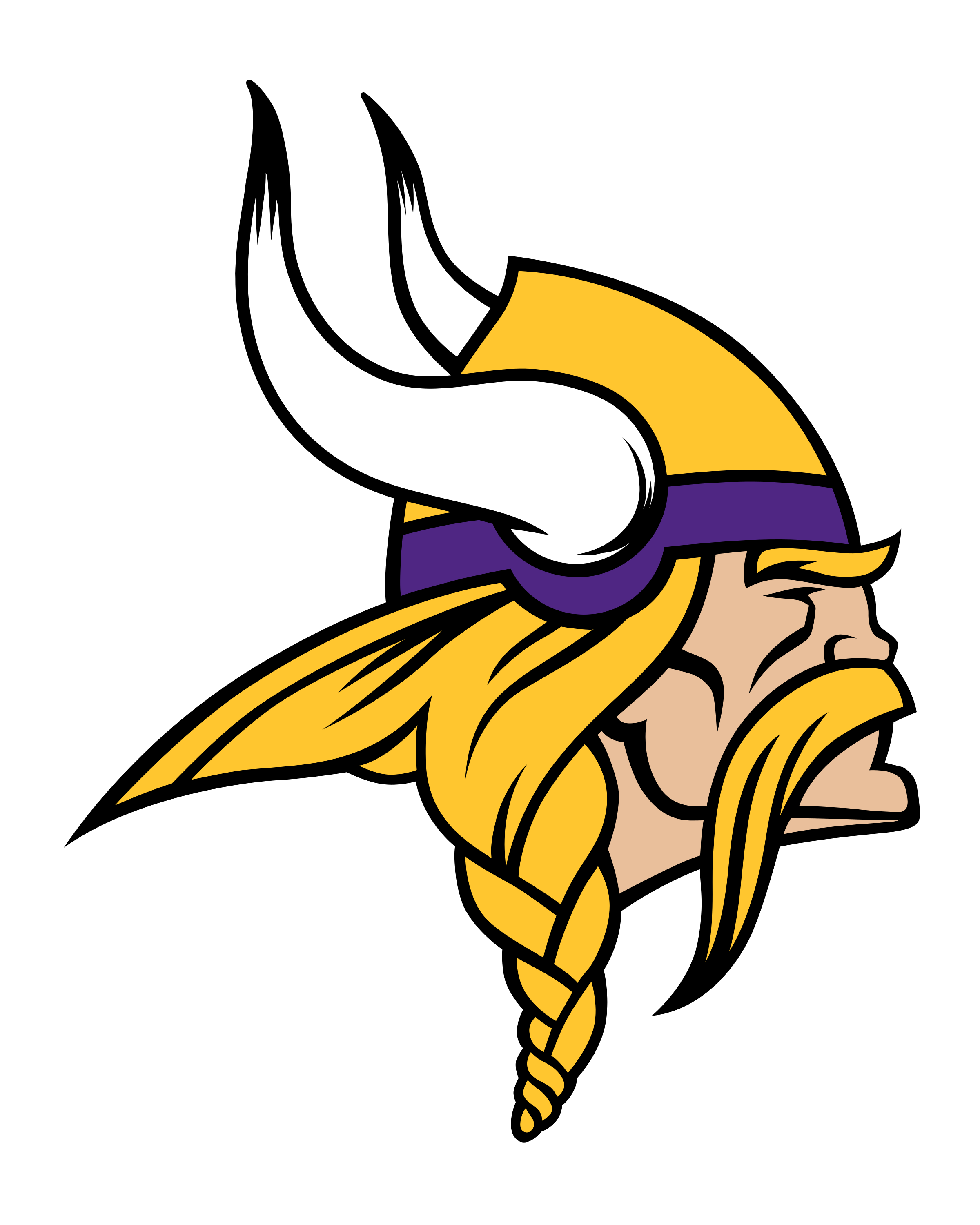 The 2018 NFL regular season schedule was released on Thursday
just in time
for Vikings fans to have 4+ months to talk about it. Here you go...
Week 1 — Sunday, Sept. 9th vs. San Francisco 49ers — 12:00 PM (FOX) Week 2 — Sunday, Sept. 16 at Green Bay Packers — 12:00 PM (FOX) Week 3 — Sunday, Sept. 23 vs. Buffalo Bills — 12:00 PM (CBS) Week 4 — Thursday, Sept. 27 at Los Angeles Rams — 7:20 PM (FOX and NFLN) Week 5 — Sunday, Oct. 7 at Philadelphia Eagles — 3:25 PM (FOX) Week 6 — Sunday, Oct. 14 vs. Arizona Cardinals — 12:00 PM (FOX) Week 7 — Sunday, Oct. 21 at New York Jets — 12:00 PM (FOX)

Week 8 — Sunday, Oct. 28 vs. New Orleans Saints — 7:20 PM (NBC) Week 9 — Sunday, Nov. 4 vs. Detroit Lions — 12:00 PM (FOX) Week 10 — BYE WEEK Week 11 — Sunday, Nov. 18 at Chicago Bears — 12:00 PM (FOX) Week 12 — Sunday, Nov. 25 vs. Green Bay Packers — 7:20 PM (NBC) Week 13 — Sunday, Dec. 2 at New England Patriots — 3:25 PM (FOX)

Week 14 — Monday, Dec. 10 at Seattle Seahawks — 7:15 PM (ESPN)

Week 15 — Sunday, Dec. 16 vs. Miami Dolphins — 12:00 PM (CBS) Week 16 — Sunday, Dec. 23 at Detroit Lions — 12:00 PM (FOX) Week 17 — Sunday, Dec. 30 vs. Chicago Bears — 12:00 PM (FOX)
My Vikings Prediction
Before I tell you how the Vikes will fare in 2018, let me briefly remind you, dear reader, of the caliber of Great Football Mind* with which you are dealing.
All that said,
the Minnesota Vikings will go 10-6 in 2018
. (Losses against a vengeful Rodgers-led-Pack at Lambeau in week 2; at the upstart LA Rams in week 4; at a Philly squad that kicked our asses in January in week 5; home in the rematch of a game we should have lost to the Saints in January in week 8; at Patriots, because not a chance in hell in week 13; at Seahawks, because I just have a hunch in week 14.) Kirk Cousins at QB with a bevy of talented targets; promising young Dalvin Cook returning at RB; a stout, consistent defense; an offensive line that isn't god-awful; and a coach that seems to know what he's doing... I might be as bullish as I've ever been on the Vikings right now***, and I'll stake my entire
reputation as football prognosticator
on it. Oh, and the
NFL Draft
starts on Thursday; the Purple have the 30th overall pick.
---
Stormy Daniels' Suspect Sketch Looks Like Tom Brady, Luke Skywalker & One Of The Puppets From That Team America Movie & OMG We Are Living In Some Sort Of Giant Punk'd Episode, Aren't We?
Porn star Stormy Daniels, who allegedly had an affair with former
Pizza Hut Stuffed Crust
spokesman and current POTUS Donald Trump, alleges she was approached in 2011 by a man who threatened her and her daughter if she didn't keep her mouth shut about said affair. Ms. Daniels appeared on
The View
with her lawyer (Michael Avenatti) last Tuesday to reveal a sketch of the suspect, and Twitter is having so much wicked fun with it.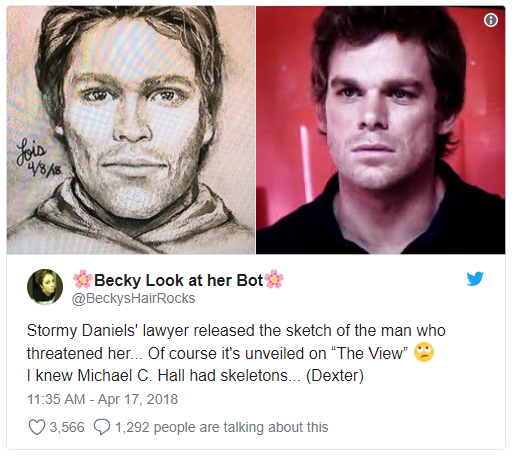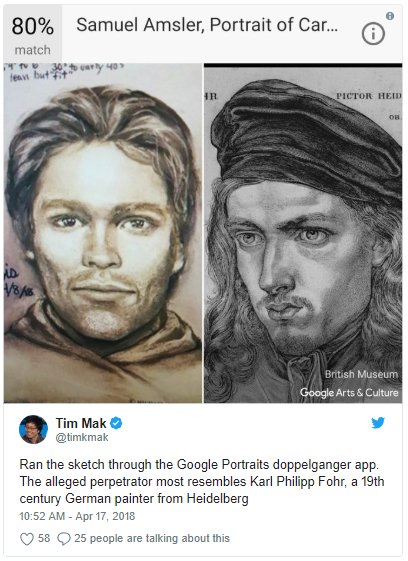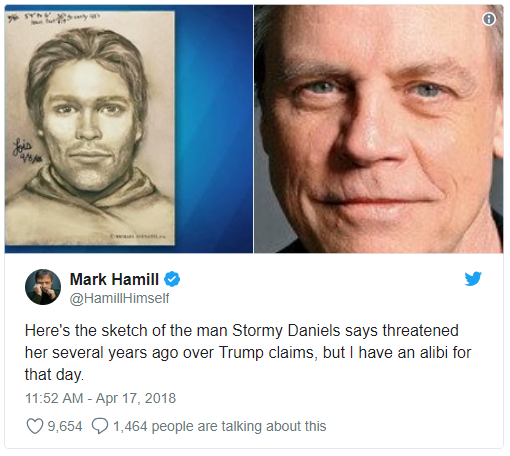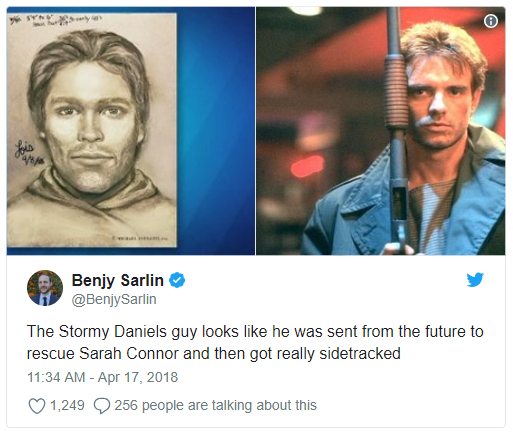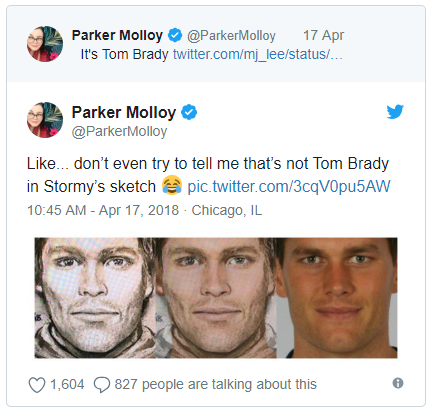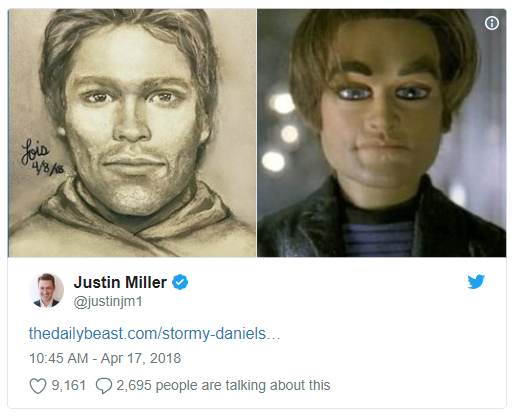 There is a six-figure reward for information leading to the identification of this (rather handsome, yet) unknown man, and tips from the public can be sent to, I kid you not,
[email protected]

.
But wait, it get's weirder...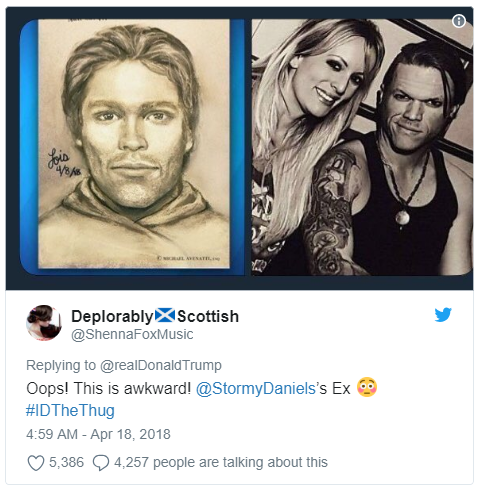 Pictures of Stormy with her husband and fellow porn star, Brendon Miller, surfaced soon after on Twitter...and
he looks exactly like the suspect sketch!
Of course Donald "Twitter Fingers" Trump notices right away because he is tweeting like 24/7. Trump retweets the photo from a user called 'Deplorably Scottish' at 3:08 AM and accuses Daniels of a "total con job".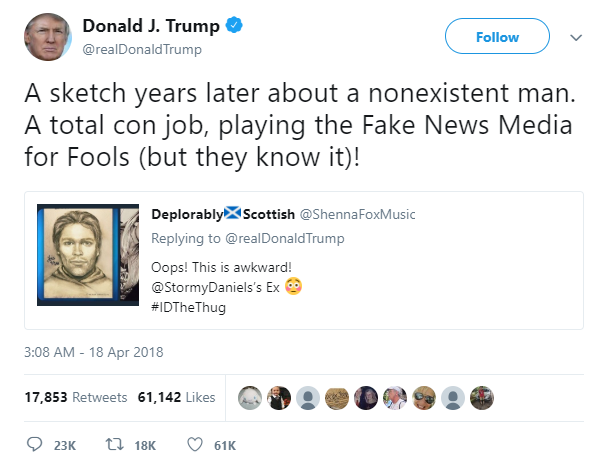 Avenatti, who could teach college level courses on trolling people, wakes up a couple hours later, rolls over in bed to grab his phone, and taunts the President of the United States of America via tweet before having his morning coffee.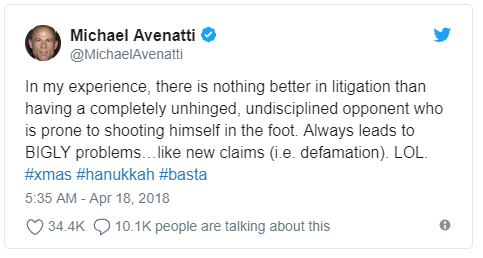 To be continued...
---
I Believe Donald Trump's Story (I Just Can't Decide Which One)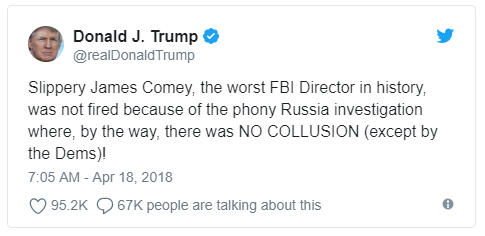 On Wednesday, among lots of the other aforementioned nonsense he was tweeting, President Trump stated that former FBI Director James Comey "was
not
fired because of the phony Russian investigation." I honestly wonder if he remembers his May 2017
nationally televised interview with NBC's Lester Holt
in which he said the
exact opposite
? I know I do. Trump said this:
"[Rod Rosenstein] made a recommendation. He's highly respected. Very good guy, very smart guy. And the Democrats like him. The Republicans like him. "He had made a recommendation. But regardless of recommendation, I was going to fire Comey knowing there was no good time to do it. "And in fact, when I decided to just do it, I said to myself -- I said, you know, this Russia thing with Trump and Russia is a made-up story. It's an excuse by the Democrats for having lost an election that they should've won."
Hm.
Trump in May 2017:
When I decided to fire James Comey — which I decided to do regardless of any recommendation — I said to myself: This Russia/Trump thing is a made up story.
Trump in April 2018:
James Comey was not fired because of the phony Russian investigation. Mr. President, which of your
perfectly contradictory
stories would you like me to believe?
---
House Of Cards Sans Frank Underwood!?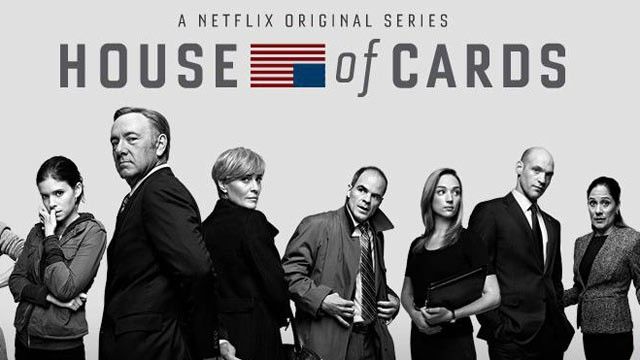 Speaking of slimey, two-faced politicians and plot lines that strain credulity, production is well underway on the sixth and final season of House of Cards, though Kevin Spacey — who is the show's lead — is out.
Spacey, who is doing his best to become as creepy and evil as the character he portrays in the show, is being
investigated
for sexual assault allegations that surfaced last last year. Oscar nominees Greg Kinnear and Diane Lane will join Robin Wright and company for an abbreviated eight episode final season. (The first five seasons were each 13 episodes.) I'm not sure how
House of Cards
will continue with Spacey's character (Frank Underwood) and I'm not even sure it
should
. It was a fun, dark drama for a couple seasons, but (other than trusty Doug Stamper)
HoC
has steadily devolved into something much less watchable than its earlier self. I'll check out the first episode of season six to see how the writers resolved to deal with their Spaceylessness. Beyond that, I'm done with
Cards
, and have moved on to
Ozark
and
Mind Hunter
to fill its place. No official date is set, but
House of Cards
season six is rumored to be released in late 2018.
---
And Just Some Puppy GIFs
Because politics — both real life and fiction — is so gross. Plus, the Wild lost. And, let's be honest, the Timberwolves are gonna lose, too. Puppies make it all better.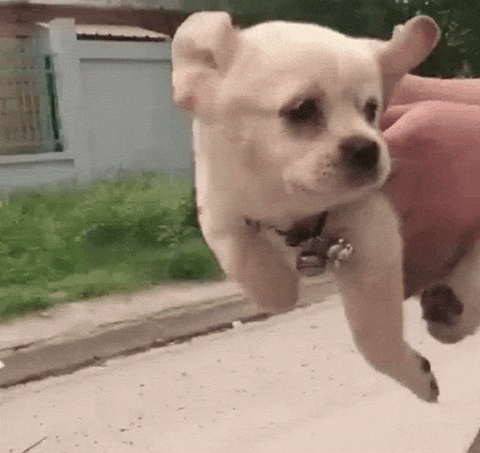 …
Happy Monday & Make It A Great Week!
* © Copyright Paul Allen ** © Mr. Andy "Drew" Bernard, future Branch Manager of Dunder Mifflin, Scranton *** They'll still
totally
Schrute it in the playoffs. Media via: Youtube — Wikipedia — Twitter — Imgur —
NBA.com