Monday Miscellany — Volume 5
Posted by Brent Lee on Monday, May 7, 2018 at 12:00 AM
By Brent Lee / May 7, 2018
Comment
Monday Miscellany is a weekly-ish column with no real focus or direction. A mix of news, politics, sports, culture, media, reviews, trivia, local events, puppy gifs, stuff I saw on Reddit/Wikipedia & some other items perhaps only tangentially related to Minnesota. If this column has a purpose, it would be to provide you, my dear reader, with (A) a brief escape from the monotony of your Monday morning chores and duties, and (B) some topics to talk about should you encounter an awkward silence during an upcoming first date. Satisfaction guaranteed or your money back!
Links to
Monday Miscellany — Volume 1, Volume 2, Volume 3 & Volume 4.
Good Morning, Minnesota!
It's May 7th — the 127th day of the year & the 19th Monday of 2018. Here are some things…
Fishing Opener This Saturday (And Mother's Day On Sunday)
On May 12th — in just 5 days! — the 'Land of 10,000 Lakes' makes said lakes
available to anglers
for the 2018 fishing season.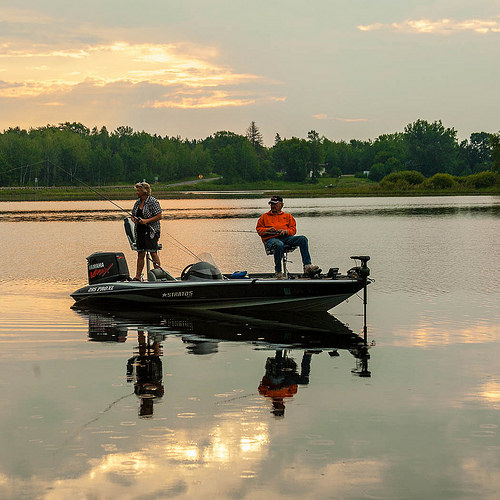 Things you should know:
Good luck, be safe & call your mother!
---
The Groveland Tap In St. Paul Is Pretty, Pretty Good*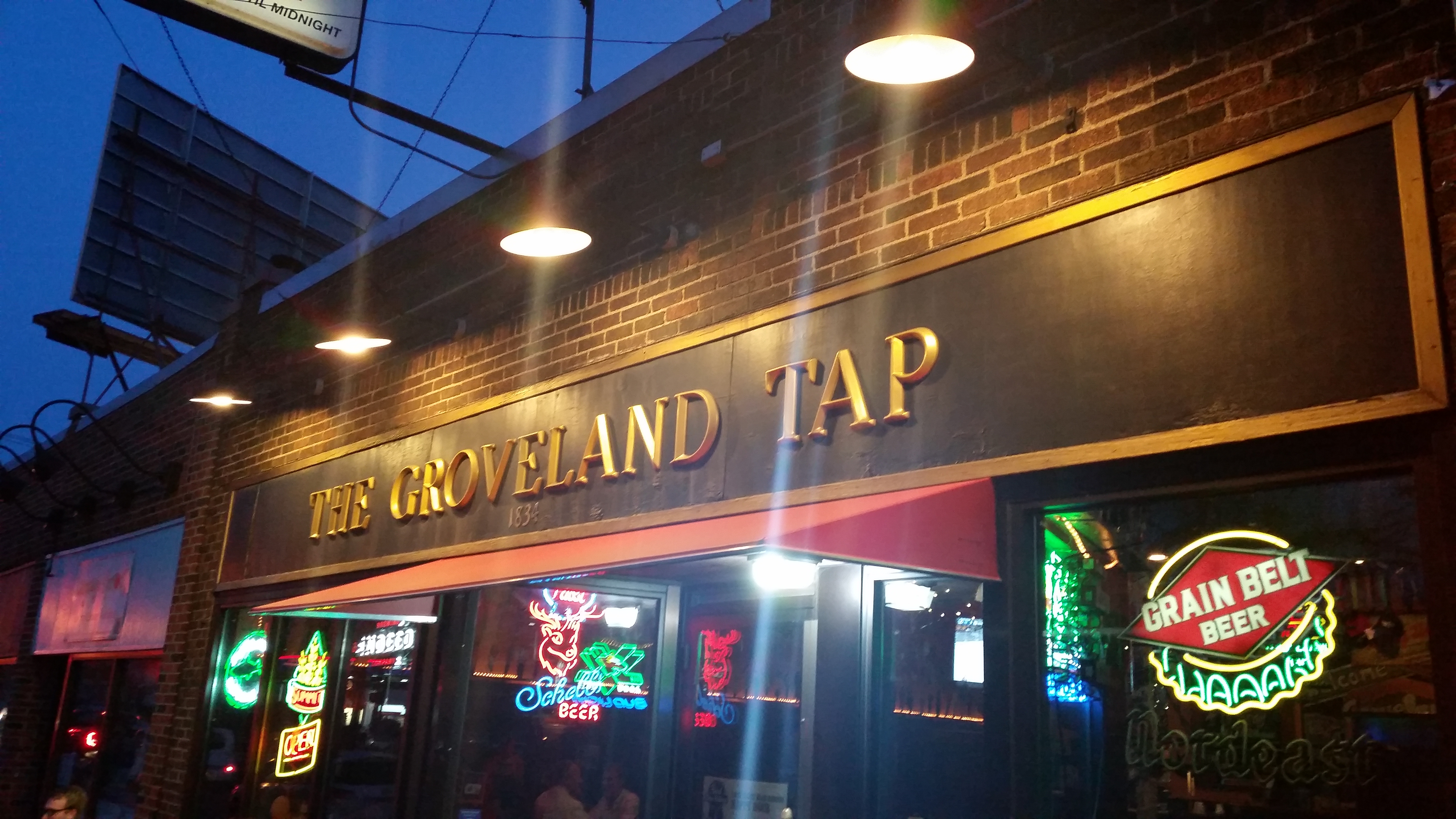 My gal stopped being mad about the Wild's playoff loss long enough for us to go grab a bite to eat this weekend. She just closed on a house in the Highland Park/Macalaster-Groveland area of St. Paul, so we ventured out on foot to enjoy the weather and look for a new place in the neighborhood at which to enjoy a celebratory meal. After first attempting to get a table at busy
Carmelo's
on Snelling (fail), we were referred to nearby Groveland Tap by a fellow St. Paulite who swore it served the "best food in the area". After arriving at Groveland (which is part of the
Blue Plate Restaurant Company
), we opted to sit outside (it was perfect out!) at one of a handful of wrought-iron tables along the sidewalk, which appeared to be their only outdoor seating. [caption id="attachment_1315944" align="aligncenter" width="530"]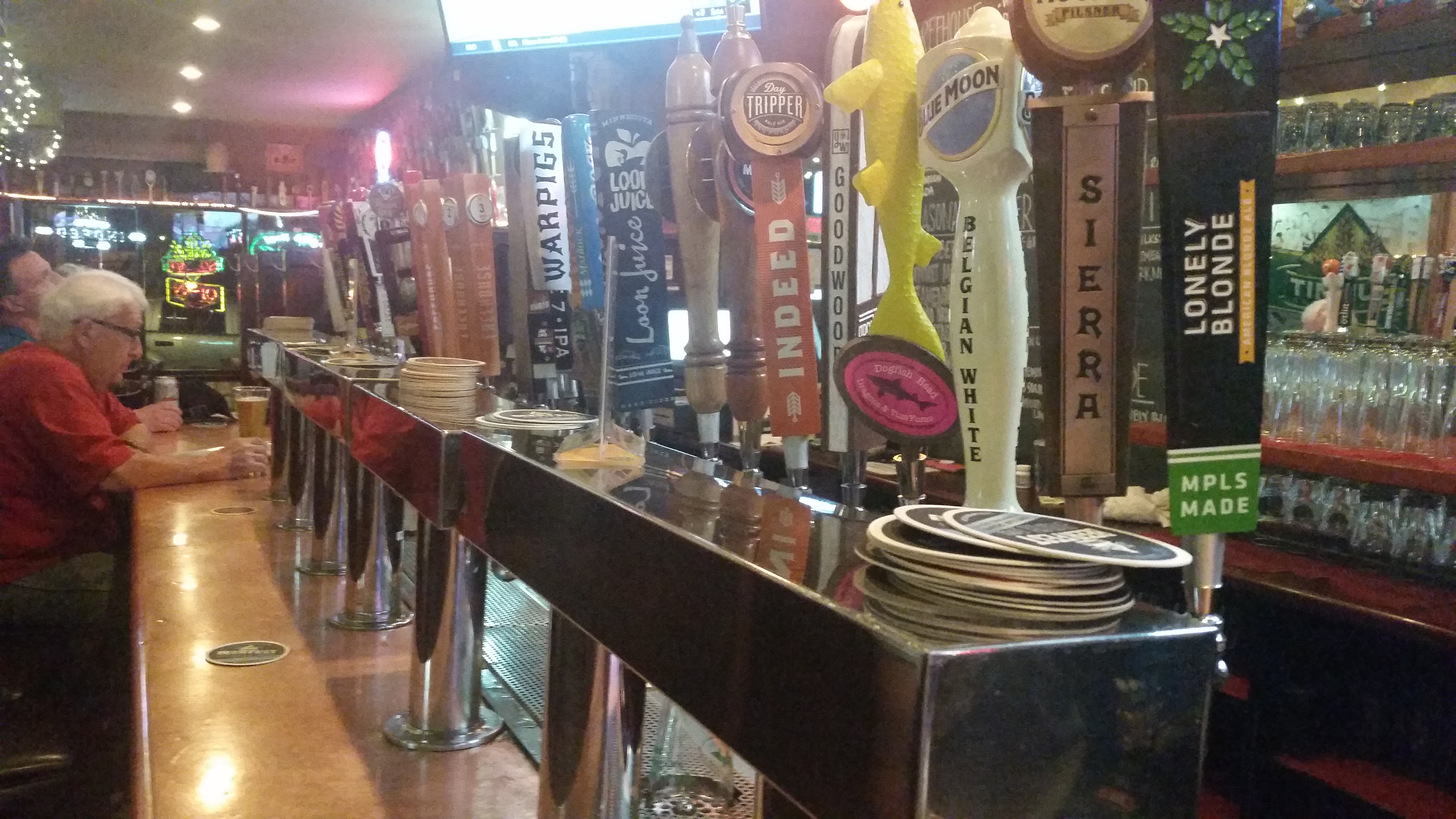 Lots-o-beers on tap.[/caption] I had a 'Guacamole Burger' with fries and a skilleted-chocolate-chip cookie-with-ice-cream-on-top thing that my nieces and nephew would have
loved
. The meal hit the spot and was probably 800-1000 calories more than I needed to be satiated. Overall, the fare and setting was 100% typical for a small-ish, casual neighborhood sports bar. The
menu
is full of burgers (including Juicy Lucys) and fried stuff, and there are more beers on tap than I could list from memory. There's a pool table and some arcade games inside, along with more than enough flat screen TVs to adequately cover the evenings' sporting events. The crowd was warm & friendly and included a range of patrons from families, to college kids, to seniors arguing politics at the bar.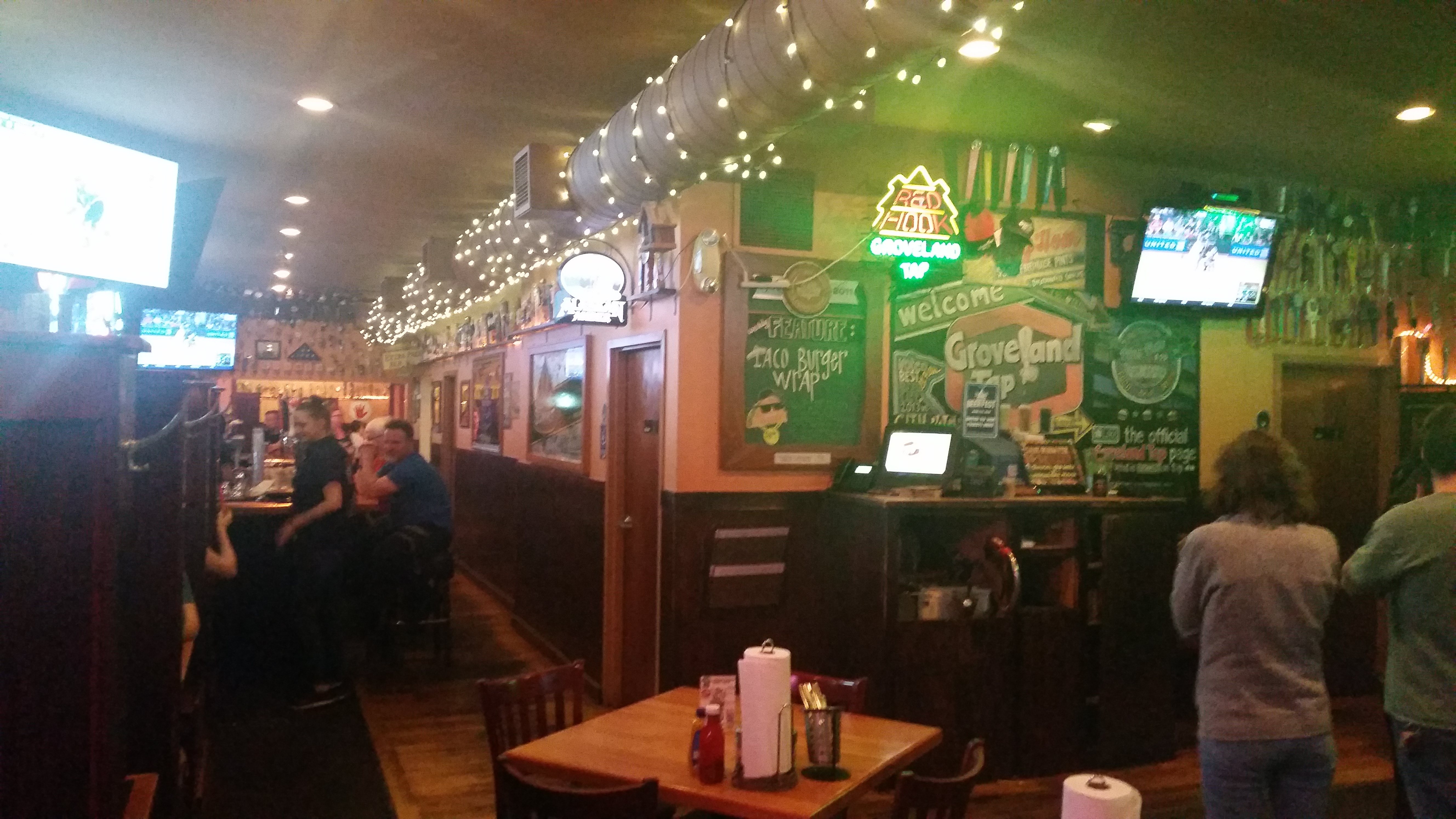 I can't complain about sitting outside on a perfect spring evening with a beautiful woman and eating a burger with guacamole on it, but I don't know that I'd go out of my way to recommend Groveland Tap either. If you're looking for a relaxed little sports bar in the Mac-Groveland neighborhood of St. Paul, give it a try. It's
pretty, pretty good
. Not bad, not great. Just
pretty, pretty good
. Otherwise, find a place with a big patio — maybe a big patio near one of our 10,000 lakes? — because summer is
way
too short to be sitting inside a bar. (Apparently, Eva
liked it more than I
back in 2013.)
---
FREE Stuff Do To In The Twin Cities: Kid's Workshop at Home Depot
One Saturday each month, your local Home Depot hosts a fun (and free) event for you and your kids, and it's like the cutest thing ever. I stopped by the Burnsville location this past Saturday morning with my brother and his three little ones (6, 5 & 3) to check it out in person. I'd estimate there were 30 kids in attendance, each one with hammer in hand, all banging away
LOUDLY
in the general direction of nails/wood. The project for the day was a little wooden, windmill-shaped, flower planter that, while not holding the kids' attention quite as effectively as an iPad, did seem to have them pretty interested for like 6-7 minutes.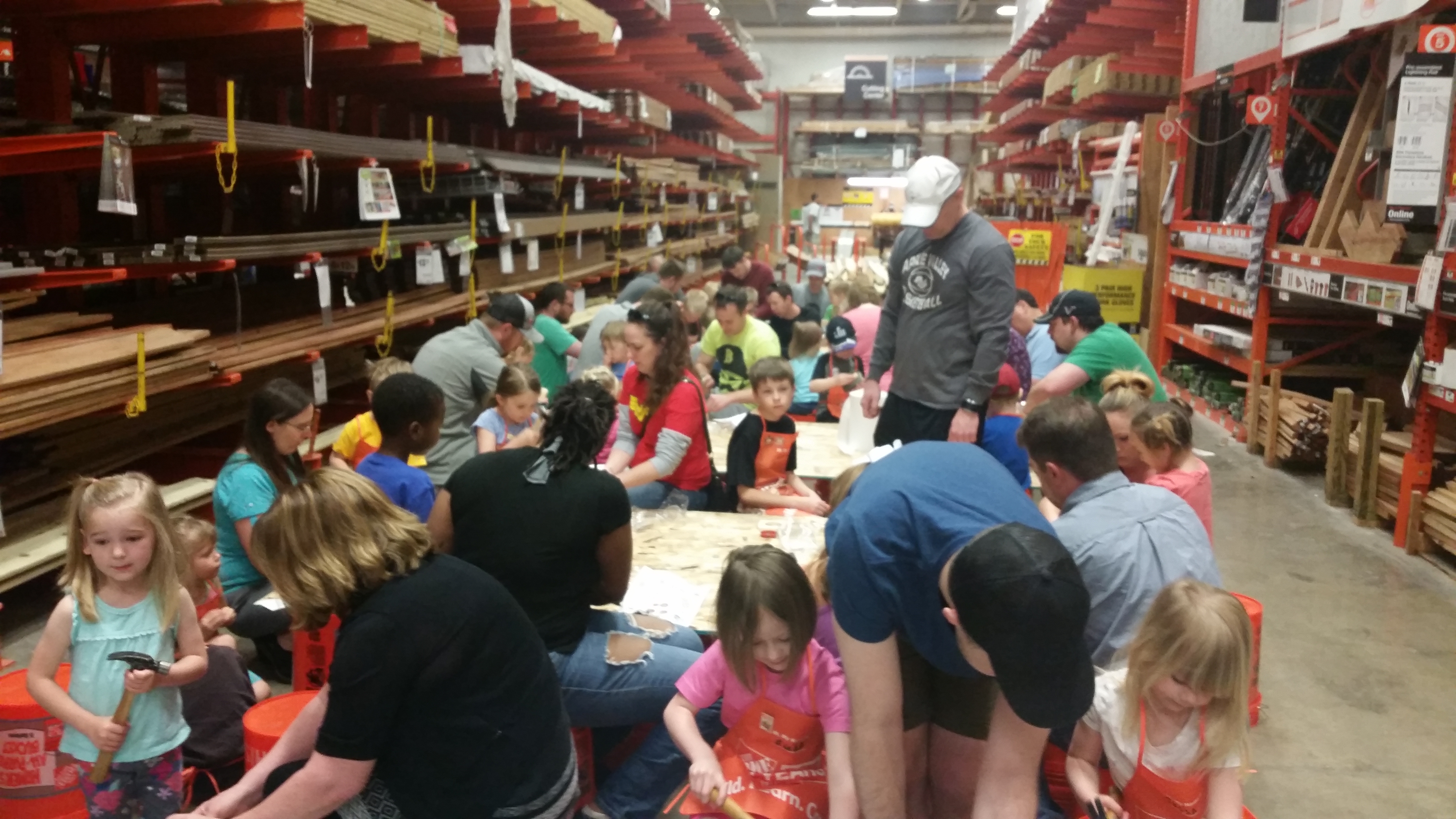 Next month's workshop (Classic Car) is June 2 from 9 a.m. to 12 noon. Here is the description from Home Depot's website:
Share the nostalgic pastime of car modeling with your child in our classic car hands-on workshop. Together you can build a vintage General Motors-style wooden car to put on display or take for a ride "with no particular place to go. Once your vehicle is built, your child can customize it with paint and stickers. All Kids Workshop attendees must be accompanied by a parent or adult at all times. Recommended Ages: 5-12. All kids get to keep their craft, receive a FREE certificate of achievement, a Workshop Apron, and a commemorative pin while supplies last. Children must be present at the store to participate in the workshop and receive the kit, apron, and pin.
Check
here
for participating locations.
---
Twins Tracker: Update Through Sunday, May 6th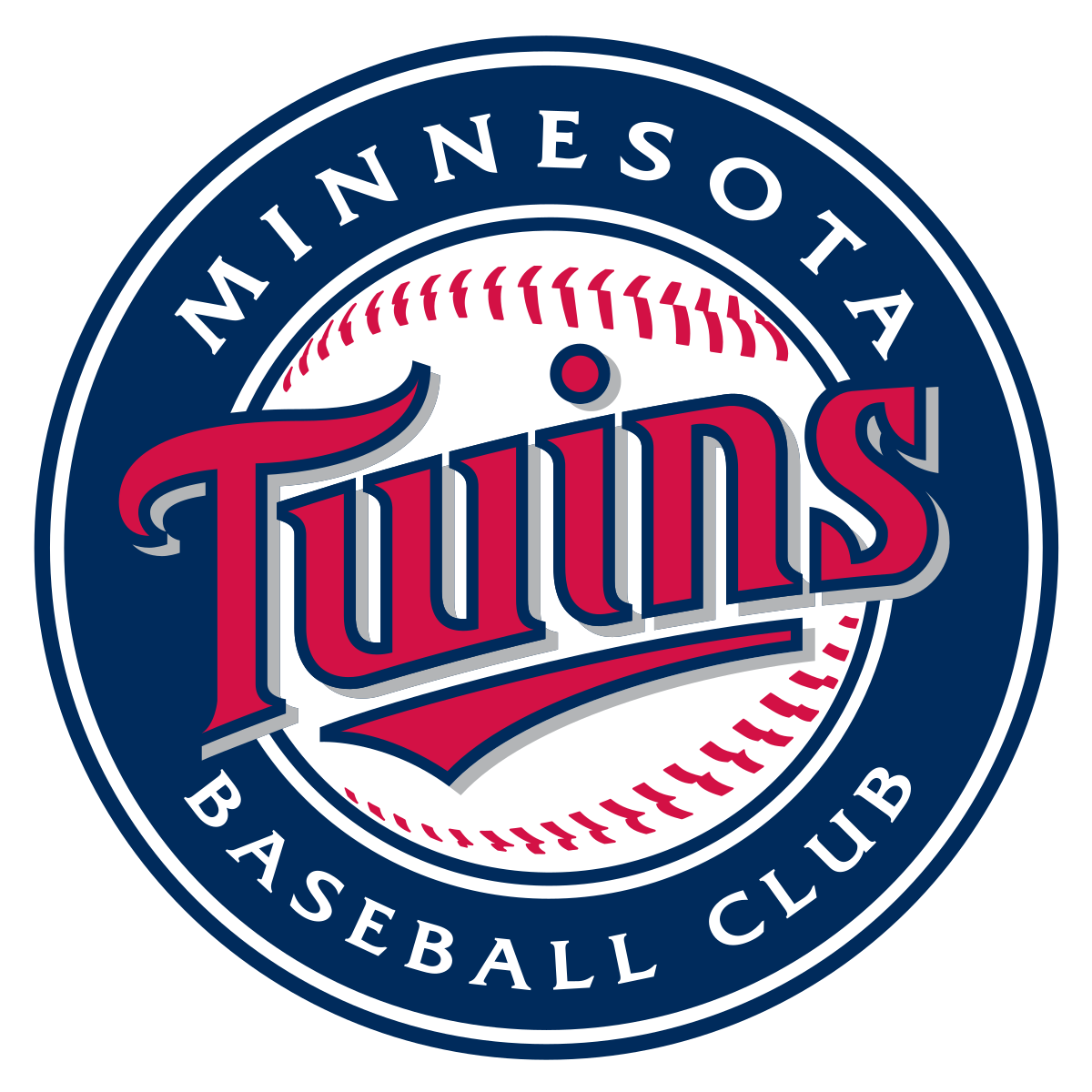 Games Played:
30 out of 162 (13 wins, 17 losses; 2nd in the AL Central, 2.0 GB 17-17 Cleveland)
Record Last Week:
4-3 Our local nine is (sort of) off the schneid! Prior to this past week, the Twins went 2-10 in their previous dozen games, finishing up April in a funk. Or a slump. A slumpy funk. The slumpy funk lingered into this last week, as well. Minnesota lost their first two games to the the visiting Toronto Blue Jays, and once-optimistic Twins fans channeled their inner Lombardi, wondering aloud... https://www.youtube.com/watch?v=4V0TYIO6yv4 Apparently, that worked; Minnesota won the
final game
of the Toronto series before heading to Chi-town and taking three out of four from the Pale Hose. All of the sudden, we're on a 3-game winning streak! The Twins are in St. Louis to take on the Cardinals tonight and tomorrow. They then travel to L.A. on Thursday for a four game set with the Angels.
---
Lebrontosaurus James Calls "Glass" On Latest (Raptor-Destroying) Game Winner
[caption id="" align="aligncenter" width="531"]
Lebron's beating on the Raptors harder than the T-Rex did at the end of the first Jurassic Park movie.[/caption] Our Wolves were dismissed without much of a fight against the Rockets in the opening round of the NBA playoffs, but that doesn't mean there isn't entertaining pro basketball happening elsewhere. Lebron James, for instance, is in the midst of one of those playoff runs that makes everyone under the age of 30 forget Michael Jordan even existed and just tweet #GOAT a lot.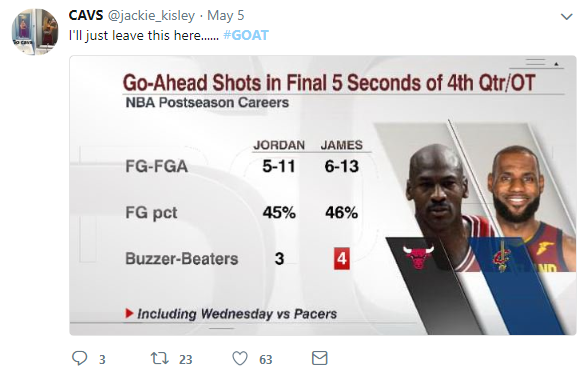 First, LBJ had his patented block/game winner combo a couple weeks back in Game 5 of the Cavs' first round series win against the Pacers... https://www.youtube.com/watch?v=SsEDA8kBgcY And then, on Saturday night, King James made this coast-to-coast floater off the window look easy like Sunday morning...
NSFC
(Not Safe for Canadians) https://www.youtube.com/watch?v=2XWgRpfkxhY&t Lebron & Co. are looking to finish the sweep against the top seeded Raptors tonight in Cleveland. From there, it appears they'd go on to face the Boston Celtics — who are up 3-0 in their series against the Philadelphia 76ers despite being without stars Kyrie Irving & Gordon Hayward — in the Eastern Conference Finals. Look for a rematch between
the Cavs
Lebron James and the Golden State Warriors in the NBA Finals. I got Lebron in 7.
---
Offensive? Meh. Michelle Wolf Was Just Speaking Trump's Language
[caption id="attachment_1315954" align="aligncenter" width="517"]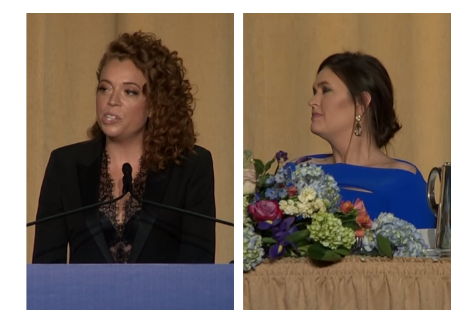 Comedian Michelle Wolf & White House Press Secretary Sarah Huckabee Sanders[/caption] In case you missed it, a lot of GOP pearls were clutched as comedian Michelle Wolf gave what many thought was a scathing and inappropriate monologue at the annual White House Correspondents Dinner on Saturday, April 28th. Most of the controversy seemed to surround her comments about White House Press Secretary Sarah Huckabee Sanders (who had a closer-than-front row seat on the dais as Wolf torched her), along with her use of blue language throughout. Here is a
link to her full remarks
if you want to judge for yourself. (
NSFW
for the aforementioned language) Just a quick reminder to those of you who might feel the temptation to be offended:
Wolf is a comedian
who was invited
specifically
to do her well-known edgy style of comedy at an event that has a reputation for roast-style monologues. She was
quite literally
doing her job. [caption id="" align="aligncenter" width="320"]
One of Trump's
alleged
extramarital flings, Stormy Daniels (There is
this one
too)[/caption] Further, the POTUS she was roasting is perhaps the most
proudly
controversial man to ever office in The Oval. He is the same guy who
allegedly
had an affair with a porn star right after his wife gave birth to their son, and then
allegedly
had her paid $130K to keep quiet. He is the same guy who implied no one would vote for rival GOP candidate Carly Fiorina
because of her face
; He is the same guy who has reportedly called women
"fat", "ugly", "slobs", "disgusting", "pigs", "dogs", etc
; He the same guy who was
caught on tape
bragging about grabbing women by the genitals and "moving on a married women like a bitch" in an apparent effort to have sex with her. And the list could go on, and on, and on, and on... [caption id="attachment_1315970" align="aligncenter" width="526"]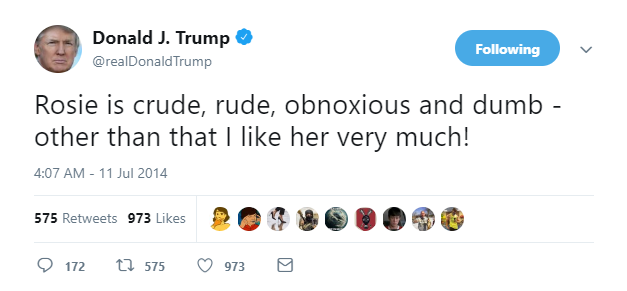 Trump reserves a special level of ire for his favorite women, Rosie O'Donnell.[/caption] Moreover, this administration is supported by a loyal base of voters, a good-sized chunk of whom seem to embrace, applaud, and often
even take joy in
the offensive nature of the party leader's bombastic rhetoric and agitating verbal style.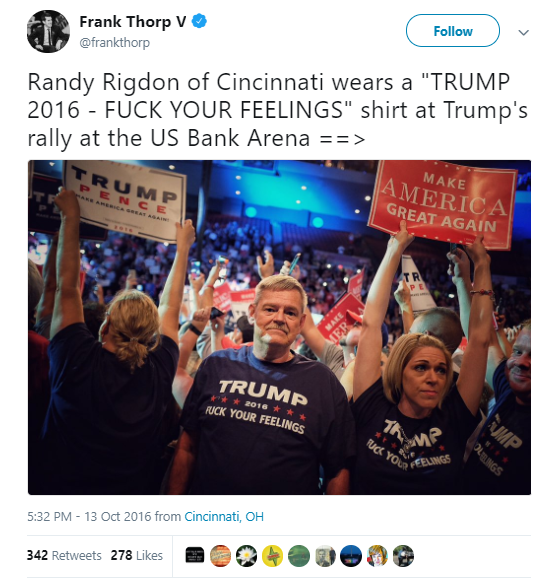 So please, dear reader, forgive me if I'm not offended by some dirty jokes performed
by a professional comedian
poking fun at Trump and his willing posse of enablers. Wolf was merely speaking Trumpese. You know, "when in Rome." Now, to cleanse your palate, watch good-natured comedian Joe Wong from the 2010 RTCA Dinner, back when things seemed simpler and less Trump-y: https://www.youtube.com/watch?v=buSv1jjAels
---
Top Importer China Is Done With U.S. Soybeans & Minnesota Is A YUGE Soybean Producer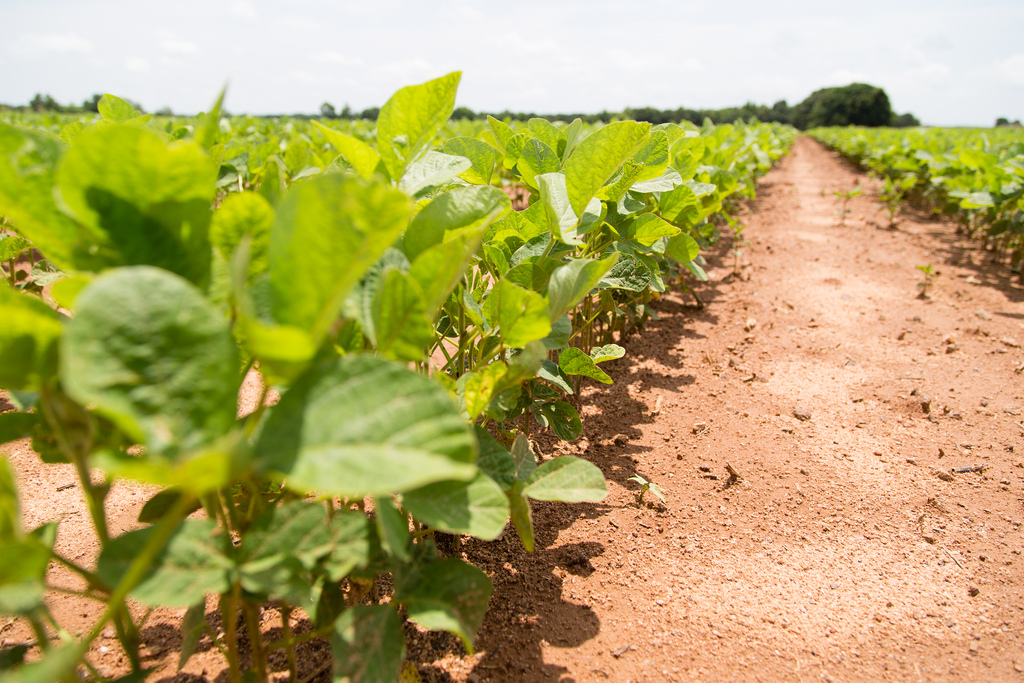 The United States is the
second largest exporter
of soybeans on the planet (behind only Brazil), and China (where Joe Wong is from) is the world's largest soybean importer. Now China is apparently done using U.S. soybeans.
Reports
say this may be part of the China's opening salvo in response to the various tariffs former Double Stuffed Oreo
spokesperson
and current POTUS Trump announced earlier this year. Meanwhile, Minnesota is the
third largest
soybean producer in the U.S., growing 8 million metric tons (380 million bushels) in 2017, and (awkwardly) many of the counties who were the staunchest Trump supporters also produce the most soybeans.
Here is where the Trump supporters live (Red means a lot of Trump support)...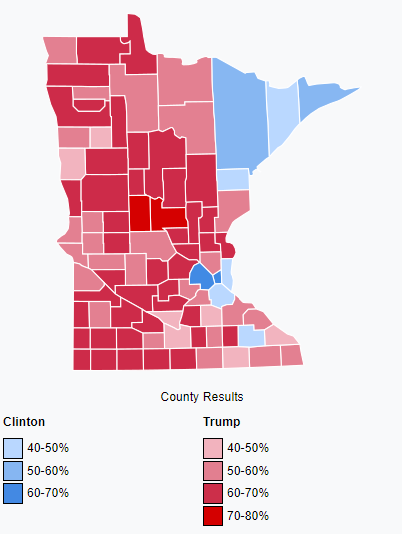 And here is where the soybeans grow (Green mean a lot of soybeans)...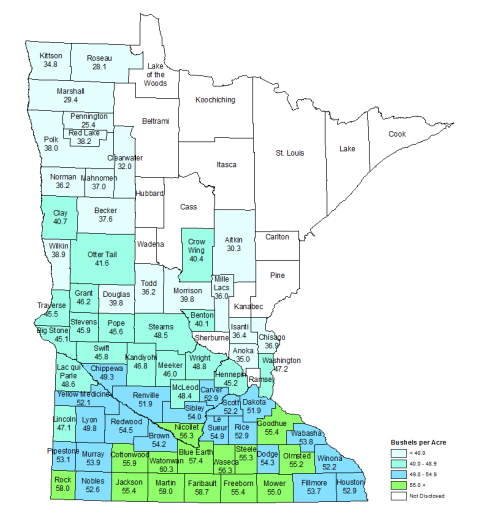 Imagine what might going on in the mind of a Rock or Faribault county soybean farmer who voted for Trump in 2016 only to watch him impose tariffs (
that many Republicans hate
) which apparently eliminated their largest customer.**
---
"Trump's" 3.9% Unemployment Rate: Inaugurated On Third Base & Bragging About Hitting A Triple
Sorry, last Trump one... (He just makes it
so
easy.) First and foremost: Go America! Regardless of your politics, it's great news that our country has it's lowest unemployment rate — 3.9% — in 18 years. [caption id="attachment_1315934" align="aligncenter" width="497"]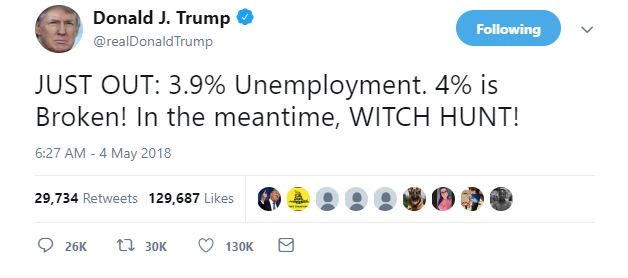 Trump's tweet from May 4th touting a 3.9% (U3) unemployment rate. Also, no members of his campaign or administration have been indicted for a little while, so... pretty solid week all around![/caption] Now, let's
zooooom
out and look at the reality of the data: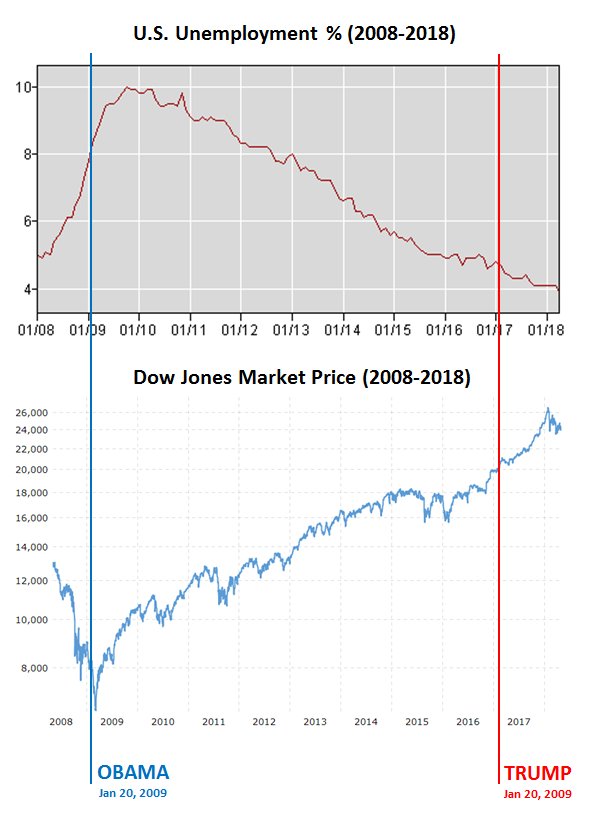 As you can see, Barack Obama was inaugurated in January of 2009,
inheriting the largest financial crisis since the Great Depression
. During his eight years in office, he presided over a labor market where unemployment was
nearly halved
and a stock market where value
more than doubled
. Then, and only then, Obama handed Donald Trump this golden baton — an economy with an unemployment rate of 4.8% and a Dow Jones average just short of 20,000 — in January 2017 (16 months ago), and thus far, Trump has yet to drop it. Congrats, Mr. President! Let's keep this positive trend going.
---
Just 3 Other Weird News Stories Happening Around The Country
From CNN:
Tesla/SpaceX mogul/genius Elon Musk is gonna
start a candy company
?

From Runner's World:
A New Jersey district superintendent was
secretly defecating
on his school's track on daily basis. And finally got caught.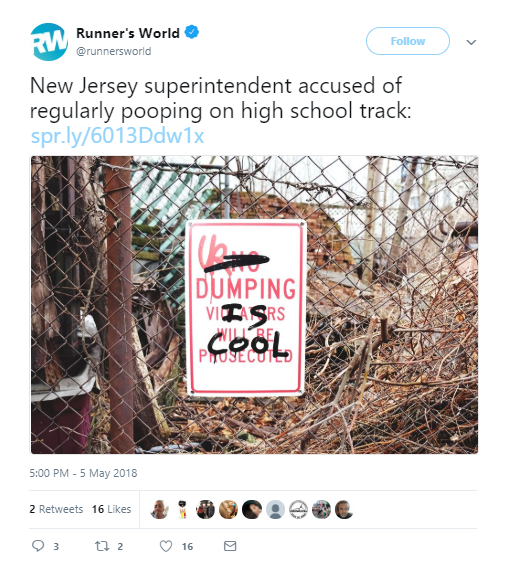 From WAPO:
A
roach (Palmetto bug) crawled into this woman's ear while she was sleeping
. And then she felt it in there...
moving
. And then doctors killed it and pulled it out. Piece by piece.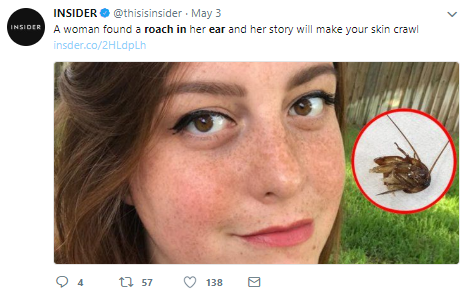 ---
And Some GIFS Of Dogs Who Have Stuffed Animals
…
Happy Monday & Make It A Great Week!
* © Copyright Larry David from
Curb Your Enthusiasm
** "Yeah but what about Hillary's emails!"
is probably what's going on in their minds. Media via: Brent Lee — YouTube — Imgur — Flickr — Wikipedia — Twitter