Monday Miscellany — Volume 6
Posted by Brent Lee on Monday, May 14, 2018 at 12:00 AM
By Brent Lee / May 14, 2018
Comment
[caption id="attachment_1316060" align="aligncenter" width="960"]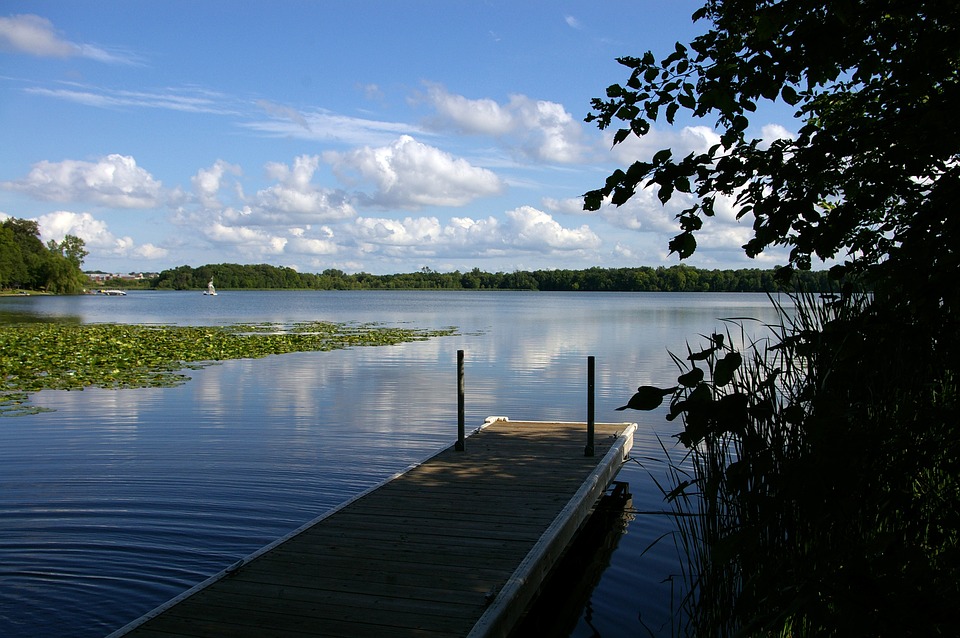 Water Dock Lake Sky Midwest Clouds Minnesota[/caption]
Monday Miscellany is a weekly-ish column with no real focus or direction. A mix of news, politics, sports, culture, media, reviews, trivia, local events, puppy GIFs, stuff I saw on Reddit/Wikipedia & some other items perhaps only tangentially related to Minnesota. If this column has a purpose, it would be to provide you, my dear reader, with (A) a brief escape from the monotony of your Monday morning/afternoon chores and duties, and (B) some topics to talk about should you encounter an awkward silence during an upcoming first date. Love you, Mom!
:)
Links to
Monday Miscellany — Volume 1, Volume 2, Volume 3, Volume 4 & Volume 5.
Good Morning, Minnesota!
It's May 14th — the 134th day of the year & the 20th Monday of 2018. Here are some things…
Something Called 'Fortnite' Is Taking Over The World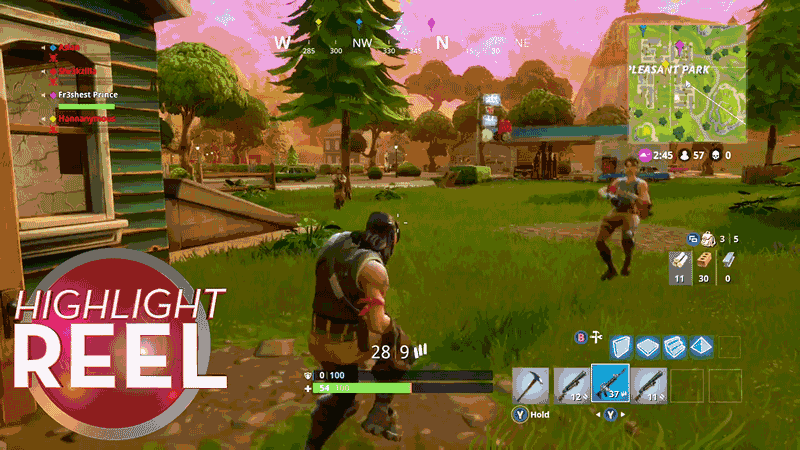 Non-gamers think "fortnight" is just a fancy Old English colloquialism meaning a period of two weeks. Of course, for everyone else who is at least somewhat familiar with the video game craze that is taking the world by storm, it means something else entirely.
Fortnite
(note the spelling) is
described by Wikipedia
like this:
As a battle royale game, Fortnite Battle Royale features up to 100 players, alone, in duos, or in squads of up to four players, attempting to be the last player alive by killing other players or evading them, while staying within a constantly shrinking safe zone to prevent taking lethal damage from being outside it. Players must scavenge for weapons and armor to gain the upper hand on their opponents. The game adds the construction element from Fortnite; players can break down most objects in the game world to gain resources they can use to build fortifications as part of their strategy. The game features limited cross-platform play between PlayStation 4, Xbox One, computer versions, and mobile versions.
I would describe it differently:
Fortnite is a cartoon-y version of PlayerUnknowns Battlegrounds in which 100 players glide down — after jumping out of a flying bus — into a trippy world where everyone runs around swinging a giant pickaxe and insta-generating lincoln log walls/ramps/skyscraper cabins ex nihilo. Most of the players have paid actual money to upgrade their "skin" (i.e. the clothes their on screen character wears) to something even dorkier than the default apparel. All players run around looting and shooting at one another, pausing occasionally to showcase their dance moves, until the last man is standing. Then the game starts over. Repeat. Repeat.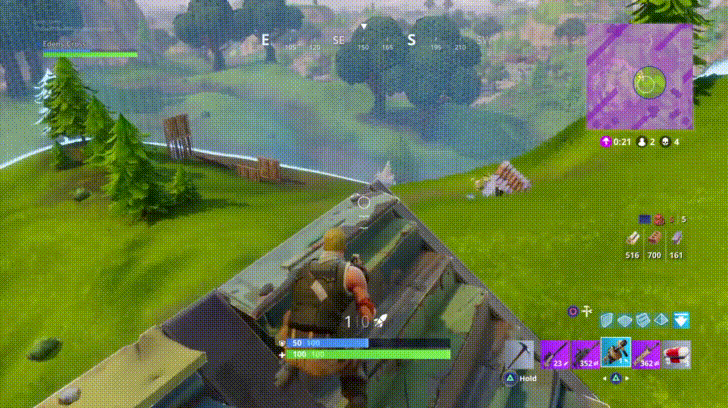 Despite my criticism,
Fornite
is making bank and dominating the gaming world. It made
$223 million in March
alone. In April, they added a IOS mobile version of the game which has made over
$50 million alone
to date. To give you some perspective, Google Trends shows not only has
Fortnite
left its only battle royale genre competition (
PlayerUnknown's
Battlegrounds
or
PUBG
) in the dust, it's also rocketed up to become a FAR more popular search term than "Trump" in early 2018.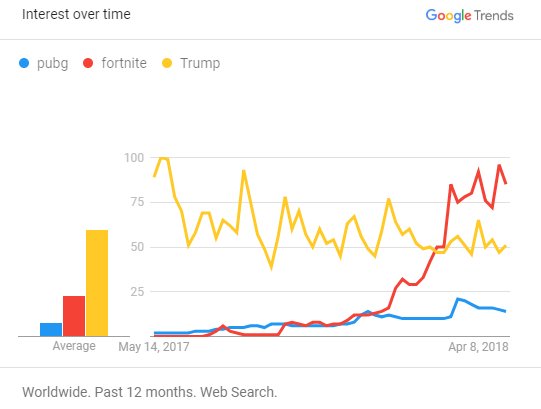 Wanna know more about
Fortnite
? Google it. Everyone else is, apparently.
---
Japan's PM Abe Served Dessert... In A Shoe WTF?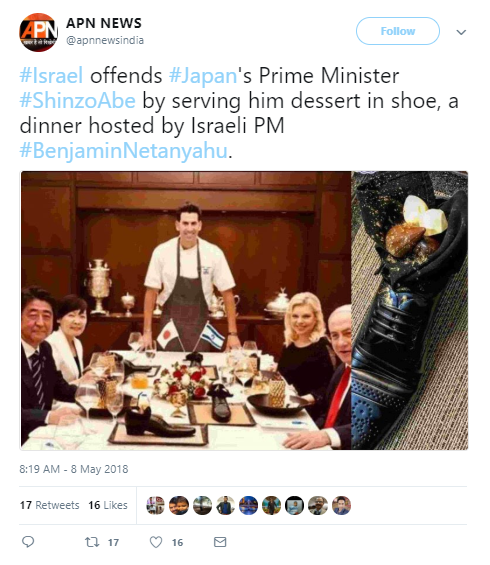 Israeli Prime Minister Benjamin Netanyahu hosted Japanese Prime Minister Shinzo Abe last week to discuss all the sorts of things leaders of powerful nations discuss. After working up world-superpower-level appetites, the two PMs sat down to enjoy a dinner with their wives. Renowned Israeli chef Segev Moshe prepared a meal that led to zero headlines. His dessert, however, was a bizarre faux pas that drew a flurry of media attention.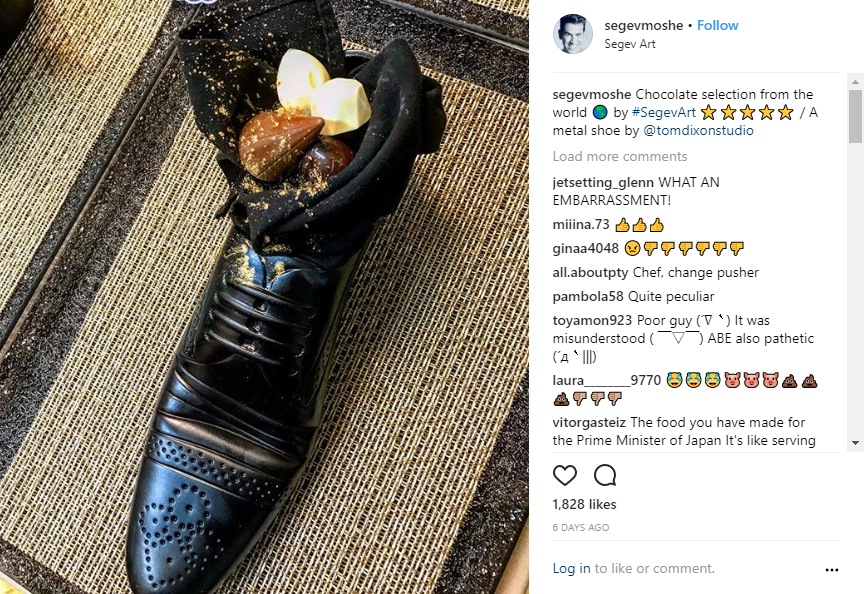 For some reason, as you can see, chef Moshe put the dessert — chocolate pralines —
in a shoe
. And, while serving food in a shoe is weird everywhere, it's waaaaaay out of bounds in traditional Japanese etiquette, where shoes are widely considered too dirty to wear indoors... let alone to be used as dessert trays. After a bit of a furor, Moshe's publicist reassured everyone that the shoe wasn't
real
, rather it was "high quality art" made of metal. Oh, cool. Still weird, though. And still pretty obtuse to serve food in a shoe — made of
anything
, for
any
purpose — to the leader of a country that thinks shoes are gross.*
---
Will Avengers: Infinity War Make $3 Billion?

Avengers: Infinity War has earned $1.6 billion (and growing fast) in total box office revenue since it's U.S. release on April 27, placing it in the top five highest grossing films of all time already.
In terms of domestic box office revenues, through 16 days, Infinity War earned a record $529 million; Avatar had only earned $334 million at the same point, though Star Wars: The Force Awakens outpaced both films by making $721 million.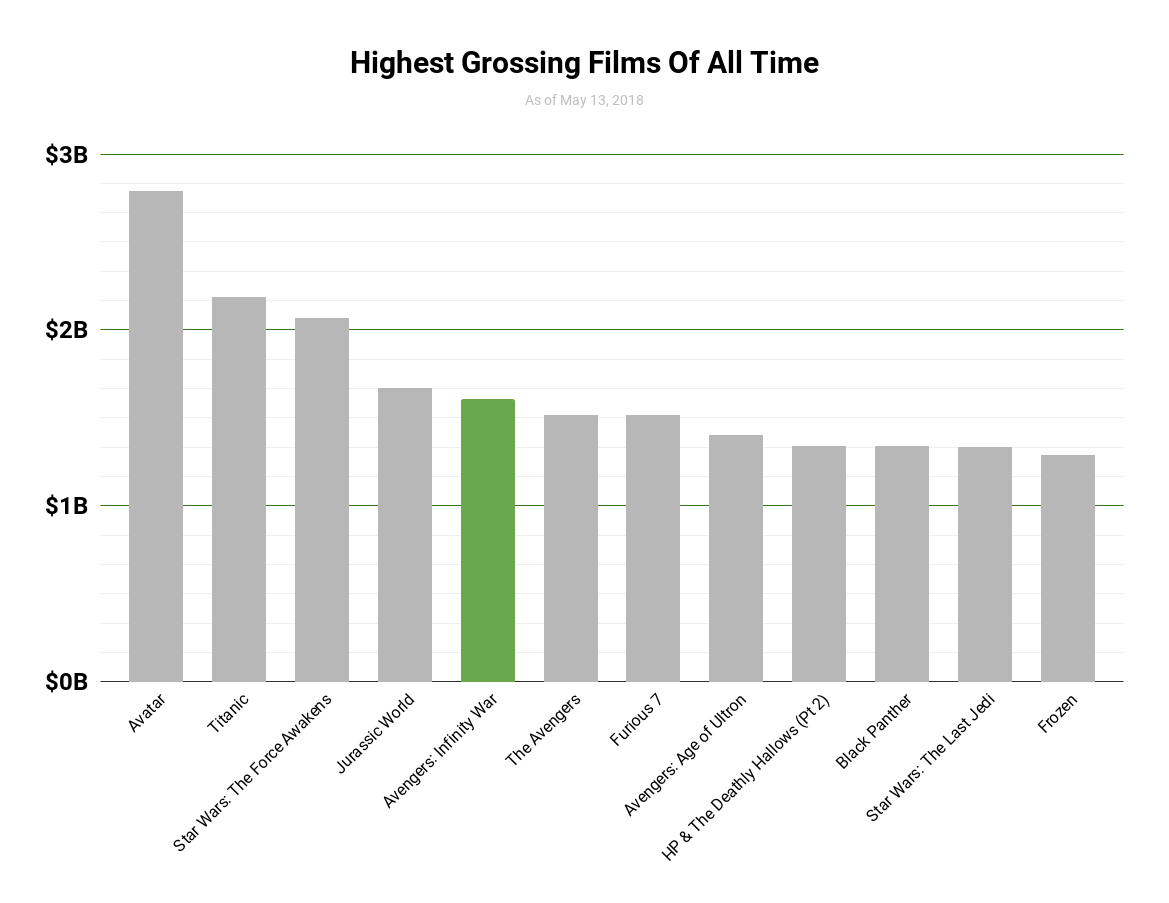 A:IW
is already the highest grossing comic book movie of all time, and at it's current pace, will likely pass
Jurassic World
,
Star Wars: The Force Awakens
&
Titanic
in total gross revenue without breaking a sweat... But does it have the legs to dethrone
Avatar
**? Can
Avengers: Infinity War
eclipse
three billion
in total gross box office revenue? I'm doubtful, but then again,
Avatar
is self-important, ham-handed ideological proselytizing played out by a bunch of creepy blue CGI cat people...so, who knows?
---
Twins Tracker: Update Through Sunday, May 13th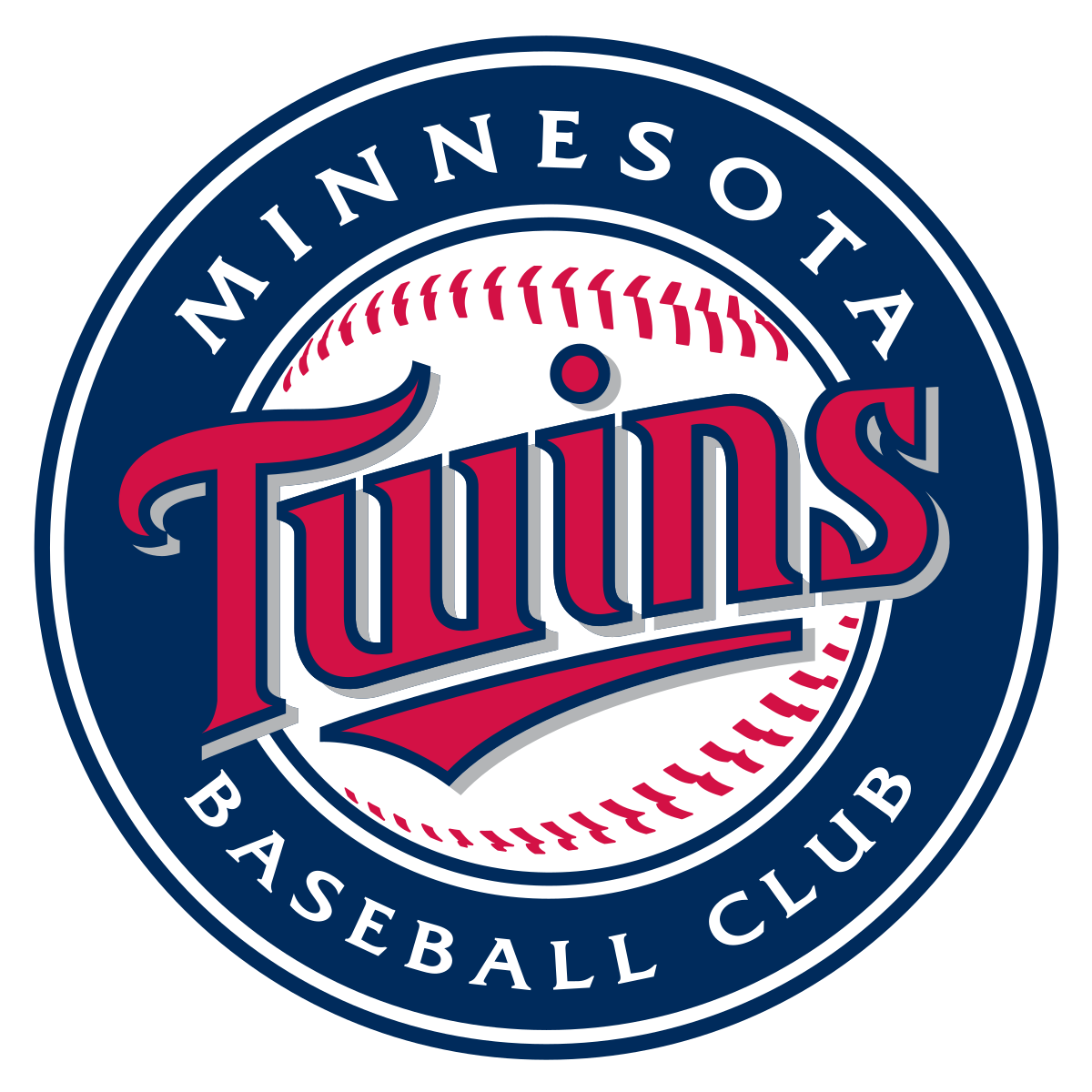 Games Played:
36 out of 162 (17 wins, 19 losses; 2nd in the AL Central; 1.5 GB Cleveland)
Record Last Week:
4-2 For the second straight week, your local nine had a winning record! The Twins played all six games game on the road last week, sweeping the Cardinals in St. Louis before heading west to L.A. to split a four game series with the Angels. Minnesota had a great chance to get back to .500 on Mother's Day. Though the Japanese Babe Ruth (Shohei Ohtani)
befuddled
Twins hitters, fanning eleven in six and a third, it took a close play at the plate — Ehire Adrianza was tagged out after a rapid Mike Trout-to-Ian Kinsler-to-Martin Maldanado relay — to keep Minnesota from taking a lead into the bottom of the ninth. In that bottom of the ninth, the Angels capitalized on their chance to score, as Zack Cozart singled in Chris Young (off the Twins Zach Duke) for the walk off win. Here. Watch these highlights (because Ohtani's stuff is NASTY. And it's totes adorbs because everyone is wearing pink for Mother's Day): https://www.youtube.com/watch?v=xtbkj1ONX1s&feature=onebox The Twins begin a 9-game home stand tonight at 6:10 p.m. against the Seattle Mariners.
---
Timberwolves/Wild Update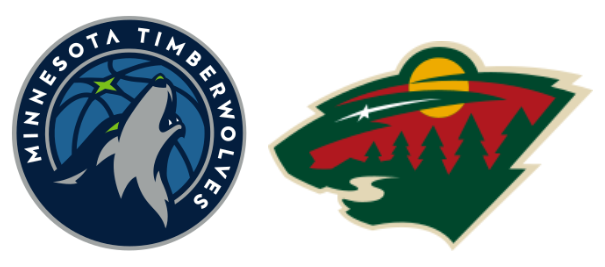 In either case, they were still beaten easily 4-1 in the first round, and their season is still over. Next.
---
Boston Dynamics Built a Robot That Runs Like A Human And Oh My God Artificial Intelligence Really Is Gonna Take Over The World
Watch... [embed]https://www.youtube.com/watch?v=q5qno5i1H3k[/embed] This humanoid robot's "name" is Atlas, and I can't be the only one who thinks it's only a matter of time before Skynet goes live and this guy's not-all-that-distance descendants come standard with dual-mounted machine guns and a downloaded plan (via AI central command) for global domination. In the meantime, it's pretty neat! Kudos,
Boston Dynamics
.
---
Australian Scientist Chooses To End His Life At 104
David Goodall, a respected 104-year-old Australian scientist
chose to end his own life
at a clinic in Switzerland on Thursday, May 10th by taking a lethal drug while under the guidance of doctors. Born in 1914 in England, Goodall and his family moved to Australia when he was a boy. As an academic botanist and ecologist, he worked the U.K., the U.S., and Australia. After retiring
39 years ago
in 1979, professor Goodall worked with a team of more than 500 authors editing a 30-volume series of books called
Ecosystems of the World
. In 2016, he was awarded the
Order of Australia Medal
, a distinguished honor. Goodall had 12 grandchildren; he'd been married three times. https://www.youtube.com/watch?v=NRrxsf-JNqM Professor Goodall, on his day-to-day activities:
"At my age, I get up in the morning. I eat breakfast. And then I just sit until lunchtime. Then I have a bit of lunch and just sit. What's the use of that?"
On dying:
"The process of dying can be rather unpleasant, but it need not be. And I hope it won't be for me" "I no longer want to continue life. One wants to, at my age, even rather less than my age... to be free to choose death when the death is at an appropriate time."
On his last meal***:
"I'm rather limited in my culinary enjoyment nowadays. I don't find that I can enjoy my meals as I used to."
On whether there was anything left he'd like to do:
"There are many things I would like to do, of course, but it's too late. I'm content to leave them undone. I have been missing for a long time my journeys into the Australian countryside, but I haven't been able to do that for quite a while."
On how he'd like to be remembered:
"As an instrument of freeing the elderly from the need to pursue their life irrespective."
On whether he had any hesitation about his decision:
"No, none whatever. I no longer want to continue life, and I'm happy to have a chance tomorrow to end it."
(Embroidered) On his sweater during his last press conference:
"Ageing Disgracefully"
His last words:
"This is taking an awfully long time!"
As he so wished, Goodall passed from this earth while listening to the final movement of Beethoven's ninth symphony (
Ode to Joy
). I love the cut of this guy's jib.
You will be missed, sir.
---
Donald Trump Shakes Hands Like A Weirdo And It Makes For Some Funny GIFs
President Donald Trump is... often unorthodox in the various ways he behaves. His handshakes are no exception. Watch. [caption id="" align="aligncenter" width="518"]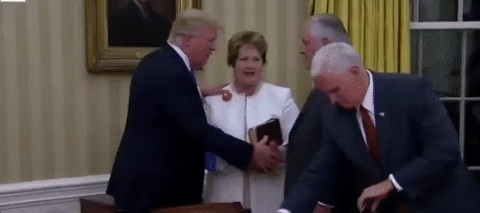 Trump nearly dislocating Rex Tillerson's shoulder. Ouch.[/caption] [caption id="" align="aligncenter" width="518"]
Trump clamps onto Shinzo Abe bigly for an extended shaking. (Note the beginning of Abe's
"OMG" eye roll
at the end of the GIF)[/caption] [caption id="" align="aligncenter" width="510"]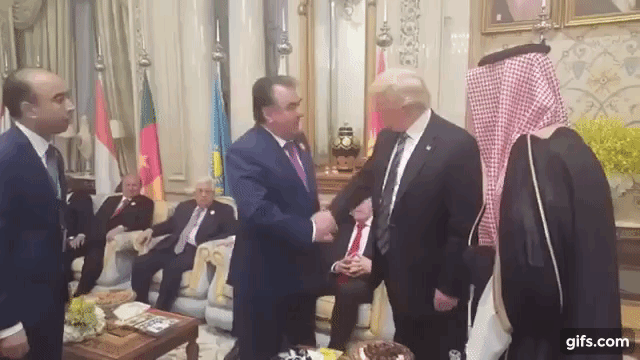 WEAK! Tajikistan's President Emomali Rahmon absorbs Rubber Armed Trump's signature yank before pulling him in close. Sad![/caption] [caption id="" align="aligncenter" width="519"]
Trump with the 'Pull-Head Lunge-Pull Combo' vs. Mitt Romney. Very tough to counter, and it leaves the usually sturdy Mitt off-balance.[/caption] [caption id="" align="aligncenter" width="518"]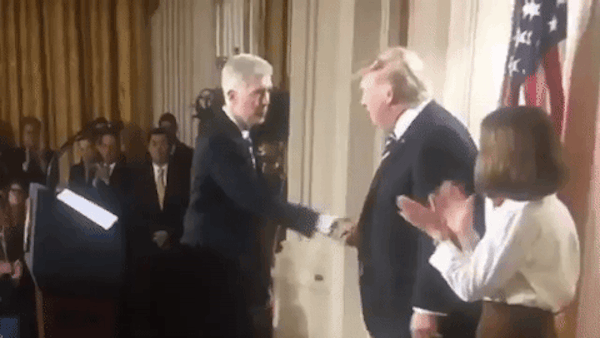 POTUS drops the powerful 'slap, slap, slap, yank' combo on his new SCOTUS Justice Gorsuch. Devastating.[/caption] [caption id="" align="aligncenter" width="526"]
India PM Narendra Modi neutralizes Trump's tactics with an aggressive manhug, then manages a sneaky fade away shake during his retreat. Brilliant.[/caption] [caption id="" align="aligncenter" width="527"]
Sup bro. You good? Trump seems like a normal, nice, non-weirdo with Yeezy.[/caption]
---
Is this the coolest trick golf shot ever?
[embed]https://giant.gfycat.com/TemptingGiftedHummingbird.webm[/embed] Or, is it this? https://i.imgur.com/jYOnX7f.mp4 Or maybe this dude? https://i.imgur.com/zFh1jlT.mp4 You pick. It's late and I'm going to bed. …
Happy Monday & Make It A Great Week!
* What is up with those people who don't automatically take off their shoes when they go into someone else's house? Who raised these people? Wolves? Israeli chefs? ** Oh, by the way, James Cameron directed both
Avatar
and
Titanic
. *** He had fish and chips and
cheesecake
. Good choice, professor. I hope they didn't serve it in a shoe. RIP. Media via: Brent Lee — YouTube — Twitter — Instagram — Google Trends --
Max Pixel