Mouthwatering Burgers in Minneapolis -- 'Ike's Food and Cocktails' Restaurant Review
Posted by Dena Hodnett on Tuesday, October 22, 2013 at 12:00 AM
By Dena Hodnett / October 22, 2013
Comment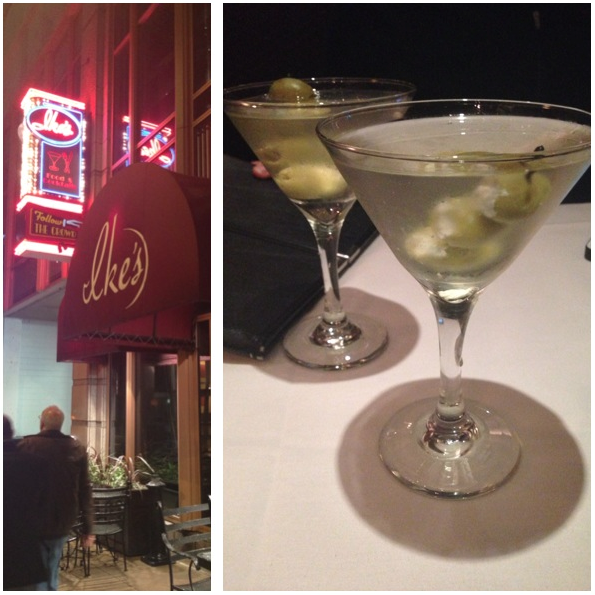 I love a good hamburger. They really can be art when done properly. Lately my hamburger exposure has been in the form of a happy meal, so I was delighted to be headed downtown Minneapolis to
Ike's Food & Cocktails
for an adult beverage and an adult burger. My husband John and I rolled up on a Thursday and were seated right away. FYI: this probably wouldn't be the case on a weekend or a home game day.
Ike's Food and Cocktails
has a retro supper club vibe -- it has a bar that runs almost the length of the restaurant with cozy booths and tables on either side. A few tables are available in the front for larger groups. They were being utilized this night by some likely downtown workers hitting up a happy hour that lingered into the evening. TV screens lined the bar, giving us a little Thursday night football action. In keeping with the supper club vibe, we went classic with a couple of Martinis ($10 each). I asked if they had blue cheese stuffed olives and our awesome server Jen said they did not, but that she would go stuff a few for me because I was nice. SCORE! Remember to be polite to your servers everyone, they are the gatekeepers to your delightful food experience.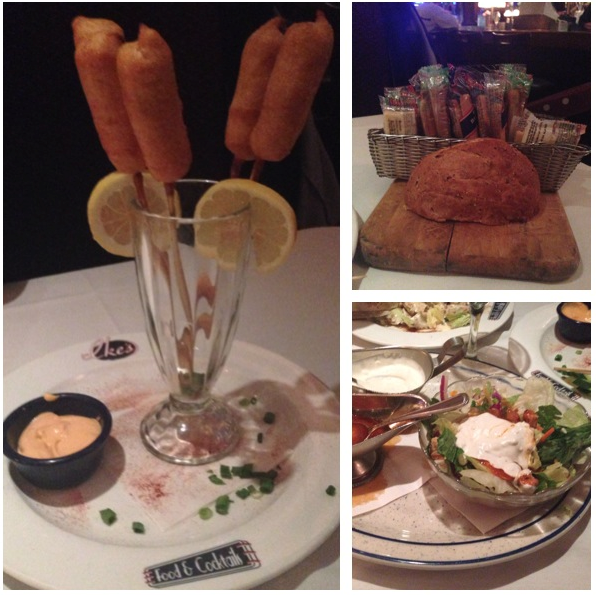 We ordered the lobster corn dogs to start. Yes, you read it right, lobster corn dogs. The description read: sticks of chopped Maine lobster seasoned with chives and garlic, then fried in sweet corn batter. While they were served with some flair (which I totally appreciate) they seemed a bit light on actual lobster. It was more lobster salad tasting. We did not get a very lobstery (definitely not a real word) taste -- certainly no chunks of lobster. The chili mayo dipping sauce was the key to success here. I would order them again, but at $17.00, I thought they were a little spendy for what we tasted. Next up were the salads. I ordered the Ike's Small Salad ($7.00) and my husband ordered the Wedge ($9.00). For a small dinner salad, mine was plentifully packed with goodies, and I'm always happy when I'm able to have a french and blue cheese dressing. My Grandfather introduced me to that nummy dressing combo and now I love to order it when I'm going for the caloric splurge. My husband said his Wedge salad with Blue and Parmesan cheeses, tomato, red onion and bacon was a little heavy on the balsamic, but overall good. The salad course is served with a basket of assorted crackers and a small 1/2 loaf of bread, which is great for soaking up all that extra dressing.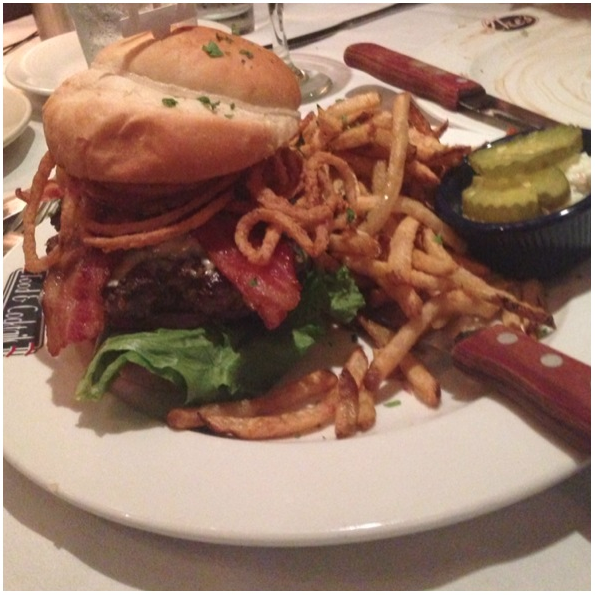 So all good so far, but what we came for was the burgers. Ever just crave a really good hamburger? If you do, then you really ought to treat yourself at some point to a burger from
Ike's Food and Cocktails
. They make a GREAT burger. I ordered one of the specialty burgers served with fries, which at $16 hits the high end of burger prices for me, but it was totally worth it. This was no McDonald's burger. I had the Andy's Kitchen Burger, which is ground angus with melted blue cheese, spicy onion straws, bacon, lettuce, tomato, onion and mayo served on a buttered toasted onion bun. Can I get an AMEN? Seriously. It was so good, cooked perfectly and again served with a little flair. John had the Twin Mini Charlie's Cafe Exceptional Kitchen Sandwiches ($15) served with chips. This consisted of two seared beef tenderloin mini burgers served with grilled onions and horseradish sauce -- one on a pumpernickel and one on a sourdough bun. He said he really liked them, but I felt his jealous eyes lingering on my burger. I shared bites of course, but honestly I think that only made his jealousy worse.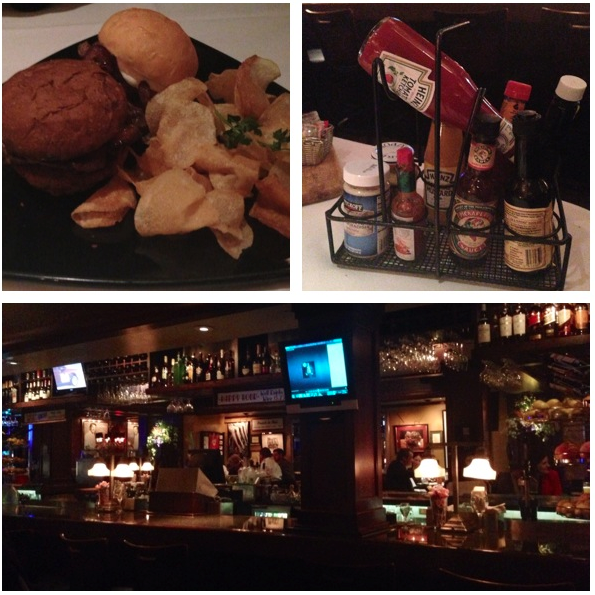 Neither of us could finish our burgers, especially because we like to save room for a little something sweet. We checked the dessert menu and got a recommendation from our server to try the Cinnamon bread pudding. Jen said it was made with the same sweet caramel rolls they have at their weekend brunches, drizzled with caramel & served with Sebastian Joe's vanilla bean ice cream. We were sold. It was a very big serving, plenty to share with a group if so inclined. But unfortunately, it wasn't as advertised, I would only give it a 5/10 overall. Not awesome, but it hit the spot. You definitely need a bite of ice cream with each spoonful of the bread pudding, and when we quickly ran out of ice cream, we were done eating the bread pudding. The dessert is far too dry without ice cream. Next time I need to remember to order one of their retro (adult) ice cream dessert drinks like a Pink Squirrel or a Grasshopper. My grandparents would have scolded me for passing up an opportunity to have a Pink Squirrel (vanilla ice cream, Amaretto and grenadine) and I'm a little sad I missed my opportunity in exchange for a just 'OK' bread pudding.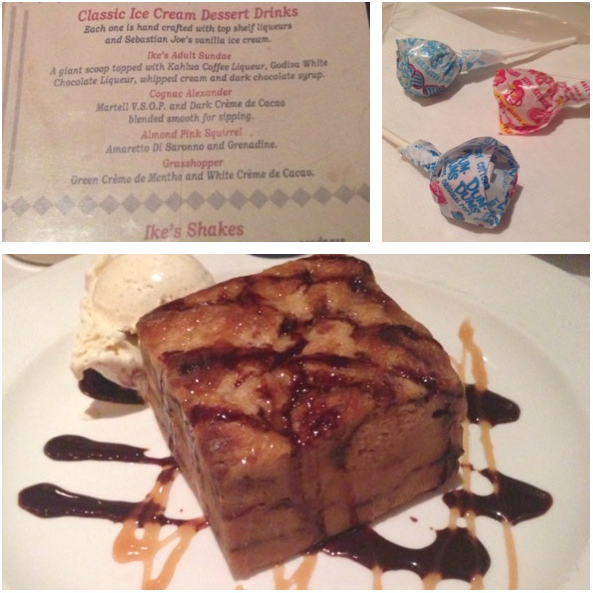 Our bill was presented with cookies and Dum Dum lollipops (also available in buckets at the bar). When I mentioned that our son would love them, our server promptly brought us an additional selection of his favorites to bring home. It was a sweet end indeed to a nice night out downtown. Ike's Food & Cocktails, is located downtown Minneapolis at 50 S 6th St. Mpls, MN 55402 (they also have a location in Minnetonka). Website:
ilikeikes.com
Photos via: Dena Hodnett