Movie Review — Is 'Draft Day' a 1st Round Pick? How Much Do You Love Football?
Posted by Brent Lee on Friday, April 11, 2014 at 12:00 AM
By Brent Lee / April 11, 2014
Comment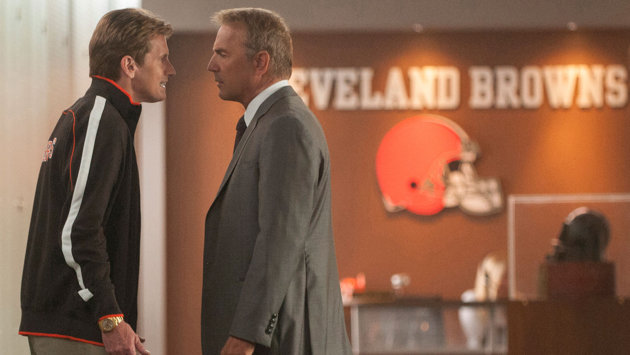 Director Ivan Reitman's
Draft Day
will never be mistaken for a great film. You'll never hear it mentioned among sports classics like
The Natural
,
Rocky
,
Hoosiers
or
Raging Bull
. It shouldn't be named among the best football movies, either.
Remember the Titans
,
Friday Night Lights
,
The Blind Side
,
Any Given Sunday
and
Rudy
(among others) are all better films tackling the subject of the good old American gridiron.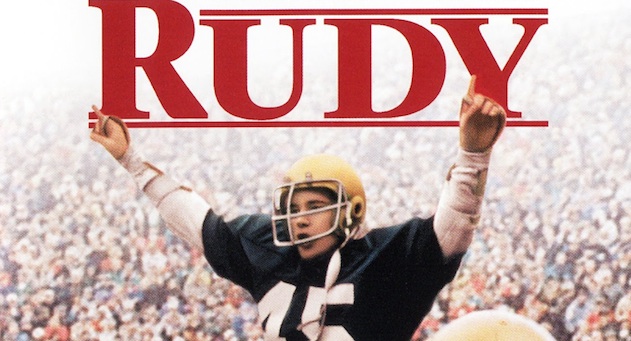 Further,
Draft Day
doesn't really even belong on the smaller niche list of other "Great Sports Movies in Which Kevin Costner Played a Part." 
Bull Durham
and
Field of Dreams
are in a whole different league than
Draft Day
. Perhaps, if I was in a good mood and being generous, I'd rank it along side
Tin Cup 
— which isn't giving it much credit as a cinematic gem. All this to say:
Draft Day
is simply not a very good movie. And yet, you
should
still see it if you meet
both
of the following two simple criteria.
#1 — You are able to suspend your skepticism in regard to the improbable.
#2 — You deeply love the NFL.
Let me elaborate...
Criterion #1 — You Can Suspend Your Disbelief for Two Hours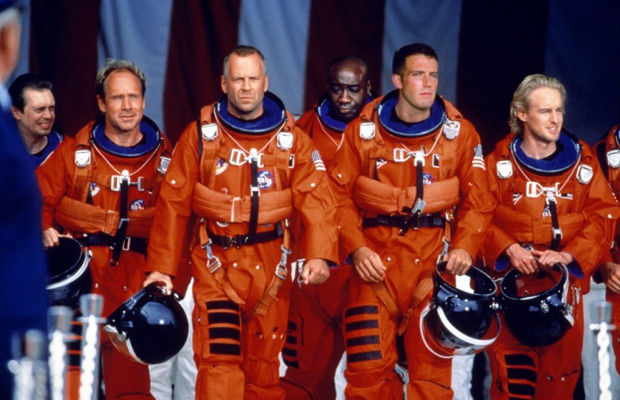 Criterion #1 applies to most, if not nearly all, films -- see the above pictured
Armageddon
for a salient example. Movies stretch plausibility and use some creative license — and they should. It's generally more entertaining for the viewer when that which occurs on screen provides an escape from the utterly mundane and strictly realistic patterns of regular life. In this sense, sports movies are no different than any other — the narrative must contain some implausible elements in order for it to be noteworthy enough to make a movie about. And in order to enjoy most sports movies, you need to be willing to brush aside that nagging part of you that says, "
Nuh uh
. That would
never
happen in real life."
Draft Day
will have you saying "
Nuh uh
," at least a couple times (especially if you are the type of person who meets Criterion #2) and you'll need to simply play along with the story if you hope to enjoy the movie as a whole. If you can suspend your skepticism, move on to Criterion #2. If not,
Draft Day 
— and non-documentary films in general — may not be for you.
Criterion #2 — You Love the NFL (a lot)
Criterion #2 is the real key to whether on not you should see
Draft Day
. You
must
love NFL football — you must love it deeply.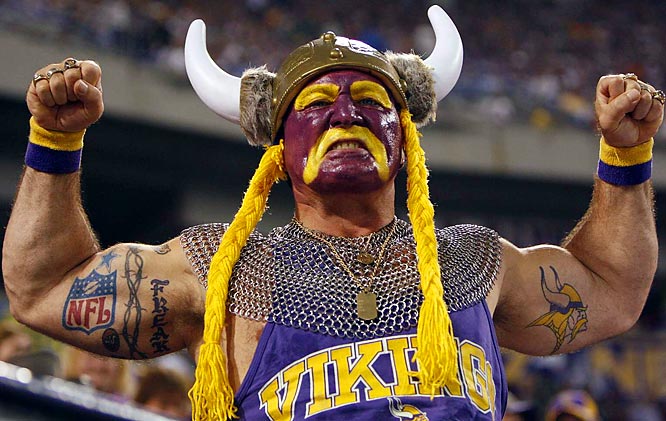 I'm not talking about being a casual, fair-weather football fan who roots for the Vikings because it's an excuse to dress in purple and drink beer on Sundays while getting together with other people who dress in purple and drink beer on Sundays. In order to make
Draft Day
worth the $9.50 and two hour investment (1 hour and 49 minutes, to be precise), you should be the type of person for whom at least four of the following statements are true:
A. I watch the NFL Network during the offseason. B. I play Madden Football in "Owner/Franchise Mode." C. I participate in multiple fantasy football leagues each year. D. I know the meanings of acronyms like YAC, QBR, TFL, PAT & OLB. E. I follow Ed Werder, Adam Schefter and Chris Mortenson on Twitter. F. I can name at least three events in the NFL Combine. G. I have an Adrian Peterson Fathead on my wall. H. I cried when Jared Allen signed with the Bears.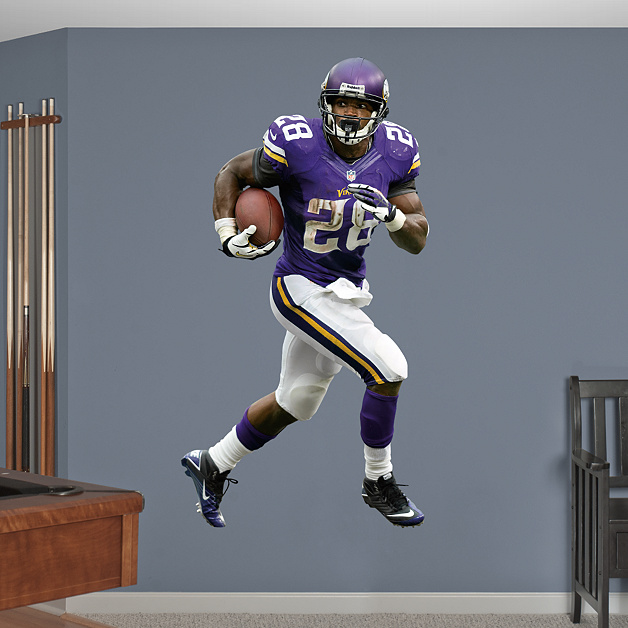 If you cannot honestly say
at least
four of these statements apply to you, skip
Draft Day
. It's an uninspired football movie and you'd be better off staying home to watch
Frozen
again and using the $9.50 to order a pizza. However, if four (or more) of the above statements sound like you, then
Draft Day
could be right up your alley—as long as you keep Criterion #1 in mind and allow for the Hollywood-ized aspects of the film that require your temporary credulity.
The Plot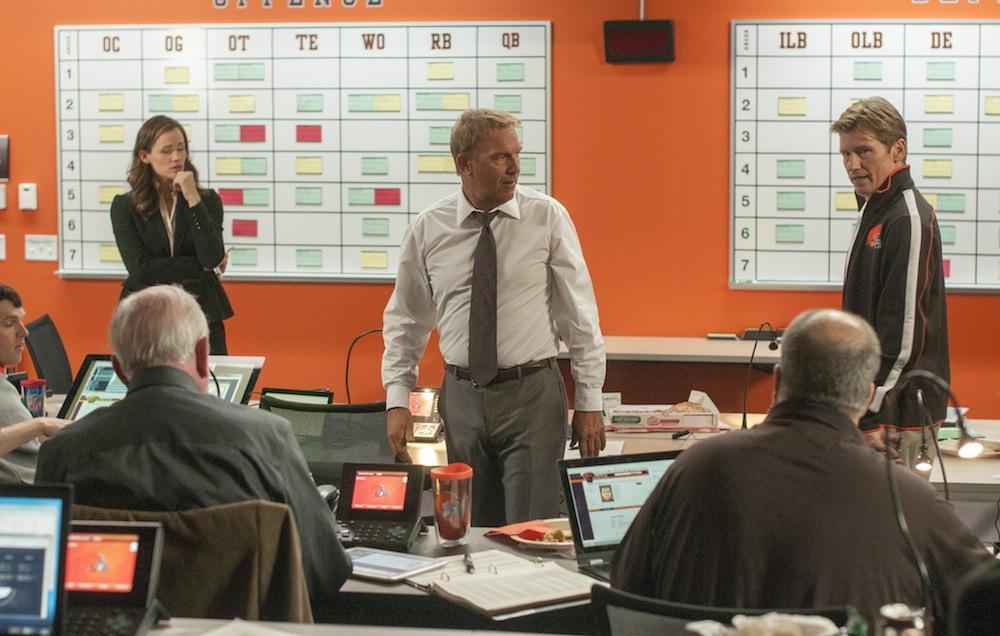 I'll keep the plot summary short: It's draft day in the NFL. Kevin Costner plays the GM for the always-lousy Cleveland Browns, and it's his job to turn the slumping franchise around by making the right decisions when it's his turn to make a pick. Jennifer Garner plays Costner's love interest who also happens to work alongside her beau in the Brown's front office. Denis Leary plays the oft-frustrated Brown's head coach who perpetually butts heads over personnel decisions with his boss (Costner) throughout the movie. Everybody involved is running around while racing the clock — there is literally a
24
-esque digital clock that appears in the corner of the screen now and again to remind the audience they should be feeling a sense of urgency — to best prepare the Browns for the draft that evening.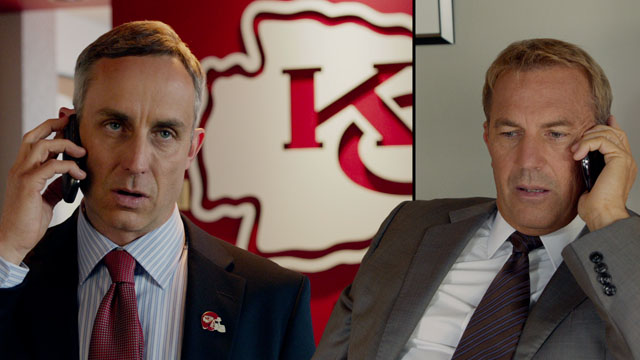 The film is full of trade and free agency talk, front office politics, football footage and terminology, flat acting performances, and a few funny moments as Costner, Garner, Leary and a cameo-filled cast spend their day nearing the decisive draft.
The Good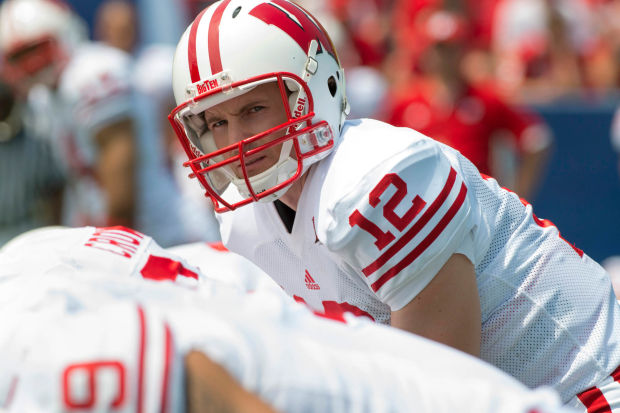 Overall, the film does a solid job incorporating plenty of authentic-looking NFL and college football elements into the mix. The game footage looks like something right out of SportsCenter — 
ESPN
and 
NFL Network
are each shown plenty in the film — and the flyovers of various pro stadiums will leave football fans clambering for NFL opening day kickoff in September. Cameos from NFL Commissioner Roger Goodell, Jim Brown, Bernie Kosar, Chris Berman, et al. are handled fairly well, and will likely add to the film's appeal in the eyes of diehard pro pigskin fans.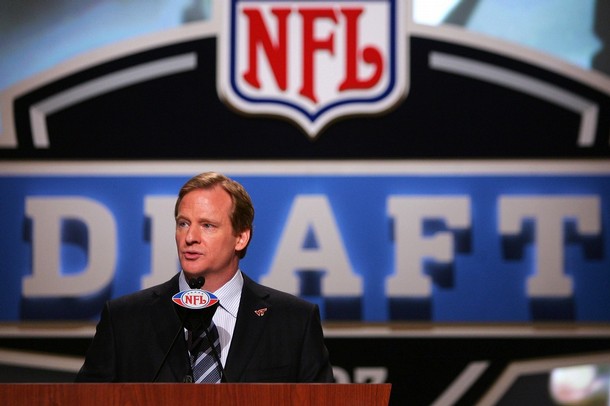 Perhaps the best thing I can say about
Draft Day
is that it
truly feels
and
looks
like a movie about the NFL and the NFL Draft in 2014. Many, many sports movies fail at providing an air of authenticity surrounding the sport they are trying to portray. I give
Draft Day
credit for being an exception in this area — it looks, feels and sounds like an NFL product from the opening kickoff to the final whistle.
The Bad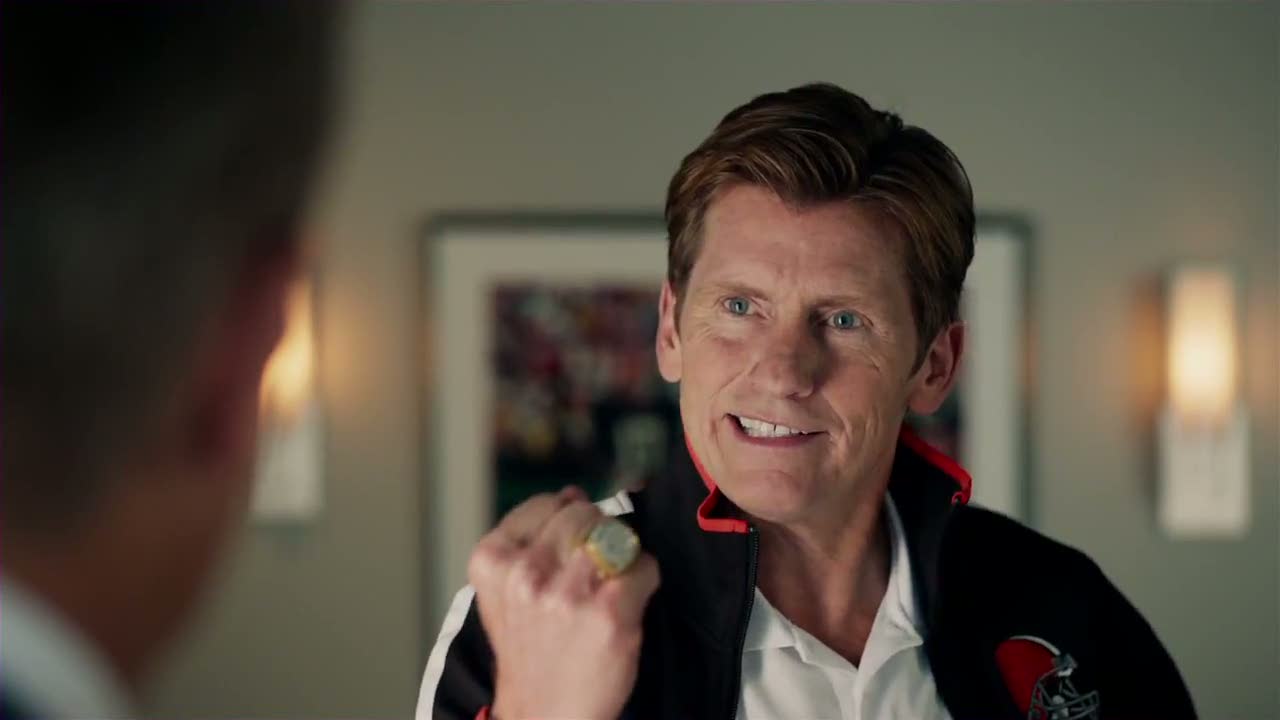 As far as being quality cinema,
Draft Day
just simply
isn't.
As far as standing the test of time as a classic sports movie, it simply
won't.
It seems to want to be
Moneyball 
— portraying the drama and intrigue that exists in the front office of professional sports — but it isn't particularly dramatic or intriguing unless, again, you are already intensely interested in the minutia of the NFL. You might laugh a little, but it's not
that
funny. You might feel a little suspense, but it's not all
that
suspenseful. And in sharp contrast to
Moneyball
, I'll almost guarantee you won't care enough about the poorly developed characters in
Draft Day
to make you root for them in any way.
The Cast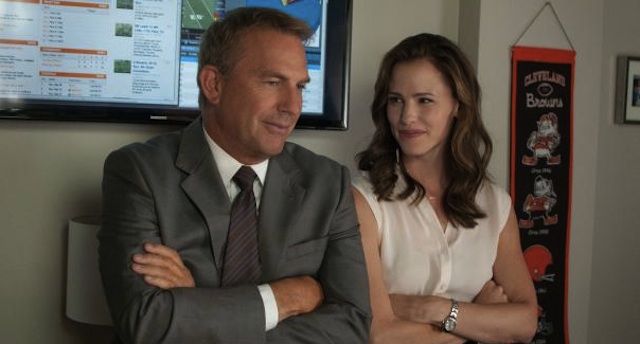 I don't particularly like Kevin Costner as an actor — he's just OK in my book. I've enjoyed some of the films he's been in — 
JFK
,
Open Range
and
Thirteen Days
are all in my DVD collection — but I think he generally delivers bland-ish performances that leave me wanting more.
Draft Day
is another such example — Costner is likable, but not lovable. Jennifer Garner?
Meh
. The chemistry between her and Costner... well, it doesn't exist. The whole romantic element in the film feels frigid and forced. I'm admittedly biased — similar to my feelings on Costner, I'm lukewarm on Garner's work, and
Draft Day
was definitely not the film to change my opinion. It's too bad, a more convincing performance from the leading lady might have gone a long way toward the movie's appeal to non-football fans.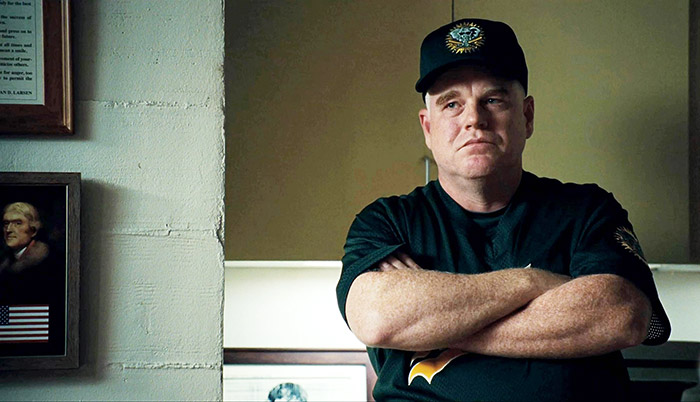 As I watched Denis Leary try and act like a NFL head coach, I found it hard to imagine him as anything other than Denis Leary. I kept thinking back to Philip Seymour Hoffman's hyper-believable transformation into Oakland A's manager Art Howe in
Moneyball
and wishing Leary could channel (even a sliver of) Hoffman's acting talents to become less like Denis Leary and more like someone even mildly resembling an NFL head coach.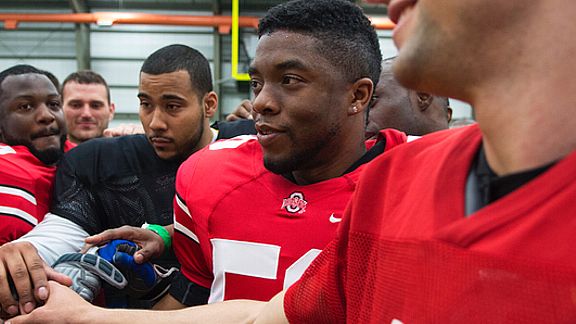 Chadwick Boseman, who also played Jackie Robinson in
42
, was a bright spot in the film from an acting perspective — but he is
WAY
too small to be an NFL linebacker (They should have made him a defensive back). At any rate (and any size), Boseman played his role well and I expect we'll see more good things from him in future films. Also, for those die-hard football fans, keep an eye out for Arian Foster -- he actually acts in the film (I'll leave judgement on his performance up to you) as Ray Jennings, an NFL prospect headed to the draft. In the film he plays the role of a (gasp) running back. His performance is surely less spectacular than his on-field NFL accolades.
The Verdict
Pay attention to Criteria #1 and #2. If you pass those self-tests, give
Draft Day
a try. It's a fun movie for anyone who is itching for NFL football and can't wait for the upcoming draft in May. If you failed the Criterion #2 test, don't waste your time or money with this film. Watch
Bull Durham
or
Field of Dreams
instead if you're craving a Kevin Costner sports flick with a better story and decent acting. Hell, watch
Tin Cup
. It's better than
Draft Day
.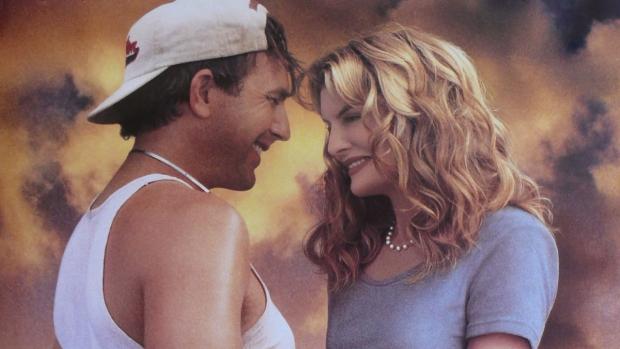 If you failed Criterion #1, you should relax more — just generally. Movies can be fun and convey
positive
messages, even if they're unrealistic.
Grade: 5.1 out of 10
I'd rate this film even lower, but I pass Criteria #2 with flying colors and quite enjoyed a football fix with the NFL Draft still almost a month away.
Draft Day
opens today. Check Minnesota Connected's movie
listings
for showtimes.
Author's Note:
*In full disclosure, since it's a football movie, I also rated it 5.1 (instead of 5) because Dick Butkus is my favorite football player of all-time and wore #51.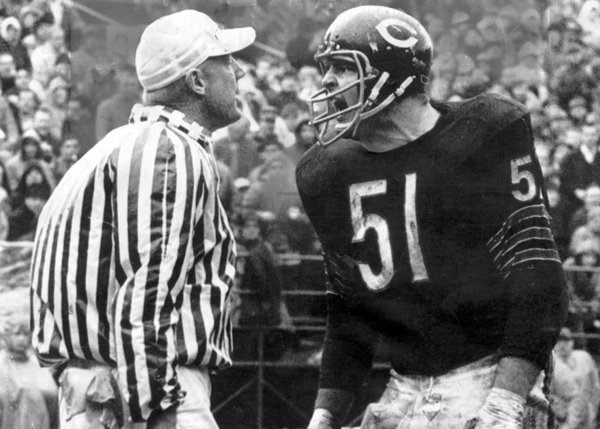 Photos via: Comingsoon.net — Movpins.com — Aurn.com — Thesportspin.com — Chicago Tribune — Google