Movie Review -- 'Pixels' Has Lots of Family Fun
Posted by Leah Putz on Friday, July 24, 2015 at 12:00 AM
By Leah Putz / July 24, 2015
Comment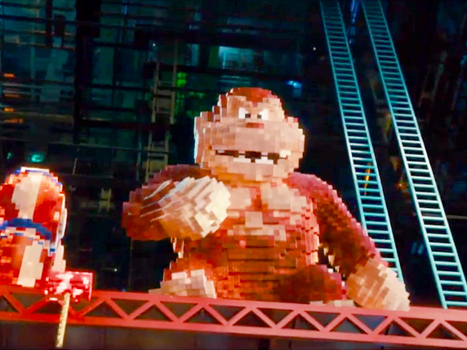 Pixels
begins with a bang, playing "Surrender" by Cheap Trick and introducing viewers to the world of arcading in 1982, something familiar to parents and foreign to kids. This flashback introduces the majority of the main characters, namely Brenner (Adam Sandler), Cooper (Kevin James), Eddie (Peter Dinklage) and Ludlow Lamonsoff (Josh Gad), as children. The casting director of this film deserves a gold star, because all of the young actors were amazing at channeling their grown-up counterparts. The standout was Andrew Bambridge, who seemed more like Peter Dinklage than Peter Dinklage even did (seriously, what was his accent? English? Southern? I was confused and disappointed by
Lord Tyrion
). Flash forward 30 years, and Sandler's Brenner is at a dead-end job installing televisions and James' Cooper is the President (something I found to be very unbelievable). The real star of the majority of the film was Josh Gad, whose paranoid character Ludlow Lamonsoff gets the most laughs of the film. His out of nowhere one-liners made me laugh more than any of the huge stars did, especially when he starts singing Tears for Fears "Everybody Wants to Rule the World" at a government ball. The plot to this film is pretty far-fetched — somehow I find it difficult to imagine that aliens would find old arcade footage from 1982 and take it as a declaration of war — but what else is to be expected in a movie where arcade games come to life?
And though far-fetched, it is also predictable. I knew from the very start exactly how it would end -- but that doesn't mean it wasn't enjoyable to sit through and experience. The special effects alone make 
Pixels
 worth seeing. Nothing looked too saturated or computer-generated and they were able to show real objects and people interacting with the aspects of these old arcade games (the Centipede scene is visually stunning, to say the least). Overall, I think 
Pixels
 is a good family film. It pairs references from the 1980s that adults will love with the modern world that their children will recognize. Though it is predictable and pretty far-fetched, it does the job of providing enjoyable entertainment and, to me, that is what is most important.
GRADE: 6/10
Photos courtesy of: Columbia Pictures