Movie Review -- Rami Malek Shines as Freddie Mercury in 'Bohemian Rhapsody'
Posted by Matt Eckholm on Saturday, November 3, 2018 at 12:00 AM
By Matt Eckholm / November 3, 2018
Comment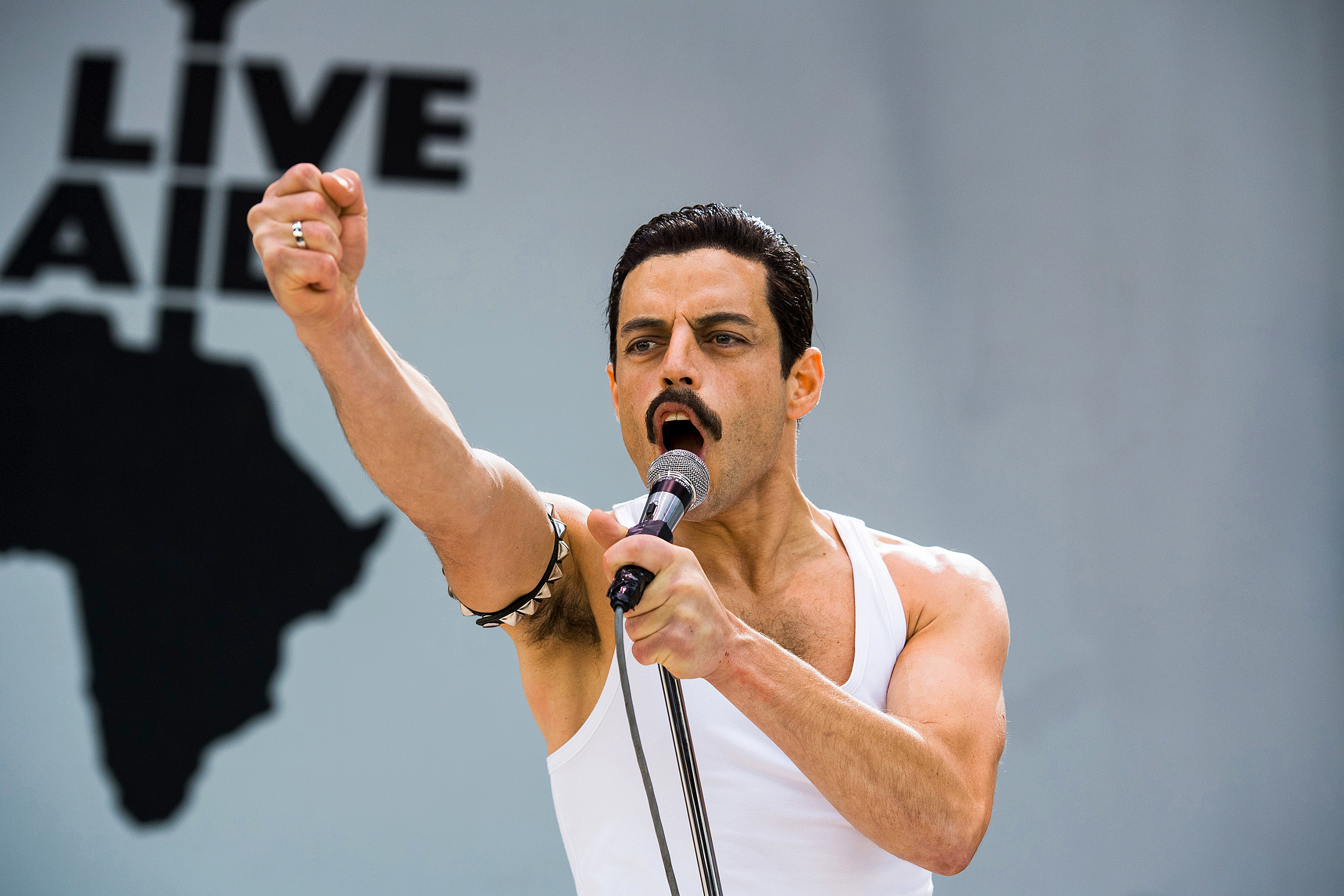 Biopics tend to go one of two ways. Either they're a pivotal moment in the subject's life that's explored in depth, or it's a collection of vignettes that are strung together as close to a traditional film narrative as possible to tell a full life story. Personally, I prefer the former to the latter, since we as the audience get to fully immerse in a chapter of history and discover more of the (hopefully not fabricated) behind the scenes build up to the events and stories that are the entire reason for a biopic in the first place.
Having said that, if anyone is going to tell a story about Freddie Mercury, I can't imagine finding a way to contain that narrative in one chapter without it feeling unsatisfying. Complicating matters further, and depending whose side of the development hell rumors you believe, Bohemian Rhapsody wasn't really supposed to be a Freddie Mercury biopic in the first place, but the story of Queen.
The influence Brian May and Roger Taylor had on the development of the film is noticeable in the final product, mostly in the way it handles the story of the band the way a jukebox musical would -- needle drop the hits at thematic points that more or less accurate to the time they were written, follow the standard rock star movie formula, and end with the big show. The film is a de facto Freddie Mercury biopic, but as much time as it focuses on his story and relationships, the narrative is more interested in moving briskly through the band's career than on the intimate details of Mercury's private life. Taking the film apart and putting the elements on paper, it doesn't seem at first glance like the film will work.
And yet, when Rami Malek steps on screen, he becomes Freddie Mercury. For me, that's the movie. Are there moments where I wished the narrative could have stopped to spend a bit more time exploring certain chapters of the band's rise to success? Sure, but I also could go find a documentary about Queen to do that. Is the timing of Freddie's HIV diagnosis willfully changed in order to create a thematic build to Life Aid? Unfortunately. But given Freddie Mercury's almost timeless status as a legendary rock figure, I think there's room in the world for a telling of his story that's more mythic than factual.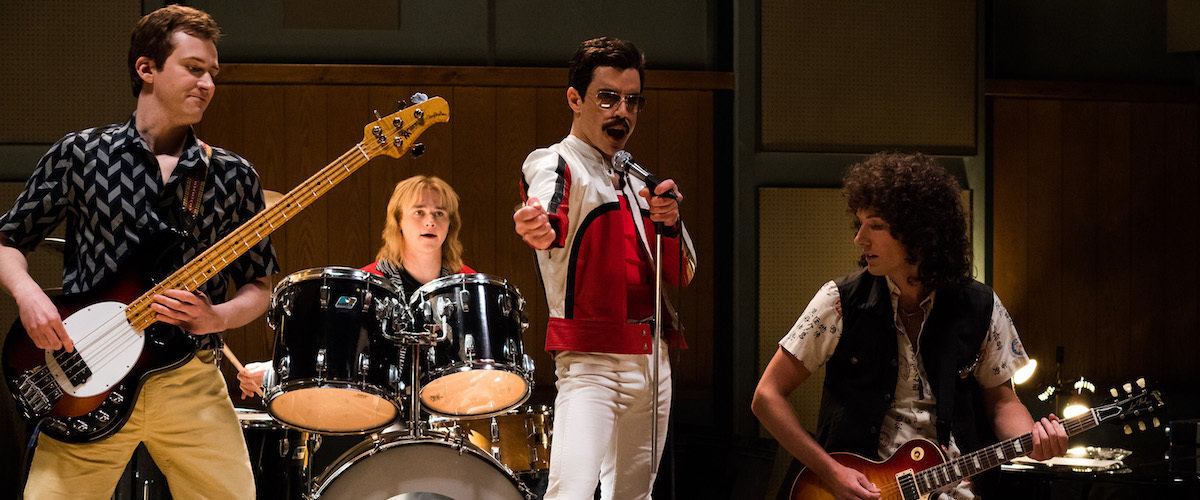 In retrospect, there's a lot of this movie I wouldn't have put up with if it wasn't for Malek. Mike Myers popping up in costume, makeup, and dusting off his Scottish accent for an extended
Wayne's World
wink, would have really bothered me in a different movie. In the context of a film that is largely a love letter to Queen and their music, it doesn't feel any more out of place than the clearly fabricated moments where band member fights in the studio lead to miraculous breakthroughs on their greatest hits.
After the release of the first trailer, there were concerns that Bohemian Rhapsody would "straightwash" the gay icon at its center. After seeing the film, the admittedly concerning trailer makes more sense -- when not focused on the band, much of Freddie's human connection is with his lifelong friend and former fiancé Mary Austin (in the film at least, in real life he referred to her as his 'common law wife').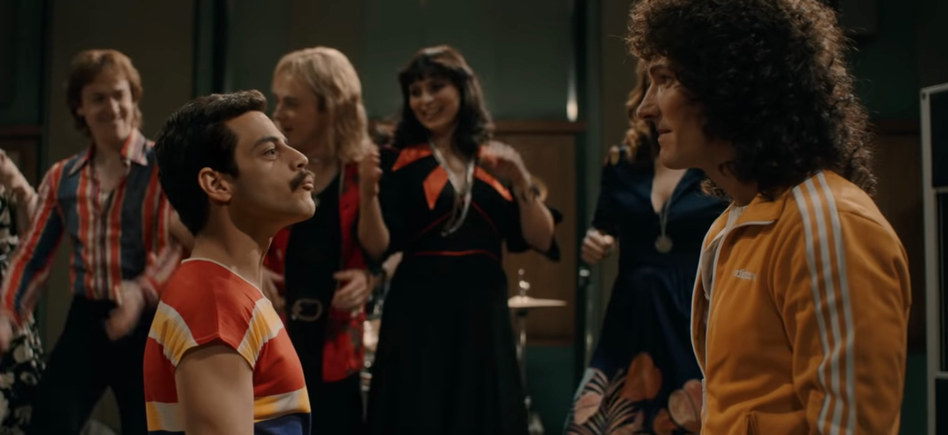 Since the film spends so much time jumping temporally through the band's history, narratively it makes sense for Austin to play prominently. With lots of scenes of Austin and Mercury close together, it's easy to see how they made it into a trailer, even if it's contextually blind to Mercury's place in pop culture and LGBT history. But Freddie's relationships are explored much deeper in the film than that initial teaser trailer might imply. A kiss between Freddie and Paul Pretner (Allen Leech) caused some jerk in my showing to start complaining audibly at the screen. I guess I don't know what he expected from a movie about Freddie Mercury, but it was one more reminder that even though I didn't get a deep character study of the members of Queen, this movie is an important representation all the same.
For a movie with a long development, several high profile cast departures, and the firing of a problematic director halfway through filming, Bohemian Rhapsody is exhilarating and charming. Maybe not a great movie, but entertaining, and a reminder that the best biopics aren't made by the subjects. Hopefully that warning isn't too late for the Elton John produced Rocketman to heed.