Movie Review - Rare and Stunning, 'Blade Runner 2049' is a Film You Have to See
Posted by Jason Ingolfsland on Monday, October 9, 2017 at 12:00 AM
By Jason Ingolfsland / October 9, 2017
Comment
The original
Blade Runner
directed by Ridley Scott is a neo-noir, science fiction masterpiece. It felt inconceivable Hollywood Studios would think it a good idea to create a sequel, remake, reboot, or mess with the story in any fashion whatsoever. Some movies are better left in the annals of history untouched. Simultaneously, a sequel (soft-remake) couldn't have come at a better time. With the advent of ever-increasing new special effects technology plus the everyday technology in our own lives, the science fiction genre is exploding. What better time than now to re-explore this beloved story? Thankfully both fans and newcomers can rest easy.
Blade Runner 2049
is in safe, capable, and almost nigh-perfect hands. Ridley Scott came back to produce. The original screenwriter, Hampton Fancher, wrote the screenplay with an additional screenwriting credit from Michael Green. Roger Deakins came on as the cinematographer. Hans Zimmer wrote the score. And, best of all, Denis Villeneuve (Sicario, Arrival) was tapped to direct. The result is a beautiful film matching and quite possibly elevating above the original. Right on the tails of 
Arrival
, Villeneuve continues to do incredible work as a director and has skyrocketed on the scene as someone capable of putting intelligent storytelling in a blockbuster film.
Blade Runner 2049
is no exception. While certain elements of the story are lacking, with the help of Roger Deakins providing stunning, gorgeous cinematography and Hans Zimmer honoring the original score with his own spin, Villeneuve reinvigorates the original work with a new, clean vision and creates an all-engrossing experience.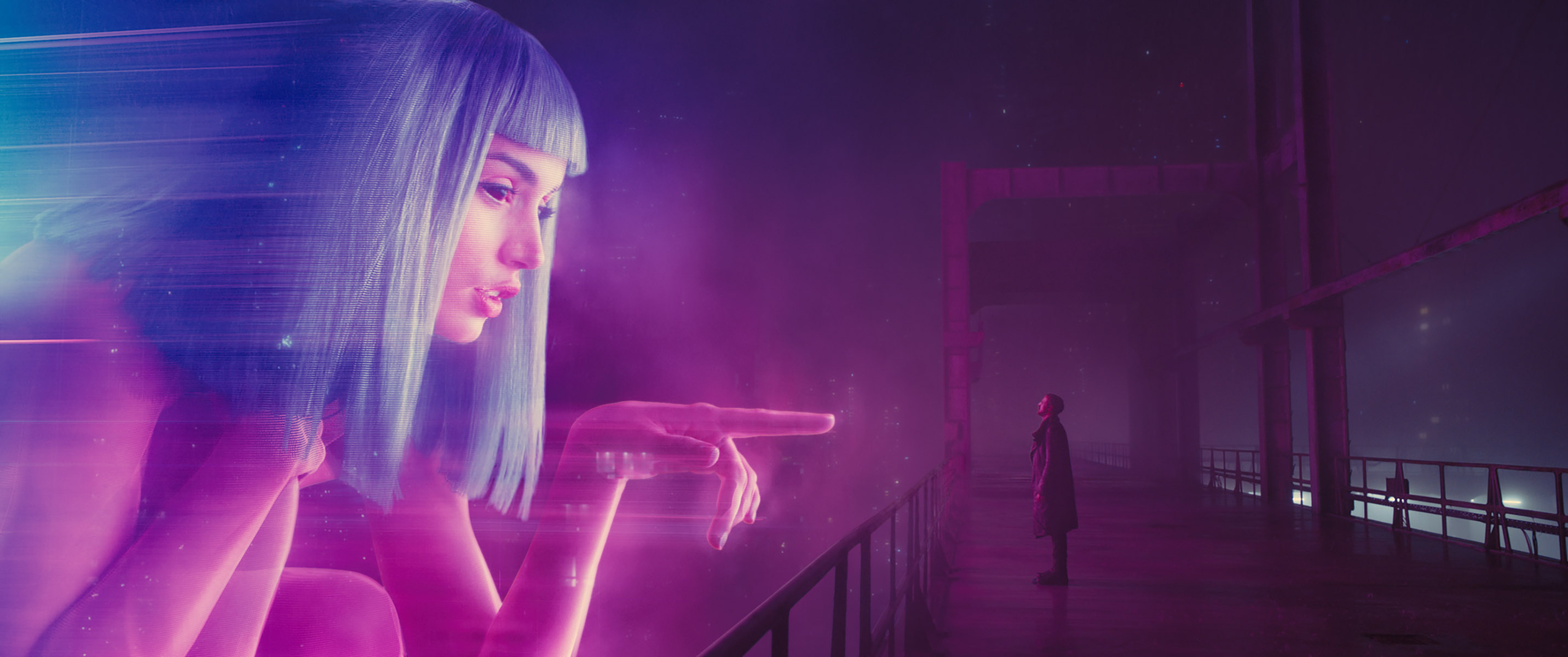 At the request of the director, I am limited in what I can say about the story for fear of revealing important plot points and potential spoilers. With that said,
Blade Runner 2049
follows a new class of blade runner (Ryan Gosling) who stumbles upon clues and secrets that eventually leads him to Rick Deckard (Harrison Ford). What they discover could change their world forever.
The defining elements of Blade Runner are its gritty neo-noir tone and its score.
The cinematography is gritty, dark, almost scary with set designs looking like they came out of a haunted house horror movie. So, it's interesting, then, seeing Roger Deakins' clean, well-lit and brightly colored cinematography in Blade Runner 2049. While this change felt welcome, because let's face it Roger Deakins is a master cinematographer, it also felt a little out of place. Is this the same Blade Runner we've come to know and love or are they drastically changing things to fit the times? At first glance, it feels like Deakins and Villeneuve's intention is to shake the status quo, strip the movie of its neo-noir feel, and put their own vision on it regardless of the past. Still, the visuals are incredible. Deakins work is always top-notch but in this case, it's probably some of the best work he's ever done and really elevates the movie. He'll undoubtedly get an Oscar nod for Best Cinematography and I'd be surprised if he didn't win.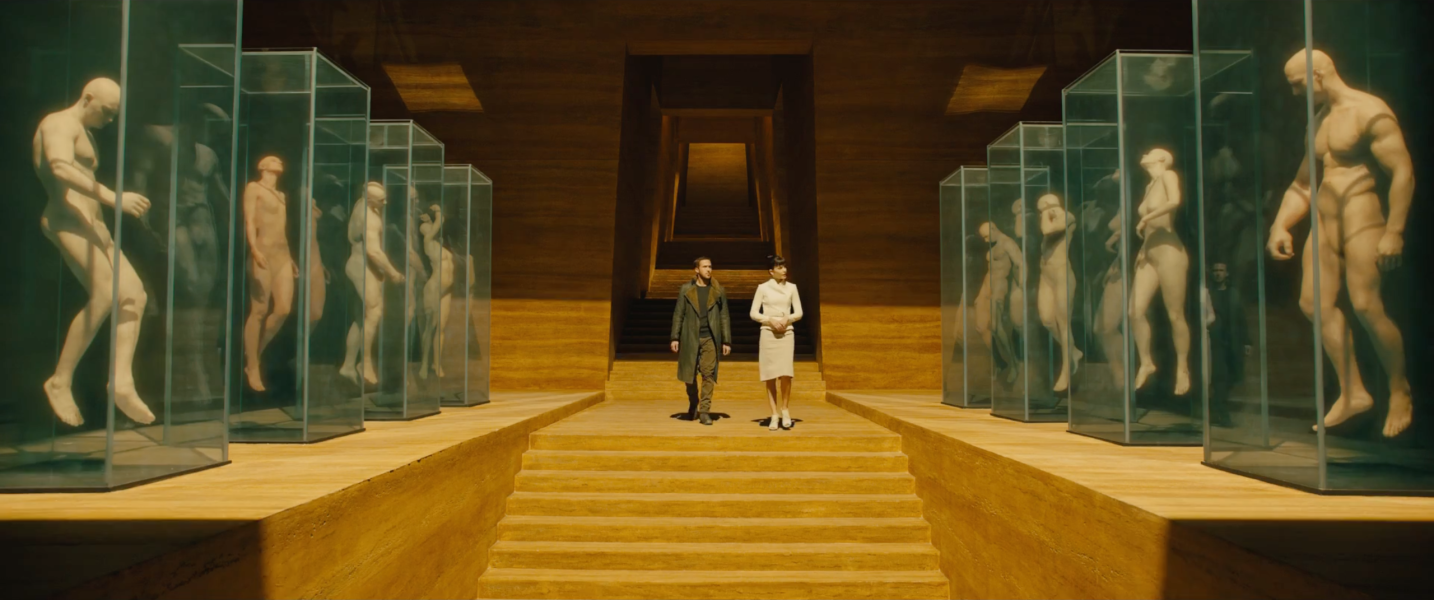 Blade Runner 2049
benefits from Hans Zimmer's score but unlike Vangelis, the original composer who brought a breathtaking score to the table, Zimmer seems almost trapped to honor Vangelis while occasionally getting to do his own thing. Much of Zimmer's calling cards are strewn throughout the score. With loud, vibrating bass, pounding drums, and plenty of oscillating synthesizers, it's clearly Zimmer and it works, tapping into the emotion of the movie. Yet, Zimmer isn't running at full capacity here. Not like the fantastic masterpiece he put on full display in
Dunkirk
. Clearly, Villeneuve is working within the same confined parameters, having to give several callbacks to the original whether it be the plethora of product placement like the giant Coca-Cola sign, the eerie landscapes, and the neo-noir feel. He needed to make it feel, look, and sound like Blade Runner while breaking out and giving it a new vision and fresh look. Overall, Villeneuve is successful. On the one hand, so much of
Blade Runner 2049
feels like an extension of the original just spruced up with stellar special effects and cinematography. On the other, it doesn't have the dream-like tone and jazzy, neo-noir feel. You won't find a scene with saxophone and the dialogue is crisp and clear with no reverb. It's not really missed. Villeneuve's style is a welcome change.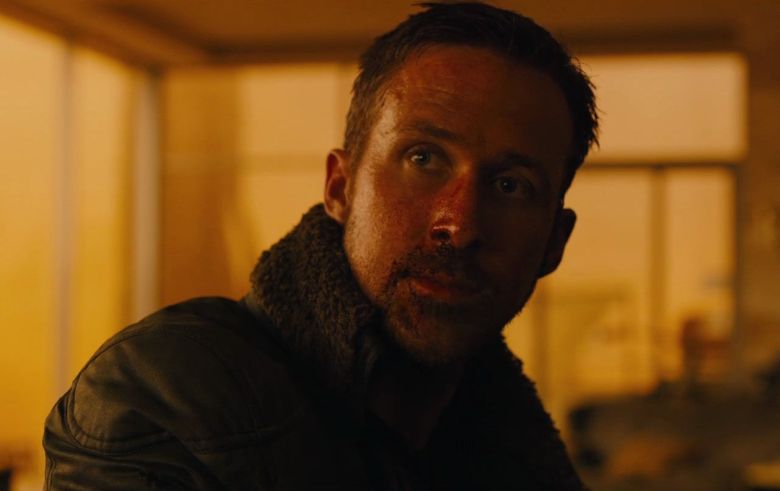 Usually, in science fiction films, filmmakers and studios feel compelled to go overboard with CGI special effects. To a point, all the CGI will make it feel fake and silly. It's nice to see a film which blends fantastic CGI with practical sets.
Star Wars: The Force Awakens
and
Mad Max: Fury Road
did this well and
Blade Runner 2049
takes it even further. Everything feels so real in this film. The cinematography and practical effects give it a tangibility you might not get otherwise. If you're familiar with the movie Drive which also stars Ryan Gosling, you'll recall his stoic and even-keeled character and performance. In many ways, this is what you're going to get in
Blade Runner 2049
. Though, in some ways, Gosling almost perfects subtle emoting. On very few occasions does he full emote and when he does, it's startling because you're not expecting it. While I understood Gosling's character motivations, a casual moviegoer might not really get it or care very much about his character. He's not charismatic and stoicism rarely work well with a general audience. The villains Niander Wallace (Jared Leto) and his replicant Luv (Slyvia Hoeks) are, unfortunately, the best and weakest aspects of the film. Externally, Leto is given an eclectic megalomaniac character to work with, spouting out psychotic philosophical dialogue but his motivations are difficult to understand besides the usual world domination. Leto thrives in this role and it's a good performance despite its lack of depth. Luv seems capable of making her own decisions but ultimately she's just Wallace's lap dog. There's not much there and it makes it hard to really care or feel the weightiness of the stakes.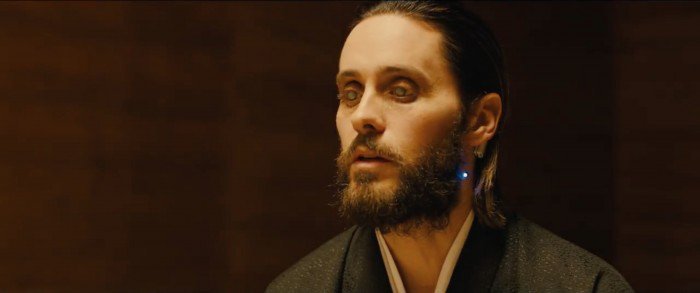 Unlike the original, the story has more meat and emotion injected into it. The character relationships work better in this one especially between Gosling and his love interest. While I won't go into full details, the characters, mystery surrounding them, and the inevitable twists that follow make the story more complex and expands on the original's concepts. Trying to produce a sequel to a cult classic like
Blade Runner
is no easy feat. Many have tried and failed to do the same to other properties.
Blade Runner 2049
is one of those rare instances where the sequel exceeds expectations and does something just as special if not more so. With all that said, it's not a perfect movie and I think calling it a "masterpiece" might be a little premature. However, it's the type of film you're going to want to at least experience in the theater once. And, with its complexity, you'll likely want to see it again.
Grade: 9.5/10
Photos Courtesy of: Warner Bros. Pictures