Movie Review -- 'Rocketman' is a Masterful and Wonderfully Unique Biopic of Elton John
Posted by Matt Eckholm on Wednesday, June 5, 2019 at 12:00 AM
By Matt Eckholm / June 5, 2019
Comment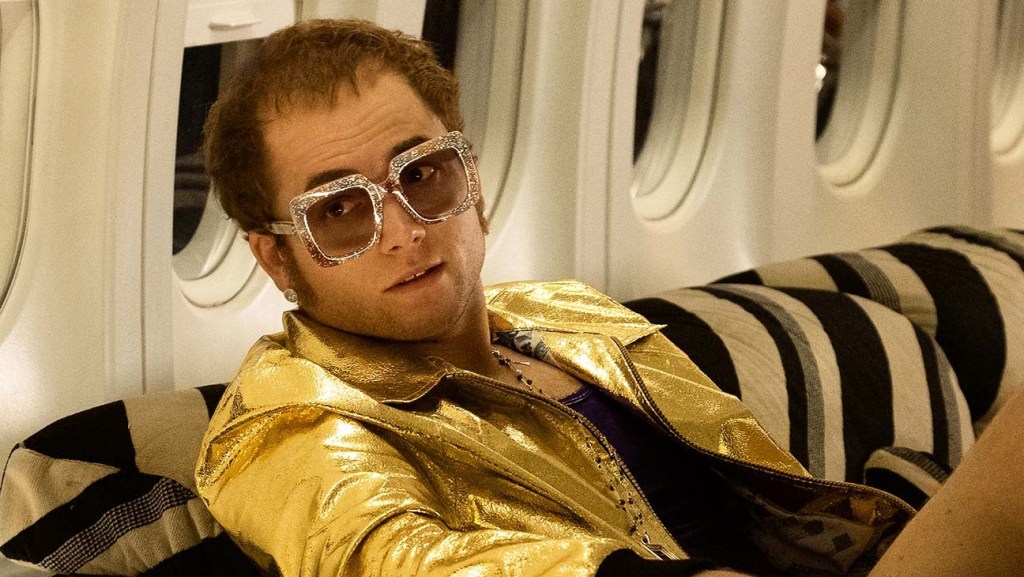 Way back when I reviewed 2018's Bohemian Rhapsody, I mentioned how behind-the-scenes drama during the production of that film resulted in Rocketman's director, Dexter Fletcher, taking over for Bryan Singer uncredited. Considering Bohemian Rhapsody was an enjoyable but confused and unambitious rock biopic, I was interested to see Fletcher's Rocketman to see how well he took on telling a tale about a brilliant musician who rises to fame, falls onto bad times, and deals with hiding themselves from a world not quite ready for who they really are.
The answer, as it turns out, is way, way better. Rocketman takes the trope-ridden musical biopic format and weaves around it a story that's just as much fantasy as reality, and uses Elton John's extensive back catalog in a way that is far more reminiscent of Moulin Rouge or Across the Universe than Walk the Line.
The film opens with Elton John (Taron Egerton), in full stage dress, barging into a rehab group therapy session. Almost as fast as it arrives, the therapy session melts away into 1950s England, and his younger incarnation, Reginald Dwight, leads a fully choreographed musical number set to 'The Bitch is Back.'
At this point, it's pretty clear what we're in for -- Elton John telling his story the way he sees it and with all the pomp and flair he's famous for. Much more than just appropriate for the subject at hand, but it also lets the film mix up the order of the tracklist. Instead of trudging through John's discography with chronological needle drops of hit songs, we're thrown right into full musical numbers for The Bitch is Back (1974), I Want Love (2001), and Saturday Night's Alright For Fighting (1973) all before his career officially takes off in the story with Your Song (1970). In fact, if you removed the musical sequences from Rocketman, you'd be left with very little movie.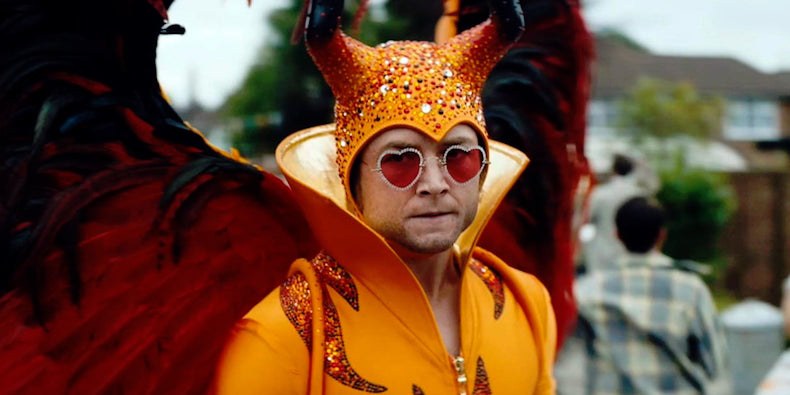 Thematically reorchestrating John's discography could have easily come off as big budget karaoke, but rarely did I find myself mentally comparing the new recorded versions to the originals, since they fit so neatly into the story Rocketman is telling. I don't mean to keep dragging Bohemian Rhapsody into this, but never in Rocketman is a concert scene just a concert. In each case, it's a transformational character moment -- Elton John's coming-of-age in Saturday Night, his ascendancy into stardom with Crocodile Rock, or his descent into depression and addiction with Pinball Wizard.
But while Dexter Fletcher's vision of Elton John's life is visionary, but it's Taron Egerton's incredible performance that makes it work. This jukebox musical format wouldn't be possible without Egerton being able to disappear completely into the role of Elton John, both as an actor and singer. It's a shame Oscar buzz is based so much on when a film is released, as Egerton deserves at bare minimum at least the same amount of accolades as Rami Malek.
Surrounding Egerton is a solid supporting cast. Jamie Bell is almost as perfect a casting as you can get for Bernie Taupin, Elton's long time songwriting partner, and I was shocked at how long it took me to recognize Bryce Dallas Howard as Elton's mother. The supporting players get opportunities to sing as well, as tracks like 'I Want Love' and 'Goodbye Yellow Brick Road' are employed as duets to give characters the opportunity to sing out their inner thoughts.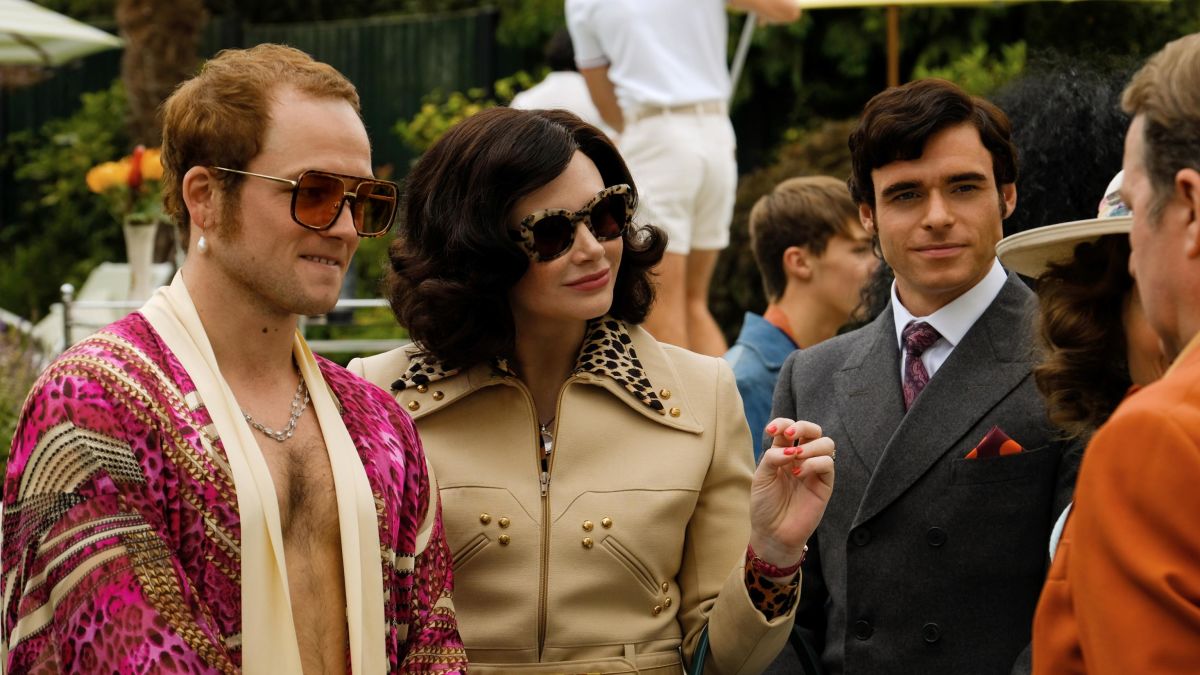 One of the things I was worried about going in to Rocketman was the credit for Elton John's own production company, Rocket Films. And not just because the best known projects Rocket Films has produced are the Gnomeo and Juliet films. The involvement of living members of Queen is one of the major factors in why Bohemian Rhapsody ends up as a cautious representation of Freddie Mercury's life, despite the singer being anything but cautious.
However, if I had read any of the press materials for Rocketman before I went in, I wouldn't have needed to worry. When asked about the film, Elton John himself pointed out "Some studios wanted to tone down the sex and drugs so the film would get a PG-13 rating. But I just haven't led a PG-13 rated life." His descent into drug addiction, borne out of an attempt to fill the hole left by the unloving parental and romantic figures in his life, is heartbreaking, and the film wouldn't have been the same without it. Even just from a storytelling structure perspective: you don't earn the emotional payoff of a number like 'I'm Still Standing' without it.
In another departure from the safe route, Rocketman doesn't hide from the fact that the star of the show is a gay man who leads a rock and roll lifestyle with other men. I can't fathom anyone being a fan of Elton John a fifth of the way through the 21st Century without knowing he's gay, but I'm glad the film didn't feel the need to pretend for the benefit of middle America either. Hopefully the box office will reward Rocketman enough to let Hollywood know its okay to tell honest stories about the lives LGBTQ folks lead without fearing backlash anymore.
Rocketman was the first film in a long time I've seen that made me forget I was watching a movie. Dexter Fletcher and Taron Egerton bring the life and legend of Elton John to life in a way that's both emotionally and visually satisfying. At this point, I'm hoping Fletcher just makes a career out of bringing rockstar stories to the big screen, just so long as he brings his Rocketman A-game to each one.