Movie Review — Row the Boat, Please: 'Manchester By the Sea' is Good, But Too Slow to be Great
Posted by Steve Sauer on Thursday, January 19, 2017 at 12:00 AM
By Steve Sauer / January 19, 2017
Comment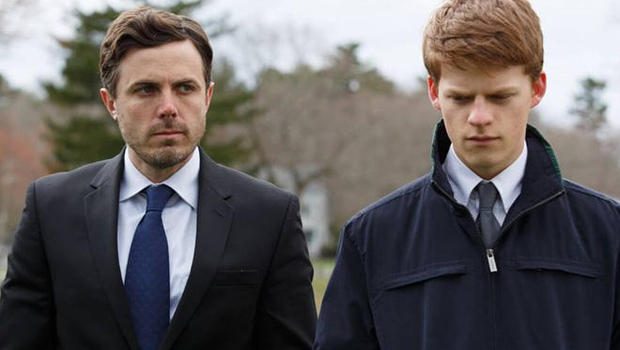 Though it ain't Jimmy Stewart finding life's true
meaning
is in the small pleasures, it's not
that
far off.
Manchester By the Sea
is a grim tale — we see Casey Affleck as Lee grinding it out as a maintenance man for a Boston slumlord, not much going right for him. His daily life consists of getting hammered after a day of drudging work before collapsing in his one room, cell-like apartment. Casey is obviously damaged, and though we don't yet know what caused it, we are shown glimpses of his gristly past in a series of flashbacks throughout the film. The story begins when Lee's brother Joe (Kyle Chandler), who lives an hour and a half up the coast, dies of heart failure. Lee rushes to the scene and later learns, much to his chagrin, that he has been tasked to be the guardian of Joe's 16year-old son, Patrick (Lucas Hedges). Lee believes he is ill-equipped to take on responsibility for another person, as he has enough trouble getting through each day on his own. The balance of the film explores Joe and Patrick's struggle. The best scene is an extended flashback in which the director unearths the full story of Lee's dark past. After his wife Randi (Michelle Williams) kicks his drunk/high friends out of their home at 2AM, Lee walks to the mini mart for groceries and there is a palpable sense something bad is going to happen. This scene masterfully unfolds bit by bit as the audience is ushered into the reality of the burden our protagonist has been carrying. This is a solid film, but I don't think
Manchester by the Sea
is Oscar-worthy. It's subtle, mature, and charming even in it's tragic nature, but the film relies on a somber note that rings a tad monotone throughout.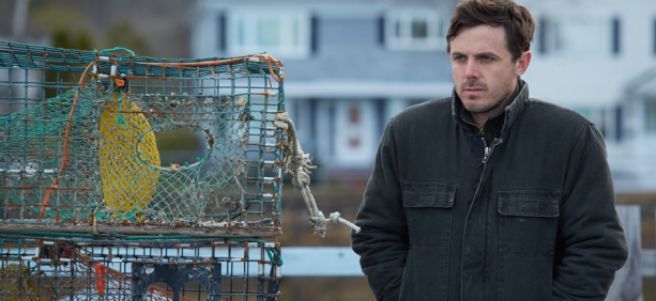 Despite the film's tendency toward flat sadness, Casey Affleck — who might just be more talented than older brother Ben — finds a way to extract a lot from his lead role. His face is always telling the story of his anguished past; his soulful eyes and limited dialogue are all used to maximum benefit — it reminded me of Robert Redford's performance in
All is Lost
. We relate to Lee and easily find sympathy for him as his story is gradually revealed — even as he simultaneously behaves like a drunken jerk, sucker punching fellow bar patrons for no reason apart from his buried rage. Though Affleck is excellent, he's actually the second best actor in the movie. Lucas Hedges, who plays Joe's teenage son, is fantastic as the confident jock, untalented rocker and Eddie Haskell-like obsequious teen who only shows a brief glimpse of his real pain. Williams, who plays Lee's ex-wife, does a great job in a challenging role. She plays a tortured divorcee who still loves her ex while endeavoring to move forward and pick up the pieces. Gretchen Mol, as Joe's ex-wife Elise, misses the mark as the bat-crazy mother of Patrick — she just doesn't pull it off convincingly and seems, plainly, miscast for the role. Overall, this is a character-centric motion picture and I found myself rooting for the characters to overcome the challenges they faced despite their major flaws. I suppose that's the mark of a good movie, and to this end, I liked the film. However, though the acting performances were enjoyable and interesting, I was wishing it would end long before it's 137-minute run-time had elapsed. Good. Not great.
GRADE: 7/10
Photos courtesy of: Roadside Attractions