Movie Review -- 'War Dogs' Director Todd Phillips Proves an Old Genre Can Be Taught (a Few) New Tricks
Posted by Shannon Balstad on Friday, August 19, 2016 at 12:00 AM
By Shannon Balstad / August 19, 2016
Comment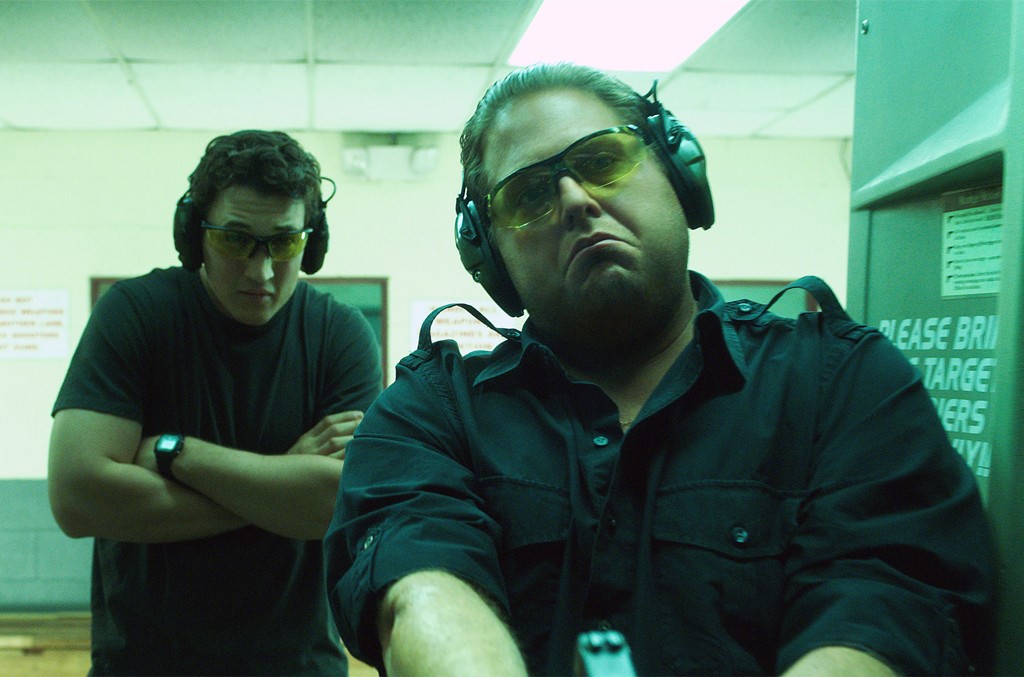 Director and co-writer Todd Phillips (
The Hangover
) brings a new twist to the war movie genre with
War Dogs
, a film based on a true story picked from the pages of Rolling Stone. It tells the story of amateur arms dealers landing a multimillion-dollar deal with The Pentagon. Co-stars Jonah Hill (
The Wolf of Wall Street
,
Moneyball
) and Miles Teller (
Whiplash
,
Divergent
) offer up promising chemistry, but it is the way in which they are utilized as story components where
War Dogs
finds fault and falls short of great predecessors to which the film pays homage. Unlike
Scarface
and
Goodfellas
, a clear and discernible tone is lost on the audience because of these shortcomings. The film subsequently comes across as laughable with humor that will shock and awe you, but is also confusing and a bit of a guilty pleasure as well. This real-life tale involving two amateur arms dealers is brought to life through Jonah Hill and Milles Teller's portrayals of Efraim Diveroli and David Packouz. Teller as Packouz is the more understated of the two and guides the plot of the movie with a stable narration. He is also the more "likable" half of the duo, inherently embodying the softer side of Hollywood with his love story involving a girlfriend and a baby on the way. Quite often, Packouz's role as the narrator seems displaced in a storyline full of hard-hitting, rambunctious, and crass moments. Much like his girlfriend Iz, Teller's character is underdeveloped and used mainly to incorporate the 'softness' that Hollywood often marks its movies with. Rather than allowing the audience to completely indulge in the drama of bad people doing bad things, Teller as the narrator begs the audience to empathize and identify with the genuine and tamer side of his character, and therefore the story.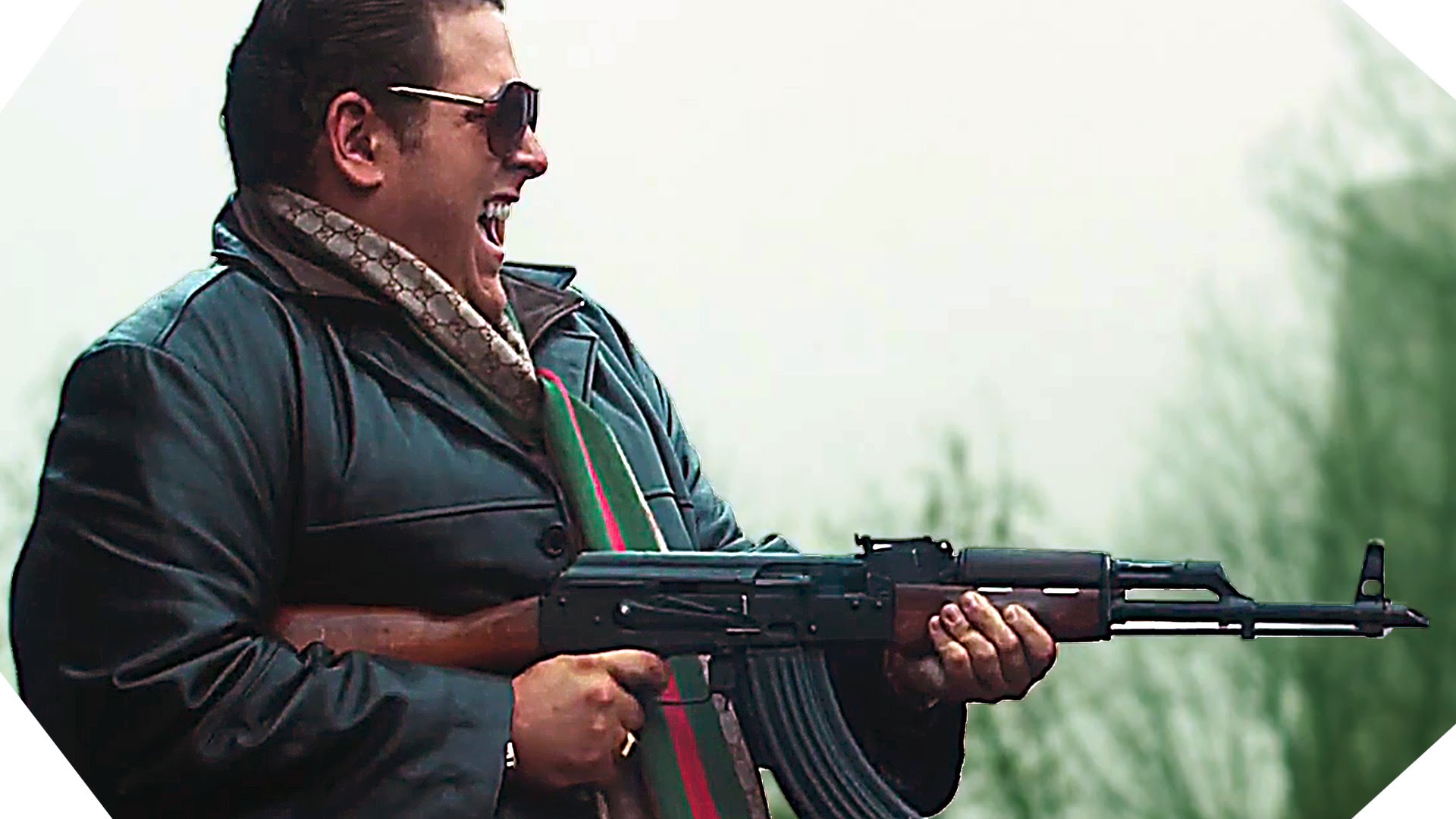 Had Jonah Hill adopted the role of the narrator instead, the film's strong comedic moments and compelling messages would have resonated on a higher level and with more frequency. As Efraim Diveroli, Hill's acting style is epitomized in a character who is essentially Seth from
Superbad
meets Donnie from
The Wolf of Wall Street
. He is loud, obnoxious, crass, sarcastic and proud of it. A self-proclaimed "ugly American," Efraim's rambunctious and wild nature would have better fit the dialogue and help to solidify a more concrete tone than it did under the guidance of Teller's character.
War Dogs
is about what one could expect from Todd Phillips as far as a satire-war-propaganda-type film goes, with dialogue that echoes the nature and tune of related scripts such as
The Hangover
. Had Phillips utilized Efraim to exemplify his writing/directing style, the tone would have been stabilized overall and the more interesting and compelling of the two characters would have been tapped into further. That is not to say Miles Teller fell short in his performance in any way. On the contrary, the chemistry he and Hill cook up in their combative and comedic friendship shines bright as one of the film's top highlights. This is best demonstrated in a scene where Efraim and David attempt to smuggle guns from Jordan to Baghdad in a truck themselves. It perfectly shows off their 'bro-ness' and how they truly are a couple of knuckleheads drunk with the possibility of big money. They are completely blind to the utter danger they are in and ignorant of what could happen to them should they be caught. This scene also happens to be the best one in the film (you will recognize it from the previews). Unfortunately, that leaves for the remaining duration of the film to drag on. That moment truly stands as the climax of excitement in the movie and, as previously mentioned, under David's guiding word the movie stays steady against a fast-paced banter.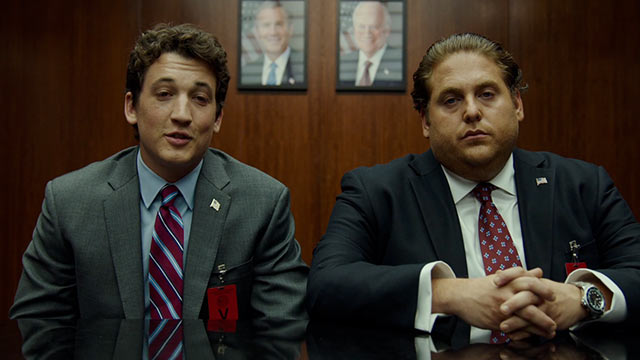 It is also in this moment where we see what an interesting spin Phillip takes on the war movie genre. The plot is driven by reckless, comedic, and money hungry 20-somethings and takes place in a "behind the scenes" of war-type fashion. While a number of shots are definitely fired, the audience never sees a battlefield as the film focuses on the economics and distorted operations of the U.S. government. Despite the better half of the story being lost on the narrator,
War Dogs
presents a refreshing take on a genre that does fairly well with an injection of crude humor. I say "fairly" due to the fact that it does cause the film to suffer a little bit in loss of tone. It would be compelling to see a reimagining from Efraim's side of the story, as he had a backstory with provoking detail and a much more layered personality than that of his colleague's. Still,
War Dogs
is an enjoyable film to see, one I would definitely watch if it happened to be on cable and quite possibly own one day. It's clever, compelling, incredibly interesting, and you can never get enough of Jonah Hill's laugh.
GRADE: 7.5/10
Photos courtesy of: Warner Bros.