Murder Mysteries and Art Deco Treasures
Posted by Tony Randgaard on Tuesday, August 14, 2018 at 12:00 AM
By Tony Randgaard / August 14, 2018
Comment
After a stunning Duluth movie premiere -- a gruesome murder mystery unfolds. Shake and stir the heroic revival efforts of Minnesotans on both sides of the State, and oddly, you've created an intriguing recipe for your next road trip.
It wasn't the shimmer of countless stars reflecting from Lake Superior. This was a different kind of aura. The city of Duluth was aglow with the glitter of Hollywood stars, a spectacular movie premiere and Vanity Fair-type after parties. Oscar winner Patty Duke, The Walton's Richard Thomas, actress Rosemary Murphy and other luminaries were in town to attend the Midwestern premiere of Universal Studio's thriller "You'll Like My Mother" in early November 1972. And despite being paralyzed from a stroke, under around-the-clock care, heiress Elisabeth Congdon wasn't going to miss it either. A driver and nurse delivered her into the cacophony of socialites converging on the art deco NorShor Theatre. Her regal visage and stately coiffed curls (see photo) may have obscured her deep-seated philanthropy for Minnesota arts and children's health causes.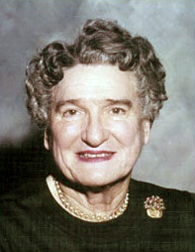 Designed by the famous architectural duo Liebenberg and Kaplan, Congdon was wheeled into a huge showplace of Streamline geometric designs and exquisite murals accentuating posh lounges and a unique hall of mirrors. When it was reborn in 1941, the NorShor boasted a 125 foot high porcelain tower of 3000 lights, seating for 1500 and was hailed as more sensational than New York's Radio City Music Hall (see photo).
According to long time Duluth News Tribune reporter Jim Heffernan, it was rare for the local folk to see Elisabeth, who treasured her privacy, out on the town. But then again, they were just as surprised to learn she had opened her opulent Glensheen mansion to film the movie the previous winter. Her sprawling 39-room Jacobean manor offered up just the right formula for a successful murder mystery weekend: a majestic Gone With The Wind staircase, a labyrinth of sinister paneled hallways, 19th Century English furnishings and claustrophobic attic dormers. Elisabeth was joined at the premiere by sixteen Duluth Playhouse actors that performed as extras or stand-ins in the film.
Congdon had been raised in a devout, even puritanical household. One can only imagine her surprise in watching the You'll Like My Mother plot unfolding in front of her. The edgy thriller revealed a mother taken hostage, her infant abducted and the secret murder of an heiress-- to steal her fortune. In fact, the Duluth News Tribune reported Elisabeth gasping: "Oh My Word" at several points during the screening. In the penultimate scene, the psychopathic son played by Richard Thomas is stabbed to death by his mentally-challenged sister.
Tragically for Elisabeth Congdon and the citizens of Duluth, life would imitate art in the cruelest means imaginable less than 5 years later. On June 28, 1977 Congdon's nurse was found bludgeoned to death on that same grand staircase while Elisabeth had been smothered with a satin pillow in her bed. In one fell stroke, the community lost its champion for the arts and was stained by a murder investigation that lead to her daughter and son-in-law-- desperate to seize her fortune. Sound familiar? Photo Elisabeths Bedroom Where Murder Occurred Trip Advisor
That wasn't the only significant loss for the city. Soon, the masterpiece NorShor Theatre received its own inexorable, terminal diagnosis. A change of ownership in 1982 launched a skid row decline with the theatre being closed more often than not. The owner stored tires on the roof which spurred water damage. Its remarkable mezzanine was disfigured as a bar while the main floor theatre watched helplessly as midget wrestlers, strippers and garage bands plied their trades and hastened the demise. This art deco treasure was in dire need of a savior.
Prairie Spirit
On the other side of the state, the community of Canby seemed to be experiencing déjà vu, a similar decline of its own classic art deco theatre. Designed by an associate of Liebenberg and Kaplan, the Canby Theatre opened in 1939 with some of the same distinct design features as the NorShor. By 2012 it was shuttered too.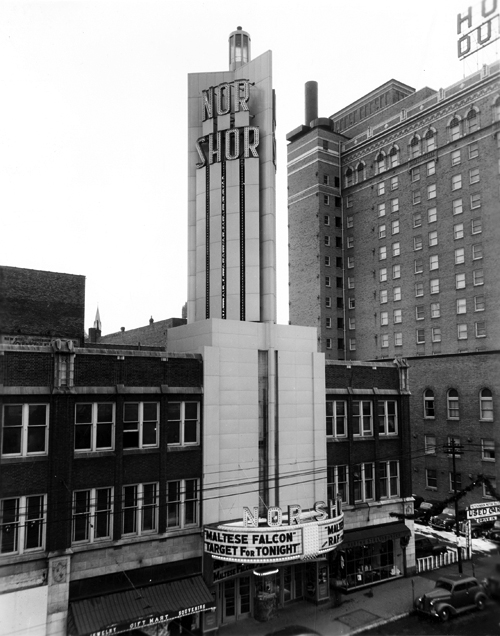 Canby Mayor Gene Bis told WCCO: "The roof was starting to leak, there was some deterioration on the walls…It was getting run down, and the former owner wasn't maintaining it. I just knew we had to have it. I talked to several people who said that their first date with their wife was at the Canby Theater. " Bis continued: "And I thought back to my childhood, and where did I take the first young lady? It was to the theater. I think it's a traditional thing in our country, and I think a lot of people relate to that."
Riding a wave of civic pride and volunteerism, the city of Canby stepped in and purchased the theatre and began an epic grassroots effort to save it. Funds were generated through bake sales, seat sponsorships, calendar sales, burger fries and music shows. Volunteers carried donation buckets through the theatre and local businesses placed jars for customers to toss spare change in. Photo Canby Classic Cinema their website
Within 2 years, the effort had garnered more than $300,000 to help pay for the building, modern digital equipment, revamped marquee and next generation seats. The structure was stripped to the bone. From new floor tile to carpet, from new concession fixtures to fresh paint, local workers pitched in to bring back the nostalgia of years gone by. (see photos) "Almost no one is getting paid," theater manager Mike Tesch commented at the time. "It's a labor of love for all of us."
Today, when you turn onto main street, the sight of the pristine theatre may just send chills racing down your neck. Bis commented that the downtown used to be empty in the winter, but with Canby Classic Cinema restored to its former glory, Main Street is bustling again. And he added that people are driving up to 50 miles to take in a picture. It may be more than that. They may be coming to relive those first dates, reminisce about their youth or experience the art deco treasure they rebuilt with their own hands.
The NorShor Rises Again
With the NorShor sitting in shambles, the City of Duluth had seen enough. In the same fighting spirit exhibited in Canby, the City purchased the boarded up, dilapidated structure and the adjacent Temple Opera buildings in 2010. The path to rebirth would be much more complex and expensive….
A critical first step was to select Sherman and Associates and the Duluth Playhouse to collaborate and lead the project for the NorShor to anchor a new leading-edge entertainment complex. Their savvy political maneuvers secured $7.1 million in the state legislative bonding process. This created momentum for the $30.5 million project and enabled Sherman and Associates to garner additional financing, including Federal Historic and New Market Tax Credits. Christine Gradl Seitz, Executive and Art Director for the Duluth Playhouse, stated how rare it was for the partners to come to the table with $26 million in approved financing. That war chest catapulted the project forward. And when the Duluth Playhouse stepped in with its own $4.5 million pledge for theatre renovations, the project was a fait accompli.
The stunning renewal effort culminated in a festive grand reopening of the NorShor as a playhouse and the core of Duluth's entertainment district on February 1. The opening show Mamma Mia quickly sold out its entire run. The makeover of the theatre is remarkable. The balcony, signature matching Greek paintings and ornate gilded trim are back. While the capacity has been reduced to 630 plush seats, Duluth News Tribune reporter Lawrance Bernabo gushed about the sight lines, sound system and new stage thrust which brought the action right into the midst of the audience.
A Harrowing Return
Oscar winner Patty Duke returned to Duluth for the reunion celebration of You'll Like My Mother during the 2014 Duluth Superior Film Festival. The Festival set up a Sunday, June 1 screening back at the Glensheen Mansion. As Duke walked the path from the parking lot and then faced the mansion, she froze in her tracks and pressed her hand to her heart. She pointed and told the Duluth News Tribune: "There it is. That's the scary one." She said she would go inside, but not by herself. How about you? Sinister Staircase from Glensheen.org (photo)
Glensheen has added a Full Mansion Tour that encompasses all five floors including the attic, staircase and Congdon's bedroom level. On the other hand, if you want to recreate the black tie party atmosphere of Elisabeth Congdon's era, look no further than the Glensheen Secret Garden Party scheduled for August 18th. The unique gala costs $100 for food, drinks and your chance to explore the grounds and newly opened spaces. I can't wait to explore the scary nooks and crannies of the historic mansion.
And while I am in town, there is no way I can miss out on the resurrected NorShor Theatre! The most difficult choice will be how to experience the resurrected art deco theatre? In June, it was Grammy winner, country singer Steve Earle selling out in front of a raucous crowd. A childhood favorite, the Music Man is coming soon or if I want to fall flat on my face, I can try the open audition for the upcoming Beauty and the Beast.
On the other side of the State, the Canby Classic Cinema keeps chuggin' along with that same indomitable community spirit. There are regular free movie festivals for the city. Last winter, they offered Night of the Living Dead, Psycho or even What Ever Happened to Baby Jane?
This art deco itinerary certainly was circuitous but it is clear to me that my upcoming inescapable journey may be equal parts uplifting and spine-tingling. I can't wait to hit the road.
Other Bucket List Art Deco Landmarks
1. Como Harriet PCC Streetcar—Ride the sleek yellow and green rocket ship for only $2.50. It took 15 Minnesota Streetcar Museum volunteers nine years and 5000 hours to restore it.
2. The Riverview Theatre—If you just can't spare the time to drive to Duluth or Canby, this is a remarkably-preserved Liebenberg and Kaplan masterpiece near the border of Minneapolis and St. Paul (38th Street and 42nd Avenue). Discover its stadium seating (most tickets only $3) that was 50 years ahead of its time. In April 1956, its owners Sidney and William Volk ploughed a small fortune into it ($50,000) to secure it at the cutting edge of national showplaces. Hollywood stars William Holden, Kim Novak and Rosalind Russell took notice and their telegrams of congratulations are proudly posted in the lobby.