My First Whole Foods Experience -- A Friendly Staff and Healthy Food Choices
Posted by Kendra Ackerman on Monday, October 7, 2013 at 12:00 AM
By Kendra Ackerman / October 7, 2013
Comment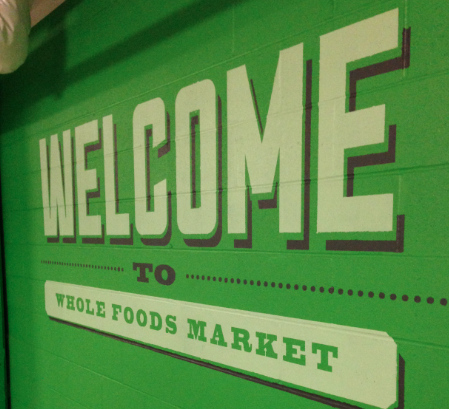 As fall approaches, a new lifestyle change may be just what the typical city-goer is looking for. As the addition to the 222 Hennepin Avenue Apartments rose from the ground, a new Whole Foods store came with it. This new addition might be the inspiration for a healthy lifestyle to those living in neighborhoods such as The North Loop and Northeast Minneapolis.
According to a Huffington Post article, Minnesota is ranked 5th in line as the healthiest state in the US. So naturally, adding a new store on Hennepin Avenue is a good idea -- not only for its healthier choices, but also its prime location. Anyone in the close vicinity to the new establishment has gained a spot for lunch, a quick pick-me-up after work or a last-minute dinner. As a North Loop resident, I am always looking for a good excuse to desperately eat healthier. I decided to give it a go. I recently read an anonymous article about Whole Foods and its robotic, cult nature that sticks their nose up if you even think of the word carbs. With that in mind, I felt like an outsider of not experiencing this phenomenon. So, I went and found out for myself and logged my experiences along the way.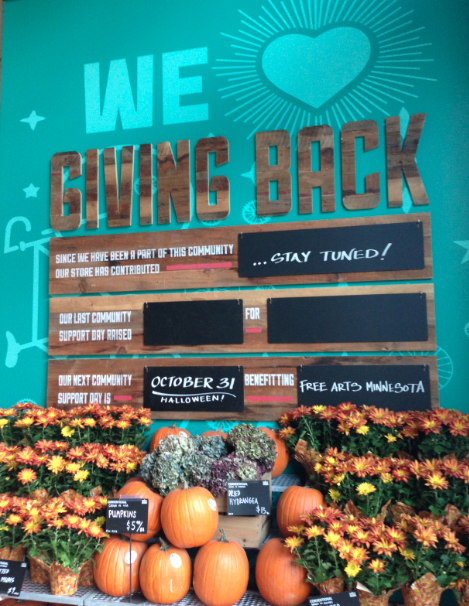 If anyone has ever traveled around downtown Minneapolis, they will quickly find out that parking isn't cheap. I, for one, like free things. So, the free parking underneath the store was a big plus. Once inside the store, I felt like I was brought to a happy place full of friendly signage, catchy typefaces and thoughtful layouts. From my amateur artistic standpoint, visuals are everything. The splashes of color were great and the hip look continued on to each detail from the parking lot cement walls, to the olive bar. It also could have been the sight of delicious overpriced organic produce and flower arrangements. Despite what "it" was, it made me want to buy everything. Speaking of, I actually ended up with a pretty hefty bill of items I never knew I needed until I stepped foot in the store.
Another pre-judged stereotype that was stamped in my brain was how the staff were empty shells and only wanted to sell you the most expensive items. I decided to put this to the test. I headed to the beauty aisle for some deodorant for which I knew wasn't going to be Teen Spirit, but some cool, natural smelling pitstick. After being asked by a man stacking hemp shampoo if I needed help, which I turned down, I was then asked by another staff member how my day was going and if she could help me out in any way. I caved, and was brought directly to the prize. There's a clear distinction between people who actually want to help you, not just because it's their job, and those people who hate their job and ask only because it's required. Right then and there, I felt like the Whole Foods staff mirrored the first quality much more than the second.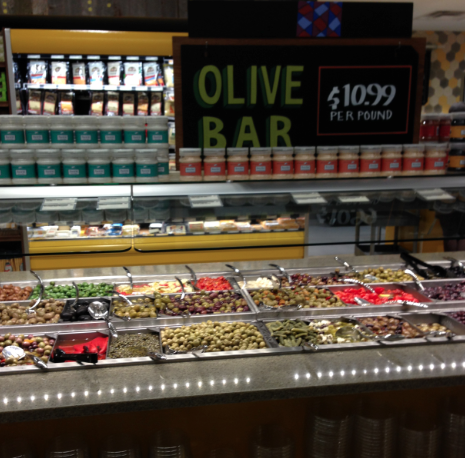 After tossing the beauty product into my basket, I then passed a rack of Tom's shoes. I did a double take and stood dumbfounded at what I was seeing. I really knew I scored big when a grocery store near me sells Tom's. A half an hour later of aimlessly weaving in and out of aisles, I now know that almost anything can be organic, there is such a thing as an olive bar that serves over thirty types of olives and there aren't any Cheetos there. I somehow felt healthier, overwhelmed, and I needed to get out before I picked up another Vita Coco.
Overall, Whole Foods was a good experience. Not only is it a great addition to the neighborhood, but it also offers great opportunities for a healthier lifestyle. I wouldn't say I'd shop there frequently, but I will most definitely go back for the fresh produce and the helpful staff.
Photos via: Kendra Ackerman