Netflix + 'Orange is the New Black' = Success
Posted by Eva Meierhoff on Monday, October 7, 2013 at 12:00 AM
By Eva Meierhoff / October 7, 2013
Comment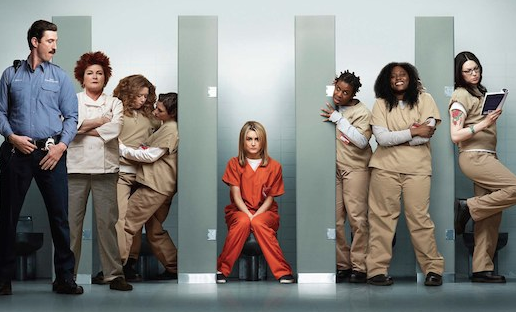 The buzz around Netflix's new TV show, 
Orange is the New Black
, has been overwhelmingly positive since the reveal of its freshmen season. 
Orange is the New Black
 seems to follow in the footsteps of Netflix's other highly successful venture, 
House of Cards
. The political thriller won three Emmys this September for its own debut season, and it's not unreasonable to believe that
Orange is the New Black
 could follow suit next fall. The show is based on Piper Kerman's memoir of the same name, and tells of her experiences during her 15-month prison sentence. Piper is played by actress Taylor Schilling, and we learn about how she got to prison and what sort of struggles this creates for her engagement to Larry Bloom (Jason Biggs). Perhaps the biggest struggle for Piper and Larry is the presence of Alex Vause (Laura Prepon), Piper's former lover and the woman who got her arrested in the first place. With such a large cast of characters, each with their own back stories and struggles, 
Orange is the New Black
 has many available paths towards success. There is much to learn about the other inmates, along with the people responsible for keeping them in line. I am admittedly late to join the 
Orange is the New Black
 bandwagon, but I am so glad I hopped on when I did. The show works so well because there is a seamless quality to it; it is completely unassuming in its fluidity. The show sets out to be realistic in its portrayal of prison life, and it doesn't solely cast the inmates in a dark, negative light. Instead, many of the characters are entirely relatable and the audience can be sympathetic to their story lines. The relationship between the guards and the inmates is showcased brilliantly, highlighting how unclear the line between the two really is. It is rare that a television show can explore the ins and outs of prison life in a way that can bring out two types of tears: those of laughter and sadness.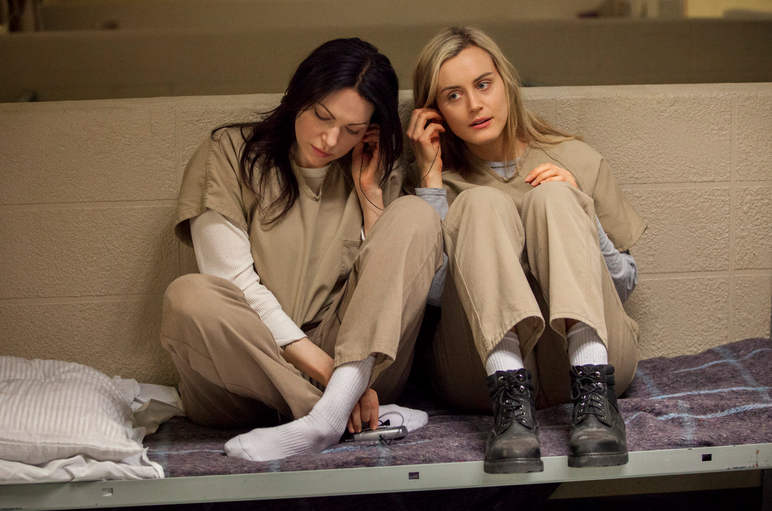 Of course, great story lines can only take you so far if the actors don't have the chops to back them up. Fortunately, 
Orange is the New Black
has some amazing actors. Taylor Schilling is a bit of a surprise here; she played the lead in the only season of NBC's failed medical drama, Mercy, and starred opposite Zac Efron in Nicholas Sparks' 
The Lucky One
. Besides this, she was a virtual unknown. Schilling brings a real life quality to Piper Chapman, and at times it's easy to forget that you are watching a TV show. I think it's safe to say that
Orange is the New Black
 will only benefit the rest of Schilling's career. Laura Prepon is equally great as Alex, making you want to root for her character even though she sold Piper out. Alex is both tough and vulnerable, and she vacillates between the two flawlessly.  Taryn Manning, Samira Wiley, and Kate Mulgrew are also great in some of the series' quieter roles. Hopefully we will see more of their development in season 2, which comes out sometime in 2014. Although 
Orange is the New Black
 can stand on its own two feet as a well-scripted and superbly-acted drama-comedy, much of their success should also be attributed to the Netflix web-streaming platform. We are in an age of instant gratification. More and more people are pulling away from their televisions, no longer satisfied with getting one episode of a TV show every week. This is a frustratingly slow pace for most, especially when so many of the more high-profile series take long hiatuses between episodes. It is not uncommon to see a gap of a few weeks between episodes, and the excitement and anticipation of a Thursday night becomes utter disappointment when you are faced with a rerun. Netflix clearly saw this shift in public demand, and they chomped at the proverbial bit -- giving their streaming subscribers an entire season of 
House of Cards
 in one shot was a huge risk. Without the accolades of being a big primetime television network, viewers might not have seen the potential in a show carried by a company focused mostly on internet streaming. Viewers could have easily seen the "all at once" tactic as a weak ploy to force-feed an even weaker show. Fortunately for Netflix, the risk paid off in a hugely positive way. As it turns out, most of the general public prefers "all at once" viewership. In this way, people can watch as much as they want whenever they want, without having to wait for explicit permission from a TV network. The same method worked for
Arrested Development
's season 4 and
Orange is the New Black
, and I think it's likely that Netflix will try to further this accomplishment with more shows down the pipeline. If they can continue to meld smart plots with strong acting, I, for one, will keep watching. Photos via: 
Google