New and Interim Home of the Vikings to Feature Bizarre Foods
Posted by Erik Bergs on Sunday, March 23, 2014 at 12:00 AM
By Erik Bergs / March 23, 2014
Comment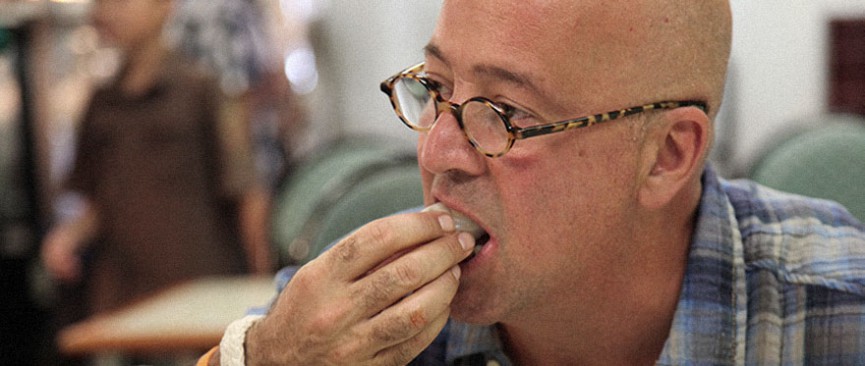 Andrew Zimmern, the famous and daring edibles connoisseur, has apparently signed an
agreement
to be involved with concessions at TCF Bank Stadium and the new stadium beyond for Vikings games. Aramark (who clinched the concessionaire contract last year) hopes to not only bring Zimmern's name on board, but also his vision. Zimmern spoke to the Business Journal about his planned relationship with Aramark:
"I am curating a special food court for them and will have a hand servicing the suites as well... This new stadium will have incredible culinary heft, designed from ground up to provide a food experience that will best anything existing anywhere in North America."
Aramark and the Vikings at this point are withholding any details themselves until further notice.

Zimmern's recent involvement in the Twin City food scene has mostly been through the form of
AZ Canteen
. Not only is AZ Canteen a food truck that shows up during warm weather, but is also a concession option at Target Field (as of last year). In my experience their menu has never been too outlandish, or (rather) as outlandish as you think it would be when associated with a show like
Bizzare Foods.
Though a common sentiment among some of my food-insider friends is that his involvement with AZ is rather limited (in a sense he gave his name and some concepts, but has been rather hands-off). This totally makes sense if you think about the schedule, travel and overall number of involvements the guy has (he even volunteers quite a bit of his time). So will this lovable Minnesotan be frying your alligator pastrami taco himself? Probably not; but he might be there in spirit (and definitely on the receipt). Photos via: AndrewZimmern.com