New Minnesota Stadium Halfway Done
Posted by Travis Bridell on Tuesday, April 21, 2015 at 12:00 AM
By Travis Bridell / April 21, 2015
Comment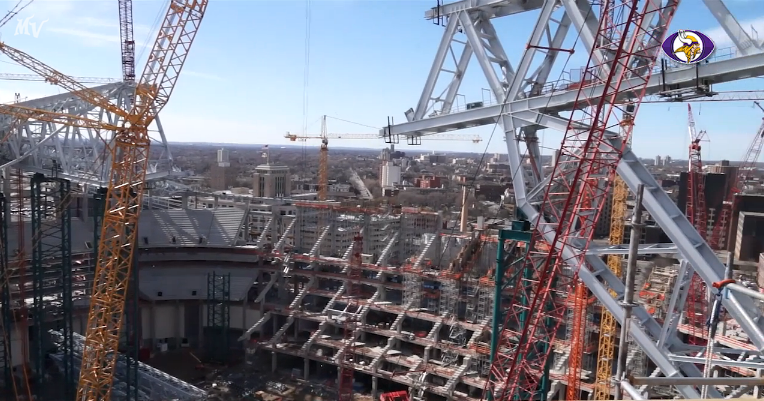 The new Minnesota Stadium construction continues toward its goal of a July 2016 opening and the
team announced
last week it had reached 50% completion in the 16 months since its groundbreaking. Meanwhile, the team and stadium authority have had other news to report. Over 900 workers are on site pouring concrete (about 80% done) and completing the frame of the stadium. The highest point of the ring beam around the roof line was recently poured, 269 feet above the ground. Two pieces remain to connect the large center beam of the stadium's roof.
"This stadium will truly be a landmark for civic pride. As an organization, our focus remains on offering the best game day experience possible," Vikings owner and president Mark Wilf said. "As we see the excitement in our fan base growing on a daily basis, we're driven harder to honor their passion and commitment for this team by providing the fan experience they expect and deserve. Over the next 15 months, we'll continue to ensure that when we kick off in 2016, we'll have built a stadium that showcases Minnesota on a national and international level and makes Minnesotans proud."
At the same time, crews started
installing glass
, made by Owatonna's own Viracon, in the stadium.
"When sheets arrive from a supplier, the external side is treated with a "high-performance coating" on the exterior side that will allow light to transmit while limiting solar heat from passing through," a team release said.
As for paying for all of this construction, the team contributed nearly $20 million more toward the project, including "
food
service equipment, event level space build-outs... retractable seating upgrades [and] a Club Purple deck that overlooks downtown Minneapolis. Some of the money will also be for
plaza enhancements
, the same plaza that fans can now purchase and place
customized pavers
in with their names. The approximately 12,000 bricks go for $160-$360. In all, the stadium construction is well on pace and moving swiftly for the
2018 Super Bowl
hosts. Soon enough we will also be talking about a new
soccer stadium
, as well. Photo courtesy of:
Minnesota Vikings