Oshie Thrills Sochi: Minnesota Native Scores Four Shootout Goals in U.S. Victory Over Russia
Posted by Brent Lee on Saturday, February 15, 2014 at 12:00 AM
By Brent Lee / February 15, 2014
Comment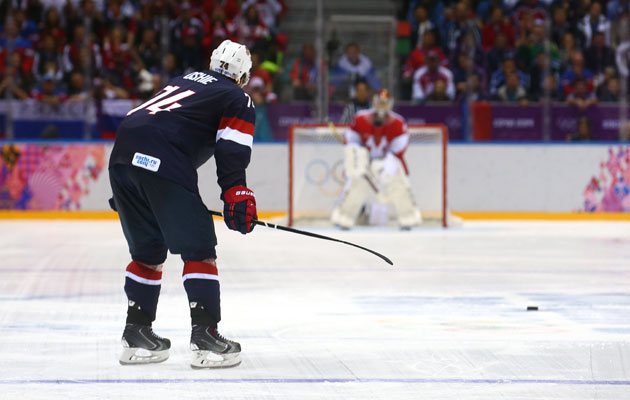 Warroad is colloquially known as Hockeytown U.S.A., and it certainly lived up to its moniker today in Sochi.
In fact, after T.J. Oshie's gargantuan efforts in the United States' Olympic victory over the home Russians, for at least one day, it might be said that Warroad became the hockey capital of the entire world.
After battling through three twenty-minute periods and a five-minute, 4-on-4, sudden death overtime session, the Russians and Americans squared off in a shootout that played out like something out of a Mighty Duck's movie.
"It was a little nerve-wracking," said Oshie to an NBC Sports Network reporter, adding his shootout mindset was simple and one-tracked, "Score goals. Score as many goals as you can."
The 27 year old Minnesota native did just that, looking poised while netting four goals in six shootout attempts, including the decisive game-winner in the eighth round, propelling Team U.S.A. to a memorable (3 - 2) victory over the team from Russia.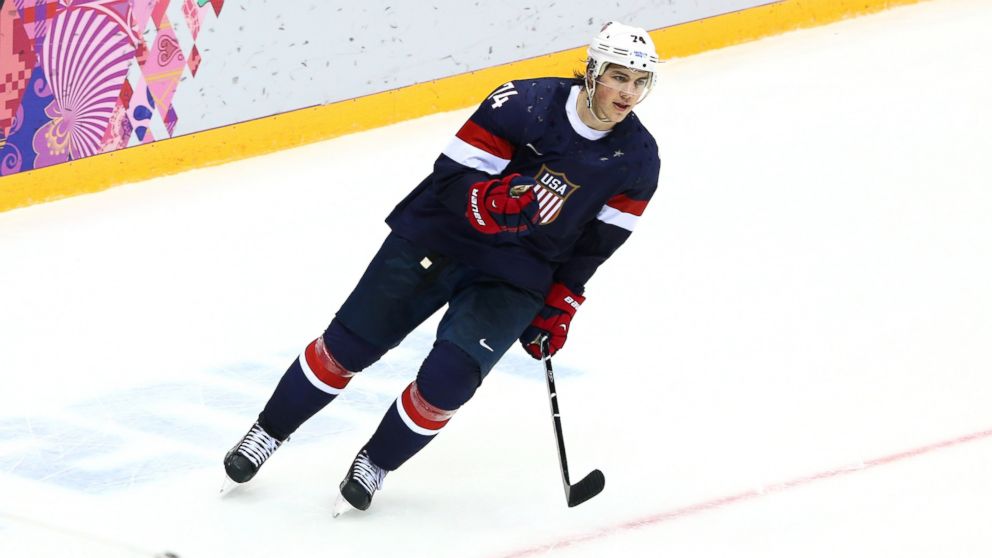 T.J., who plays for the NHL's St. Louis Blues, has gained a reputation as one of the most effective shootout players in the league. This special skill set is, according to U.S.A. Hockey's selection committee general manager David Poile, a big reason why Oshie was chosen for this year's team.
"You know at some point we are going to end up in a shootout and we are going to want T.J. Oshie," Poile said multiple time before the Olympics began.
International rules, and their differences from their NHL versions, played a big part in the game's outcome. With 4:40 left in the third period, the Russians appeared to net the go-ahead goal, but it was disallowed by the referees who ruled the net had by dislodged from its magnetic moorings. NBC's announcers indicated the goal would have counted under NHL rules. In the shootout, variations between NHL and international rules also played a key role. In the NHL, each player is only allowed to be used once in the shootout. But in the Olympics, which are played under International Hockey Federation rules, a player may be used in unlimited rounds after their team uses three different players. Because of this differences, the U.S. was able to utilize the skilled Oshie, who has scored on seven of ten shootout attempts in the NHL this year.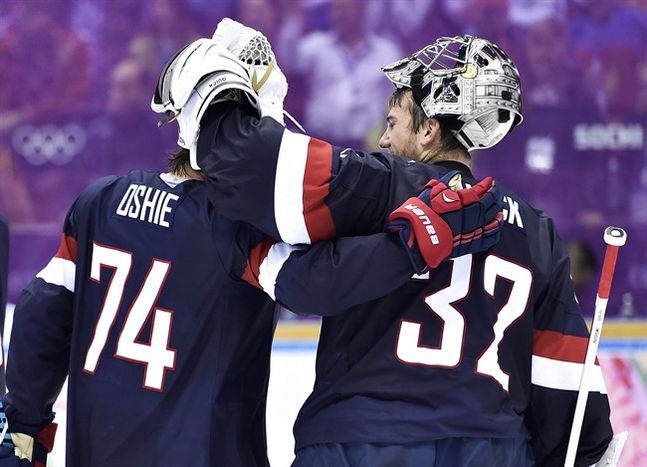 When asked about how it felt to to be the 'constant shooter' for the Americans, Oshie replied:
"I kept looking back to see if anyone else was gonna go. I told some of the boys on the last couple, 'I'm running out of moves here.'"
From the
video
I saw, T.J. looked like he had moves to spare. It appeared as if he was within mere fraction of inches from scoring on all six attempts. He seemed to have Russian goaltender Sergei Bobrovsky sufficiently bewildered, leaving him twisting and sprawling throughout their six one-on-one encounters during the decisive shootout. Saturday's early game — which has been hailed as an instant Olympic classic — was played in front of a
reported
crowd of 11,678 fans at Sochi's Bolshoy Ice Dome. President Vladimir Putin was in attendance to witness the thrilling matchup. Team U.S.A. will play Slovenia tomorrow in the final game of their preliminary round. A win will ensure them a valuable bye in the next round of qualifiers. You can watch the thrilling American victory over Russia today at 5:00pm on NBC Sports Network. Keep an eye on T.J. Oshie — one of nine
Minnesotans
on the U.S. roster— and Team U.S.A. throughout the remainder of this year's games. It's been 34 years since the "Miracle on Ice in Lake" Placid and the last American Olympic gold in hockey, but this team is showing some early indication they may be the next to schedule their date with destiny. If they continue to advance in such dramatic fashion while featuring key performances by Minnesota athletes, this year's U.S. men's hockey team may go down as one of the greatest
Olympisotan
stories in Winter Olympics history. Keep watching and find out. Photos via: Google