Our Man in Havana and Impact of Latest Trump Crackdown  
Posted by Tony Randgaard on Thursday, April 25, 2019 at 12:00 AM
By Tony Randgaard / April 25, 2019
Comment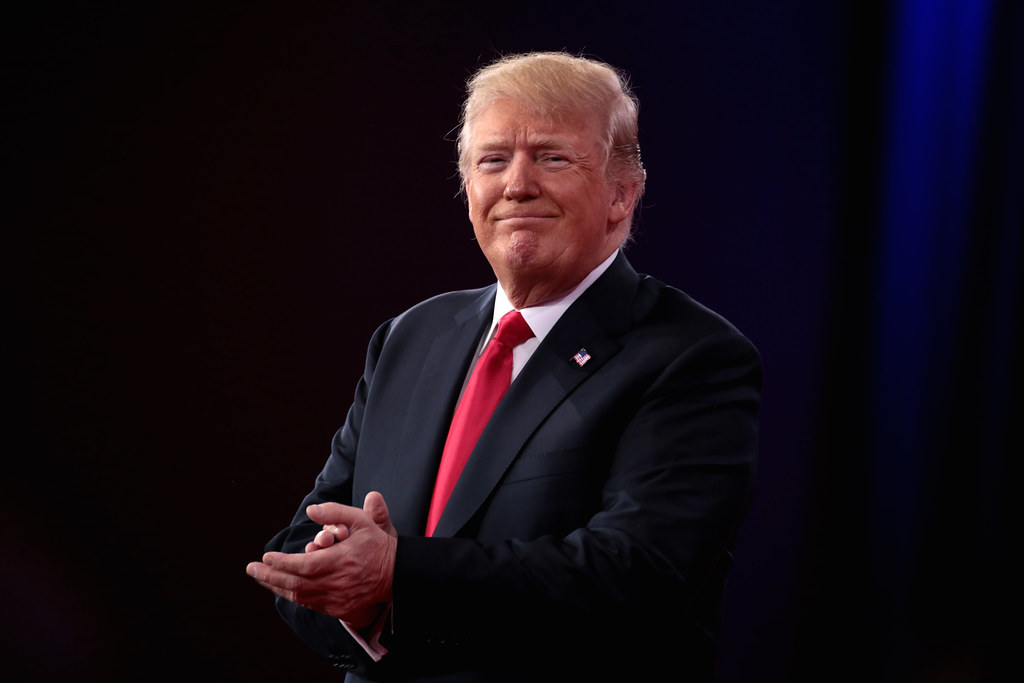 Updated June 4, 2019
On Tuesday, the Department of the Treasury's Office of Foreign Assets Control (OFAC) announced new restrictions limiting Americans' ability to freely travel to Cuba. The key change was to eliminate visa approval for Americans seeking to visit the island on a cruise or using a private boat or private aircraft. Cruise travel had become the primary mode of tourism for Americans. Also, the Administration eliminated one category of approved group travel, the People-to-People license.
"There are still a number of ways to legally visit Cuba, commercial flights were left intact and any previously made reservations can go forward," stated Collin Laverty, President Cuba Educational Travel. He added, "The changes do not affect 11 other categories of legal travel to Cuba, including Support for the Cuban People, Academic Programs and Professional Meetings which will allow many US travelers to continue visiting the island."
Back in the States, it would simply be a re-purposed Seven Eleven store. A few tables are scattered among standing coolers and a long counter stretches along the back wall. By 9:00 p.m. the waitresses are only serving drinks and Mojitos are clearly the drink du jour, lined up in rows. Sure, you can see soft drinks or the Cuban national beers behind the glass but the waitress shrugs and states they are all warm. I ask, "Can I please get a beer and a glass of ice?" No. "OK, I would love to have a Mojito then."
The only sign of music is a handful of Cubanos watching a man that looks like Anthony Bourdain, giving a guitar lesson to a small boy. After a few sips of my Mojito, an amplifier appears and after another swallow, a drum set. Then the onlookers pull out their own maracas and guiros and gather together in the center of the room. Wow, this is a band. And soon they are belting out a helluva salsa set. The vocalist (see photo) has great pipes and in a few moments, several customers vault up and start dancing to the catchy, vibrant beat. I am drawn in, soaking in the music and at the same time amazed this scene has broken out in this nondescript cafeteria on a Tuesday night.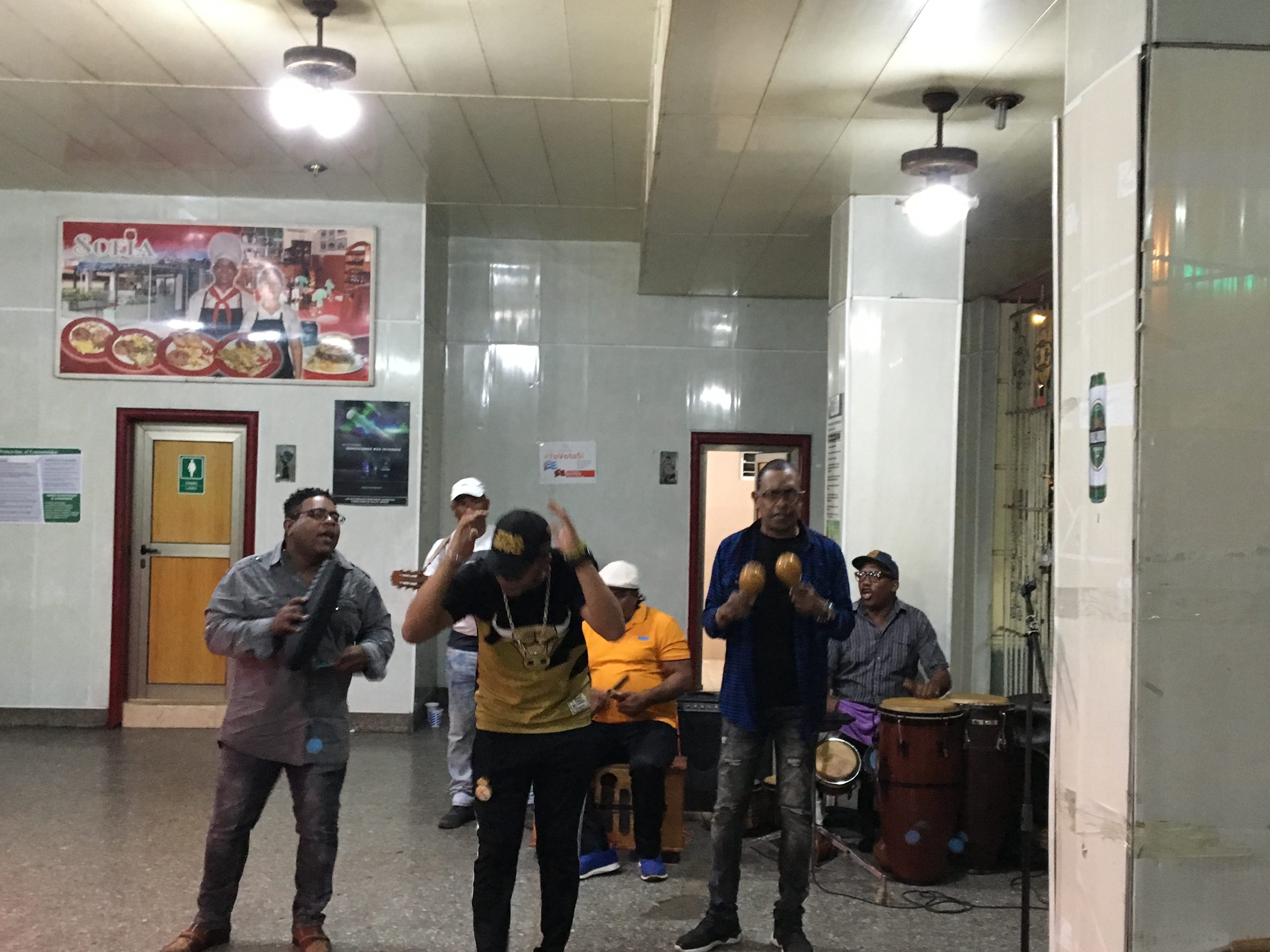 If there is one thing I've learned in Cuba, the stark images of daily life mask the dusky outlines of what is possible, of hidden artistic beauty or musical genius. This concert is not unusual for Havana because the free educational system trains and cultivates skilled musicians from an early age. Troupes play across the country and the vast majority are not paid. This crowd is fortunate. We get three full length songs out of the talented band before they take a break and head out to the tables for donations. I have already grabbed bills from my wallet. It's good to be back in La Habana.
Five blocks away, at one of the most popular sightseeing stops in the country, the taxis are lined up for blocks (see photo) at the historic Hotel Nacional. Their engines are turned off and the Cuban drivers while away the day waiting for Americans that may never come. Just like last year, the drivers freely admit that American tourists are sparse. 225 miles to the north, their business prospects just went from bad to worse.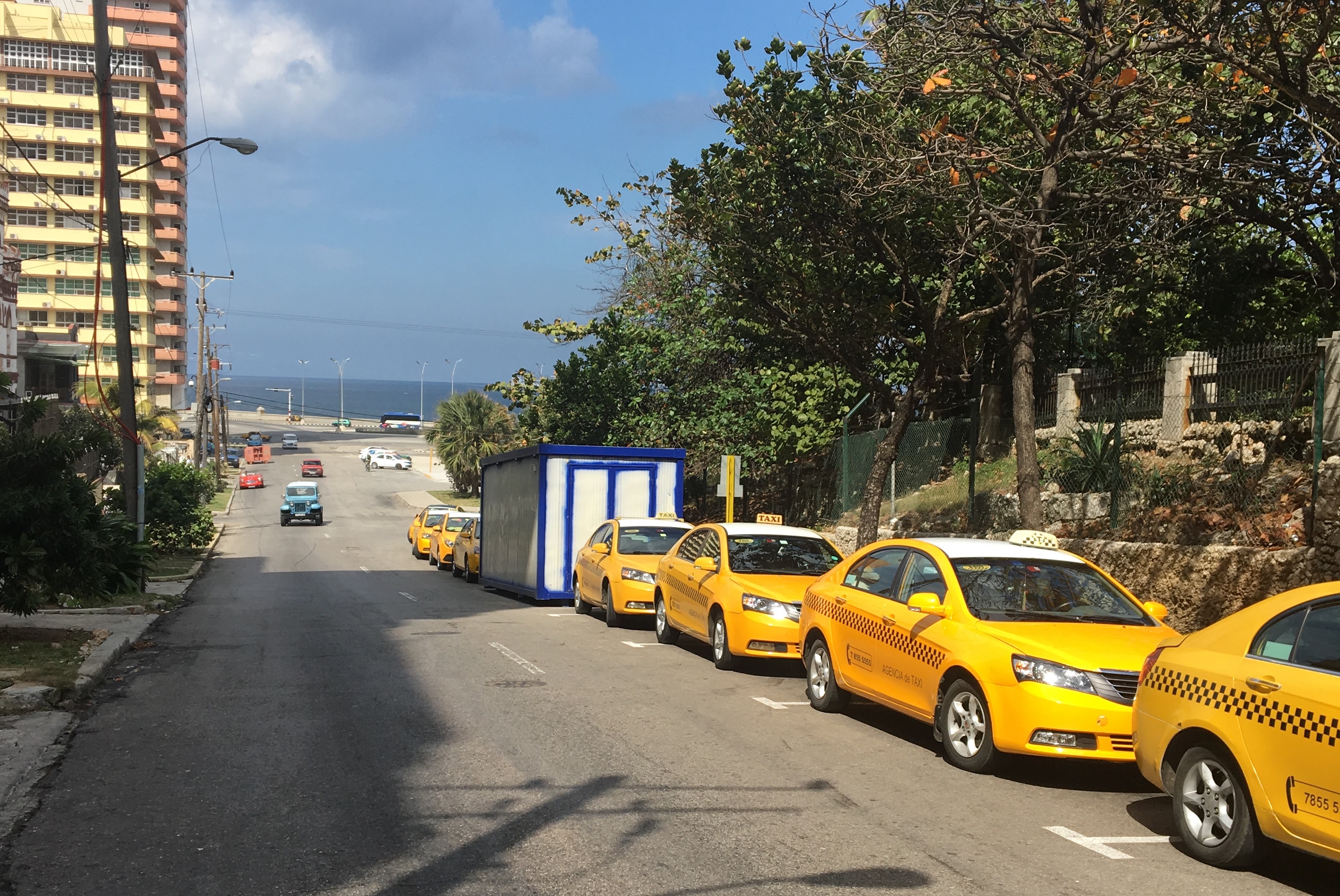 Latest Trump Crackdown on Cuban Travel
On Wednesday in Coral Gables Florida, President Trump reprised his Cuba crackdown announcement of June 2017. Citing Cuban government connections to the Maduro regime in Venezuela, the President's national security advisor, John R. Bolton, hastened the retreat from Obama administration open skies policies by:
Enabling U.S. exiles to sue Cuban companies for property seized during the Castro revolution in 1959.
Seeking to limit non-family travel to Cuba and reducing the amount of money that Cuban Americans can send to support relatives on the island.
Adding the Cuban domestic carrier Aerogaviota to the list of companies that U.S. citizens are prohibited to do business with.
What does this mean for U.S. travelers with Cuba on the top of their bucket list? Will they ever get the chance to experience this lost-in-time Caribbean treasure? We started by contacting our go-to Cuba expert, Collin Laverty, President of Cuba Educational Travel. Collin is an expert on Cuban American relations who has traveled to the island more than one hundred times. He served as the Cuba Program director of the Center for Democracy in the Americas and has escorted dozens of members of Congress on fact-finding missions to the island.
He told the New York Times:
"I have spent the day on the telephone with current and former State and executive branch officials and industry and policy experts, and nobody knows what the actual restrictions are."
In the 2017 round of Cuba policy changes, it took the Treasury Department five months to digest industry and political feedback and then publish new regulations. The key blow then was to prohibit individual travel under the popular People-to-People category as well as publishing of an embargo on hundreds of hotels, stores and tour companies controlled by the Cuban military. While those regulations torpedoed the most popular independent travel category, only small modifications were made to the Support- For-The-Cuban-People general license. Individual travel was still permitted in this category provided travelers maintained a full-time schedule of educational activities interacting with and supporting the independence of the Cuban people.
Laverty acknowledged that it is likely that it will again be months before we learn the details of the latest policy changes.
In the tour company segment I chatted with Marcel Hatch, President-Cuba Explorer. His company moved swiftly to ease the nerves of current and prospective travelers. Cuba Explorer is advising clients:
"Travel for Americans is totally legal and has not ended. Travel arrangements you make now for island flights and accommodations will remain valid after the US government updates Cuba travel regulations. The new rules will, when announced, allow for visits by Americans who engage in full time cultural, educational, and humanitarian activities with the Cuban people."
Two If By Sea
The Miami Herald reported that U.S. travel to Cuba slumped by 23.6 percent in the first half of 2018. By the fall, U.S. travel had recovered slightly, still down 9 percent. But on closer inspection, this was a tale of woe for individual travel to Cuba while cruise traffic to the island surged by 48 percent. Cuban Tourism Minister Manuel Marrero stated that there are 25 cruise ships from 17 companies now making port calls at the island.
It is apparent that cruising has become the preferred mode of travel to Cuba for Americans -- because it is simple. The visa process is taken care of and travelers do not have to deal with the uncertainty of staying in a (casa particular) private residence with significantly less amenities. This trend was front and center during my trip. When I visited the unique Fusterlandia mosaic art neighborhood (photo) or the spectacular Catedral De La Habana in old town, tour busses filled with groups were lined up in all directions.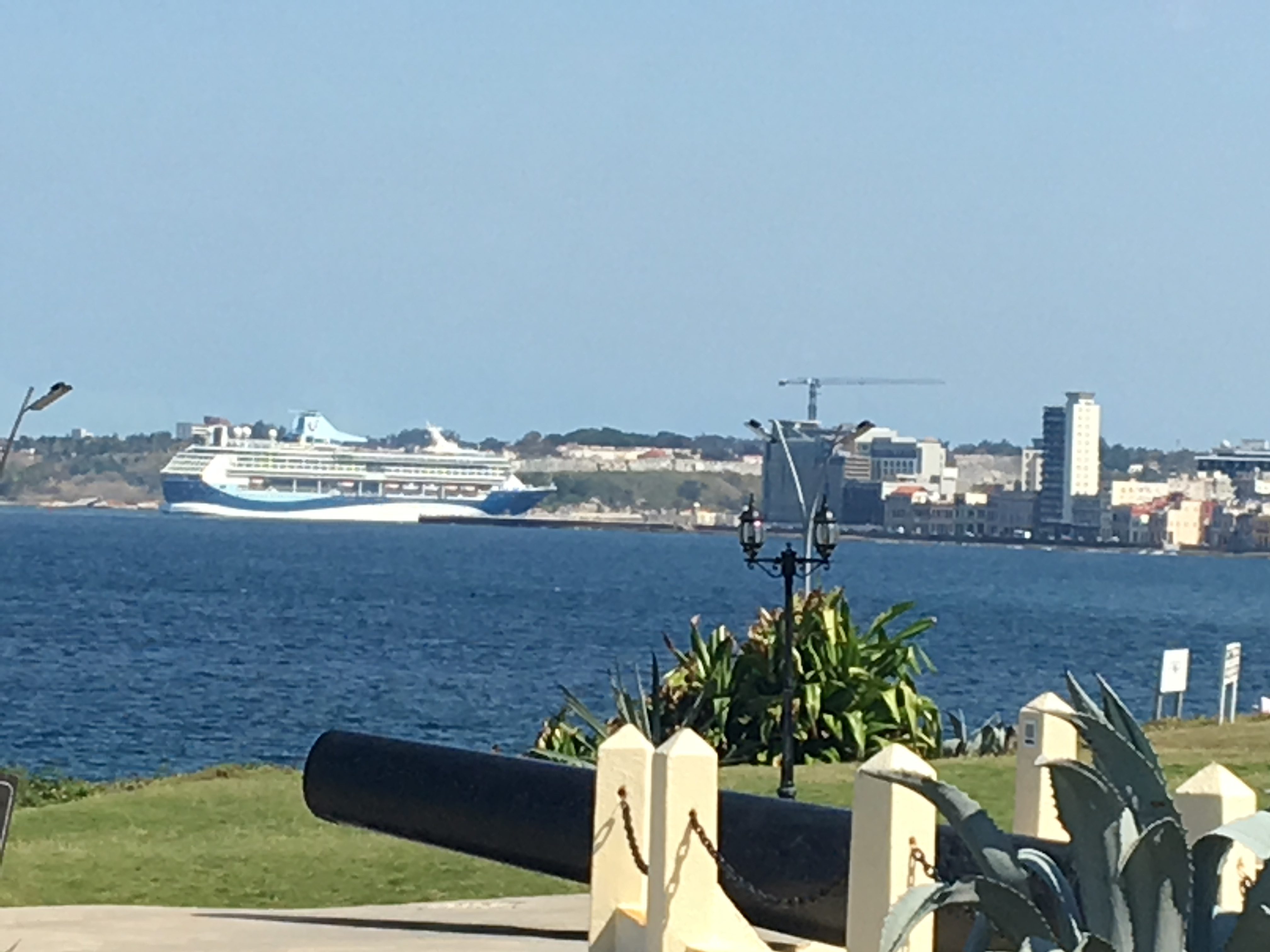 What we learned from the Trump regulations of 2017, is that the Administration is inclined to publicly tout a strong bite, but then take time to absorb feedback from its key constituents including Republican lawmakers, major airlines and cruise companies. Consider that Trump ran his own airline back in the day and that many of the major carrier executives have met him in person and maintain direct lines of communication.
I believe that process will play out again. As we pointed out, there is substantial U.S. travel revenue at risk with Cuba. Behind the scenes, Trump will be besieged by advice and lobbying to leave Cuban skies and seas open. Further, farmers are already smarting from the Chinese trade war and the Midwest congressional delegation is strongly in favor of opening Cuba as a large and potent export market. I believe that those business interests will carry the day and dampen restrictions to Cuba travel.
One of the hidden benefits of the Trump restrictions is that the island will preserve its lost-in-time magic. During the course of two days, I walked more than eight miles between Vedado and old town Habana Vieja wearing my Gustavus Adolphus College tee shirt. Not one American stopped me or commented about it. That never happens.
During a motor coach tour, one of my guides took a poll of the passengers and their favorite things in Cuba. Without hesitation, the group replied in unison: "The People!" Yes, the Cuban people are waiting with their usual warm and affectionate embraces. Over the coming months, the big question is whether the Trump Administration will answer with a cold shoulder or pragmatism? For my part, I will wait anxiously to learn if I will ever be able to share a residence or delicious Cuban dish with the families lost in the shadows of new political maneuvering.