Painting and a Night Out With Friends -- A Fun New Way to Spend an Evening
Posted by Dena Hodnett on Thursday, December 12, 2013 at 12:00 AM
By Dena Hodnett / December 12, 2013
Comment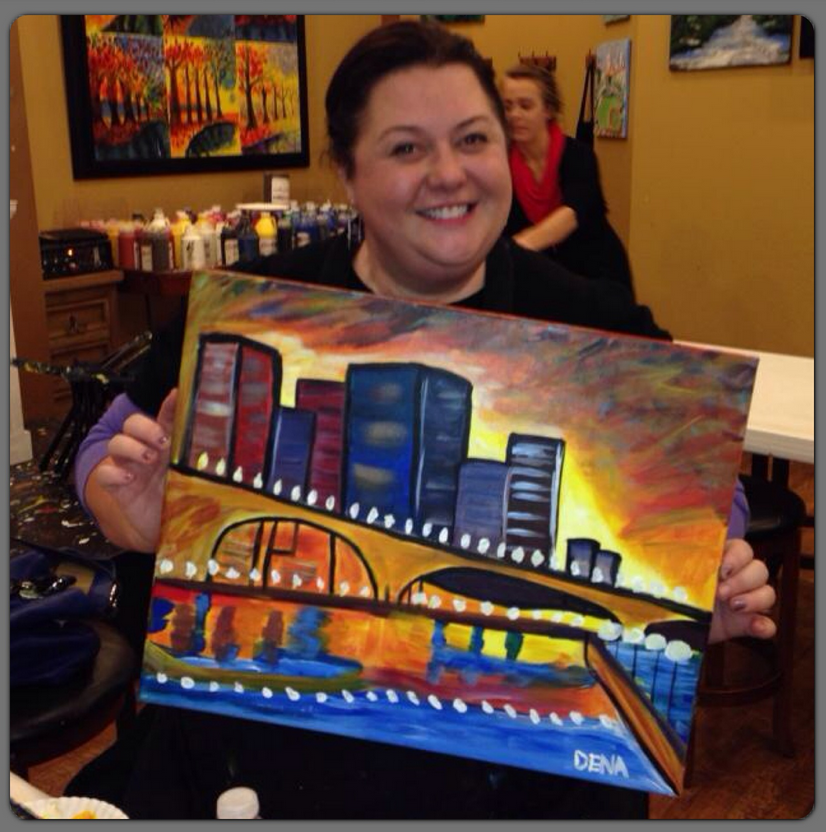 I have a new addiction. I have discovered my inner artist. I (dramatic pause), am a painter! At least the painting events I've recently attended have made me feel like a painter! In actuality, nothing I have painted deserves any museum space, nor do I possess any actual painting skills -- but it sure has been fun! There is a new game in town for group entertainment, painting parties. Companies like
Wine and Canvas
or
Cheers Pablo
to name only a few, have events all over town. Both companies have their own studio locations and hold private and public events at popular locations around town. If you are looking for a fun place to spend a 3ish hour window with your own fun group, this is a great option. It is in my opinion, a cool alternative to the traditional bar scene. For $35 a person, your canvas and supplies are covered. Food and beverages are extra. The studios have their own menus and events held at local restaurants or bars allow for ordering off their respective menus throughout the evening. Drinking wine or having a beer while painting and chatting with your friends is an awesome way to spend a night out. I'm hooked. And, the more you indulge, the better your painting looks -- kidding. Sort of. I find that my paintings look great from a distance, while the up close view showcases my rather limited abilities. But did I mention the fun? I have attended three events now, so I feel like I can give a proper review. The first was a private event birthday party at the
Wine and Canvas
studio in Minneapolis. I went as a guest of a dear friend not knowing anyone else in the group of about 20 people, and I had a blast. The setting makes for an easy social environment. The teacher and staff were great. You can mingle or just focus on your own painting. Loud music is piped in with sing-along songs playing while you are painting in between instruction. Get a group of people together with Sweet Caroline playing and I don't think it's possible to resist singing along -- especially when the you hear the first person singing "dah dah dahhhh" under their breath.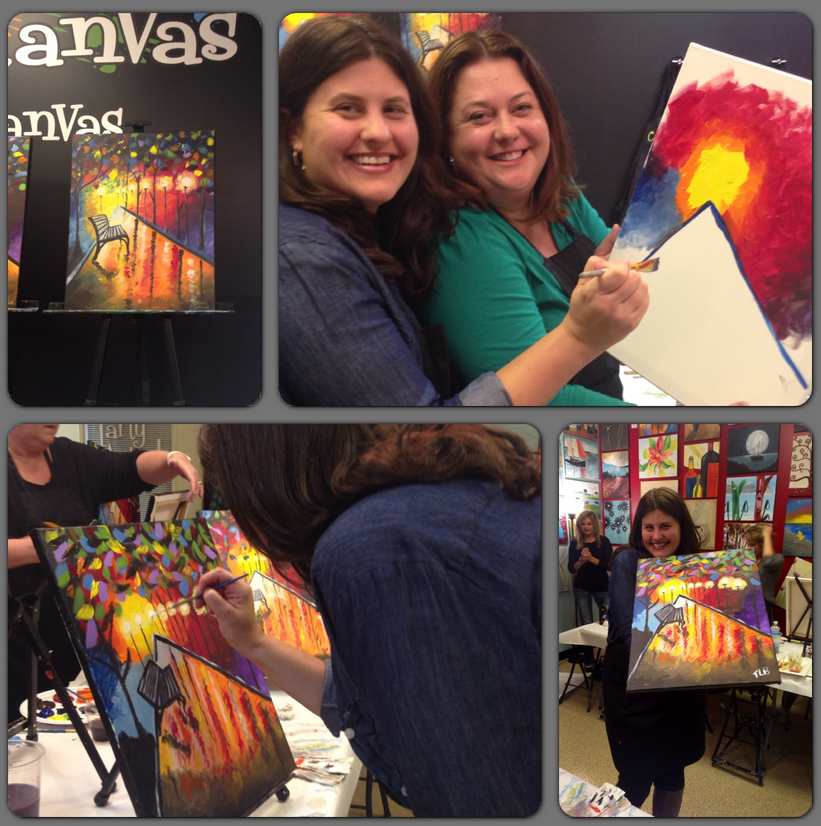 I would have never believed I could create (or replicate) any of the paintings I have completed, but I swear it is easy! Teachers walk you through step by step until you have your own replica of the night's featured painting. Some of my fellow classmates followed the direction diligently. Others chose different colors and added things the teacher didn't. It is a very relaxed environment and you are encouraged to paint your canvas the way you want it. Some of my type-A perfectionist friends (you know who you are) had a little trouble, wanting their paintings to be a perfect replica of the instructors. They adjusted, or maybe just drank more wine and relaxed their expectations. Either works. FYI: drinking isn't mandatory for fun. Plenty of people were only having soda or water. The second event I attended was at a local bar and restaurant in St. Paul. I went with my mom and aunt --  on that night, we painted an Iris floral portrait in celebration of my Grandmother "Iris." See what we did there? It was a fun bonding night with the same easy going vibe that I witnessed at the studio. It's fun to have a memento of a special evening like that to take home.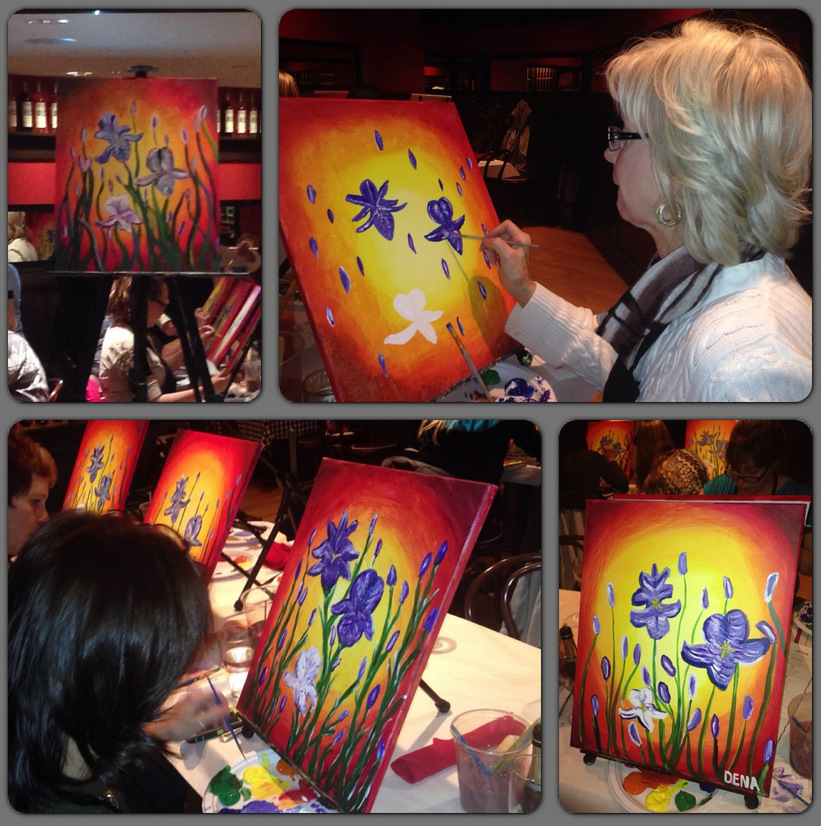 The third event was at the
Cheers Pablo
studio in Woodbury. I really liked the painting they were doing on a particular Friday night, so a girlfriend and I registered and then each invited a few others to join in the fun. This was the hardest painting and the teacher was actually a little less specific with the instruction, but things turned out fine and a good time was had once again by all. My hardworking girlfriends said they enjoyed the opportunity to do something relaxing and creative with no one to please but themselves. If you work in any customer service oriented industry, you understand how nice this freedom can be. One of my mom friends also said how nice it was not to hear, "Mom, Mom, Mommy, Mom," for a good three hour stretch. I would say these events draw a highly female crowd. In all three events now (each with about 25-30 people), I have seen only two men. So if you are a guy looking to meet some women, hitting up one of these events would be like taking a golden retriever puppy to a park. Just saying. This is the new go-to for bachelorette and bridal shower parties. If you look at the private events online calendars, they are all booked up with these events and birthday or company work parties. If you look at the picture galleries online of the past events, there are plenty of men. So I don't mean to imply this is only for women. Just the events I attended in particular did not have many men. Both locations also offer kid's events and kid's party options. Next on my list is attending one of their "Date Night" events where you paint one scene and your partner paints another. When you are finished, your complimenting portraits can be hung together for a larger painting, or still look great as a single painting.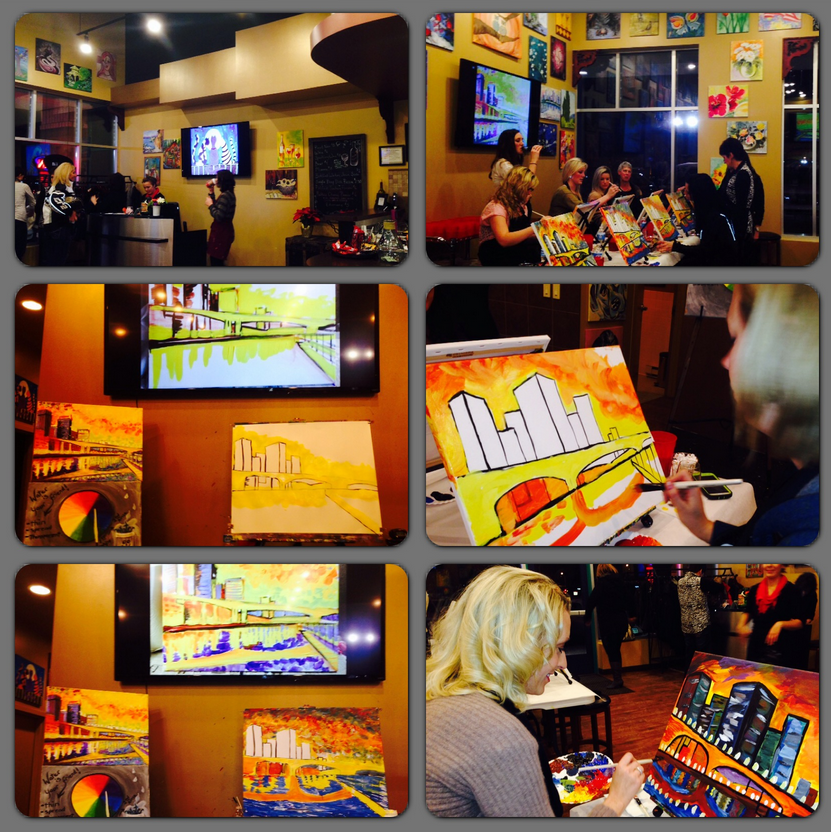 If you are interested in harnessing your inner creative god or goddess, I would recommend finding one of these places and giving it a try. First step, going to your chosen company's website.
Wine and Canvas
(website)
 and
Cheers Pablo
(website)
have pictures of the paintings they will be doing on specific dates throughout the month, along with the location (some are done off site). I believe other companies use a similar set up. You register for the night -- ideally with a buddy or two and then show up for a night of fun. Do it soon as I am definitely not the only one loving this new activity. A recent glance at the upcoming calendars show most dates SOLD OUT or having a WAIT LIST. Check the websites early and often if you want to plan your own night of creative fun! Photos via: Dena Hodnett