Pennsylvania Student With Down Syndrome Goes Viral -- Becomes a High School Basketball Legend
Posted by Brent Lee on Monday, February 17, 2014 at 12:00 AM
By Brent Lee / February 17, 2014
Comment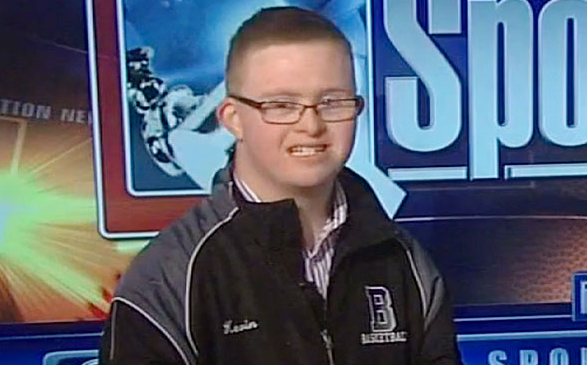 Bensalem High School Senior Kevin Grow has Down syndrome.
But he has a smooth jump shot with range beyond the arc on the basketball court -- he also has a great story to tell.
The 18 year old Grow has been the manager for Bensalem basketball team for the last four years, but during their game against Neshaminy High two Saturdays ago, he laced up his sneakers and took the court as player.
Wearing #33, Grow did the improbable, leading all scorers with 14 points -- he made four of five three-pointers inside the game's final two minutes in Bensalem's 64-40 win over Neshaminy.
Grow's final three splashed down just as time expired and the buzzer sounded. He was rushed by teammates who surrounded him in celebration on the court.
"I hit a buzzer beater and it was party time in the locker room," Kevin said in a local ABC affiliate's story.
The same article quotes Bensalem Basketball Coach John Mullin saying:
"You look around and you want to look for Walt Disney. I had my hands on my head. I was like, 'I can't believe I'm seeing this.'"
This wasn't Grow's first experience as a player. He scored three points on a free throw and a layup in a 53-44 loss to Abington (PA) the night before — but his long-range, offensive outpouring on Saturday was on another level, and provided a memorable and uplifting scene for all in attendance. Video of Kevin's amazing three-point barrage, which was aired on ESPN's SportsCenter, has gone viral -- so perhaps you've seen it already. If not, check it out…
Keep shooting, Kevin. Awesome stuff.
Image via: Google