Pioneer Press Possibly Looking for Buyer
Posted by Travis Bridell on Friday, September 12, 2014 at 12:00 AM
By Travis Bridell / September 12, 2014
Comment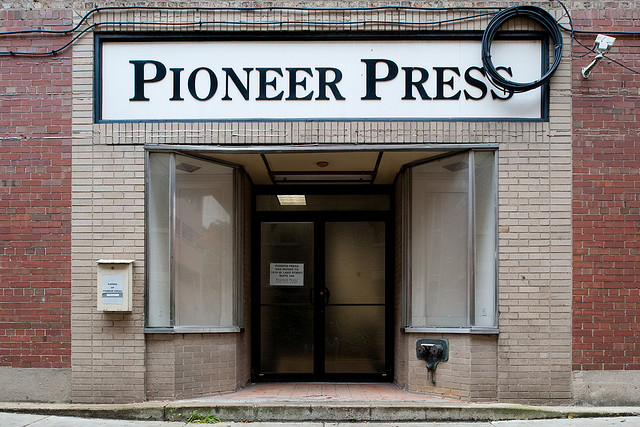 The oldest printed daily newspaper in the state, the Pioneer Press, is looking to follow in the footsteps of the largest daily newspaper in the state, the Star Tribune, by finding a new owner.
The 
Newspaper Guild
 spoke for members of the Pioneer Press staff Monday as they took out an advertisement in the Star Tribune. The ad in the business section of the Star Tribune read, "The Pioneer Press needs an owner who cares about the community it serves and will be a responsible steward for Minnesota's oldest news organization." Prospective buyers were encouraged to call the Minnesota branch of the guild located in St. Anthony. The Pioneer Press is owned by Digital First Media, a 2013 merger of 21st Century Media and MediaNews Group which is consequently owned by hedge fund Alden Global Capital. The second-largest publishing group in the U.S. has overseen the Pioneer Press'
shrinking staff
since 2006. Digital First Media has yet to put its papers on the market, but has made clear that it is exploring such an avenue. For example, the group shut off power in its York, Pennsylvania, office to save money, according to former Pioneer Press writer 
Jim Romenesko
. It's up in the air as to what will happen according to CEO John Paton himself, so it remains to be seen what will happen. In today's address from Digital First Media's
Paton's website
he admitted that the firm had hired an investment bank to look at "strategic alternatives."
"Strategic alternatives – what does that mean exactly? Well, it could mean we decide to sell the company. Or sell parts of it. Or expand it. Or stay the course." Paton said.
Back in July, Mankato billionaire and Timberwolves owner Glen Taylor purchased the Star Tribune for around $100 million in cash. Taylor has said he would
look into the purchase
of the paper if it were to go up for sale, but the last time the Star Tribune and Pioneer Press had the same owner, McClatchy Co., it was
forced to sell
 due to monopoly rules.
Photo By: 
Paul Goyette