Purple Gerhart-less — What (I'd Bet) This Means For Toby and the Vikings
Posted by Brent Lee on Thursday, March 13, 2014 at 12:00 AM
By Brent Lee / March 13, 2014
Comment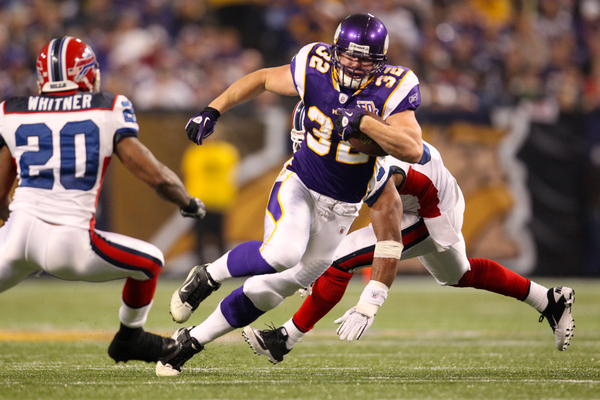 Toby: You're
gone
? But I feel like we hardly knew you.
Reports
say it is official: Toby Gerhart is a Jacksonville Jaguar. The 2010 Stanford graduate signed a 3-year deal worth $10.5 million, including $4.5 million in guaranteed money, ending his tenure with the Vikings. As a Viking, Gerhart served (very) limited duty behind every Minnesotan's favorite All-Universe running back Adrian Peterson. Toby was an effective overall runner, averaging 4.7 yards per carry in his four years in purple, including averaging 7.9 yards per rush in 2013. Despite some memorable broken tackles and flashes of fleet-footedness, the most salient knock on Gerhart might be his tendency to fumble — he coughed up the pigskin seven times in only 276 carries as a Viking. That's (waaay) too often in a league where losing the turnover battle is so closely correlated with losing ballgames, and it could haunt Toby in Jacksonville if he doesn't address the issue.
What do I think of the deal?
(Why thank you for asking...) I don't like it — not for the Vikings. Gerhardt has fumbling issues, but he also has a solid upside and a useful skill set. He's a physical runner with good instincts, and he was a great insurance policy to an aging, All-Pro AP. On the Jaguars side, it seems all but certain that Gerhart will be the featured back for Jacksonville in 2014, as the Jags will likely part ways with their once-stellar, now beleaguered running back Maurice Jones-Drew. The Jaguars needed a new #1 running back and they got one — one who is studious and learned the running back position studying behind one of the greatest backs the NFL has ever seen.
My prediction?
(Wow. I really appreciate your interest!)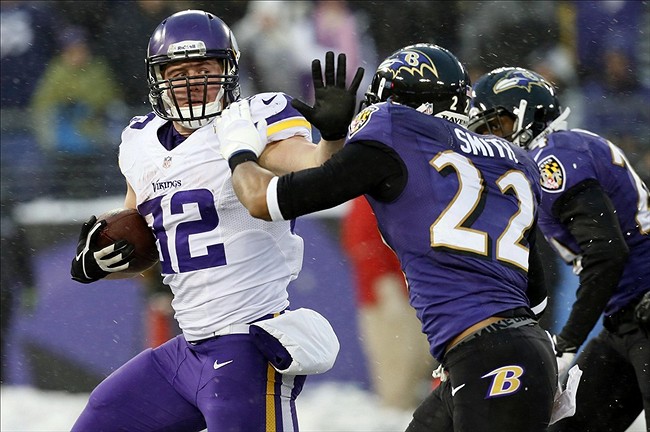 The Jags are lousy, but I think Toby Gerhart will be a productive rusher — and pass catcher — for Jacksonville right away next year. Statistically, he is capable of breaking the 1,000-yard mark on the ground if he gets 15+ carries a game — which he likely will as the Jaguars'
projected
starting back. He'll likely add 300+ in receiving yards and, unless fumbles continue to be an issue, I believe Toby will gain some acclaim in his first season donning the second 
ugliest
jersey in pro sports. As far as Peterson, I won't be so morbid as to predict an injury, but I see
no reason
to believe the 2014 AP will be anything like the 2,100 yard, 2012 MVP-version of his (
Awesome
) past self. Like the hapless Jags, the Vikes could be pretty lousy next year, too — and I'm not confident the offensive line or quarterback situation in Minnesota lend well to Peterson's production even
if
he stays healthy all next season -- e.g. you can't run through holes that don't exist because eight and nine man defensive fronts don't believe
Cassel
/Ponder/Freeman/
Vick?
can beat them in the passing game. In fact, I'll be a bit
bolder
in my prediction: Toby Gerhart
will
gain
more
yards from scrimmage than Adrian Peterson in 2014. Now, dear reader, what do
you
think? **
Author's Note:
I think our distinguished Editor, who is an avid Peterson fan, will likely (i.e. certainly) disagree with me avidly. Because of this, I came up with a friendly wager for he and I in regard to our anticipated difference of opinion. You know, put our opinions — and egos — out on the line a tad. What do you you think, Matthew? I'll buy you an AP jersey and write an apology to you and all Vikings' fans if I'm wrong? And, if I'm right, you have to die your hair Viking purple?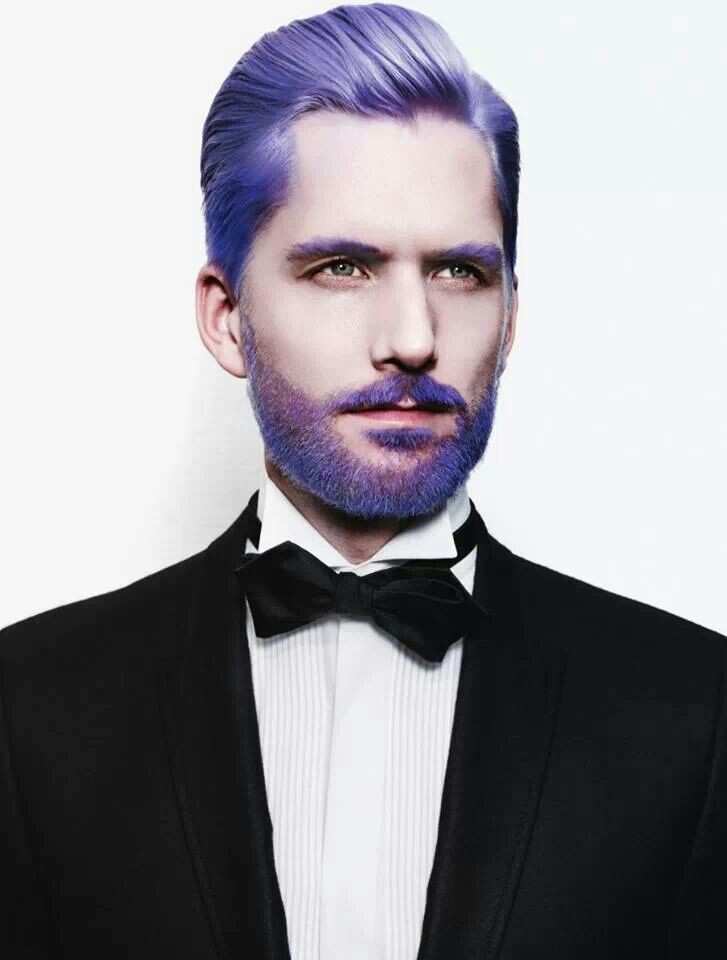 I'm well aware purple hair versus a Vikings jersey and an apology isn't quite equitable stakes, but neither is the bet anywhere near an even one. After all, we're talking the mighty and accomplished Adrian Peterson versus now-lowly and virtually un-vetted Toby Gerhart. What do you say, boss? Shall we make this next season more interesting for us, and our readers?
Editor's Note:
I'll take the bet -- though I don't believe it is as lopsided as you think Brent, I will take it for the fun of the wager and to defend Adrian Peterson, a man who I believe still has some great years left. While I do indeed want to disagree with the idea of Gerhart out gaining Peterson in yards from scrimmage, the bet is not as farfetched as some might think. Total yards from scrimmage is different than simply rushing yards. Gerhart has a huge advantage in the passing game. Toby has only had more than 100 carries in a season once, and at 109 carries he gained 531 yards. Times those carries by two, he's easily over 1,000 yards. And like I said, his ability to catch the football out of the backfield is much greater than Peterson's -- Gerhart's receiving numbers will likely be nothing less than 300 yards as he will be the feature back in Jacksonville. Multiply all those numbers with the notion that Gerhart is still fresh because of his minimal playing time behind AP and that he will be Jacksonville's only legitimate offensive weapon (unless Justin Blackmon can stay out of jail), I would put Gerhart a healthy cut above 1,100 yards (obviously barring injury). Just like year's past when Jacksonville relied on Maurice Jones-Drew, Gerhart will be the new Jacksonville workhorse. With Toby's huge edge in both receiving numbers and eventual touches, I think this wager is quite even. Considering all that, I think Peterson could still make a big splash as the Vikings feature running back, gaining somewhere in the neighborhood of 1,500 - 1,600 total yards from scrimmage (obviously barring injury). Unfortunately, I do not need an Adrian Peterson jersey. I have Adrian's authentic jerseys for both the Vikings and the Oklahoma Sooners (Peterson's alma mater). My wife however, wants a football jersey. So if you lose Brent, you can buy her the jersey of her choice and write that apology to the eventual first-ballot Hall of Famer. Photos via: Google