'Questlove' and 'DAngelo': Brothers In Arms - A Two Man Show @ First Avenue
Posted by PJ Mudd on Friday, June 28, 2013 at 12:00 AM
By PJ Mudd / June 28, 2013
Comment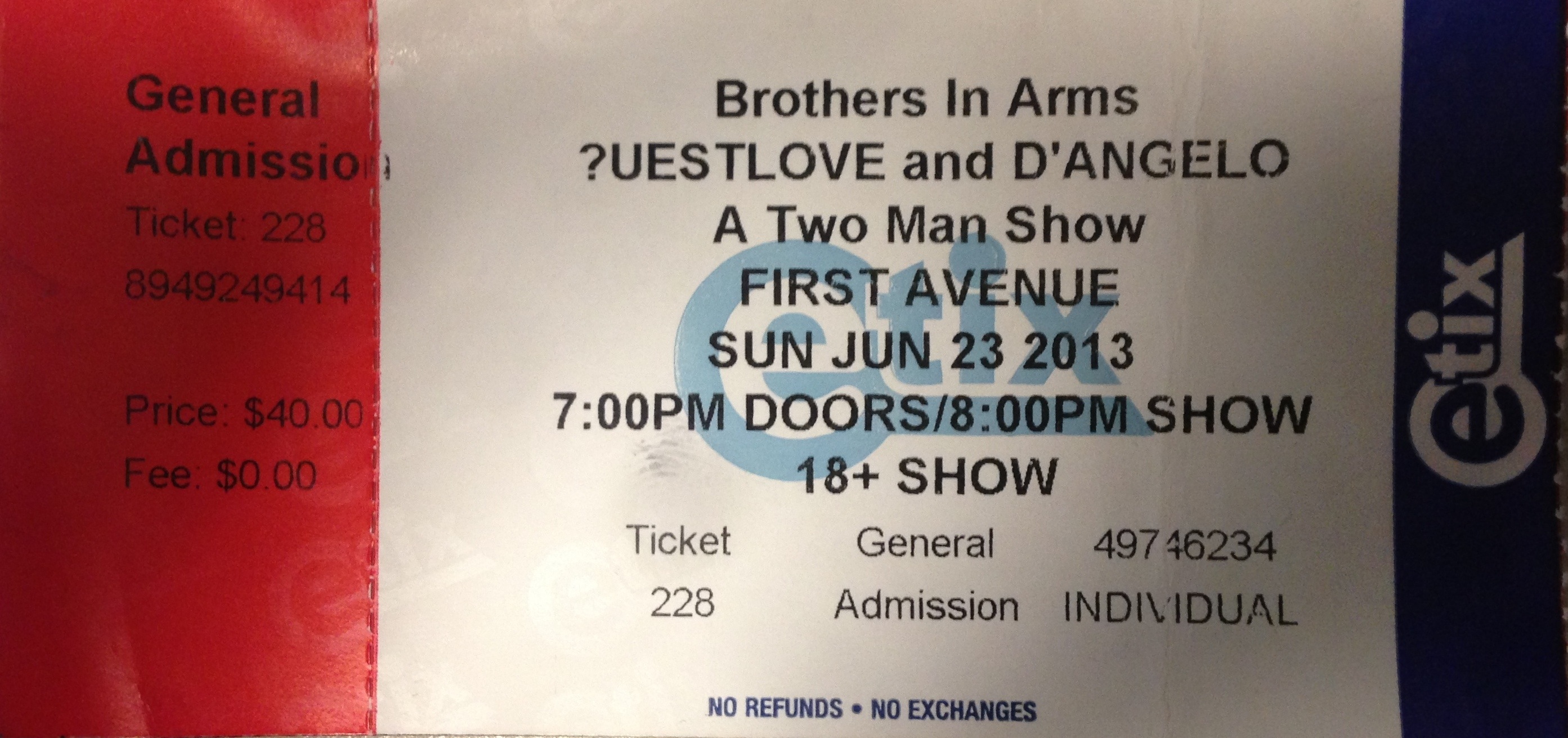 Remember back in 2000 there was 
that video
 of that guy in cornrows that was just him singing naked. Well, 13 years later he doesn't have nearly the same body but he absolutely has the same voice.
D'Angelo
, along with
?uestlove
, are doing a few gigs called Brothers In Arms. As
?uestlove
put it, it was a way for the 2 of them to play together and do what they do in the studio and allow the audience to be the fourth wall.
For nearly two hours the two seemed to just jam together.
D'Angelo
mostly sat behind a couple of keyboards, while
?uestlove
and his trademarked pick-in-hair, was on the other side of the stage behind his drums. This setup was very similar to the
Prince
shows a few months back at the Dakota Jazz Club. Although, no one was trying out, there was still a lot of free flowing jams going on. They did manage to melt each song into the next, playing some of
D'Angelo's
bigger hits, along with some covers.
At the end of the show, I think we were all expecting Prince to join them for the encore. Instead they were joined by Eric Leeds, Paul Peterson, and Stokley Williams. Up until this point the mood was what you might expect from a small, dark, smokey jazz club. However, we did a 180 and the funk level got turned up to 11. D'Angelo made his only appearance up in front of the crowd behind the mic belting out the last song of the night.
It seems almost cliche to make mention of how D'Angelo has changed physically since we last saw him in the spotlight, but you quickly forgot all that as soon as he starts singing. Lucky for us, his voice hasn't changed one bit.