Qylatron System Could Be Answer to Improving Security Screening at Public Events
Posted by Andy Ellis on Wednesday, August 20, 2014 at 12:00 AM
By Andy Ellis / August 20, 2014
Comment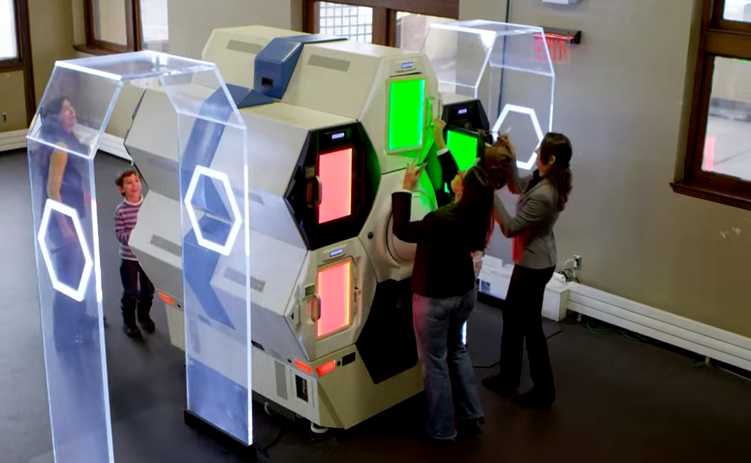 Anytime someone hears the three letters TSA put together there's a good chance they aren't gong to jump for joy. Ever since the terrorist attacks on 9/11, and the many more attempts since then, airports all across the country have turned security checkpoints into the one thing travelers tend to loath more than flight delays.
Granted, the security personnel are just doing their jobs and there's a good chance they're no more thrilled about giving you that extra pat down than you are to be receiving it. Also, to be fair, there are a fair amount of people who should learn to read rules before heading to the airport, or use simple common sense unlike the man who tried to 
bring a loaded gun
 through security at the Colorado Springs airport in late July. While pat downs will continue for the time being, it seems as though the process of having your bags screened will move a lot faster in the future thanks to Silicon Valley-based company
Qylur Security Systems
. WIRED reports that they 
have developed
a new screening system called the Qylatron Entry Experience Solution that was tested during the World Cup earlier this summer. It allows for multiple people to get their bags checked at one time using five microwave-sized pods. The pods themselves surround a central sensor which scans for various threats. It utilizes radiation and chemical sensors to find explosives and can run images it finds via a multi-view X-ray through a "detection engine" that uses "machine learning" to identify prohibited items such as guns and knives. When a threat is detected, the security guard is silently alerted and the given pod turns purple. Of course, new ideas like these need to be tested in the real world and that happened in Brazil during four World Cup matches at Arena de Baixada. The WIRED article reports that an unnamed event operations company hired Qylur Security Systems to place their device at one entrance where it would be in charge of screening fans. This was the ultimate test, because not only was it a huge event, but FIFA is very particular about what fans cannot bring into to the matches with a banned list that includes everything from long umbrellas to banners or flags that are larger than two meters by 1.5 meters.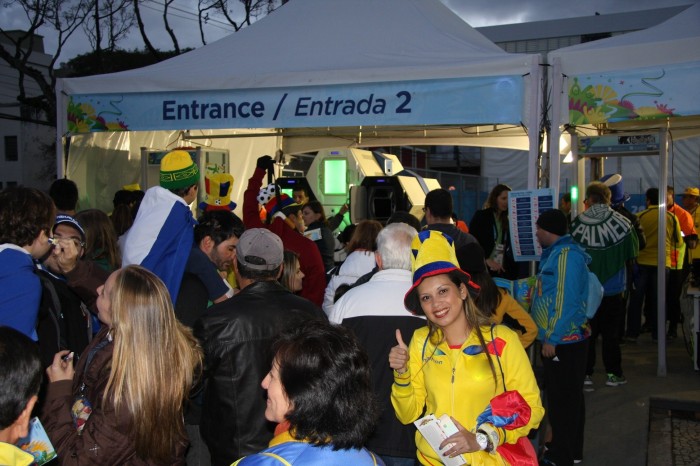 Adhering to an additional set of policies is something that was kept in mind during the development of the Qylatron. The system has a collaborative option -- Yair Dolev, the company's Vice President for Marketing & Product Management, explained in an email to Minnesota Connected that a human screener can work with the machine.
"While the machine takes care of dangerous threats that humans aren't so good at finding, humans shine in detecting prohibited items per the customer policy for the event. Over time customers would work with Qylur to train the machine on identifying more of these prohibited items, offloading the human screeners."
The machine's ability to learn, Dolev explained, will also aid in "reducing unnecessary bag stops and wait times, as well as identifying new evolving threats." Through the Qylatron, Dolev also explained that companies who purchase the security system will also be able to use its built-in instruction panels to expand their customer service.
"Customers can use this capability to welcome guests and even offer promotions according to their tickets, marrying security screening with a friendly entry process," Doley said.
It seems Qylur has the right idea, and in the future we'll all be able experience a much more pleasant security screening process than one the we've been subjected to in past years. When that will be, Dolev wrote, is being kept under wraps for now.
"We will be announcing specifics once we are able to do so, but not before."
Here's to hoping the future isn't too far away. Images via: Qylur Security Systems