Recent Poll (of Just Me) Finds: NBA All-Star Game Meaningless
Posted by Brent Lee on Tuesday, February 18, 2014 at 12:00 AM
By Brent Lee / February 18, 2014
Comment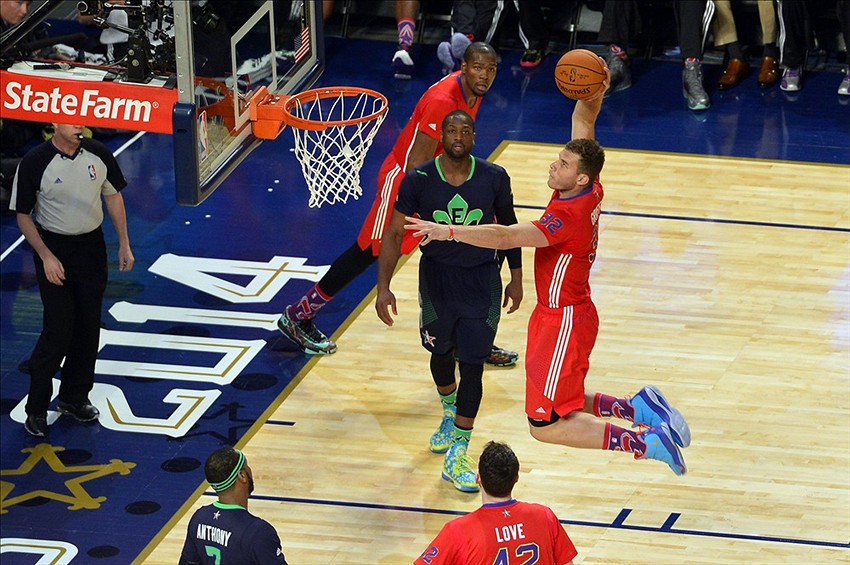 Sunday's 63rd Annual NBA All-Star Game ranks #1 on the list of Most Meaningless Sporting Events of the Last 25 Years according to a recent poll I just conducted of myself, like ten minutes ago.
The rigorous scientific study — the methodology I devised in my head while driving home after work — asked me to, "Think of the top ten most meaningless sporting events you can remember, and then write them down on a piece of paper when you get home."
For the purpose of this groundbreaking research, "meaningless sporting event" is defined as, "An event which has no discernible value of any kind apart from being another excuse to sell tickets and/or consume the time of its spectators." Or, in other words, "games that don't matter."
Here are the results of my self-poll, starting from #10 and counting down to the #1 Most Meaningless Sporting Events of the Last 25 Years:
#10: Nathan's Hot Dog Eating Contest Before Kobayashi and Joey Chestnut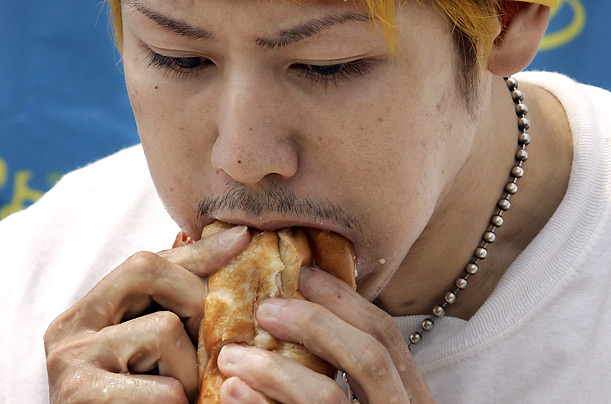 Before Kobayashi hit the scene, the most hot dogs ever ingested at Nathan's famous annual event was a paltry 25.5. Everything changed in the 2001 competition as the diminutive Takeru Kobayashi, who stands 5'8" and weighs just 128 lbs., showed up out of nowhere, ate 50 hot dogs (and buns) in just 12 minutes, and instantly propelled himself to the top of the professional eating pantheon.
American eater Joey Chestnut has since arrived on the scene, winning the last seven Nathan's titles — this includes a world record 69 hot dog performance at 2013's event this past July—and helping to delay eating contests' inevitable return to utter obscurity and meaninglessness.
(TIE) #9: The 1993 NHL All-Star Game — The 2002 Major League Baseball All-Star Game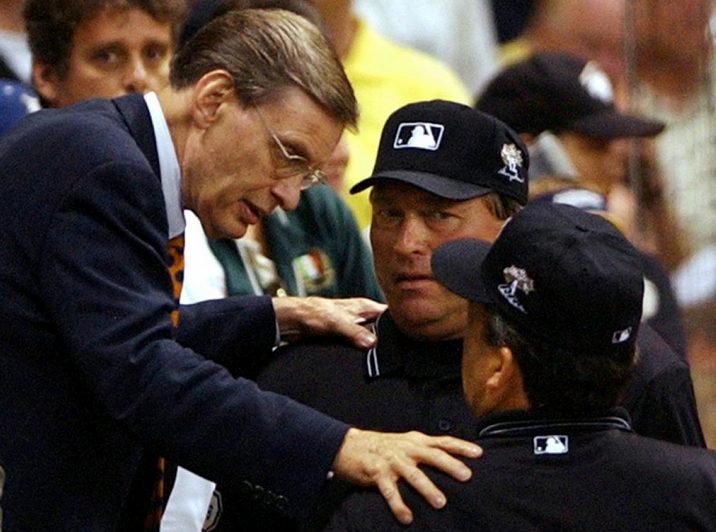 After going up (6 - 0) in the first period, the Wales Conference added ten more goals, "barely" holding on to beat their rival Campbell Conference (16 - 6) in an instant hockey classic. This tightly-matched defensive struggle had hockey fans perched on the edges of their seats, eagerly waiting for the final horn to sound so they could leave the lopsided, meaningless game and do something worthwhile with what was left of their Saturday.
Despite the protests of traditionalist baseball fans (and every other red-blooded American who has even a modicum of competitive fire), Commissioner Bud Selig ruled the game would end in a (7 - 7) tie after both teams ran out of pitchers, effectively stamping a big red "MEANINGLESS" on this unorthodox page in baseball's history. After the game, no MVP was selected for the first time since 1961, and players from both teams were given cans of soda and a snack, equally-sized participation trophies and "Everyone's a Winner!" commemorative T-shirts.
#8: A Game of Ping-Pong I Played Against Some Kid at the Community Center When I Was in Seventh Grade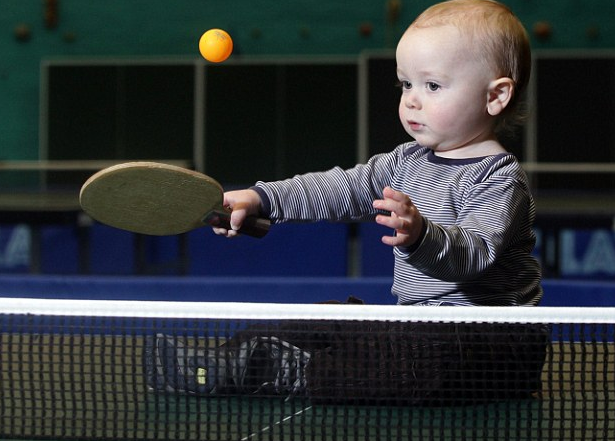 This kid was a ninth grader, a full foot taller than me, and based on his skills with a table tennis paddle, some sort of hyper-powerful ping-pong wizard. I lost the first four or five games in a row without putting up much of a fight, mystified by his non-stop barrage of various spins, serves and trick shots.
Inexplicably to me, even to this very day, I managed to muster all my table tennis mojo into one epic game, miraculously squeaking out a single, thrilling (24 - 22) win in what might be the pinnacle of my otherwise pathetic athletic career. The apparent ping-pong master then proceeded to beat me easily in like ten more games straight — using his left hand.
This casual table tennis match-up between unknown teenagers at the local community center, as utterly meaningless as it was and still is, was still five spots more meaningful to the sports world than Sunday's NBA All-Star Game.
#7: Most of the Games in the Second Half of the Minnesota Twins 2013 Season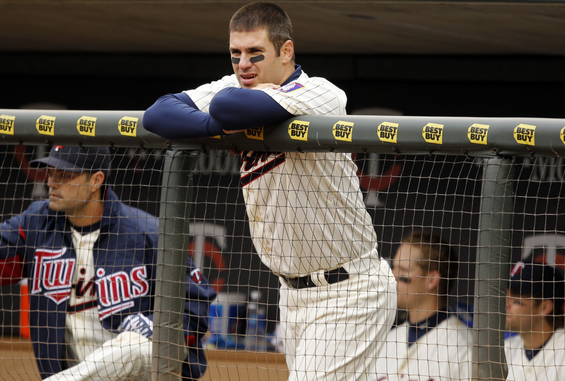 Our beloved local nine lost their first game, their last game, and 94 times in between on their way to a third consecutive 90+ loss season. The Twins did manage to eek out 4th place in the AL Central, emerging from the last-placed cellar for the first time since 2010 -- but they played meaningless baseball for a good portion of the year.
#6: Most of the Games in the Second Half of the Minnesota Twins 2012 Season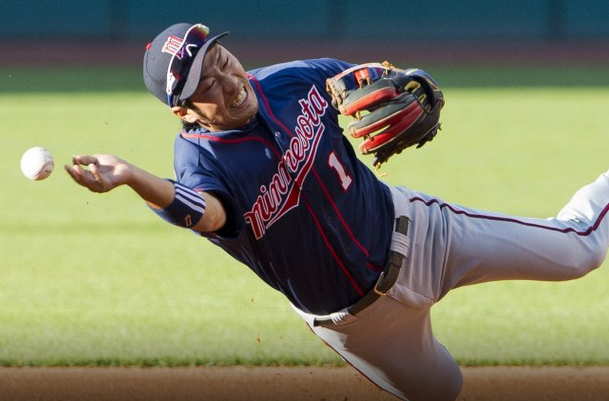 Sorry, Twins fans. I agree there is nothing better than a cold beer on a warm late-summer day at Target Field, but watching your favorite baseball team in August and September can feel more than a little meaningless when you are a dozen games back by July.
#5: Most of the Games in the Second Half of the Minnesota Twins 2011 Season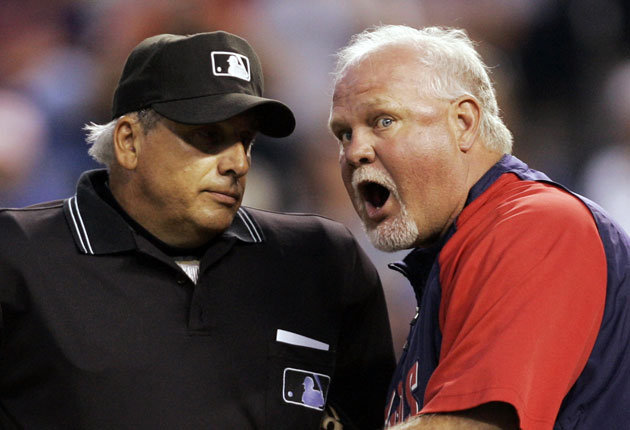 See explanation(s) above. (Actually, 2011 was slightly worse than the 2012 or 2013 campaign — the Twin's lost 96 games each in '12 and '13, but they dropped 99 in 2011.)
#meaningless
#4: The Majority of Games the Minnesota Twins Played Between 1993 and 2000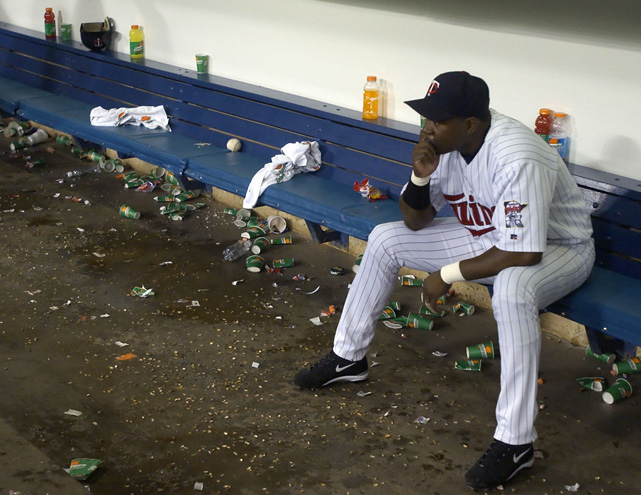 After their memorable (and meaningful) 7-game World Series victory over the Atlanta Braves in 1991 and a respectable second place finish in the division in 1992, the Twins embarked on a near decade-long dry spell of lousy baseball that fans might rather forget. During this futile eight season span that tested the loyalty of even their most faithful fans, the Twins never finished higher than 4th in their division, accumulating a (528 - 699) record and playing hundreds and hundreds of meaningless games.
#3: Almost the Entire 2013 Vikings Season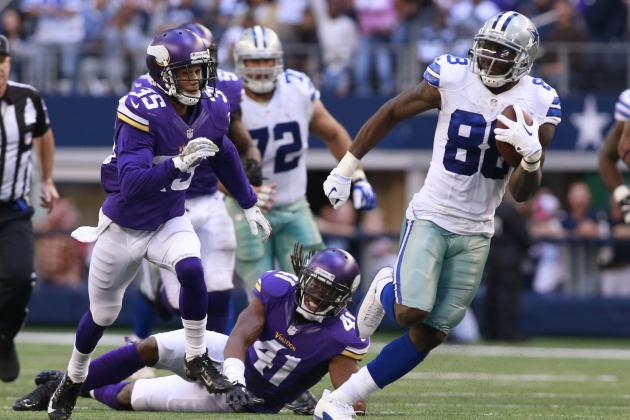 They started (0 - 3) before beating the Steelers in London. Then they lost four more in a row, breaking every Minnesotan's heart by falling to (1 - 7), virtually eliminating any hope of reaching the playoffs -- this made the remainder of the season, and the Vikings perpetual quarterback controversy, as arbitrary and meaningless as shuffling deck chairs on the sinking Titanic.
#2: Every NFL Pro Bowl Ever Played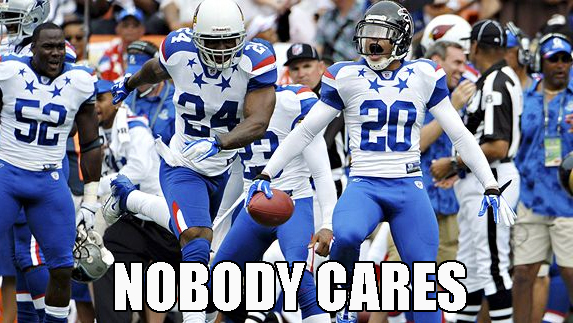 Of the various major sports and their respective all-star games, few can match the silliness and irrelevance of the NFL Pro Bowl. Many of the star players who are selected find excuses not to play and those who do show up are "competing" nowhere near full speed. The Pro Bowl is played annually in Honolulu's Aloha Stadium, where only minutes away there are more competitive pick-up beach volleyball games being played on Waikiki.
The only reason it's #2 on my list, and not #1, is that the NFL has enough common sense to place such a meaningless game at the end of the schedule where it: (A) doesn't interfere with the real season and (B) football fans like me can ignore it.
#1: The 2014 NBA All-Star Game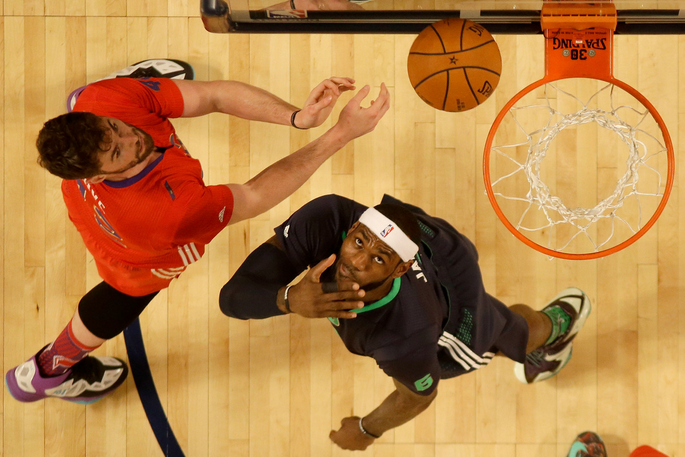 Though it will be surely forgotten by tomorrow and counts for nothing, the NBA All-Stars from the East beat the West (163 - 155) in the 63rd edition of the NBA's mid-season annual tradition which, as per usual, looked more like a video game set to "Easy" than a competitive professional sporting event.
A record 318 combined points were scored in a game that featured the nifty offensive talents of the NBA's most exciting and entertaining stars -- the Cavaliers Kyrie Irving scored 31 points and earned MVP honors and Knick's forward Carmelo Anthony poured in 30 points, including eight splashes from behind the arc.
However, the game was also largely a suspense-less, and sometimes sloppy, dunkfest as devoid of defense as the Minnesota Vikings 2013 defense -- I, for one, am bored of it.
Unlike MLB's All-Star Game, which serves to determine which league (American or National) will have the oft-crucial home field advantage during the World Series, the NBA All-Star Game counts for literally nothing in terms of the actual season. It is purely a low stakes, carnival-style exhibition, and based on caliber of play displayed on the court, the participating players view it as such.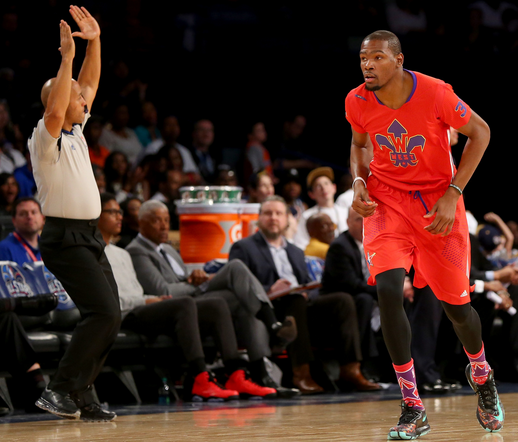 I don't blame the players at all for taking it easy — not one bit. They travel all over the country playing through a rather grueling six month long, 82-game schedule which pits them head-to-head against other world class athletes on a nightly basis — and that is just the regular season. For those teams and players who qualify for the playoffs, the already arduous and lengthy campaign can last two months longer, filled with the ratcheted-up intensity of postseason basketball.
Held near mid-season, the NBA All-Star Game is rare opportunity for these guys to rest and recoup, and we shouldn't be surprised when they take advantage of the brief vacation by relaxing, even if it is during the actual game while they are supposed to be playing defense. Besides, the last thing any player wants to do is injure themselves competing hard in what is truly a meaningless game.
While I don't blame the players for mailing in their performances in Sunday's game, I do think it's unfortunate the NBA can't come up with a way to make it's All-Star Weekend more relevant.
Maybe I'm just being a curmudgeon who needs to quit complaining and enjoy the NBA All-Star Game for what it is…
But with hyper-talented players like Lebron James, Kevin Durant, Blake Griffin and Kyrie Irving all sharing the same floor, it sure would be nice to watch a competitive contest in which basketball's top athletes had some incentive to give it their full focus and effort.
As it stands now, the game seems to be nothing more than 48 minutes of highly-paid athletes standing around watching each other throw down uncontested dunks and launch up open three pointers like something out of an AND1 Streetball Mixtape.
According to my poll, it holds the top spot as #1 Most Meaningless Sporting Event in the Past 25 Years because the NBA All-Star Game is wholly, thoroughly, and absolutely...
Meaningless.
Photos via: Google and Getty Images