Red Bull's Crashed Ice Was Cold, Crowded, Crazy and Fun
Posted by Brent Lee on Monday, February 24, 2014 at 12:00 AM
By Brent Lee / February 24, 2014
Comment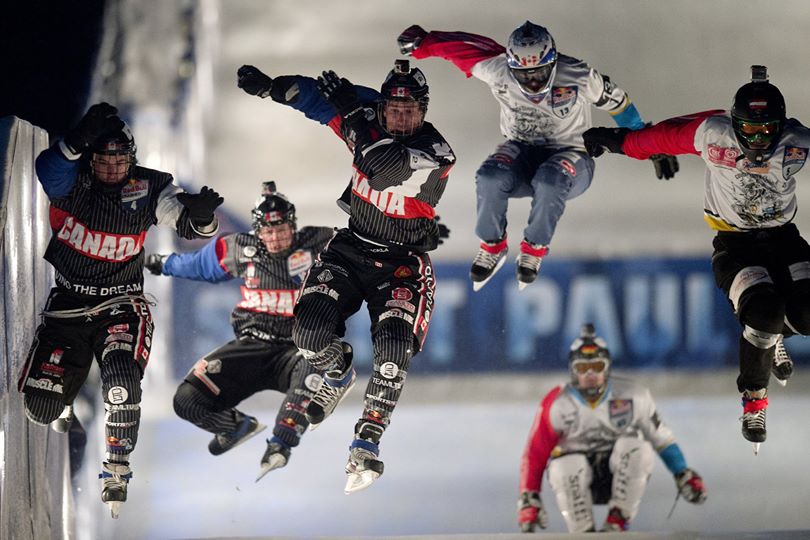 I decided to brave the slick roads, venturing to St. Paul this past Saturday night to watch the Red Bull Crashed Ice Tour's weekend
visit
to our state's capital -- I enjoyed the overall experience despite a few hurdles I had to overcome. Parking was non-existent. We ended up taking a cab to a reasonable walking distance of the snaking, 400-meter track, and then trudging through the slippery, snow covered sidewalks, the remaining remnants of last week's "Winter Storm of the Year." Throngs of people seemed to be perpetually arriving and leaving throughout the competition. Attendance estimates were
reportedly
120,000 for the free event, though I have no idea how anyone could get an accurate count with no tickets being sold and so much constant foot traffic. As you neared the track, the scene in front of the Cathedral was quite a spectacle and well worth any inconvenience involved during the journey.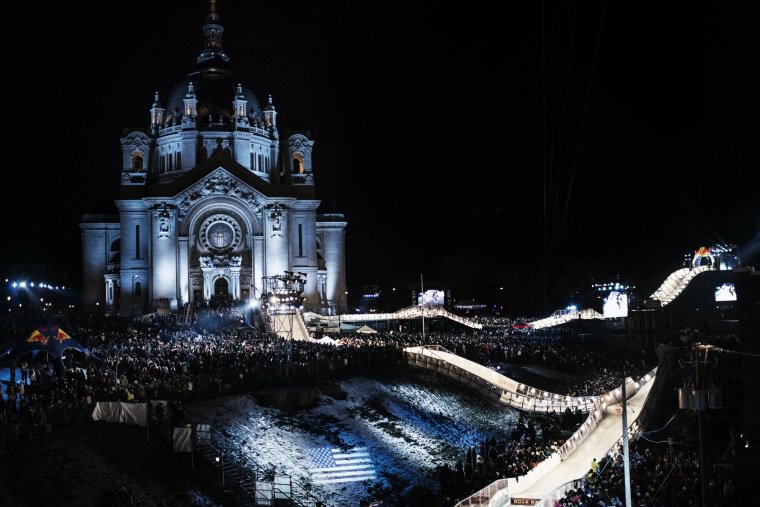 The sacred — and usually stoic — St. Paul church looms over the event and its spectators, vibrantly pulsating thanks to multicolored strobe lights set to bass-infused, techno-dance music. The track itself winds down the hills of St. Paul, reminding me immediately of a shorter, icier, version of the great wall of China strung with lights from tip to tail.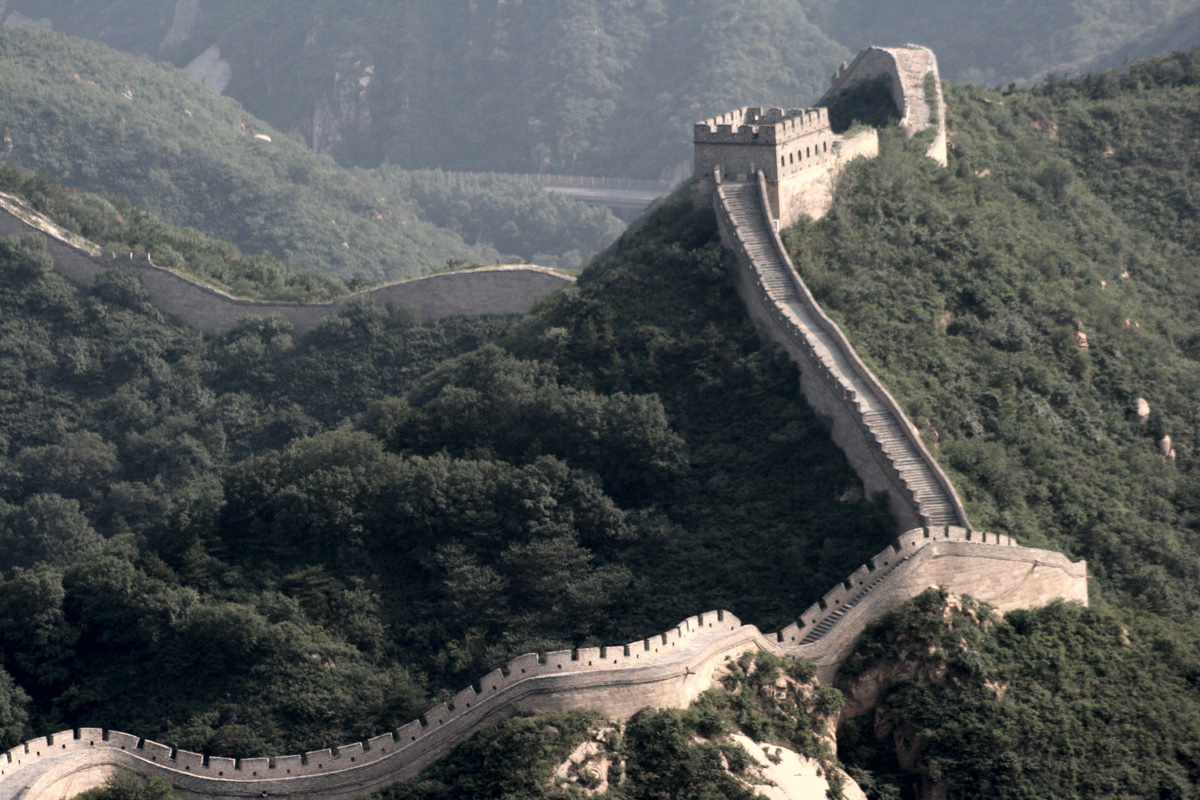 Even in the bitter cold, it was a fun, festive atmosphere and the streets of St. Paul were teeming with life. Chants of "U.S.A!" filled the cold night air, people were in a good mood, and the whole thing had a sort of Winter Olympic-esque feel to it. From what I could see of the actual competition, it was just as crazy and reckless as the promotional descriptions has promised. Heats of skaters — even a heat of bikers — sped down the track, bumping and jumping and jockeying for position to the delights and cheers of the mass of fans. My one gripe is that it was difficult to see the races themselves. To be fair, I arrived midway through the event, so I had no chance at any of the best spots -- but many thousands of people seemed to share my lack of a good, direct sight line to the action, instead standing huddled around and watching things unfold on a Jumbotron-style screen that was placed near the finish line. Maybe there were much better spots farther up the course (I did see some elevated seating on one stretch of the track) but from where I stood, onlookers couldn't do much prolonged onlooking of the skaters. We'd get a glimpse as they'd cruise by and then they'd once again be hidden behind the heads of thousands of people standing sometimes ten-bodies-deep along the track walls.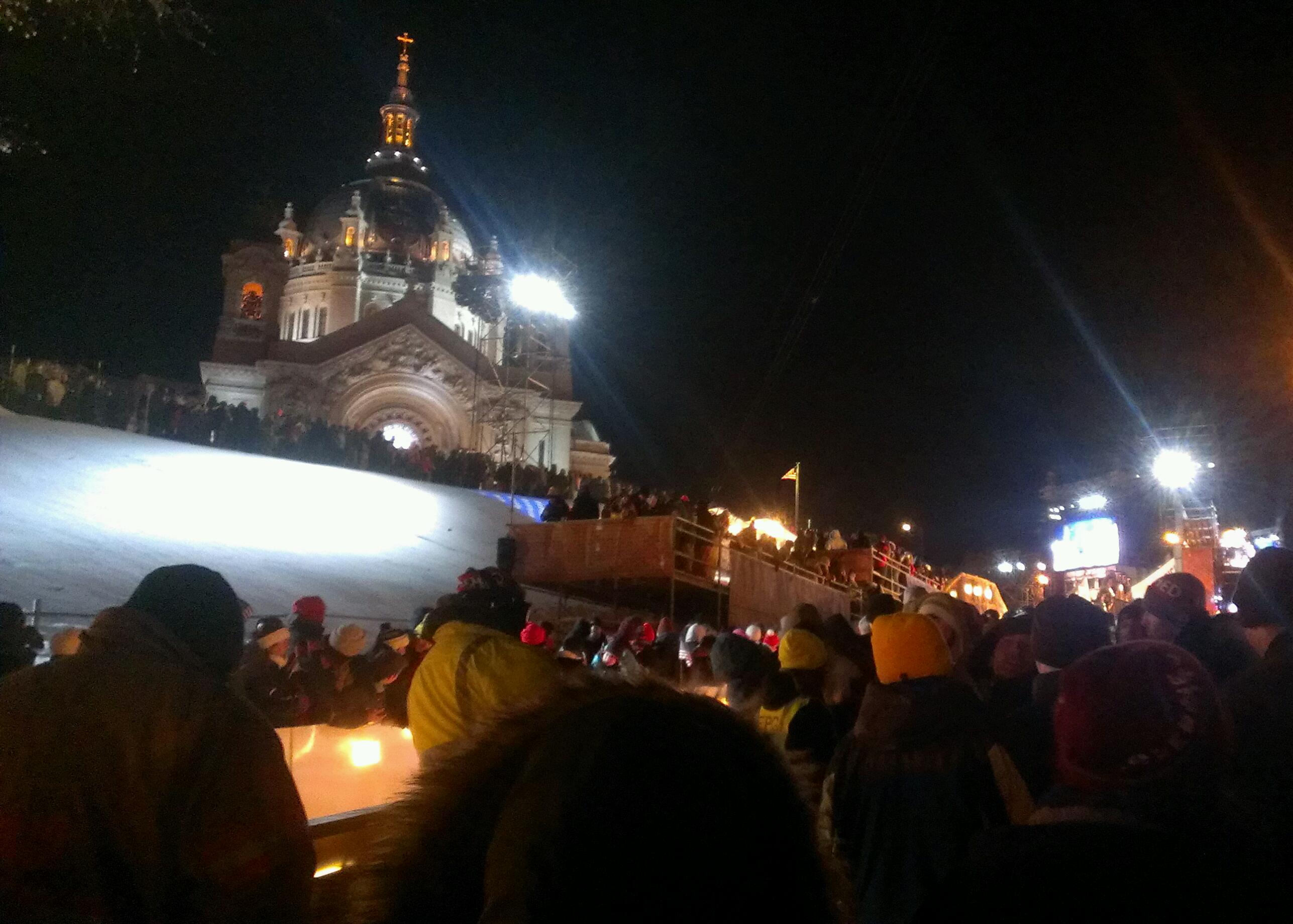 Red Bull: You need more bleachers! If I go again next year, I'll make sure to get there earlier and save a spot with a better view of the track -- or I guess I could try to meet someone with an apartment overlooking the action (Better View + Warmth = Extra Fun). All in all, Red Bull Crashed Ice was a fun event worth checking out for yourself. If you decide to go, plan for some parking challenges, dress warm, and get there early enough to get a good seat… And then enjoy the frozen (and free) mayhem. Photos via: Google and Brent Lee