Richard Sherman -- Receiving the Public Scorn He Deserves
Posted by Matthew Deery on Wednesday, January 22, 2014 at 12:00 AM
By Matthew Deery / January 22, 2014
Comment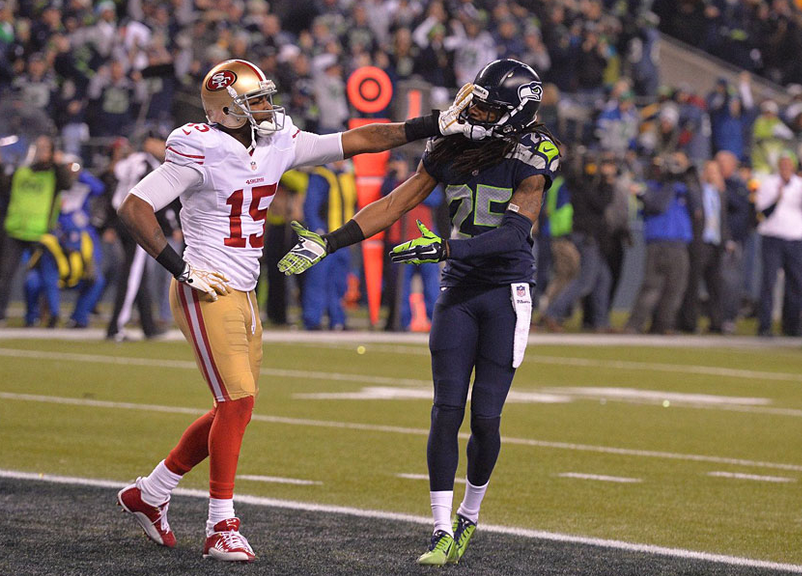 Richard Sherman, undoubtedly one of the best cornerbacks in the NFL, just went from only known by football die-hards to known by anyone and everyone who has paid any attention to the media in recent days. People who don't even watch football or have any idea who Sherman is now have had plenty of conversations about him recently. I've read countless articles and heard many TV pundits defending Sherman, and I'm sick of it. Though initially I planned to not write anything on the issue, I recently came across
this piece
in The Huffington Post that reversed that notion. At this point, I feel like I need to be one of those people who calls out Richard Sherman for his childish behavior -- and as of today, I think even he knows how classless his actions were. This is going to be long, so bear with me. As an avid fan of the NFL and someone who has followed Sherman's rising career, I feel like people really need to hear the entire story. To start, most were upset by Sherman and his
WWF-like tirade
where he yelled into the camera in his post game interview with Erin Andrews. That wasn't the only time Sherman was running his mouth -- he also spat off in an interview
with ESPN's Ed Werder
and in his
formal post game interview
in front of the legions of waiting reporters. To sum it up, Sherman called himself the best corner in the league (which he is -- though he's lucky the rest of his teammates are dominant run-stoppers, because he surely is not), he called 49ers wide receiver Michael Crabtree mediocre at best (which he's not), and thanked 49ers quarterback Colin Kaepernick for throwing the interception. But all this talk wasn't even his most egregious behavior, it was his physical mockery of Crabtree and Kaepernick.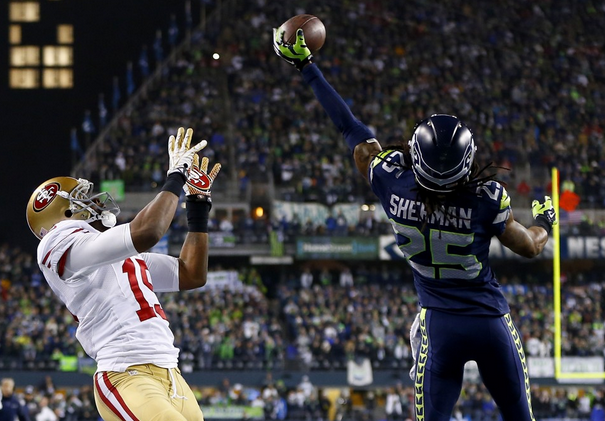 All things considered, football is the definition of brutality in sports -- only the strongest physical and mental (the sport is extremely strategic) men can not only thrive, but play football at this level. On the field, emotions are always high, the adrenaline is always flowing. And coming off that huge play Sherman made, to clinch the NFC Championship and send his team to the Super Bowl, it's expected his emotions would be running high. It should also be noted that Crabtree and Sherman had an offseason spat in which they almost got into a fight at a charity event -- Sherman's account is that he tried to shake Crabtree's hand and his NFC West rival tried to fight him (more on Sherman's perception of handshakes later). I also want to point out that, post game, the Twitter world was alive with verbal abuse and hate, much of it race related (come on America) and I do not condone that type of assault on Sherman. He is still a good person, just one who made an ass of himself in front of a national audience. He has always had a chip on his shoulder, wanting to prove doubters and haters wrong -- this mission has made him into the great player he is, but also has caused him to sound like a jerk on more than one occasion. Lastly, I wanted to note that this is the type of person Richard Sherman is, albeit, not usually
this
outspoken. He has
taken shots
at reporters like Skip Bayless who had the opinion Sherman wasn't among the league's best players -- Sherman retorted that he was "better at life" than Bayless (that's mature to say to someone holding a different opinion than you). Last year in the playoffs, he acted like an arrogant fool when the Seahawks defeated the Redskins, waving bye to the crowd and
relishing victory
in the face of his defeated opponents. This is just who Sherman is -- he's the best, and he knows it.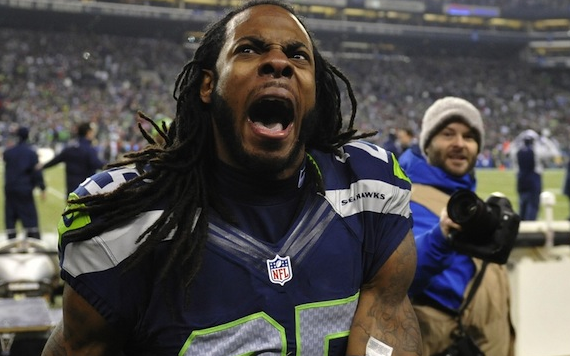 Many call this type of behavior entertaining, refreshing even that Sherman was brash in the post game interview and didn't respond with the standard, "We all fought hard to accomplish this goal, etc. etc." But I'm going to make the argument, he can still be refreshing and not cliché without being a complete ass who embarrasses his team and makes the Seahawks a team hated. The article that really made me upset, this
Huffington Post piece
by Issac Saul, calls "the heat Sherman is getting is not just misguided but ludicrous." He states:
...let's talk about Richard Sherman in the NFL. Let's talk about the Stanford graduate from Compton who has never been arrested, never cursed in a post-game interview, never been accused of being a dirty player, started his own charitable non-profit, and won an appeal in the only thing close to a smudge on his record.
And:
Yet, when one kid who has overcome everything, one kid who was doubted by the very player he overcame on Sunday, decides to emphatically claim he is the best (by the way: he is), this is what upsets us? Man, could you imagine if this generation had to deal with Muhammad Ali?
And:
But in reality, what Richard Sherman did was teach us about ourselves. He taught us that we're still a country that isn't ready for lower-class Americans from neighborhoods like Compton to succeed. We're still a country that can't decipher a person's character. But most of all, he taught us that no matter what you overcome in your life, we're still a country that can't accept someone if they're a little louder, a little prouder, or a little different from the people we surround ourselves with.
First off, Muhammad Ali competed in a sport where he was his own team, he represented himself. Sherman on the other hand, is a part of the Seattle Seahawks, a
team
. Sherman represented himself, and put himself above said team -- his play didn't win the game -- his play was part of the
many
reasons the Seahawks won the game. Sherman didn't score any touchdowns. Sherman didn't play all eleven defensive positions. He is part of a team, one filled with great players like himself. Yet, so few are discussing the Seahawks -- we are discussing Richard Sherman. His actions alone turned the Seahawks to public enemy number one -- now all the neutral football fans in the country are
rooting against
the Seahawks in the Super Bowl. Mr. Issac Saul clearly thinks America has something against Sherman for reasons other than his outrageous and unsportsmanlike behavior. And it's more than infuriating. While you can be of the mindset that sportsmanship is dated and unnecessary, a lot of America feels differently -- and that clearly is what's at play here. Most Americans who teach their children to be graceful or good winners, who teach their kids to be good sports, are upset when they see some punk, yes a Stanford graduate who is very intelligent can be a punk, shaming his opponents on a national stage.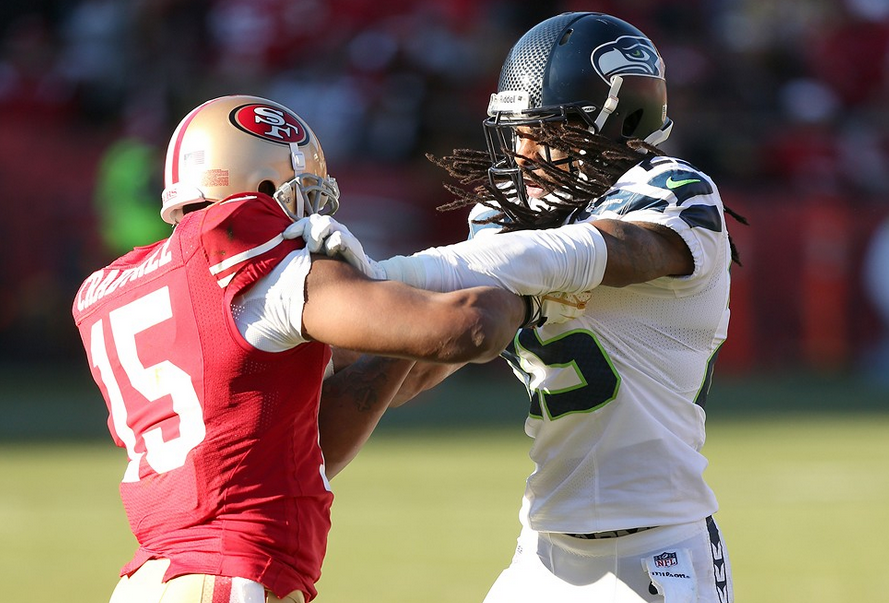 I'm sure so many Americans took to social media in their disgust because they weren't ready for a lower-class American from Compton to succeed -- I'm sure most regular Americans knew Sherman's life story before they hit send on those tweets. It had nothing to do with the fact that he just won and rubbed it in the face of his opponents, even going as far to physically and verbally insult Crabtree. And funny enough, diminishing Crabtree's talent only weakens Sherman's accomplishment of covering him -- furthermore, everyone who watches the NFL knows Crabtree, when healthy, is in the top tier of NFL wideouts (not elite, but he's up there). I love how just because Sherman is usually a pretty good guy, and because he came from Compton and rose above, and because he does charity (what professional athlete doesn't?) that people like Saul use that as justification for him being a poor winner. It's not just what he said, it's for going over to Crabtree, in his moment of despair, his team just lost in the final moments of the biggest game of the season, and Sherman has to get in his face, smack him on the butt, and mockingly try to shake his hand. Personally, I for one love Sherman as a player -- he is elite at his position -- but there is something to be said about letting your play speak for itself, and not acting like a classless winner when you have bested your opponent.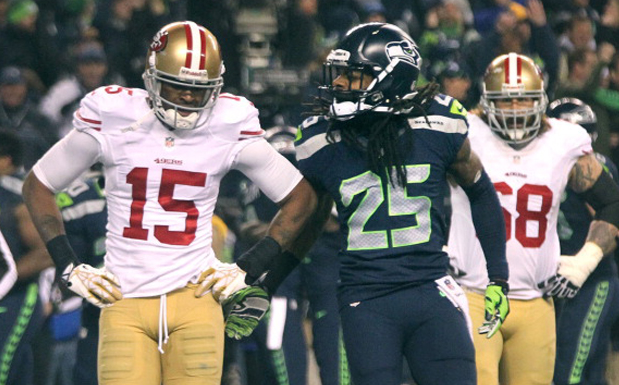 And this is what Sherman said initially about this action:
I ran over to Crabtree to shake his hand but he ignored me. I patted him, stuck out my hand and said, "Good game, good game." That's when he shoved my face, and that's when I went off.
Clearly Sherman was under the impression he was being a good sport, going out of his way to chase down Crabtree -- but we all know that isn't the truth, but more an attempt to upstage his defeated opponent. That handshake attempt was not genuine. Not one bit. So earlier in the offseason, when Sherman tried to shake Crabtree's hand at the charity event, was he really trying to shake Crabtree's hand, or was it just another mocking attempt? After that clinching interception was made, Sherman ran towards the Niners offensive unit, holding his hands to
his throat
telling the world Kaepernick had choked. Did Kaepernick really choke? Or did Sherman just make a great play? Can't have it both ways. Great players make great plays, and every instance of failure is not a result of choking. The throw from Kaepernick was not good, and even the decision wasn't smart, but having watched the entire game, I wouldn't say Kaepernick choked, I'd say the elite Seattle defense made a fantastic play.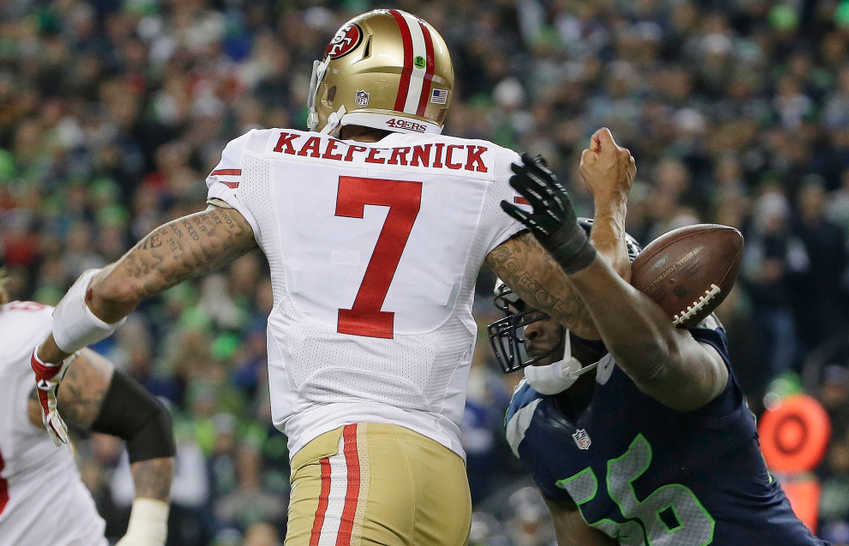 And even despite all his antics, on Monday Sherman even tried to play the victim, saying:
I don't want to be a villain, because I'm not a villainous person ... To those who would call me a thug or worse because I show passion on a football field -- don't judge a person's character by what they do between the lines.
If Sherman doesn't want to be a villain, he shouldn't act like one. A "hero" or a "good guy" doesn't gloat in his opponents face, especially in the very moment of victory. It's also hard to ask people not to judge character for his play on the field. That's his job, and as fans, and critics of the sport, we are more than entitled to judge him for the way he conducts himself on the field, both as a player, and a man. No one called him a thug for his play, they called him a thug for the way he deliberately showed up the Niners. Even if he hates Crabtree, there is something to be said about a touch of humility -- and funny enough, Sherman has the word "humble"
tattooed
on his left shoulder. For being so smart, he sure doesn't understand the meaning. And even in subsequent days since Sunday, Sherman has
back tracked
on a lot of what he said, meaning he feels like he did do something wrong -- even initially, he defended his actions, which again points to the notion that the criticism of his actions are justified. Even his head coach, Pete Carroll, thinks what Sherman did was wrong and made a point to pull his All-Pro corner aside to discuss the event. With Carroll speaking against Sherman and his actions, and then Sherman apologizing, clearly Issac Saul doesn't know what he is talking about and is using his platform to simply use this backlash as evidence for social injustice. The Huffington Post article is quite ludicrous itself and uses the good aspects in Sherman's life to justify a stupid one. We get it, Sherman's really a smart, eloquent, good-natured guy -- really, if he's so smart, then he should know better -- especially if he didn't want be considered a villain. His good character most of the time doesn't mean he didn't embarrass his team by putting himself above the
team
accomplishment that night -- the ridicule mostly means people do not like the way he acted, it doesn't mean America isn't ready to embrace an outspoken football player from Compton. Sherman isn't a bad person, but he makes people think so when he continues to act this way. Should he change? For the most part, I'd say no -- this mentality has got him to where he is -- however, he should think twice about putting his beef with other players out for all to see. Most NFL players talk smack -- most also have the mental capacity to keep it on the field and between the players. This type of competition makes the sport great. Back in the day, many people hated Reggie Miller for his famous
choke sign
at Madison Square Garden -- a lot of people hated Deion Sanders and all his showboating. If Sherman doesn't want to be the bad guy, he needs to stop acting like one -- that, or start embracing the role as the villain. Either way, Sherman and all his defenders need a reality check -- Sherman's tough childhood, rise through education, good standing in the community, and love for his family mean nothing if he runs around rubbing his success in the face of his opponents.
Most people outside of Seattle don't like him because he's an arrogant jerk. That's it. 
Photos via: Google
The personal views expressed in this post are the writers' own and do not necessarily reflect the views of Minnesota Connected or its sponsors.