Robert and Erik Enjoying Beer - 'Bauhaus Brew Labs'
Posted by Robert Grafsgaard on Thursday, October 30, 2014 at 12:00 AM
By Robert Grafsgaard / October 30, 2014
Comment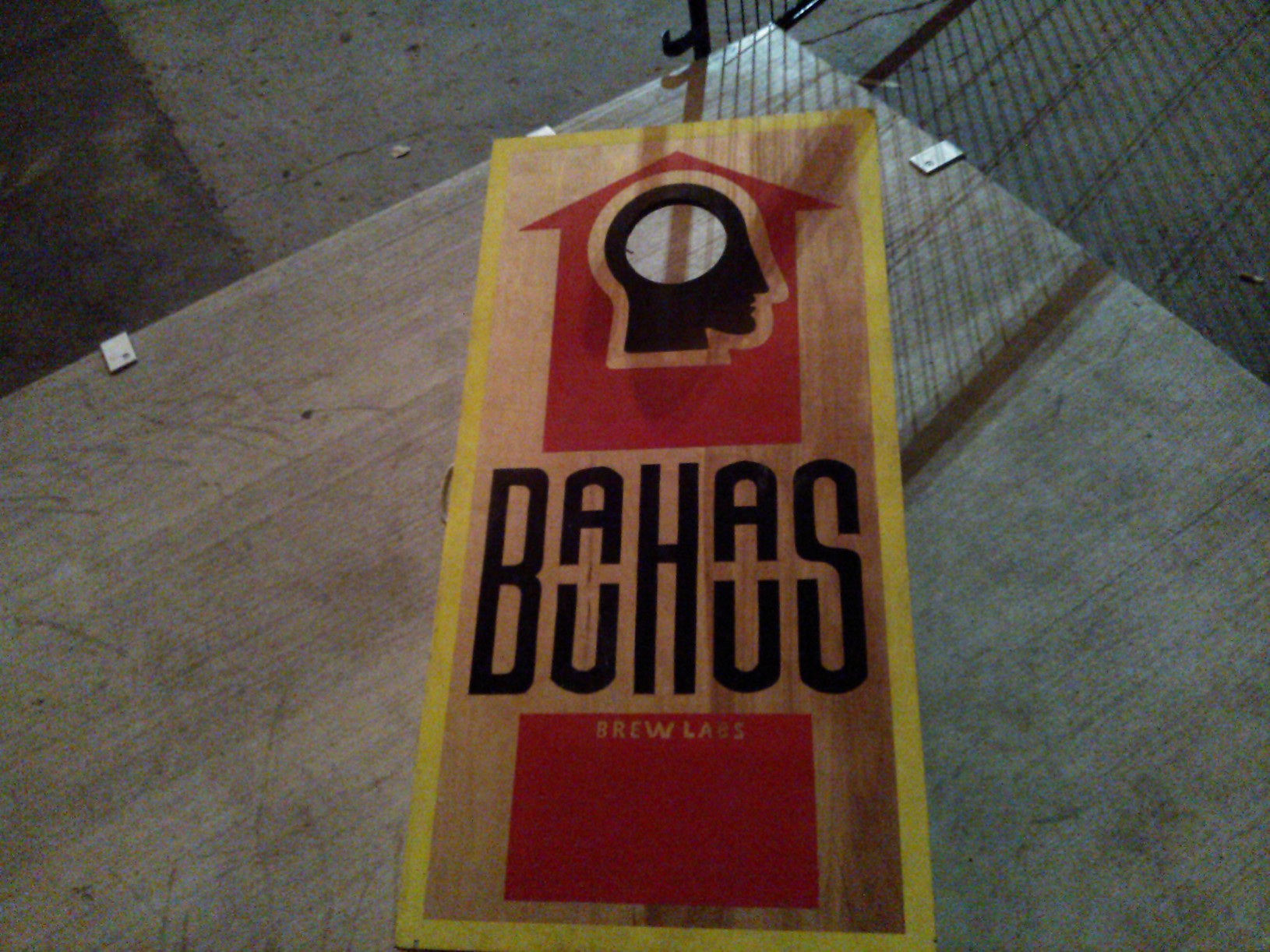 Beer has always been important to us (Robert and Erik). Be it home-brewing, savoring a Bavarian masterpiece or just frothing our respective mustaches on pitchers of Hamms at a local dive bar, we think about, discuss and enjoy our ales and lagers all the time. So it's with great pleasure that we introduce the first of (hopefully) many articles (and podcasts!) on Minnesotan breweries. Not enough is being said about Minnesota beer! It's time to start navigating the yeasty, hoppy renaissance that is sweeping our state. This week we take on
Bauhaus Brew Labs
of northeast Minneapolis. Bauhaus opened this summer in the
Windom Park neighborhood
 joining other neighboring notables such as 612 Brew and Sociable Ciderwerks.
Take a Listen:
[audio m4a="http://minnesotaconnected.com/wp-content/uploads/2014/10/Bauhaus.m4a"][/audio]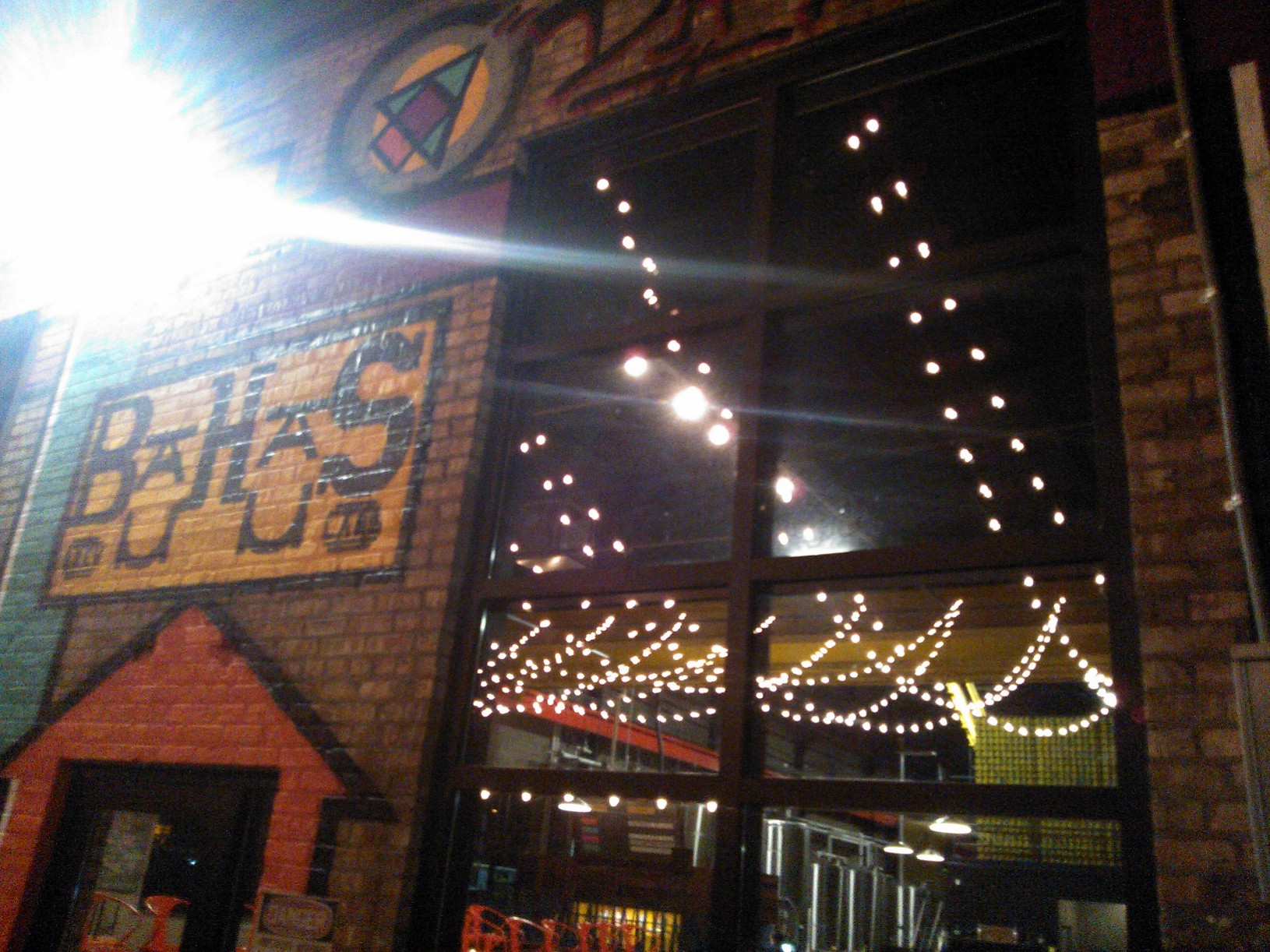 Atmosphere
Robert:
Nestled in the back of a warehouse complex, the brick and glass behemoth that is Bauhaus Brew Labs provides ample space for both brewing and imbibing.  A small stage sits at the corner of the spacious showroom floor lineated by several rows of long tables reminiscent of a Bavarian Bierhall – no doubt intentional considering the proprietors' pretensions to a nouveau Deutschlander branding whose signage invites you to attempt questionable pronunciations of their house catchphrases – opening out to a spacious patio area with ample picnic tables for a weekday night pint or three. Whistles and chugs of a nearby train track set the outdoor ambiance under the overhang of a high steel-work shelter to compliment the hip-industrial feel of Bauhaus' ample environs.  On any old weeknight expect prompt, friendly service, and room enough for you and comrades to find your own niche while still able to eavesdrop on nearby conversation.  One sole grievance, but an important one: Bauhaus is very proud of their sound system, and wants you to know it: high decibel echoes from the cavernous Bauhaus interior drove Erik and I out to the patio's most remote picnic table to discuss our tasting notes.  As someone who strongly prefers a quiet, dimly lit booth, I still understand the role of loud music to keep the energy alive at a thriving, thronging party; however, a pint on a weekday night at a local microbrewery taproom is hardly the place or time for reverberating bass or indie beat alike.
Erik:
The non-live music at Bauhaus certainly was my only complaint as far as the atmosphere was concerned; at least outside there was a place for a bit of peace and quiet. However, the stage, plentiful parking and clean, spacious interior could prove this place to be a valuable and sought after venue for performances of live music (among other things). There's also plenty of functional room for food trucks and even a spot for bag toss. Bauhaus seems poised and determined for success in the long term, just as long as their patrons (and beer) make it happen. The size and scale of the brew operation they showcased behind their front-house portrayed a certain degree of potency as well.
Seasonal Rotation of Beer - Schwandtoberfest
Robert:
Ever excited for a Festbier, I was glad to see that my pint of Schwandtoberfest poured a pale orange that hearkened to the Old Country originals.  Though I enjoy darker, hoppier, somewhat caramelier American versions, I consider efforts from the old Bavarian houses to always be the more indulgent treat.  I was, however, a little disappointed at the rather one note taste that did not change or build throughout the entire pint. 5 out of 10 – "Middle of the Craft":  I would normally be more critical, but Festbier is such as loose category that there is space for a less robust example among the myriad on the international market.  Schwandtoberfest may not have the depth of malt as its Old Country kin, but it is dangerously drinkable nonetheless.
Erik:
This beer had better tasting malt than the well-known domestic Oktoberfests of Summit, Schells, Lienenkugels and Samuel Adams. It's still a far cry from something arriving from the homeland of Oktoberfests though. Bauhaus Brew Labs elected to not cover up the weaknesses of their (I'd assume mostly domestic) malt by making this beer especially hoppy (which seems to be the hallmark of American Oktoberfests) or overly sweet. In fact this beer has a lower IBU than any of their regular four allowing a favorably clean finish. 8 out of 10 – "Local Favorite": It probably deserves to be a few points lower, but I'm feeling generous as domestic Oktoberfests tend to be perpetually underwhelming... and this one wasn't!
Regular Rotation - "Wonderstuff" (Neu Bohemian Pilsner)
Erik:
I would have a hard time calling this a Pilsner. It's reminiscent of Grainbelt fermented with higher quality yeast and then mixed with orange juice, but in a good way. The disparity between the subtle malt foundations and the citrusy hop hammer brought down at the end nearly results in a failed beer; but the hops hold off their attack long enough for me to enjoy the other qualities. 6 out of 10 – "Better than Most": This beer might be slightly above the average beer, but with a few changes it could have been so much more.
Robert:
I had something against this beer before I even tried it.  Described as a Bohemian Style Pilsner, a style known for clean, superb malty breadiness with accentuating floral and herbal hop notes, I was pessimistic about Bauhaus' choice to forgo tradition for a "citrus hop twist."  Never a fan of West Coast hop characteristics that supply citrus effect, I wasn't surprised to have a natural distaste for Wonderstuff. 3 out of 10 – "Something that Resembles Beer":  My reservations aside, this beer tastes like orange juice without the added sugar; the slim malt there is cannot come close to balancing the overt one note citric hoppiness.
Regular Rotation - "Stargazer" (German Style Schwarzbier)
Erik:
This is by far the best done beer of their regular four. It has a couple well-executed malty notes and a finish that's bitterly clean (but not hoppy). This beer is the central reason to come to Bauhaus. If it had more complexity it could compete with the big boys (like Brau Brothers) for the title of best beer in the state, but for now it's just one of the better beers in Minneapolis. 7 out of 10 – "Try It": This beer takes on a strong 7. I'm partial to the style and I like when it's done well; this is done fairly well.
Robert:
 Bauhaus' interpretation of an oft underrepresented style Schwarzbier, a darkly malty yet crisp lager with accents of noble hops, I was glad to taste that Stargazer represents the style fairly well.  Whereas notable Bohemian and German examples offer a more robust mouthfeel and depth of malt character to contrast the crispness offered by lagering, the process of cold aging beer for months at a time, Stargazer seems to trend towards lighter crowd-pleasing refreshing crispness. 7 out of 10 – "Try It":  A good attempt towards a great beer, this is Bauhaus' most unique and palatable offering.  While lacking the complexity of its foreign counterparts, this beer has promise.
Regular Rotation - "Wagonparty" (West Coast Style Lager aka California Common)
Erik:
This beer was probably a good idea for its concept. It has semi-decent malt and some standard hops; but whether its the yeast or disparity of flavors, something went very wrong with this beer. It has some funkiness to it that I can't quite account for and I'm not comfortable with. That said, after a few drinks my first time at Bauhaus this stuff went down as easy as the rest. For the non-discriminating tongue it is quite drinkable. 3 out of 10 – "Something that Resembles Beer": This is the worst beer at Bauhaus. It's got a lot of good ingredients but they are used wrong, or at least wrong to my palate. I semi-enjoyed my first sip, but after that, it went downhill fast.
Robert:
A first taste of decent malt on the palate from this imitation California Common is assaulted by dank hops that bring to mind onions and perhaps a bit of stewed cabbage.  I am no hophead, but don't mind challenging my palate; the latter hop flavor, while not sounding appealing can yield complexity in controlled quantities.  Not so in Wagon Party: the failure of this beer lies in the disparity of flavors, the way that the good malt bill clashes with the dankness of the hop profile to create something that made me cringe. 2 out of 10 – "Unservable":  As with Wonderstuff, this beer started from an interesting idea – an experimentation with a classic style – that seemed interesting on paper but does not please the palate.  I personally found this beer undrinkable beyond a few sips.
Regular Rotation - "Skyfive" (Midwest Coast IPA)
Robert:
Described with the increasingly familiar terminology of "North" or "Midwest Coast" IPA, which has come to mean light, slightly bready malt with an even keeled dose of West Coast hopping, Sky Five is just that: familiar.  Sure to be an old standby of IPA enthusiasts, this beer nevertheless does nothing to distinguish itself, for connoisseurs of the style, from any other IPA you can find at other local taprooms. 4 out of 10 – "Forgettable":  Not bad by any means, just not much to say.
Erik:
There is very little to this beer that can't be found at other craft breweries. Maybe there is a standard Minnesota IPA recipe going around? If you were to line this up with other IPAs around the state, nothing would give it away as "the one from Bauhaus." Typical hopped up bitter beer. 4 out of 10 – "Forgettable": This is the definition of a forgettable beer. [caption id="attachment_336163" align="aligncenter" width="570"]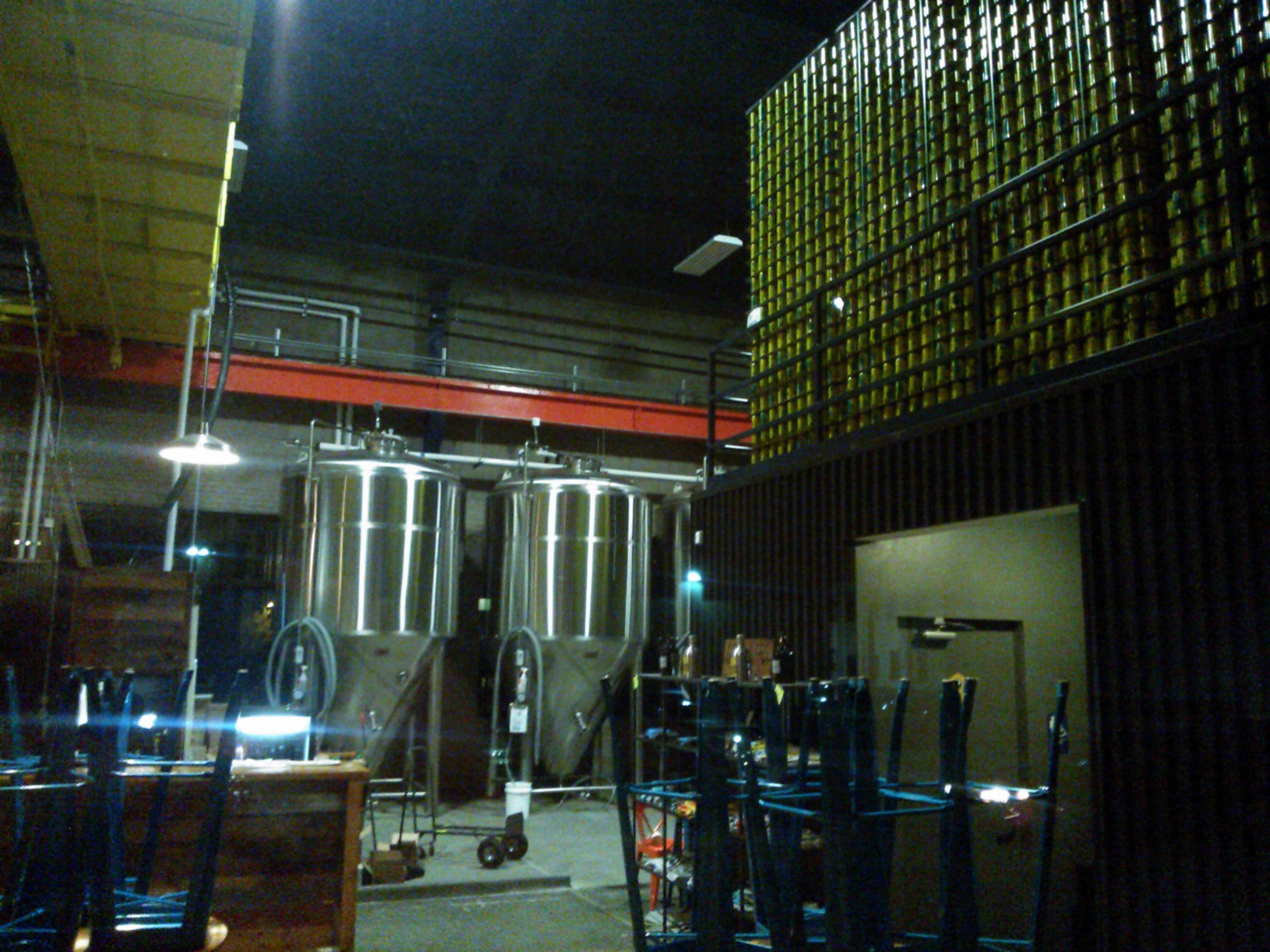 Bauhaus at Closing Time[/caption] Pictures by: Erik Bergs