Robert and Erik Enjoying Beer – Burning Brothers Brewing
Posted by Erik Bergs on Wednesday, December 3, 2014 at 12:00 AM
By Erik Bergs / December 3, 2014
Comment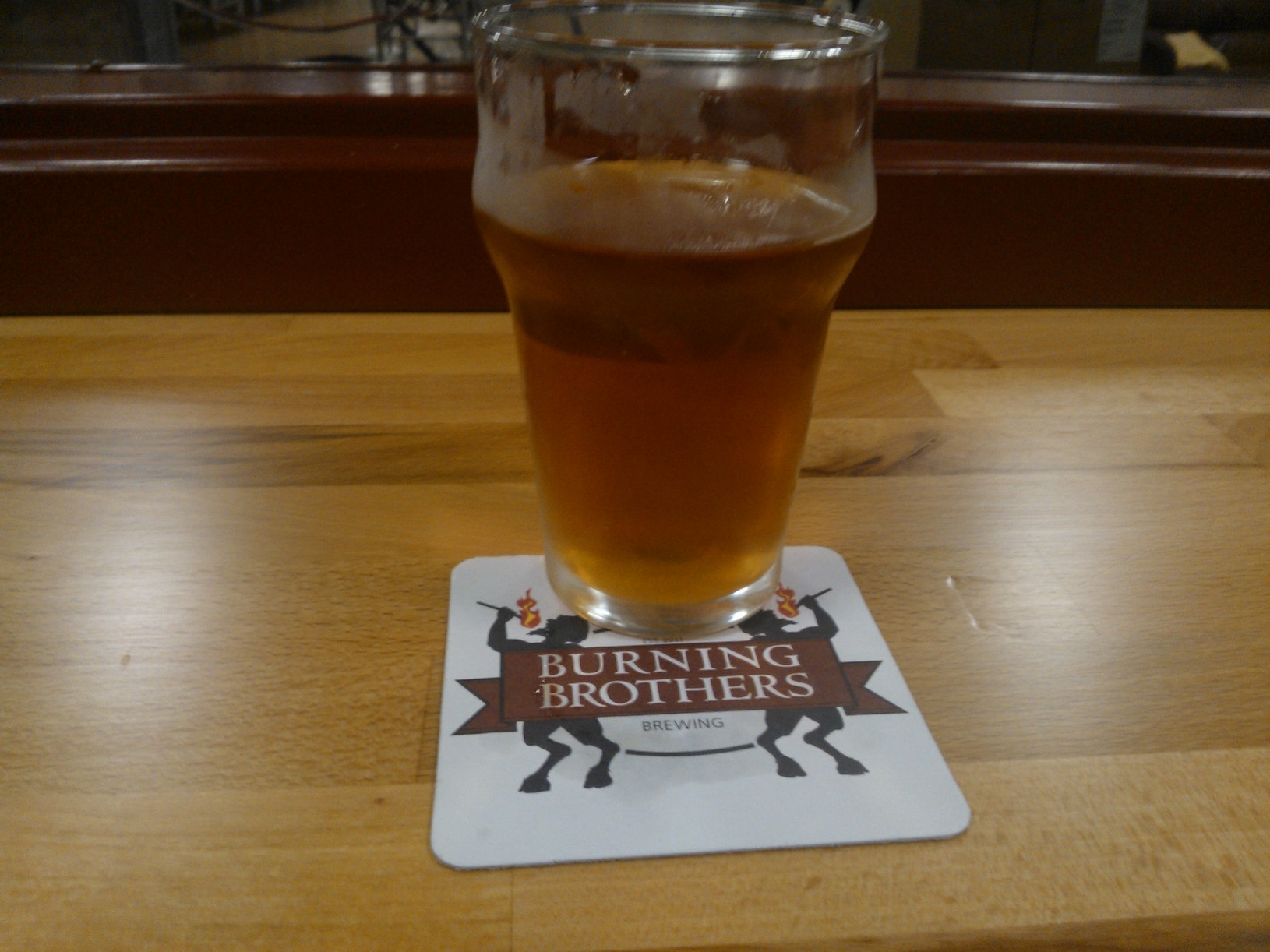 One recent start-up that has been gaining interest (and distribution) is
Burning Brothers Brewing
. Their specialty is gluten-free beer; not just gluten-free in the legal sense, but an actual zero parts per million sense. They do this by brewing in a completely gluten-free facility and by using sorghum, an ancient and drought hardy crop that has changed little through the modern era. We decided to pay them a visit. We 
had
 to stop in and give it a try.
Take a listen:
Atmosphere
Robert:
Located on Thomas Avenue in the heart of
St. Paul's Midway district
, the Burning Brothers taproom mimics both the office/industrial and residential it straddles: the interior at once welcomes you with the friendly service of its regular bartenders while reminding you that you are imbibing in someone's workplace under the garish fluorescents amid the sterile walls that reflect the blinding artificial rays. Serviceable at best, Burning Brothers' taproom differs greatly from the manicured décor of such recent visits as
Urban Growler
and
Bauhaus
. By no means a destination brewery, Burning Bros' co-founders seem satisfied to maintain a laconic storefront with a literal window into their brewing operation. Speaking of, you'll find the least claustrophobic, migraine inducing seating at the humble folding table and chairs among the megalithic stainless steel tanks, whenever the brew house door is officially open and beckoning. A benefit to their small taproom operation, Burning Bros' co-founders often seem eager and willing to show off their shiny spoils of investment in an impromptu and guided albeit brief brewery tour.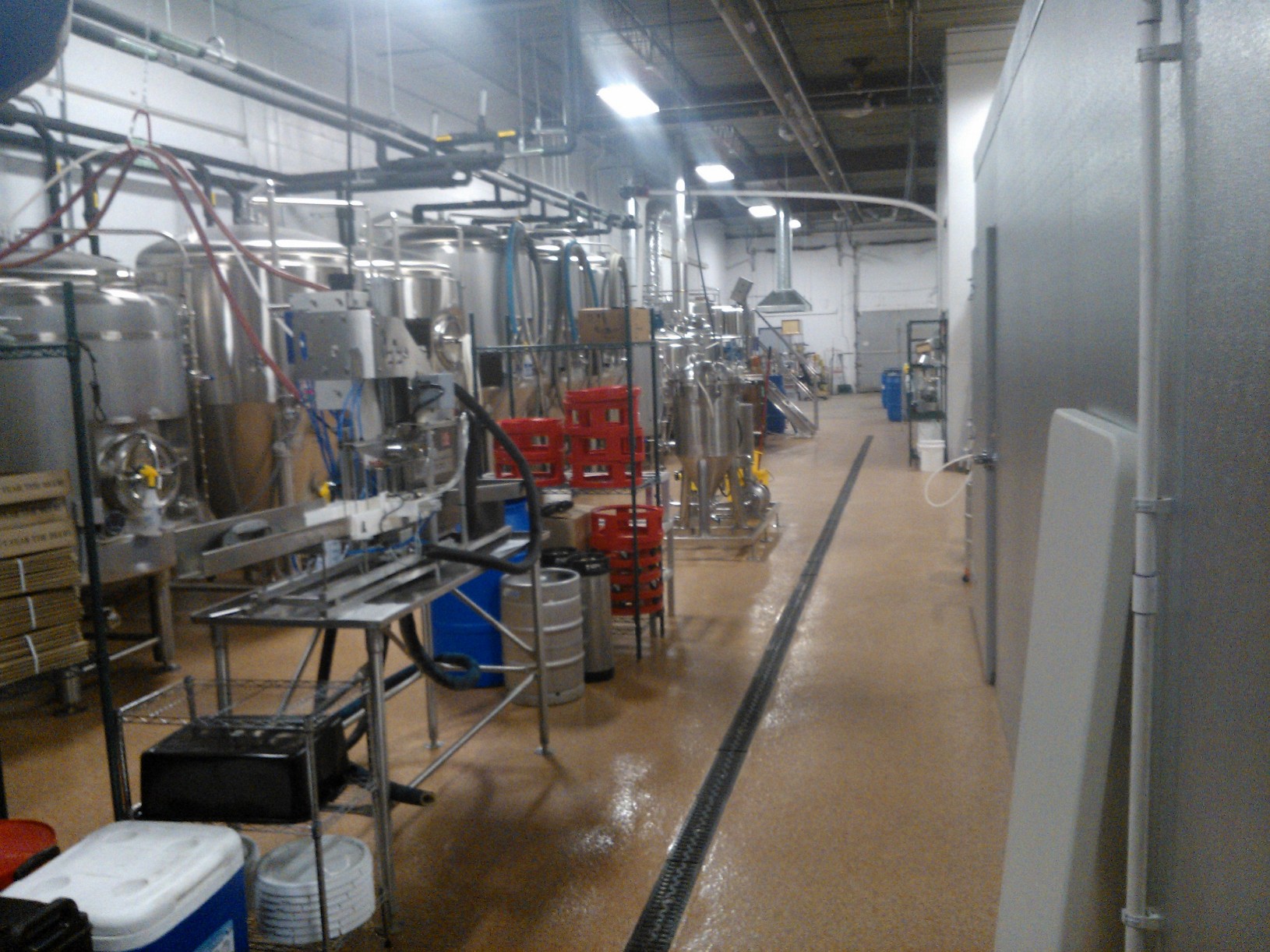 Pyro – American Pale Ale (Their flagship beer)
Erik:
 If Burning Brothers have their way, Pyro will be widely distributed in its canned form (keg lines could cause cross contamination). I've seen it at restaurants and I even found it freshly arrived at the municipal liquor store in Alexandria, MN. A hoppy bite penetrates its sorghum simplicity: a fresh bitterness which holds on for the whole pint. The flavor of sorghum beer is distinguished from barley beer in its light, gentle characteristics; these would normally push it towards being a session, but this specimen chooses to carry a shifting mix of sour, bitter and sweet flavors instead. The flavor as a whole, for this and all their beers, changes with each sip. It's not for everyone, but worth a round. 7 out of 10 – "Try it": Hardly earns this 7, but I would recommend it be given at least a half-pint sampling. If you are allergic to gluten and it's your only option, be happy you have it!
Robert:
Burning Brothers' flagship pale ale, this beer is thankfully everything that many gluten-free beers—so often watery and tinged with a one note, unsatisfying cider characteristic—are not. In fact, Pyro has too many flavors struggling for supremacy. In an effort to quell strong taste of sorghum, the brewers cultivate certain flavors that are normally considered "off" in regular beer. While these secondary flavors certainly play a complex counterpart to the richness of sorghum, Pyro lacks cohesion and balance on the palate which make it hard to recommend as a sessionable ale. 7 out of 10 – "Try it": A certain recommendation for those that need or are curious about gluten-free beer, Pyro's warring flavors may become off-putting at the bottom of the glass. Those without need of a gluten-free alternative should pass; while the flavors are interesting at first, they can become tiresome.
Pyro Fruit Infusions
Robert:
What seems to be an ongoing and regular series based upon season, Burning Bros has thus far offered lime, raspberry, and cranberry "infusions" of their Pyro pale ale. Of these, I tasted some of the raspberry and was not enticed to try others. While the raspberry stayed away from being syrupy sweet, the infusion of fruit was so subtle as to be lost among the other diverse flavors of Pyro. 4 out of 10 – "Forgettable": An attempt to please the palate of those in need of a gluten-free alternative to popular seasonal fruit beers, they fail to add anything noteworthy and unique to an ever broad style.
Erik:
Both Cranberry and Raspberry infusions failed to give a flavor that could properly combat the Pyro's layer of bittering hops. I'm not sure if even adding more fruit or extract would do the trick (although I suspect they may have used some type of juice). Yet, a lack of glaring mistakes made these beers satisfying enough, just not very interesting. They're very much on par with the original Pyro, but decidedly not an improvement. 6 out of 10 – "Better than Most": I think there is a place in the market for these beers, but Burning Bros could have done so much better.
Roasted-Coffee Ale
Robert:
 A relative newcomer to the regular beer menu, this coffee ale is most likely another infusion of Pyro, with beans most likely added during secondary fermentation. Slightly darker than Pyro, the coffee addition brought balance to the small turmoil of the flagship. Ever the coffee connoisseur and junkie who only acknowledges the brew when it's black and bold, I greatly enjoyed what I perceived to be the subtlety of the blend, while Erik met with an astringent hellbroth. My overall favorite at Burning Bros, the $7.25 Roasted Coffee Ale is sadly one of the most expensive, if not the most expensive local pint in the Twin Cities that does not have a staggering ABV. 7 out of 10 – "Try it": While coffee hounds should flock to this brew, the bewildering price makes it hard to recommend to the merely curious.
Erik:
The coffee adds a burden to the pale ale base that it can't carry. The overwhelming mass of flavors in this beer send my taste buds into a chaotic struggle to combat an inflamed bitter aftertaste. The unopposed hops already have enough acrid strength, the coffee just clobbers down more in many of the same areas. 3 out of 10 – "Something that Resembles Beer": This beer gets an even lower rating for being needlessly (I think) expensive. In fact it might be the most expensive non-Imperial brewery taproom glass in St. Paul, costing $7.25 a pint.
Orange Blossom Honey Ale
Erik:
The problems of both Pyro and its fruit infusions gets solved with this delicious specimen. The calming effects of the honey does wonders for rectifying the simple sweetness of the sorghum and the bitter hops called for in the making of Pyro. This masterful concoction brings to the table elements of sweet, sour, bitter and even spice (the honey supports more subtle flavors in shining through). Get a growler of this on Thursdays (when they're discounted) and bring it to that gluten intolerant friend of yours! They will be thankful. 8 out of 10 – "Local Favorite": Yum! Very, very high Local Favorite. There are a few things I could say negatively about this beer, perhaps mainly that it's flavor is just a little too strong and simple (but that's just nitpicking). I must conclude that the malt bill of this beer works better with honey than any I have tasted before.
Robert:
Yet another parallel to Pyro pale ale, Orange Blossom Honey Ale was introduced early this summer alongside the first round of fruit infusions. An instant classic, the abundant addition of honey to the standard formula brings focus to the schizophrenic Pyro palate. As a rule honey adds smooth dryness to the beer, rounding the overall flavor while subduing harsher notes—exactly what Pyro needed. Whether you need a gluten-free alternative or not, a warming taste of Orange Blossom Honey Ale should be your reason to visit Burning Brothers. 8 out of 10 – "Local Favorite": This beer is what I wish mead tasted like.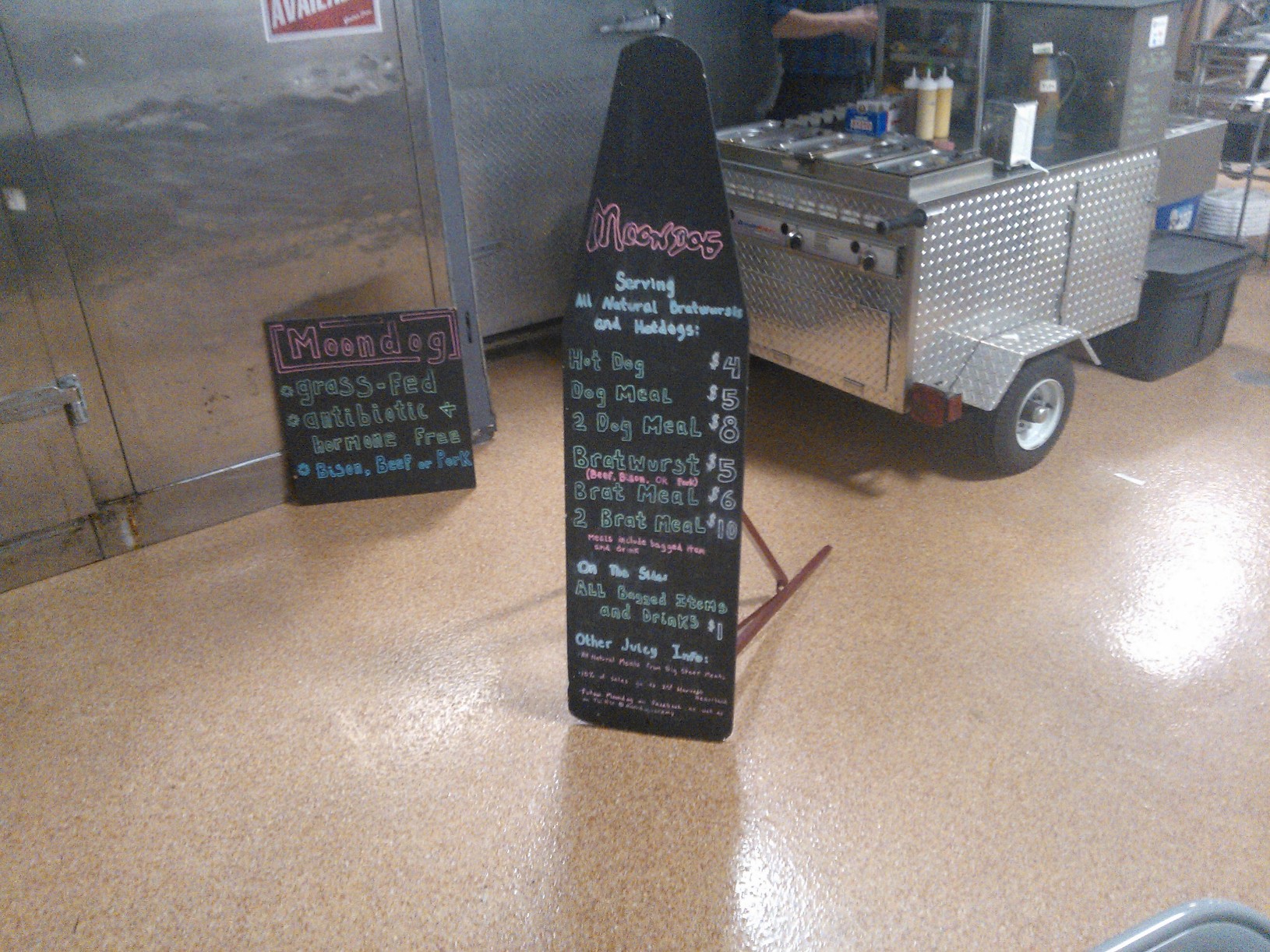 Conclusion
While not exactly brandishing the best taproom in the Twin Cities, Burning Brothers Brewing has product that is on par with many notable barley-using breweries. Their goal of zero-gluten craft beer is both noble and, apparently, doable. We applaud their efforts and humbly encourage our readers to give their beer a try (particularly the Orange Blossom Honey Ale if you make it to their tap room). Photos by: Erik Bergs