Robert and Erik Enjoying Beer -- 'Urban Growler'
Posted by Erik Bergs on Wednesday, November 12, 2014 at 12:00 AM
By Erik Bergs / November 12, 2014
Comment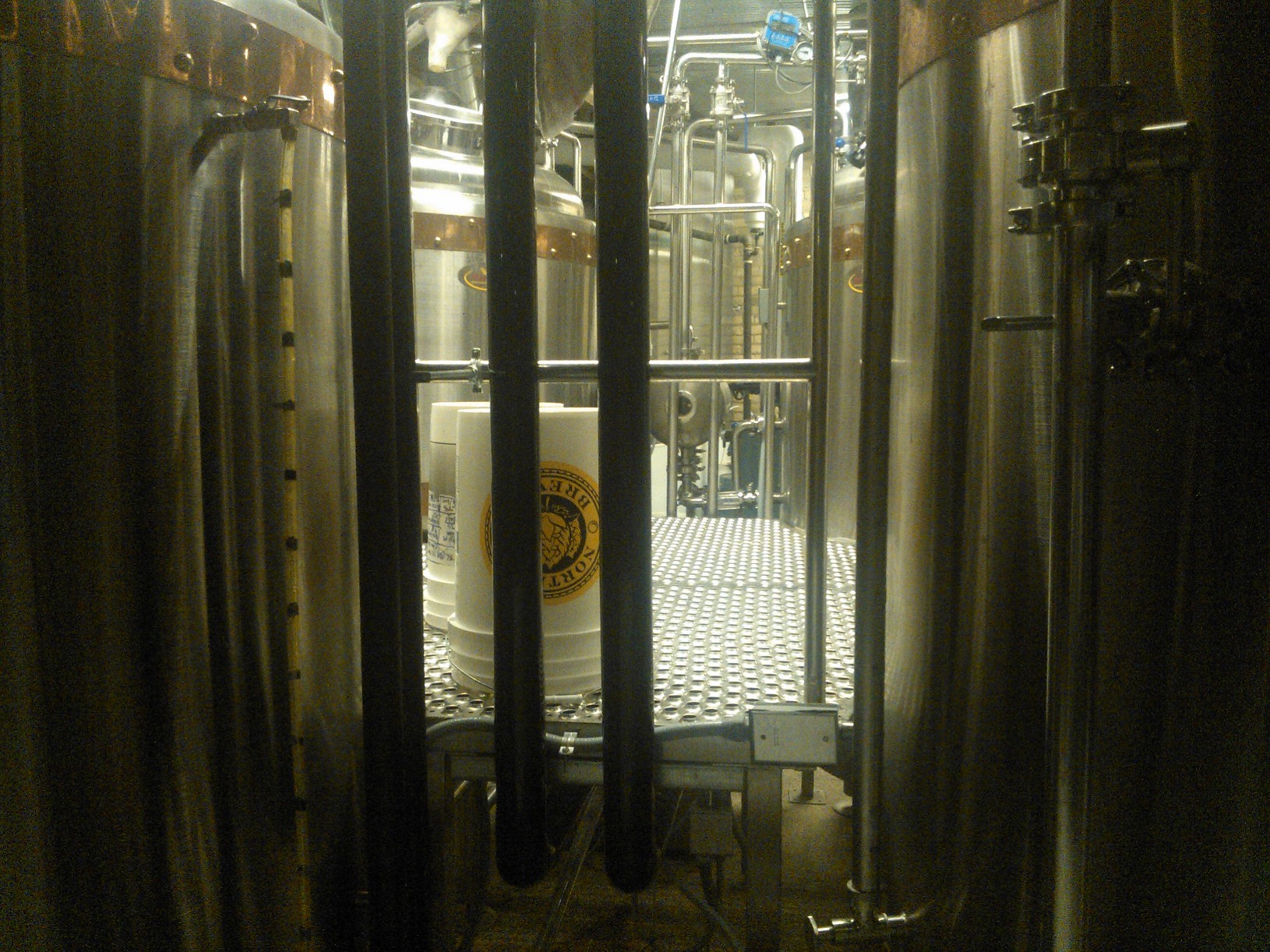 The northwestern corner of St. Paul has followed the lead of nearby northeast Minneapolis and started brewing in earnest. The most notable of these newcomers is
Urban Growler
; Jill Pavlak and Deb Loch (who is famous among home-brewers for her accolades in beer competition) established this
St. Anthony Park
brewery over the past summer. We
had
to stop in and give it a try.
Take a Listen:
Atmosphere
Erik:
Urban Growler provides an excellent environment for catching a semi-casual beer with a friend or co-worker; although it's a little hard to find due to its position between a maze of warehouses and a thick network of railroad tracks. The chosen edifice and stainless-steel instruments of the craft offer a mix of worn-brick grit to backdrop an appealing, professional shine. Things were not scientifically clean like some breweries (
Bauhaus
comes to mind), yet very much presentable. Urban Growler intermingles its brewing operations and taproom more than most. Urban Growler serves food (moderately priced) with their taproom. Indoor and patio seating are available, but keep in mind: if weather is a factor, finding an indoor table might be challenging.
Beer
"CowBell Cream Ale"
Robert:
 An original American creation, cream ale is an easy drinking light ale known for an inclusion of corn as an adjunct to further sweeten and add complexity to what is otherwise the simple taste of light barley, clean American yeast, and an absence of hop bitterness.  Personally not a fan of cream ales, in my mind the European lager's ugly American cousin, I nevertheless found Cowbell refreshing and easily drinkable. 5 out of 10 – "Middle of the Craft": While not a poorly made beer, Cowbell offers no subtlety to its style's inherent simplicity.
Erik:
Although the name pays respect to an infamous Saturday Night Live
skit
the taste doesn't escape the shadow of its more famous cousin: "Spotted Cow" from New Glarus Brewing. While Spotted Cow wields a stronger yeasty funk (due to unfiltered bottling), CowBell Cream Ale pushes its corn-based sweetness and gentle finish. This enjoyable beer would be a good first step to coax a friend away from their Michelob Golden Light shackles. 7 out of 10  – "Try It": There's just enough that's subtle and unique about this brew that warrants tasting. It's hard to reinvent the wheel, especially in such a minimalist style of beer, but in that regard Urban Growler succeeded somewhat. I ordered an additional pint of this beer. It's just easy to drink.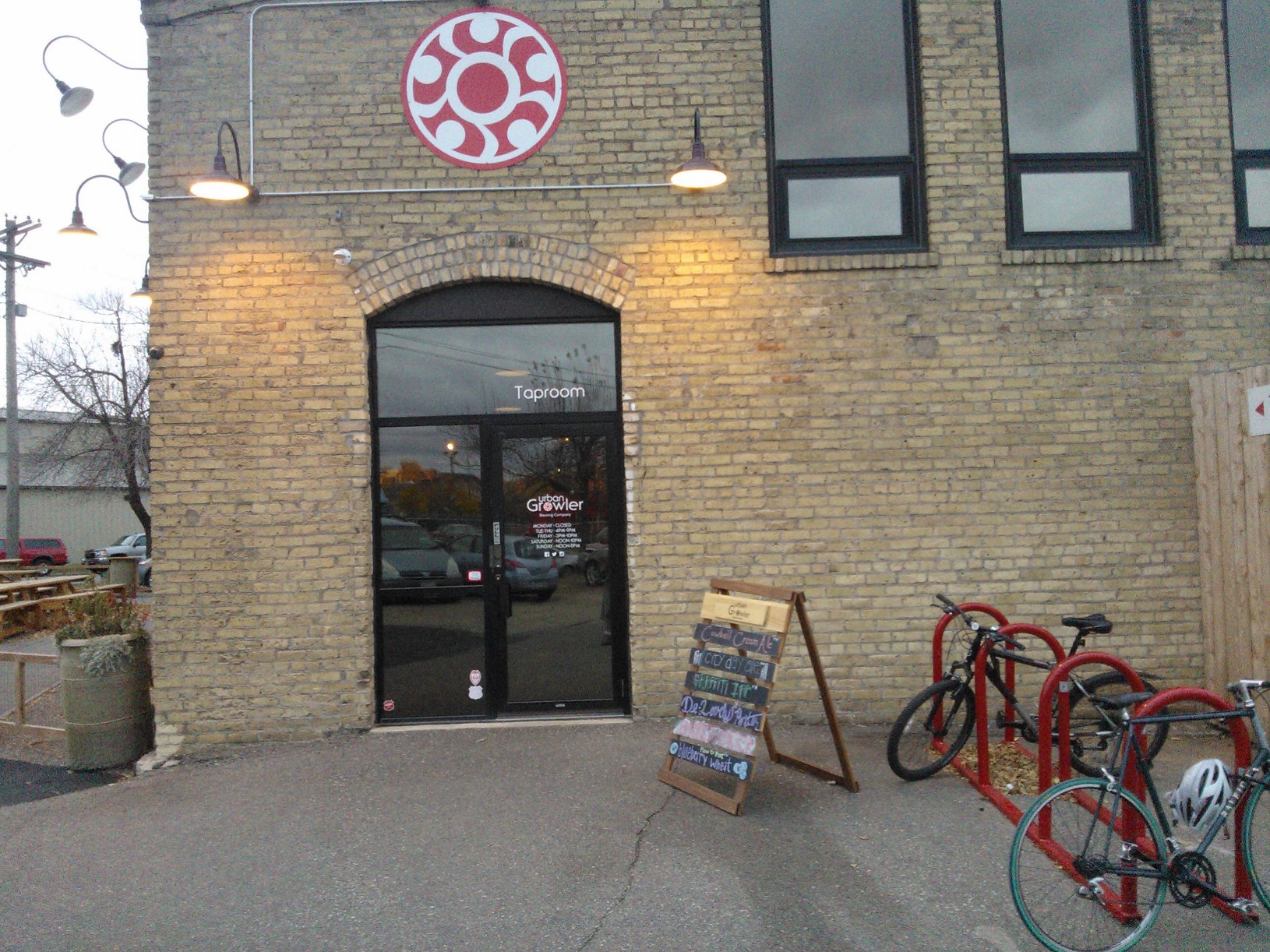 Plow to Pint: "Blueberry Wheat"
Robert:
A creation of Urban Growler's Plow to Pint initiative, whereby seasonal fruit and vegetable ingredients are locally sourced for inclusion in a seasonal brew, Blueberry Wheat's appearance on the menu is part what should be an interesting and unique beer series.  While I commend the initiative to source local ingredients for specialty brews, I have a definite bias against fruit beer.  Wheat as a brewer's grain offers a clean canvas on which to color various flavors, so the sweeter and more complex flavor of barley might not overwhelm or clash with the adjunct, in this and most cases, fruit.  Oddly enough, I would compare this beer's flavor more to a fruit wine due to the utter absence of malt and yeast on the palate, though it happily avoids the cloying smell and syrupy texture of both many fruit beers and wines alike. 3 out of 10 – "Something that Resembles Beer":  I would hesitate to recommend this blueberry drink to any who drinks beer for beer's own innate qualities and characteristics; if you have a distaste for beer and were grudgingly dragged to a taproom, you might find Blueberry Wheat welcoming.
Erik:
This was a flagrant appeal to people who don't like beer. It lacked the cough medicine taste that a lot of these endeavors suffer from, but it also had a brazen candy-like quality. The hops were inappreciable (only 16
IBU
s), the yeast was missing in action and the  wheat might as well have taken the day off too. 5 out of 10 – "Middle of the Craft": This is a drinkable beverage, it isn't inherently wrong to make this kind of beer; but neither is it very challenging or innovative.
"Candy Corn Imperial Cream Ale"
Erik: 
I refuse to believe in the existence of an "Imperial Cream Ale." I understand the concept of making an "Imperial" beer by multiplying the base ingredients (and thus the booze), but a cream ale ceases to be a cream ale with such additions (it drifts closer in taste to many other categories of beer). That said, was this a yummy brew? You betcha! This beer had some depth to its flavor. It was shamelessly sweet, but also balanced in aroma, yeasty funk and bitterness (a hint of grass, but not overpowering). The choice to use candy corn as an ingredient can't be downplayed for its originality (at least in the Minnesota brew scene) nor can the unquestionable success of this beer. 8 out of 10 – "Local Favorite": I thought about dropping this beer a point or two upon learning that candy corn is simply hardened high-fructose corn syrup; but this beer is worth returning for no matter what's in it. It's simply an original tasting, boozy session beer: that'll win my heart any day.
Robert:
Originally a designation for the imperial Russian crown, the beer-specific term "imperial" was coined for Russian Imperial Stout, which was brewed and sent from England to Russia.  As it was necessary to ship the beer by barrel in potentially arduous and inconsistent conditions, the beer was fermented to high alcohol percentage to accommodate the journey and prevent against spoilage.  Fast forward a century, and the appellation "imperial" has become a popular craft brew trend to denote an alternate version of a beer style made noticeably more alcoholic.  Despite my initial disinclination to an imperial version of what is usually a rather soft and sweet ale, I was pleasantly surprised by Candy Corn Imperial Cream Ale.  To what is a rather one note style, the noticeable taste of alcohol added a layer of complexity and mellowed the sweetness and characteristic vague corn flavor of Cowbell. 7 out of 10 –"Try It": A definite surprise to the palate and a welcome riff on a rather bland style, Candy Corn Imperial Cream Ale benefits from its noticeable ABV.
"City Day Ale" (Kentucky Common)
Robert:
Making a slight resurgence in the past few years from its extinction during Prohibition, Kentucky Common is essentially a somewhat darker, maltier version of Cream Ale that usually incorporates rye along with the standard barley and corn of its lighter cousin.  Though Urban Growler buys into the folk history of Kentucky Common as a subsequent wash of the grist used for sour mash whisky, which thorough pre-Prohibition documentation amply disproves, they have nevertheless created a notable version of the style that unfortunately suffers from balance and consistency issues.  A connoisseur of the style, I immediately gravitated toward it my first trip to Urban Growler, and thoroughly enjoyed it despite an overabundance of hops that negatively masked the complex and subtle malt bill.  When I returned with Erik weeks later, City Day Ale was unfortunately suffering from a twinge of spoiled vegetal hop taste (which I noticed at my first visit to be present in Urban Growler's Graffiti IPA). 7 out 10 – "Try It": Overall a good example of what I consider to be an underrepresented style, I have to lower the score for Urban Growler's issues with consistency and quality control.
Erik:
I want to fall in love with this beer simply for the style and the malt, but the underwhelming name and the confusing flavor hold me back. This beer has more potential than any other beer brewed at Urban Growler, but it's squandered behind a stale yeast sourness and a heavy-handed hoppy bitterness. Reduce the IBUs by 25% and serve it a little fresher, then maybe I'll come around. 6 out of 10 –  "Better than Most": I wouldn't turn a pint of this down by any means. There's lots of flavor bursting behind the scenes in this beer. The malt is phenomenal. It just has appreciable flaws with the hop choices.
"De-Lovely Porter"
Erik:
The name is apparently in reference to a Cole Porter
song
. This beer isn't much more special than beer made from malt extract by novices like me. It might have an extra touch of malty depth, but there's nothing innovative or special about this beer. It's just a porter that's done fairly well. 6 out of 10 –  "Better than Most": The only reason I break this beer from the middle is that it let its malt speak for itself. It didn't throw any weird hop options into the equation thus keeping to the style and resisting the trends. I'd love to try it with some mashed potatoes and steak.
Robert:
A diverse style, what the modern brewer and beer drinker knows as the porter has become a near comprehensive moniker for all dark, mildly roasty beers.  As a fan of this diversity in style, to me trying a brewery's porter is most akin to trying their most especially unique recipe, a defining glass of beer in a sea of myriad nuanced examples.  That said, Urban Growler's De-Lovely Porter left me with not much reaction at all.  De-Lovely is alright, decent, but it doesn't add anything interesting to an expansive style.  I can most closely compare it to a serviceable homebrew kit recipe: not the most satisfying thing you could be drinking on any given night, but it gets the job done. 5 out 10 – "Middle of the Craft": Solid but ultimately unimpressive, De-Lovely Porter, while decent and drinkable, offers nothing unique to differentiate itself as a notable example of a popular and populous autumn style.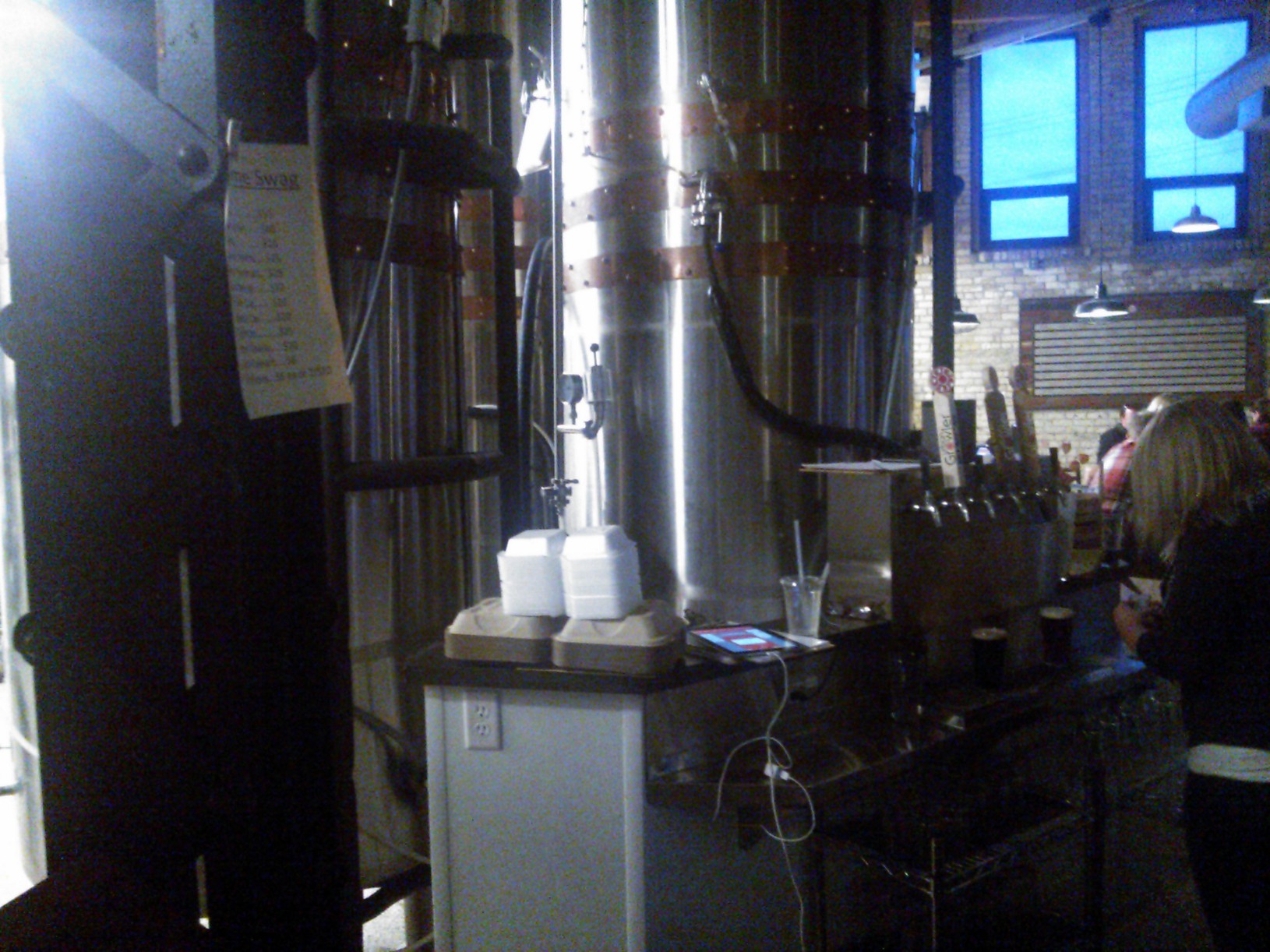 "Bonfire Smoked Porter"
Robert:
Smoked beer is a delicate subject: it turns some off at first mention, while others seek out just the right nuance of smoke flavor.  Very reminiscent of De-Lovely Porter, albeit with the (delicious) addition of Bamberg malted Beachwood smoke dried barley.  I, in stark contrast with Erik, love smoked beer, and probably possess a much higher threshold of taste for smoke flavor, which causes me to both brew and pursue beers with a much richer and dense smoke palate.  Bonfire, to my personal taste, was rather conservative with their smoke malt, and though my smokehouse fix went unsatisfied, I congratulate Urban Growler for making a smoked malt beer both potentially palatable for the uninitiated and pleasant to the connoisseur.  As almost assuredly a recipe otherwise identical to De-Lovely Porter, Bonfire offers greater complexity to the original formula and was a largely successful variation to De-Lovely Porter as a platform on which to incorporate further complexity with various ingredients. 7 out of 10 – "Try it": Thick enough with smoke to welcome a connoisseur and mellow enough to potentially invite the neophyte alike, Bonfire Smoked Porter is another decent example of an underrepresented style.
Erik:
This brew is a similar recipe to the De-Lovely Porter with an overdose of acrid smokiness. Yuck! The smoke flavor would have benefited from a subtler approach. Most breweries take greater discretion when it comes to smoking up the flavor of their craft, but Urban Growler abandoned most measurements of caution when crafting this brew. While I agree that the De-Lovely Porter makes a great platform for other tastes, this is not it. 4 out of 10 –  "Forgettable": I will do my best to forget this beer. Definitely my least favorite of Urban Growler's selection.
"Graffiti IPA"
Erik:
 A flagship IPA? How original! Actually... this IPA is more complex and subtle than the standard fare across the state. The malt provides a portion of the flavor, not just the canvass for a barrage of hops. Rarely do I get the actual pleasure of tasting a hint of rye in an IPA! Simply put, this is a commendable brew. 7 out of 10 – "Try it": Alone Graffiti is not a reason to venture to Urban Growler, but a taste of it shouldn't be missed while there. I'm still not sure that this is what their flagship beer should be though.
Robert:
 Yet another local Twin Cities taproom has named their India Pale Ale to be their flagship craft.  "If you nurse one beer here tonight, one beer to frame your imagination of what this brewery offers to the local community, this is it."  I hope not.  Not to say that Graffiti IPA is an inadequate example of the style, but compared to the other potables Urban Growler has to offer, to name it a flagship is underwhelming and doing a disservice to what is one of the more interesting menus around town.  What sets this beer apart from the typical Midwest/coast IPA sameness is a balancing maltiness and complimentary blend of hops that don't rely on typical West Coast citrus. 6 of out 10 – "Better than Most": A decent IPA that may satisfy the IPA who enjoys a pronounced malt balance to their dose IBUs.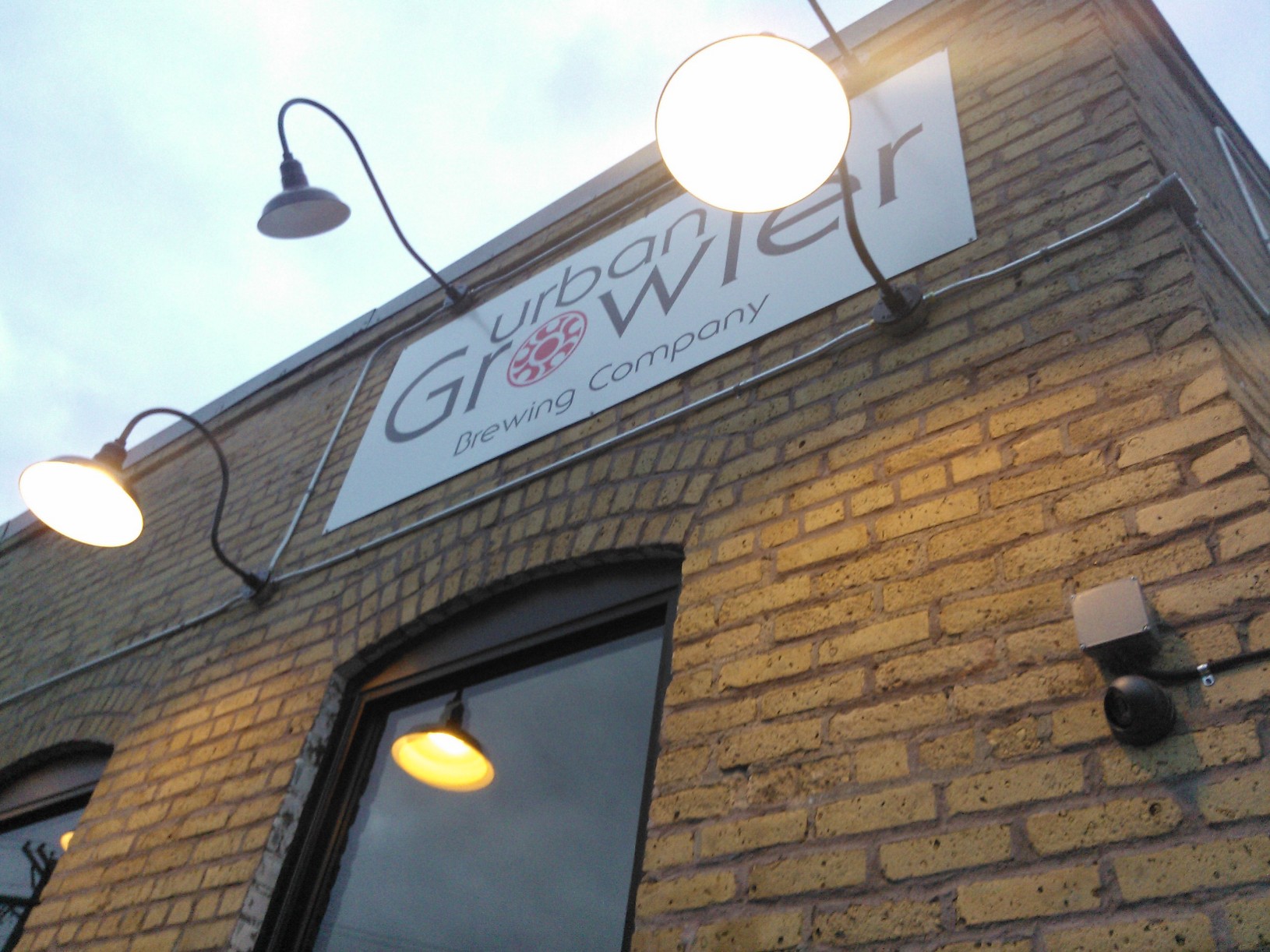 Conclusion
Despite some consistency issues Urban Growler is absolutely worth checking out. The establishment provides a healthy mix of options for casual drinkers and beer nerds alike. It's also owned by women, which is refreshing as the world of beer (even in Minnesota) is a little too crowded with men. Photos by: Erik Bergs