Russell Westbrook Eyes 55-Year Old Triple-Double Record
Posted by Brent Lee on Monday, March 13, 2017 at 12:00 AM
By Brent Lee / March 13, 2017
Comment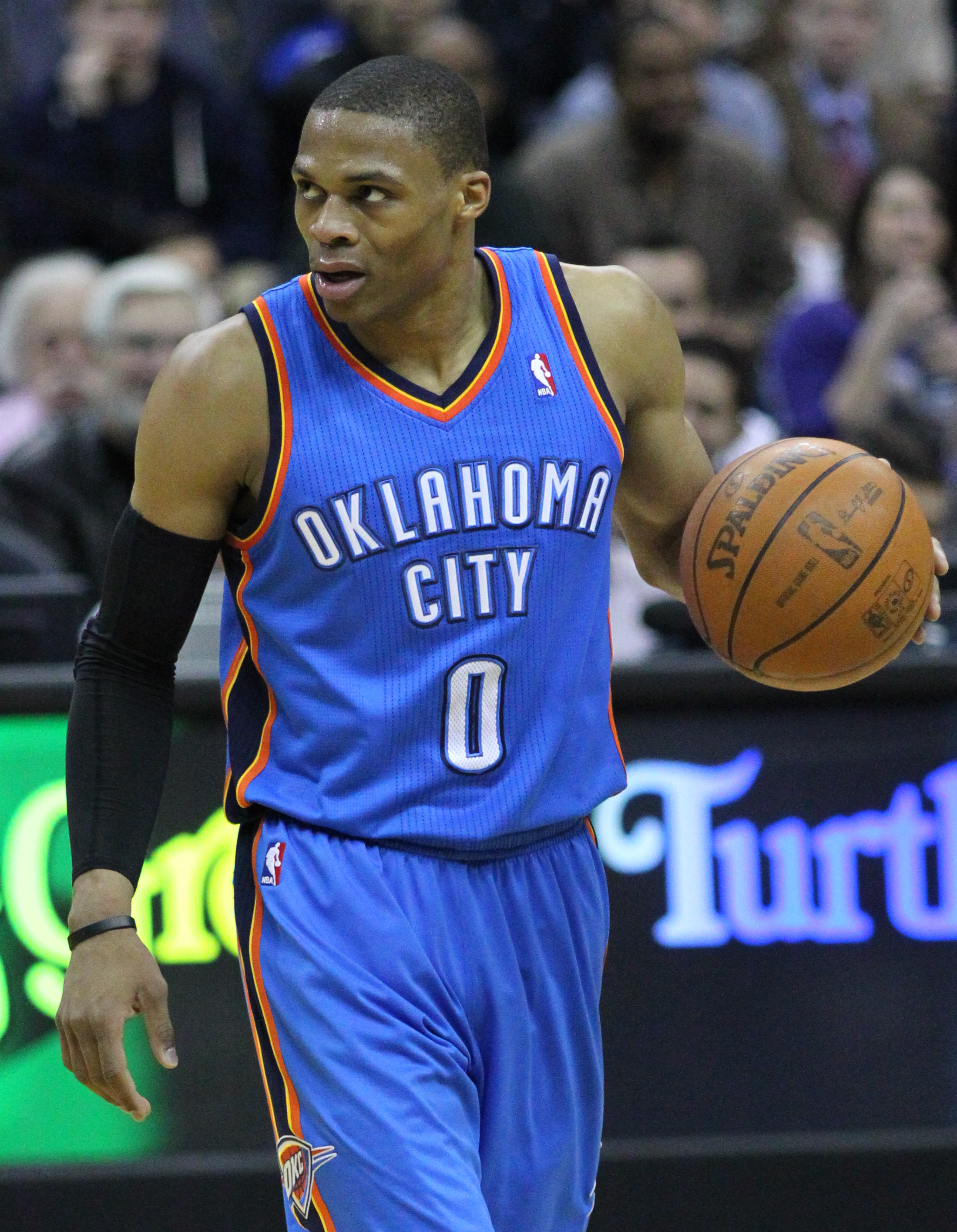 Last year, Golden State Warrior superstar Steph Curry launched an individual offensive display of historical significance, making 402 3-point field goals during the regular season while shooting a highly accurate 45.4% from behind the arc. This total bested the previous record (set by Curry the year before) by a remarkable 116 and really is a ridiculous outlier stat no matter how you look at it. While Curry's regular season exploits in 2015-16 were phenomenal enough for some little website in Minnesota to notice and
write
about it, another Western Conference NBA guard's performance
this
season is arguably making Curry's campaign last year look a bit one dimensional in comparison. On Saturday, Russell Westbrook scored 33 points, while adding 10 rebounds and 14 assists, as the Oklahoma City Thunder defeated the Utah Jazz 112-104. This was
Westbrook's 32nd triple-double so far this season
, which broke a tie with Wilt Chamberlain, and placed him with the second-most single season triple-doubles in NBA history. Here's the current top ten list of mostly really old, dusty single season triple-double records up which Russell has quickly ascended this season:
Rank - Player — Season Total Triple-Doubles (NBA Season)
#1 - Oscar Robertson — 41 (1961-62)
#2 - Russell Westbrook — 32 through 66 games (2016-2017) #2 - Wilt Chamberlain — 31 (1973-74) #3 - Oscar Robertson — 26 (1960-61) #3 - Oscar Robertson — 26 (1963-64) #5 - Oscar Robertson — 22 (1964-65) #5 - Wilt Chamberlain — 22 (1966-67)
#7 - Oscar Robertson — 20 (1962-63) #8 - Magic Johnson — 18 (1981-82) #8 - Russell Westbrook — 18 (2015-16) #10 - Magic Johnson — 17 (1988-89)
[caption id="attachment_1312779" align="aligncenter" width="400"]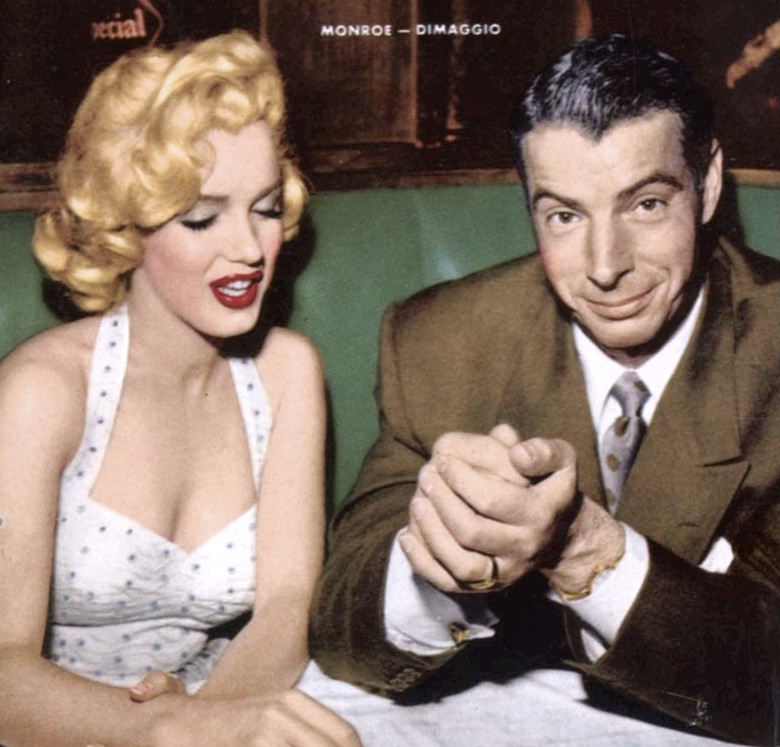 Ladies love unbreakable records.[/caption] With 16 games left to play, Westbrook needs ten triple-doubles to surpass Robertson's 55-year old record that many believed to be as unbreakable as Joe Dimaggio's 56-game hitting streak. Currently averaging 31.9 points, 10.5 rebounds and 10.1 assists per game, he must average 9.5 assists and 7.8 rebounds throughout the remainder of the Thunder in order to join Robertson as the only NBA player to
average
a triple-double for a full season. Detractors are likely criticizing (I'm not reading them, but I know they're saying this because they always say stuff like this) Westbrook for padding his individual stats in favor of focusing on the goals of the team (i.e. winning). To those haters:
The Thunder are 26-6 when Westbrook compiles a triple-double
; 11-23 when he doesn't. And while OKC's pace has slipped a bit compared where they were last year through 66 games (44-22 last year, versus 37-29 this year), they've been without 2013-14 league MVP Kevin Durant, who went with the "if-you-can't-beat-them-join-them-and-form-a-superteam-so-you-don't-end-up-retiring-without-a-ring-and-becoming-a-sometimes-crotchety-oldish-TNT-analyst-like-Charles-Barkley" strategy when he signed with the Golden State this past offseason.
[caption id="attachment_1312789" align="aligncenter" width="250"]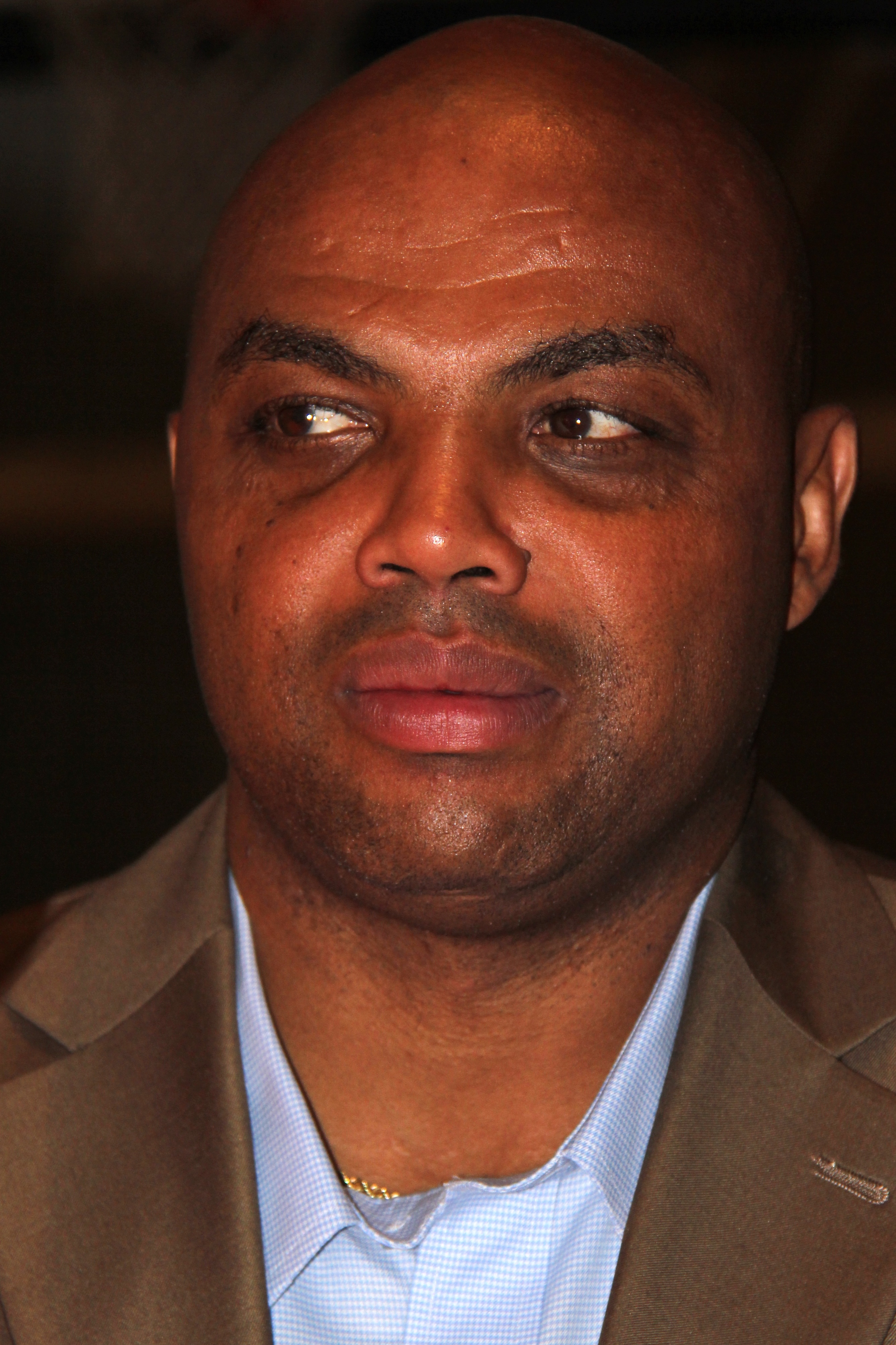 No rings = Kinda crotchety sometimes[/caption] Also to the haters (this time in their defense, if only statistically): Thus far, there have already been more triple-doubles in 2016-17 than in any other season in NBA history. So it's probably fair to say Westbrook may be accomplishing what he is during an era of pro basketball which is most conducive to such a feat. Here's that data:
Rank - Season — League Total Triple-Doubles (League Leader)
#1 - 2016-17 — 81 (Russell Westbrook, 32)
#2 - 1988-89 — 78 (Magic Johnson, 17)
#3 - 2015-16 — 75 (Russell Westbrook, 18)
#4 - 1961-62 — 65 (Oscar Robertson, 41)
#5 - 1986-87 — 62 (Fat Lever, 16)
#6 - 1989-90 — 61 (Magic Johnson, 11)
#7 - 1967-68 — 56 (Wilt Chamberlain, 31)
Regardless of differing opinions about exactly where this season's performance by Westbrook fits in to NBA lore, it's pretty damned remarkable by any measure. Like Curry, Westbrook is a rare talent you ought to take the chance to see for yourself. Here are a few other notes on triple-doubles, Russell Westbrook and just basketball in general. I've added lots of nicknames and way more facts than you care about: ? The man Westbrook is chasing for the single season record also holds the career triple-double mark. Oscar Robertson, also known as "The Big O", finished his 14-year career with a gaudy 181 trip-dubs. (Earvin "Magic" Johnson is second on the list with 138.) Westbrook, by the way, has 69 triple-doubles so far in his 8-year career. He is 28. ? In case you're wondering, there have been only four quadruple-doubles in NBA History (Nate "Chairman of the Boards" Thurmond in 1974, Alvin Robertson in 1984, Hakeem "The Dream" Olajuwon in 1990 and David "The Admiral" Robinson in 1994), though the stats required to record them (blocks and steals) have only been kept since the 1973-74 season. It is, therefore, often speculated that players like Robertson along with Wilt Chamberlain, Bill Russell and Jerry West — players who played before 73-74 — likely
technically
accomplished the feat.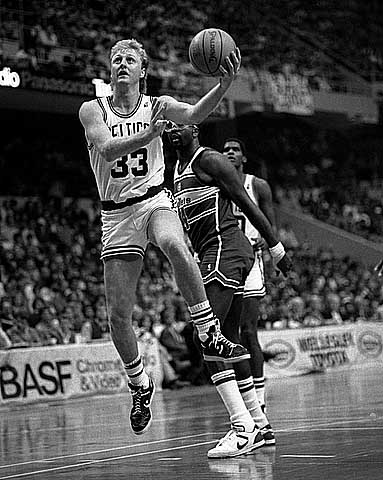 ? "Legend" Larry Bird reportedly sat out the entire fourth quarter while being only one steal shy of the rare and elusive quadruple-double. With Boston up 22 points, Bird declined his coach's invitation to go back into the game to make NBA history. "The Hick from French Lick" simply said, "No. I've done enough damage", which is so bad ass it stings a little. ? No Mom, there has never been a quintuple-double in the NBA ? Michael "Air" Jordan, considered by many to be the greatest player of all-time, finished his career with 28 triple-doubles. Lebron "King" James, arguably this era's greatest basketballer, has notched 51 so far. [caption id="attachment_1312787" align="aligncenter" width="540"]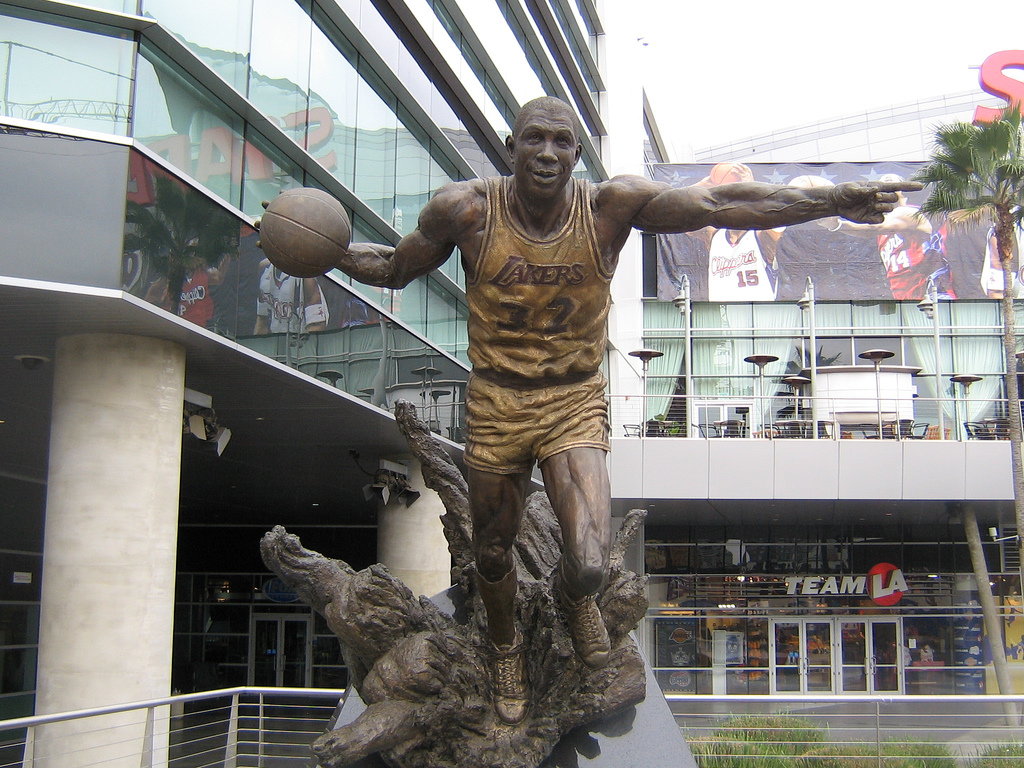 Magic Johnson statue outside Staples Center.[/caption] ? Magic Johnson leads all with 30 career playoff triple-doubles, 8 of those coming in the NBA Finals. Lebron is second in both categories, with 16 and 8, respectively. ? Karl "The Mailman" Malone is the oldest player in history to log a triple-double. Malone was 40 when logged a 10 point, 11 rebound, 10 assist effort in 2003. (Holy cow!
Karl Malone is 54!
) [caption id="attachment_1312798" align="aligncenter" width="500"]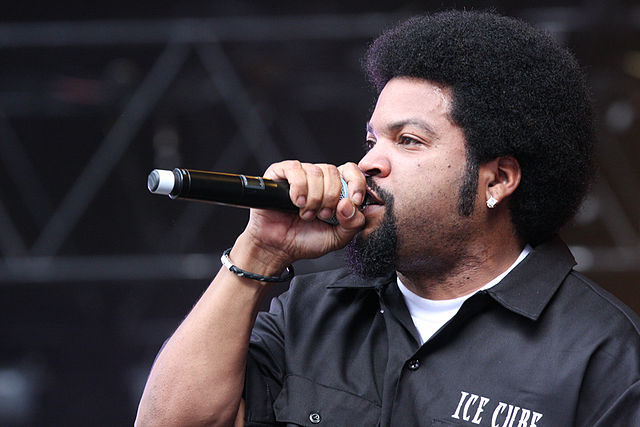 O'Shea Jackson Sr.[/caption] ? Jim "No Nickname Found Online" Tucker recorded the fastest triple-double — that is, a triple-double with the shortest amount of time elapsing off the game clock — in 1955 playing for the Syracuse Nationals. Tucker achieved the feat at the 17 minute mark, a performance later referenced by Ice Cube in his 1993 banger, "It Was a Good Day," when Cube rapped the iconic line, "...messed around and got a triple-double."* ? There is a player named "Fat" Lever who had 16 triple-doubles in 1986-87. Ha.
Fat
Lever. Nicknames.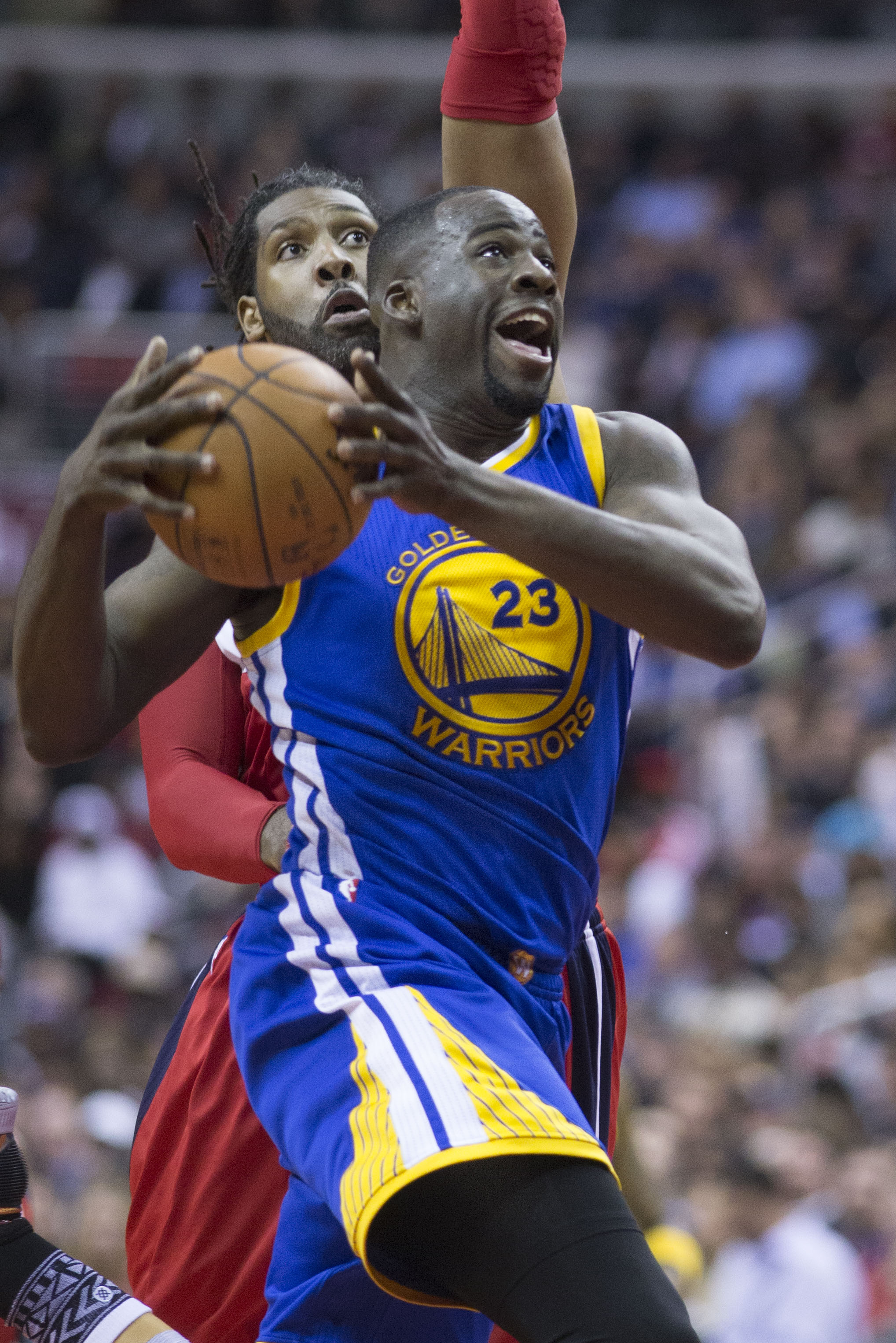 ? The only triple-double in NBA history in which the player failed to score double digit points occurred just last month. On February 10th, the Warriors Draymond "The Dancing Bear" Green scored a paltry 4 points, but added 12 boards, 10 dimes, and 10 rips by just doing what "Day-Day" do, bro. ? Kevin "
The Sherpa
" Garnett, the best Timberwolf ever and it's not even close, collected a Minnesota franchise record 16 regular season triple-doubles and 3 more in the playoffs. Nobody cares who is second the list. ? The up-and-coming Karl-Anthony Towns recently usurped Garnett's record to became the youngest T-Wolf to post a triple-double. The 21-year old "KAT" put up a triple-double last December when he was 186 days younger than the aforementioned KG was when he'd done the deed back in 1998. [caption id="attachment_1312784" align="aligncenter" width="540"]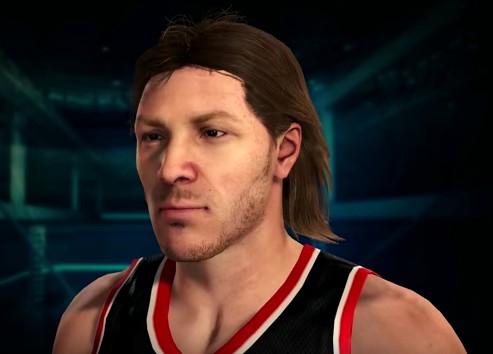 Rod Kramer was the most selfish bloke in video game basketball history.[/caption] ? I averaged a triple-double for a full season in NBA 2K11 on PS3 with a heavily accented 6'3" Australian created player named Rod "The Governor" Kramer**. Like Westbrook, I was also criticized by the haters (i.e. the friend I was playing with) for padding my individual stats instead of focusing on the goals of the team (i.e. winning games). This criticism was valid, and my MVP trophy was so shiny, mate.
*This is a lie.
**Kramer was also colloquially known as "Sweet White Thunder from Down Under" because of course he was.
Photos courtesy of:
Keith Allison
-- Brent Lee --
Wikipedia