Seismic Testing Will Be Detrimental For New Jersey Marine Life
Posted by Angie Newgren on Wednesday, May 21, 2014 at 12:00 AM
By Angie Newgren / May 21, 2014
Comment

Early in June 2014, the marine life off the coast of New Jersey will be
facing danger
again. Still recovering from Hurricane Sandy, this time the danger isn't from nature, but man. A group from Rutger's University plans to use seismic testing to gain a better understanding of historical changes in sea level from 60 million years ago to the present. This study is detrimental to the marine life off the coast, which also affects those who profit from it: the fisherman, the tourist industry and locals. Seismic testing is a form of sonar explosive charges. The blasts create sound waves which bounce into the ocean floors, and all that is in its way, reflecting back giving information about holes, gaps, and other helpings to discover how the ocean floor is laid out.
The blasts from the seismic testing is set to start June 3rd, 2014, just in a couple weeks. They will systematically do a seismic blast every 5 seconds for 30 days, with absolutely no stopping in between. This will come to a total of 518,400 blasts. These blasts start at a sound decibel louder than a jet engine taking off. Because sound travels faster through water than through air, it has more range and covers a wider area. Do they really
not
see the impact this will create for the NJ coast? Seismic testing does not always kill whales and dolphins and other marine life immediately. Usually it will disorient a pod, causing them to quickly try to get away, sometimes getting caught in a bay or somewhere else they should not be. However, many stranding from seismic testings show that the pod to have ruptured ears, eyes, and brains. How do we let this keep happening? It is difficult to actually prove how much marine life is affected by seismic testings. Not all animals who die wash to shore, but those that do die are quickly met by seismic tester's PR representatives coming up with arguable theories why else it could have happened.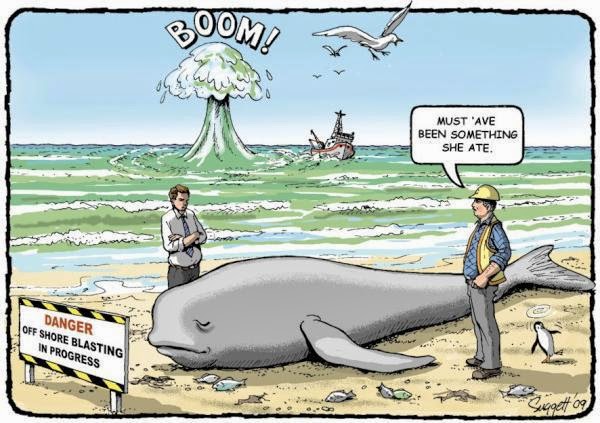 Barnegat Bay, the bay in New Jersey where the seismic testings are to take place is a major habitat for many fish and other marine life. A petition is currently circulating to try and get New Jersey governor Christie to call off the testings. These seismic testings are not worth the damage they will cause. All voices help. If something detrimental was to happen in your area of the nation you would also hope support from the rest of the nation would follow. Even if the petition surpasses its goal -- sign it. It could lead future testings to never becoming a threat in the first place.
Photos via: Google -- Clean Ocean Action