Shoppers Stave Off Winter at the Fulton/Kingfield Farmer's Market
Posted by Erik Bergs on Friday, February 28, 2014 at 12:00 AM
By Erik Bergs / February 28, 2014
Comment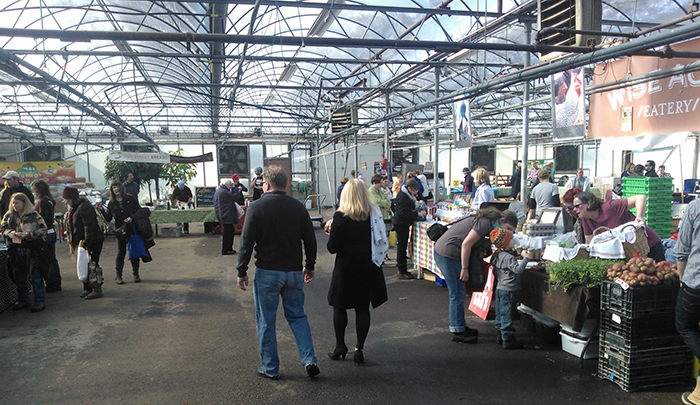 The snow and glaze of last week produced much despair and bellyaching across the Twin Cities. Driving, shoveling, salting, parking and pushing cars free were all part of our bitter medicine that somehow keeps us reserved and considerate for most of the year. Many of us know a place or two that helps us cope with winter, but few outshine the greenhouses of
Bachman's on Lyndale
; now, with the combined (January - March) 
Kingfield
 and
Fulton
 Farmer's Market, this local treasure is an almost mandatory experience. Saturday, while the freeways were deadlocked and plows were burying driveway entrances, my fiancée and I got to savor the sun and browse the most local of local wares. Many notable restaurants and businesses from southwest Minneapolis put up stalls at this farmer's market, including Wise Acre, Patisserie 46 and Sun Street Breads.
Other stands sold products such as hand-jarred pickles, soda syrups, wild-caught
salmon
from Alaska (sold to you by the person who caught the fish!) and of course an assortment of berry jams (never trust a winter farmer's market without jam).
Fulton Beer
also showed up and had beer on tap (I of course partook). Then, to make the bustling atmosphere even more palpable, live music was added to the mix. Only by the presence of some local author doing a book signing, could it have been a more cultured experience.
One stall took my heart though:
Squeaky Sailor Soap
. Run by a cheerful lass who makes soap in her own sink, each variety possessed not only a thematic name (such as "Limey" or "Marooned") but a story to go with it. Between Christmas and spring, Bachman's, a home and garden store, is in a somewhat quiet transition period; their large greenhouse space, which is packed with plants come April, has usually been unused at this time. As for outdoor farmer's markets, they have traditionally been in hibernation over winter. But with this new match made in heaven (it started last year), south Minneapolis has gained an awesome winter weekend activity.
Now let's be honest, all long range forecasts predict that this winter is not going anywhere soon. In fact, March Madness might not be basketball related this year. The third and final indoor farmer's market at Bachman's is certain to be a blast, so write it in your calendars: Saturday, March 22 from  9 am to 2 pm. Photos by: Erik Bergs