'Soundset' Triumphs Despite Canadian Credit Cards, Overloaded Cell Phone Towers and Texas TSA
Posted by Erik Bergs on Tuesday, May 27, 2014 at 12:00 AM
By Erik Bergs / May 27, 2014
Comment
[caption id="attachment_263283" align="aligncenter" width="540"]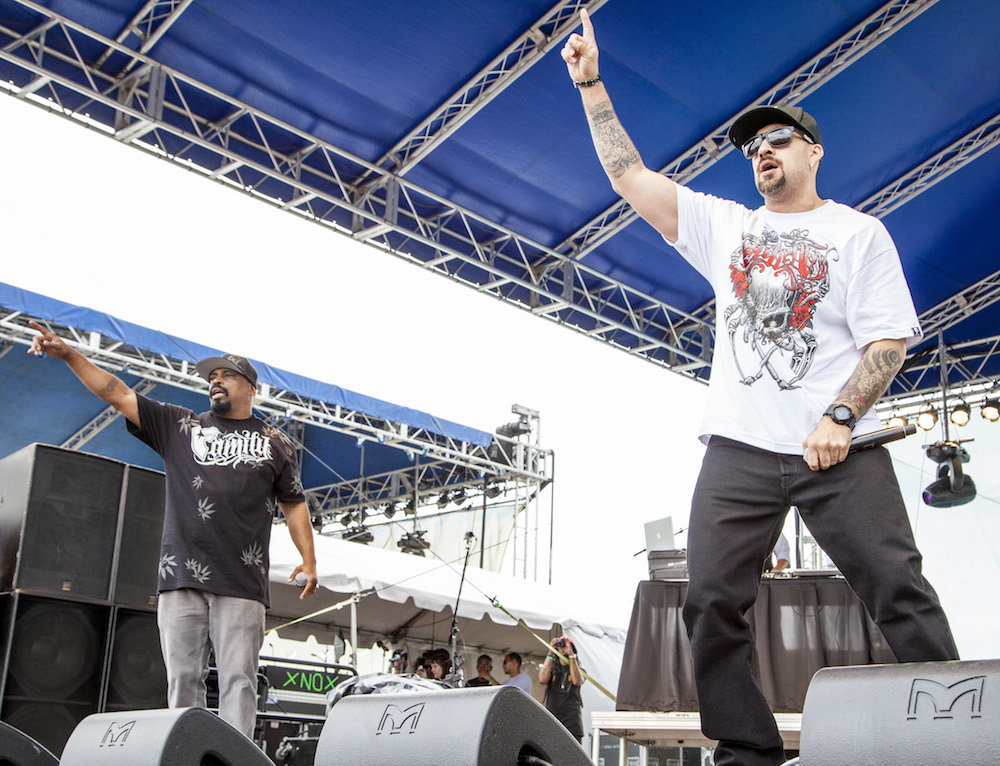 Cypress Hill embodied many of the day's themes.[/caption] Sunday's weather proved that perfection in Minnesota May is possible. The state's largest music festival deserved the lucky break; unlike the chilly Soundset of 2013 or the heat followed by the tornado of 2012, the only seasonal question fans had to answer was how much sunscreen to put on (answer: not much). The sold-out event, which celebrated its seventh year, has been growing despite numerous set backs over its short run. This year, the problems proved to be merely minor inconveniences; the show has hit its stride.
The Price of Success
[caption id="attachment_263285" align="aligncenter" width="540"]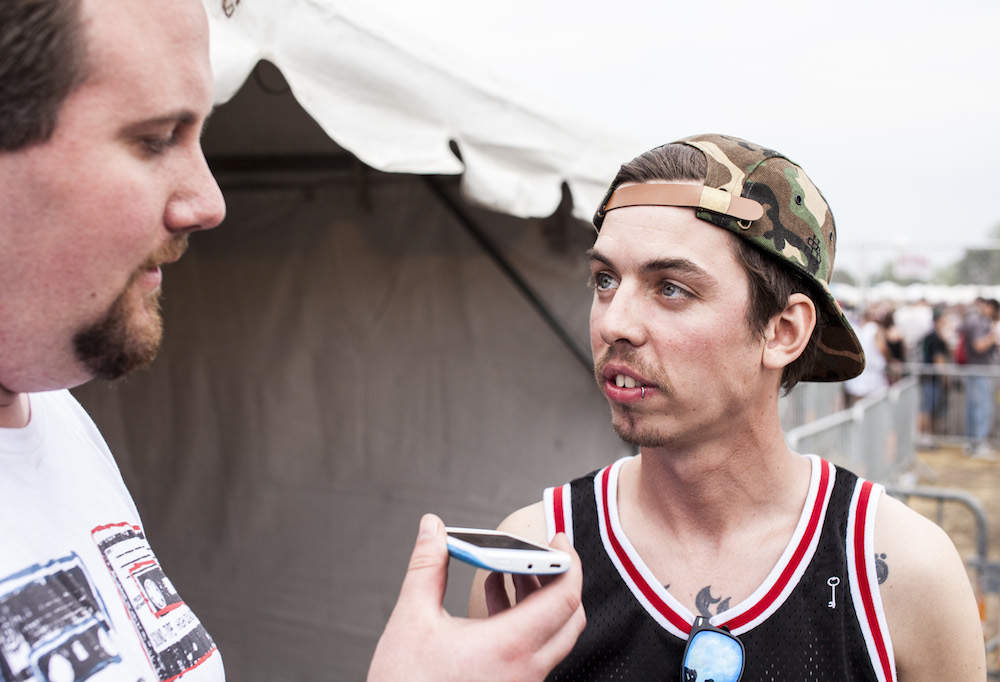 Thankfully I didn't need Internet service to record interviews like this one with Grieves.[/caption] The technical problems that came with Soundset were mainly due to its popularity. Tickets were sold-out and thus a hot commodity for the ill-prepared, traffic into its venue at Canterbury Park was atrocious (I cheated a little using GPS) -- the cell phone towers were also jammed: every text message took at least three tries, Internet was iffy and calls were out of the question. Then, on top of the number-cluster problems, Canadians (who were quite plentiful) learned they couldn't use the ATMs to get cash. At one point I wandered near the exit to find a swarm of Canadians demanding that they be allowed reentry (which was disallowed) because of the issue (security didn't seem to buy it). Though behind these inconveniences rested the fact that the sheer number of cars, cell phones and Canadians indicated a triumph for Soundset and
Rhymesayers'
(the independent and local record label behind the event). They've grown an internationally renowned hip-hop event in the Twin Cities in just seven years and have a venue seemingly fit for expansion. 30,000, which was an approximation (probably an underestimation) of Sunday's audience, may be viewed as a small number after a few more years like 2014.
The Fifth Elements and the Essential Elements
A great aspect of Soundset, especially for those of us with eclectic tastes in music, was provided in the two additional stages. This not only gave more artists a chance to perform in the allotted time, but also allowed for a more intimate feel than the grand and vast mob of people squeezing together at the main stage. The Fifth Elements Tent (which is named after the Uptown music store on Hennepin associated with Rhymesayers) exhibited many up and coming vocal stars. Here I got to watch
Los Nativos
, a group that started in St. Paul, electrify the crowd and
Jonwayne
(a personal favorite of mine) thump across the stage in bare feet while spitting his divergent verses. Most of the artists I interviewed (more on these in a future article!) performed at this tent and in retrospect it would have been a pretty good option to just watch all the performances that took place there. [caption id="attachment_263286" align="aligncenter" width="540"]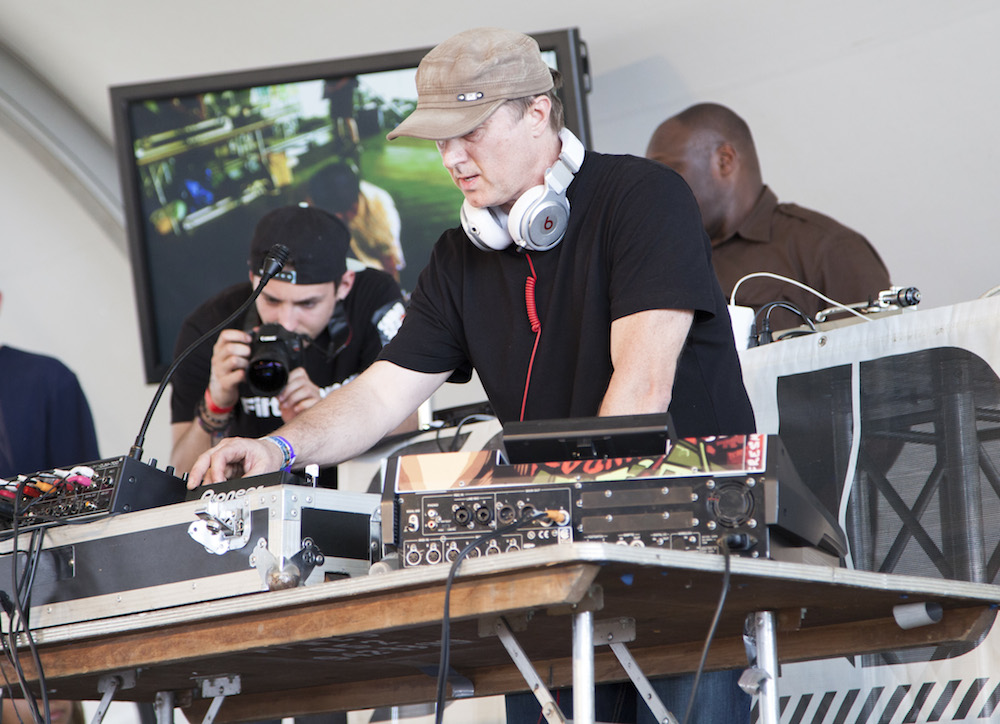 Minnesota's Freddy Fresh kept the music spinning in the Essential Elements Tent.[/caption] The Essential Elements Tent featured a wicked combination of disc jockeys and break dancers. Here I observed the old school Minnesota native 
Freddy Fresh
 tear it up. This tent had a lot more performer-to-audience interaction through the use of two moving cameramen; they put excited dancing fans (young ladies were favored of course) onto screens located around the room. The tent didn't have the same numbers to its crowd as the other stages, but it was a great option for those looking to move around.
'Free Trap Wiz'
[caption id="attachment_263287" align="aligncenter" width="371"]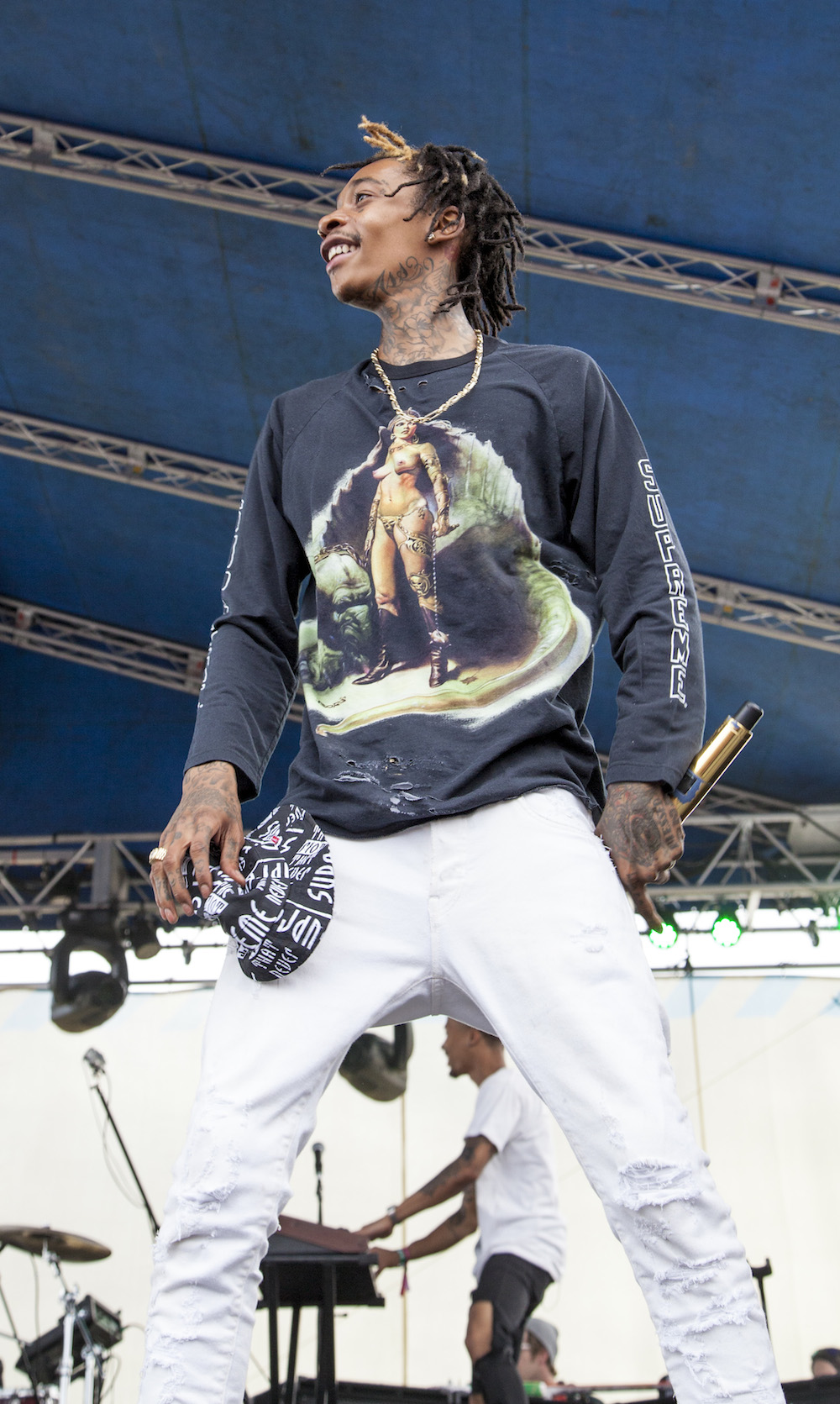 Wiz Khalifa performing.[/caption] The big concert story filtering through Soundset pertained to Wiz Khalifa. While taking a flight from El Paso to Dallas (in order to then get to Minnesota), the Transportation Security Administration (TSA) found it necessary to search the famed artist for traveling without identification (en route). Not surprisingly they found a small canister of something illegal. The TSA subsequently notified local police in Dallas who imprisoned the unrepentant marijuana consumer for possession. After posting a selfie in jail along with a few other Tweets, social media blew up with calls to have Khalifa freed. Though this potential setback to Soundset started awakening memories of last year's Busta Rhymes no-show, Wiz instead managed a minor miracle. He posted $300 bail (small potatoes for the price of missing Soundset) and took a private jet to the Twin Cities. For the audience, who had heard about his arrest, excitement began to bubble up when we saw his name popping up on the big screen (which listed the timing of upcoming sets) and culminated into a crescendo when
Nas
(the artist performing before him) verified the fact. Any lingering disbelief dissipated when Wiz Khalifa himself stepped onto stage and defiantly took drags from a joint. He then repudiated the law's ability to detain him and expressed his right to use weed (and continued to do so during his performance). The fondness for the plant had been cultivated in the crowd over the course of the day with a solid performance by Cypress Hill and a popular tent manned by
Minnesota NORML
(which sold a variety of leafy accessories though not of the smoking variety) among other things. [caption id="attachment_263288" align="aligncenter" width="540"]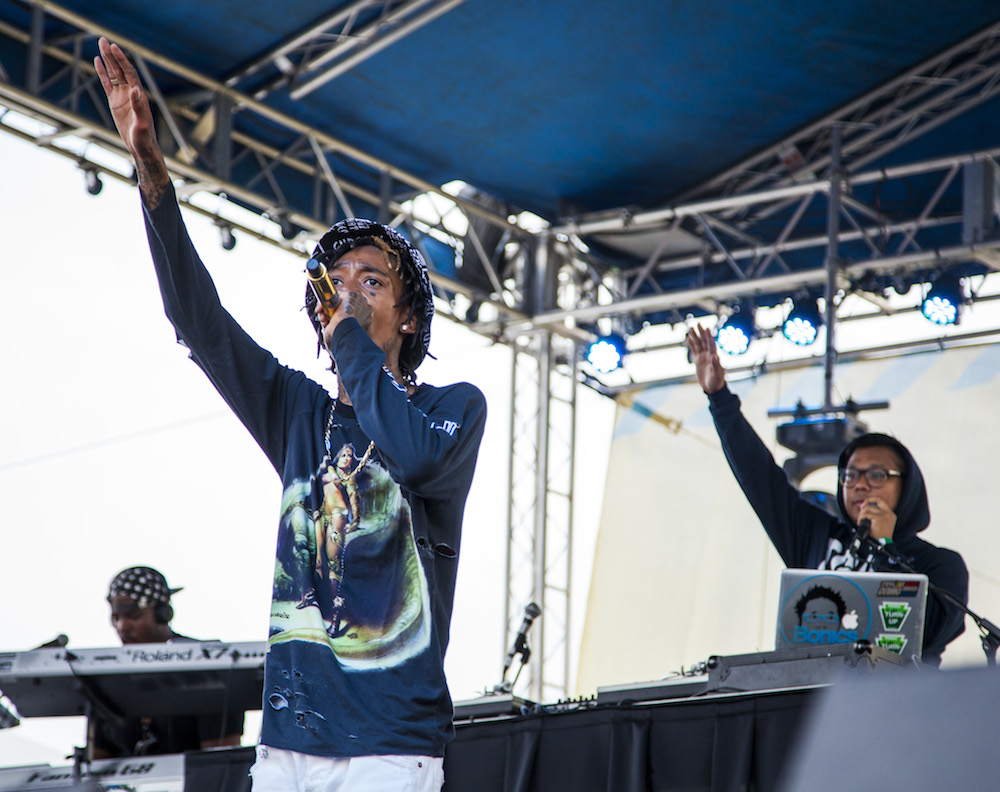 Wiz Khalifa salutes his fans for their support.[/caption] Khalifa made it in time to perform his set, but not to drop the topically named
28 Grams
mixtape which he'd planned to release at Soundset. Despite this change of plans, he had the most successful stage-time for any artist (in my estimation of course).
All's Good in the Atmosphere
Atmosphere (a founding force of Rhymesayers and 
friend of Minnesota Connected
) did not electrify the audience with the same youthful defiance or props of prior main-stage performers, but rather spoke to the heart of an adoring Minnesota crowd. It's not that they're the Prairie Home Companion of hip-hop, but they gave a unique, beat-filled voice to the (perhaps somewhat naive) Minnesotan values we cherish: community, love, simplicity, family and acceptance (of self and others). [caption id="attachment_263289" align="aligncenter" width="540"]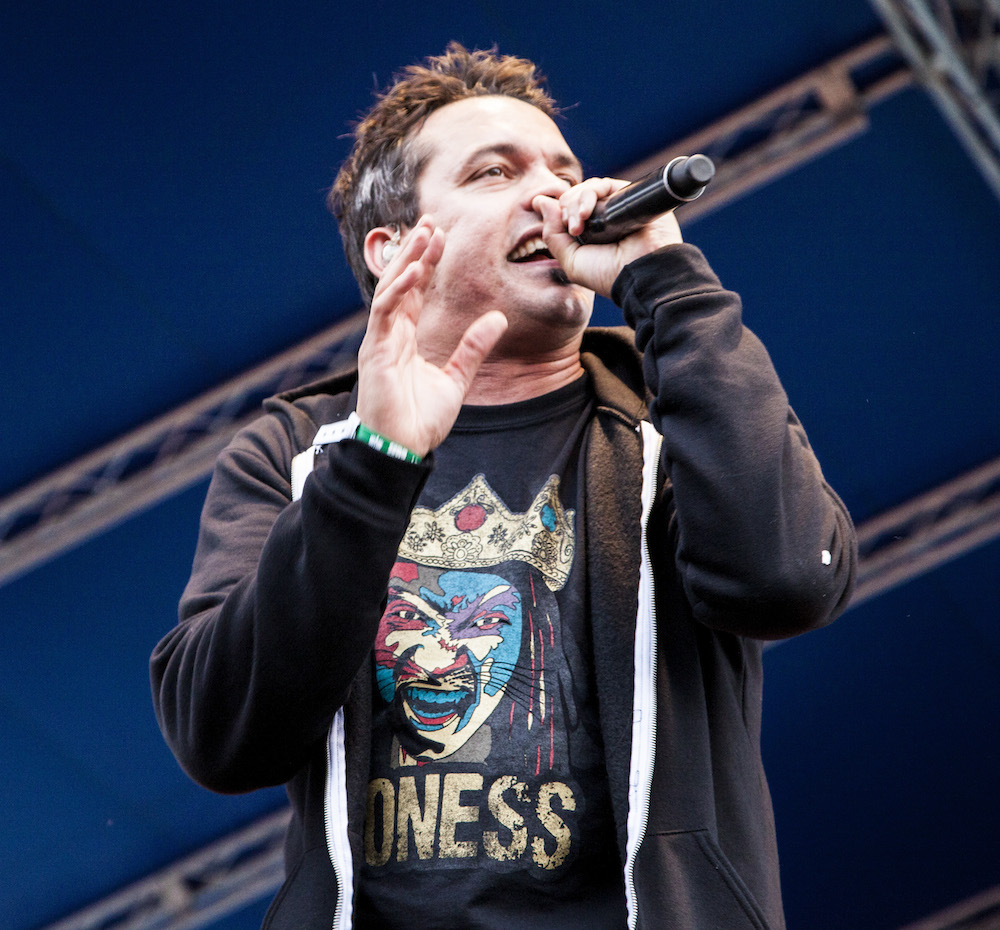 Atmosphere's Slug Finished the Night Surrounded by Minnesota Love[/caption] I don't want to gloss over the fact that a large portion (about a fourth) of those attending left as Atmosphere came on stage for the final act. It hurt. Maybe some didn't want to hear music that's foreign to the average dance club, maybe some had never heard Atmosphere's work or maybe some simply didn't like the songs offered by the Minneapolis based group. They had the right to leave (but as mentioned before, not the right to come back). But Slug, Atmosphere's man behind the mic, brushed off the blow with charisma and humility. He used some of his normal hip-hop hype, but it was his poetry that lulled us back into the narrative of the set. Most knew the words to pieces like "God Loves Ugly," but for other songs dancing became the common language. The somewhat scattered mob of attendees reformed and became closer. By the end we were left with our thoughts and our friends; conversations weren't loud or slurred (like at the completion of many concerts), but rather emotionally measured; sentiments surrounding expressed hope of coming back next year churned around me. In that moment I learned why Soundset succeed through tornado warnings, no shows and the other plethora of problems mentioned. And, for once, I can't put it into words. Photos by: 
Alexander Kohnstamm